27 Arrests After Water Protectors Pray At DAPL Site on Indigenous People's Day
Morton County, ND – Two people locked themselves to Dakota Access Pipeline construction equipment, early in the morning on Monday, October 10th.  About two hours later that morning, a group of hundreds of indigenous water protectors converged on a DAPL work site a few miles away to hold a prayer ceremony.
These actions came on Indigenous People's Day. Indigenous People's Day was initiated as a response to Columbus day, an official state holiday celebrated on the same date. The intention of Indigenous People's Day is to resist, rather than celebrate, Christopher Columbus' legacy of genocide.
Facebook video posted by Red Warrior Camp shows people on a DAPL work site holding banners and beating drums, while a delegation of Yaqui youth dance around a teepee-like structure with prayer ties wrapped around it. During all of this, a helicopter can be heard circling overhead.
At least 100 sheriffs' deputies and state troopers in riot gear, some with automatic weapons, descended on the DAPL site to move against water protectors. Below is a Facebook live video (24 min) from Red Warrior Camp showing the police advance:
Soon after the caravan approached the DAPL site, Morton County Sheriff's department and supporting agencies blocked access to public roads leading to the area, preventing supporters from joining.
Footage posted by Facebook user Joseph White Eyes shows a law enforcement officer in a riot helmet telling the driver of a vehicle, "The road is closed." When the driver asks why, the officer answers "There's a protest going on … and we don't want to add any more people to it."

The national American Civil Liberties Union issued a statement this morning denouncing North Dakota law enforcement's practices of closing public roads whenever anti-DAPL protest activity commences.
Marshall Lee, an indigenous photojournalist from the Yakama nation who works with the media project Digital Smoke Signals, provided Unicorn Riot with an eyewitness account of Monday's events:
"There was prayer service held this morning at the main camp around six, and that lasted most of an hour. And that's when the caravan got organized and proceeded towards the construction site on Highway 6. The caravan got there, and quickly people set up a structure with teepee poles with prayer ties tied to it. That was set up down on the construction site where the pipeline is coming up to the road, … the Aztecs came down, and the Comanche came down, and did songs and danced a prayer, and that lasted about fifteen, twenty minutes. The people continued to sing and dance in prayer, and the whole time, law enforcement had the road blocked – three roadblocks south on Highway 6, and two roadblocks north of the construction site on Highway 6. It didn't take long for law enforcement to roll in. There was federal agents, sheriffs from Morton County, sheriffs from other counties, all suited up in riot gear, and they went down and forced everybody back and made 27 arrests. There were people that were targeted in the crowd, specifically, that they were looking to get arrested.  My sister was there when Shailene Woodley got arrested.  She was walking back to her RV, and out of all of the crowd that was there, I think she was specifically targeted. There was other people as well that that happened to. For whatever reason, basically, they targeted those people." – Marshall Lee, Yakama Nation
Targeted arrests made on Monday included Vic Camp of the American Indian Movement, and actress Shailene Woodley, recently known for her role as Lindsay Mills, Edward Snowden's partner, in the Oliver Stone film Snowden.  
BREAKING: @shailenewoodley has been arrested for trespassing during #NoDAPL action, by heavily-armed Sheriffs in North Dakota. pic.twitter.com/O5F9yKLhTA

— Unicorn Riot (@UR_Ninja) October 10, 2016
According to law enforcement 27 people were arrested on Monday. Charges included engaging in a riot, criminal trespass, and reckless endangerment.
Videos stills from Red Warrior Camp: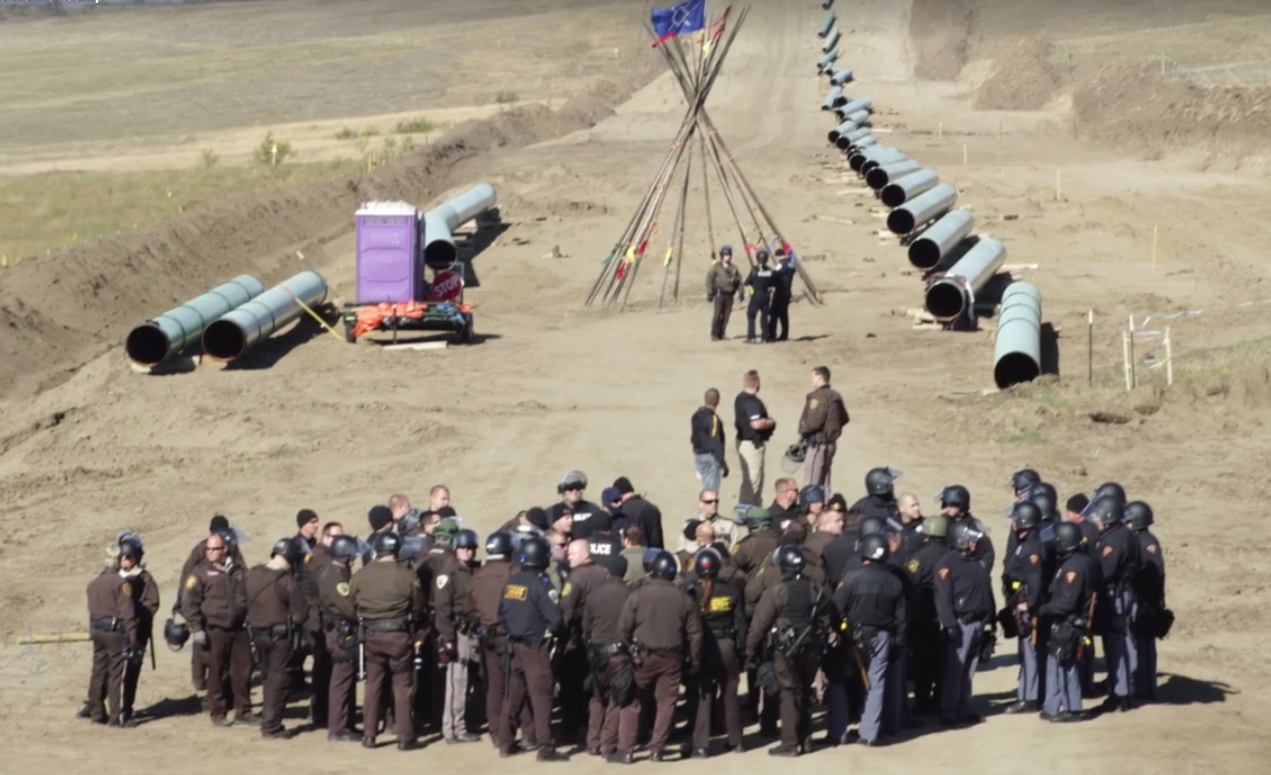 Unicorn Riot was able to speak by phone with Stutsman County Sheriff Chad Kaiser who confirmed his agency was lending out the MRAP armored vehicle seen at Monday's action.
Kaiser clarified that personnel from Stutsman County were not driving the MRAP. He stated that it was in fact being operated by SWAT officers from the Bismarck Police Department.
We also reached out to the Bismarck Police Department, the Morton County Sheriff, and the Cass County Sheriff, asking about Monday's events. None of these three other agencies responded to our requests for comment.
Stutsman County Sheriff Kaiser confirmed a statewide mutual aid agreement is in place with various agencies providing personnel to support Morton County Sheriff operations against #NoDAPL water protectors.
Sheriff Kaiser described the police actions taken Monday morning as justified and necessary based on alleged threats posed by the crowd of water protectors:
Sheriff Kaiser: "Well, I think law enforcement has definitely shown a lot of patience. A lot of us have been here for seventeen weeks. There's been a lot of patience from law enforcement definitely, dealing with the protesters. A lot of what they're saying in the media, and the media's saying how peaceful it is, but it is not peaceful. So, I mean, we, I think there was 28 arrested today, so I mean, if they're peaceful, then we wouldn't have to arrest anyone. We're all for their first amendment rights to protest, definitely, if they would do it lawfully and peacefully, we would not have any issues. None."

Unicorn Riot: "When you say that the media says people are being peaceful but they aren't actually being peaceful, is there conduct that you witnessed today that you consider to be not peaceful?"

Sheriff Kaiser: "Well, they're trespassing on right-of-ways, on private property, so that's a lot of them that were arrested, yep, carrying knives."

Unicorn Riot: "Do you know if any knives were confiscated today?"

Sheriff Kaiser: "I wasn't part of the arrests."
Marshall Lee responded to Sheriff Kaiser's characterization of water protectors as "not peaceful":
"The only people that were really blocking the road was law enforcement themselves. The crowd there, the people there in prayer, were adamant about keeping the road clear, about parking the cars far enough off of the roadway to not block any kind of through traffic. When the riot cops came in suited and booted, there were some verbal comments – "this is our land", "water is life", but in no way did anybody from the crowd show any kind of aggression or intimidation towards public safety." – Marshall Lee, Yakama Nation
Marshall Lee also told us about what he sees as the wider significance of the ongoing direct actions in the area around the Standing Rock reservation:
"I am in deep prayer for not only the people of the camp and the people of Standing Rock against the pipeline, but also in prayer for Morton County along with the judges and the people in the court process. In my eyes, I feel that this is bigger than the pipeline, I think that this movement represents not just indigenous people, but all people who want to stand up for what is right. On every reservation, every tribe has their Standing Rock. Every tribe has their battles whether it be with the government, with oil companies, I think that this is a time of unification, of tribes across the globe standing together for what is right. That's why I'm here." – Marshall Lee, Yakama Nation
Unicorn Riot will continue to regularly provide direct updates about resistance to the Dakota Access Pipeline.
Continue to follow our media on Twitter, Facebook, and our website for more information surrounding the ongoing struggles to protect the Missouri and Mississippi Rivers.
To support our volunteer-operated, horizontally-organized, non-profit media collective please consider a tax-deductible donation:
---
To see Unicorn Riot's coverage of the anti-Dakota Access Pipeline struggle, see below.
August 2016
September 2016
October 2016
For our coverage earlier this spring of the Sacred Stone Camp, see May 27th report, "Dakota Access Pipeline Blockade Enters 2nd Month"; May 5th, "Sacred Stone Camp Resists Dakota Access Pipeline"; April 3rd, "Tribal Citizens Build Camp in Path of Oil Pipeline"; March 29th, "Tribal Citizens Prepare to Blockade Bakken Oil Pipeline".