Tune in to our streams:
For our spring 2021 stream collection, see our Derek Chauvin Trial and Daunte Wright Brooklyn Center Streams. See our fall/winter 2020 streams here.
Press Conference with Winston Smith's Family Denouncing No Charges in Police Killing [Minneapolis, MN]
---
20th Annual Four Directions March Honors Indigenous Peoples' Day [Denver, CO]
---
Celebrating the Passing of the Hardel Sherrell Act [St Paul, MN]
October 2, 2021 – ST PAUL – Families of lost loved ones and community have gathered to remember Hardel Sherrell and celebrate new legislation passed in his name.
Nov 2019: Harrowing Footage Shows Man's Last Days Before Dying in Jail – May 2021: Demanding the Passage of the Hardel Sherrell Act
---
'Running Down The Walls' Marathon Organizes to Support Political Prisoners [Philadelphia, PA]
September 12, 2021
---
Thousands Rally At Minnesota Capitol to #StopLine3
August 25, 2021
---
March for Justice for Justin Teigen and All Stolen Lives
August 22, 2021
---
Rally & March Against Line 3 at Minnesota Governor's Mansion
August 16, 2021
---
Anti-Eviction Protest at Philly Mayor Jim Kenney's House
August 10, 2021
---
Impacted Black and Gender Oppressed Day in Philly (Evening session)
August 9, 2021
---
Protest Against Prison Profiteer Companies at Aramark Offices in Philly
August 7, 2021
---
Celebrating the Life of Calvin Horton, Killed by Shop Owner During George Floyd Uprising
July 21, 2021
---
Presser on Paramilitary Activity Working with MPD to Quash Winston Smith Protest
July 20, 2021
---
Open Carry March for Black Power & Call for Justice for Dorian Murrell
July 17, 2021 Indianapolis, IN
---
Indianapolis Town Hall on Racism: 'How to Protect Our Community'
July 16, 2021 Indianapolis, IN
---
Legal Updates in Dorian Murrell's Killing from Attorney Malik Shabazz
July 16, 2021 Indianapolis, IN
---
4th Annual Banquet in Remembrance of Cordale Handy Featuring Families of Lost Loved Ones
July 10, 2021
---
A Tree Sit and Lockdowns Move to Halt Line 3 Construction
July 7, 2021
---
Water Protectors Continue to Use Non-Violent Direct Action Against Line 3 Pipeline Construction
July 1, 2021
Water Protectors Lock to Horizontal Directional Drill Near Intended Straight River Crossing
June 23, 2021
Early morning on Wednesday, five water protectors lock down to a horizontal directional drill as it gets ready to bore a pathway for the new Line 3 tar sands pipeline to go under the Straight River in Hubbard County, MN. https://t.co/7YpVfrMNN4

— Unicorn Riot (@UR_Ninja) June 23, 2021
Police operation clears Winston Smith and Deona Marie protests
June 15, 2021
---
Direct action against Line 3 equipment yard
June 15, 2021
---
'Treaty People Gathering' Resists Line 3 Pipeline
June 8, 2021
June 7, 2021
---
Protests on Lake Street after Police Killing
June 3, 2021
---
Community Gathers at George Floyd Square After City Removes Concrete Barriers
June 3, 2021
---
Saint Paul, MN – Press Conference Demanding the Passage of the Hardel Sherrell Act
May 17, 2021
Philadelphia, PA – Philly Commemorates 36th Anniversary of MOVE Bombing
May 13, 2021
Philadelphia, PA – Protest at UPenn Over Misuse of Bones of Children Killed in MOVE Bombing
April 28, 2021 – Philadelphia, PA
Philadelphia, PA – Rally to free Mumia Abu-Jamal
April 24, 2021 – Philadelphia, PA
---

George Floyd Uprising in Minneapolis–Saint Paul: The First Two Weeks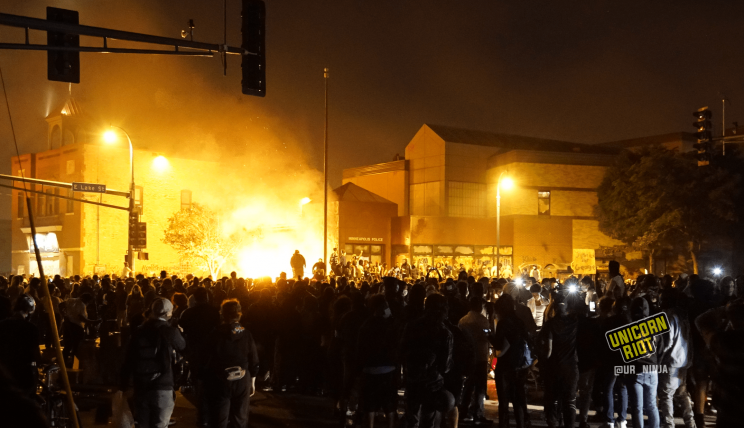 Minneapolis, MN – Waves of rage tore through the Twin Cities community after a video of Minneapolis police officers mercilessly killing George Floyd went viral. Fires were lit across the world as a new movement spread rapidly with the goal of dismantling the police and all other racist institutions.
Since the beginning of the uprising, Unicorn Riot has provided dozens of hours of live streams and coverage documenting the first two weeks after Floyd's death in the Twin Cities.
Below is a snapshot of the series of events that took place in those two weeks, detailed in chronological order. We preface this summary report by saying it only contains portions of our own original reporting from the first two weeks following Floyd's death; much more happened during this time period that we did not report on. (Click here to navigate to specific days.) Read More …
---
Unicorn Riot live streams are supported through donations from viewers like you. Unicorn Riot is a non-profit independent media organization that does not accept corporate or government donations and does not run ads or hide media behind paywalls. Our media is distributed under the Creative Commons Non-Commercial Share-Alike license [CC-BY-NC-SA].
Click HERE to watch past live streams or on our YouTube channel.
---