Tune in to our streams:
Watch Unicorn Riot streams live here at this page. See our full coverage of the Kim Potter Trial here. See our late April 2021 to late November 2021 streams, see our Derek Chauvin Trial and Daunte Wright Brooklyn Center Streams. See our fall/winter 2020 streams here.
---
"Say Their Names" March (St. Paul MN)
July 30, 2022
Dozens of impacted families whose loved ones were killed by police are marching from the Governor's Residence to the Minnesota State Capitol.
---
"CAN YOU HEAR US?" GFGM's 2022 Summer Poetry Slam
July 28, 2022
---
Police Evict Minneapolis Encampment at 29th and 14th
July 20, 2022 – More
See our previous report and video on this encampment.
---
Minneapolis Vigil for Tekle in Seward
July 14, 2022
---
Minneapolis Vigil for Jayland Walker at George Floyd Square
July 14, 2022
---
July 4th Abortion Protests in Washington, D.C.
July 4, 2022
---
Denver Justice Project Hosts Community Meeting to Reimagine Policing
June 30, 2022 – More
---
Protesters in Colorado Counter Anti-Queer Evangelical 'Let Us Worship' Event
June 4, 2022 – More
---
Two Years After George Floyd
May 26, 2022 – More
---
'In the River' Performance Commemorating Columbus Statue Takedown in MN
April 23, 2022 – More
---
Live now: Unhoused Community & Advocates Take Over Denver Recreation Center
March 10, 2022 – More
---
Minneapolis City Council Civil Unrest Hearing
March 8, 2022
---
Minneapolis Teachers Strike for Better Pay
---
Minneapolis Rallies in Solidarity with Portland Protesters
---
Kim Potter Sentencing Hearing
---
Teachers Demand Higher Wages & March to Hillcrest Regional Park
February 12, 2022
---
Amir Locke Protest in Downtown Minneapolis
---
Justice for Amir Locke Protest in Downtown Minneapolis
---
Kim Potter Trial Verdict – Manslaughter Charge for Killing Daunte Wright
December 23, 2021

---
March for Mumia [Philadelphia]
---

George Floyd Uprising in Minneapolis–Saint Paul: The First Two Weeks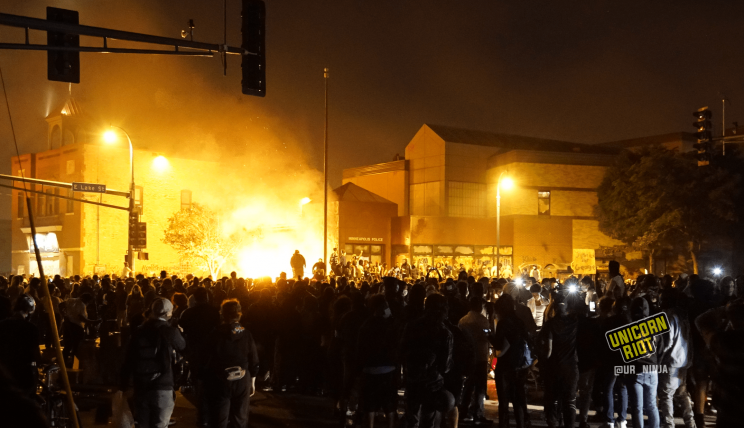 Minneapolis, MN – Waves of rage tore through the Twin Cities community after a video of Minneapolis police officers mercilessly killing George Floyd went viral. Fires were lit across the world as a new movement spread rapidly with the goal of dismantling the police and all other racist institutions.
Since the beginning of the uprising, Unicorn Riot has provided dozens of hours of live streams and coverage documenting the first two weeks after Floyd's death in the Twin Cities.
Below is a snapshot of the series of events that took place in those two weeks, detailed in chronological order. We preface this summary report by saying it only contains portions of our own original reporting from the first two weeks following Floyd's death; much more happened during this time period that we did not report on. (Click here to navigate to specific days.) Read More …
---
Unicorn Riot live streams are supported through donations from viewers like you. Unicorn Riot is a non-profit independent media organization that does not accept corporate or government donations and does not run ads or hide media behind paywalls. Our media is distributed under the Creative Commons Non-Commercial Share-Alike license [CC-BY-NC-SA].
Click HERE to watch past live streams or on our YouTube channel.
---