Grand Rally Oromo Protest Demands U.S. Stop Funding Ethiopia
Minneapolis, MN – Hundreds marched through downtown Minneapolis Friday afternoon in the Little Oromia North American Grand Rally. The demonstrators, some of whom came from cities like Seattle and Denver, demanded justice after a summer of repression against Oromo protests in Ethiopia. They also called for the US government to stop funding the Ethiopian government.
Mass protests and inter-ethnic strife followed the killing of famed Oromo singer and activist, Hachalu Hundessa in late June 2020. Hundreds across Ethiopia have been killed and at the behest of Prime Minister Abiy Ahmed's government thousands of Oromo people have been jailed in mass detention centers.
A large number of Oromo political leaders, including Jawar Mohammed and Bekele Gerba, remain in prison. Mohammed and Gerba are among two dozen that were recently given terrorism charges.
"All the Oromo opposition leaders are facing terrorism charges. Trumped-up terrorism charges that are false, so that Abiy Ahmed, the Prime Minister, can win the election free 100 percent. He's a dictator pretty much." — Oromo Human Rights Advocate
An Oromo media-mogul-turned-politician, Mohammed started Oromia Media Network (OMN) in Minneapolis several years ago. OMN has played a key role in the Qeerroo movement, broadcasting Oromo voices and issues.
Mohammed moved to Ethiopia after Abiy Ahmed, an Oromo and former ally of Mohammed's, came to power in 2018. Mohammed brought OMN to Ethiopia's capital, Addis Ababa, and started his own political career.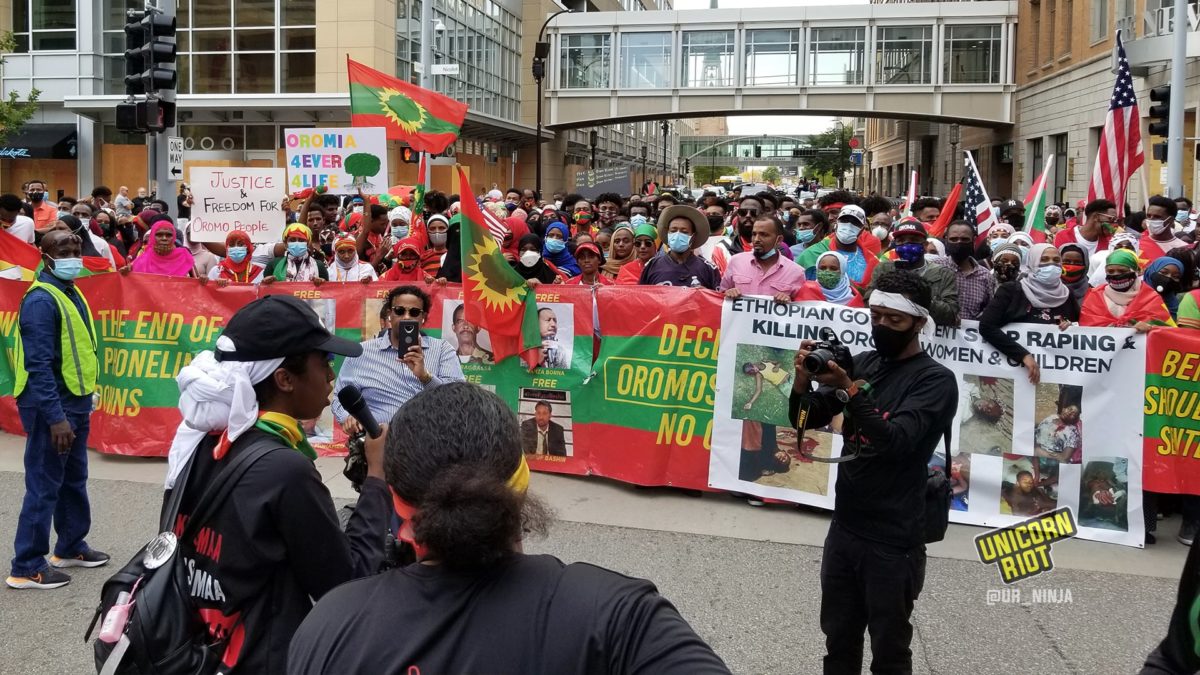 Before Hachalu Hundessa's murder this last June, Jawar Mohammed was one of the front-runners in Ethiopia's upcoming election (slated for early October 2020). Mohammed has been incarcerated since June 30, after an altercation over Hundessa's burial led to the death of a police officer.
Just days after Mohammed was transferred to maximum security prison on charges of inciting terrorism and violence, firearms charges, and telecom fraud, hundreds marched in Minneapolis demanding he and other political prisoners be freed.
"Our people, the Oromo, back home in Ethiopia are being oppressed and subjugated. We are here to be a voice for them." — Oromo demonstrator who traveled from Denver to Minneapolis
Unicorn Riot was live during Friday's Oromo 'Grand Rally' march. Oromo community members voiced a litany of grievances beyond freeing the political prisoners, including justice for the killing of Hachalu Hundessa, an end to criminalization of the 'qeerroo' (youth), and an end to U.S. financial support for Ethiopian government repression.
Out of over 80 ethnic groups in Ethiopia, the Oromo are the most populous. After decades of oppression, many Oromo have left Ethiopia to find a safer, more comfortable existence in other countries. Minnesota's Twin Cities have a large diaspora population of Oromo peoples, with an estimated 40,000 living in the metro area.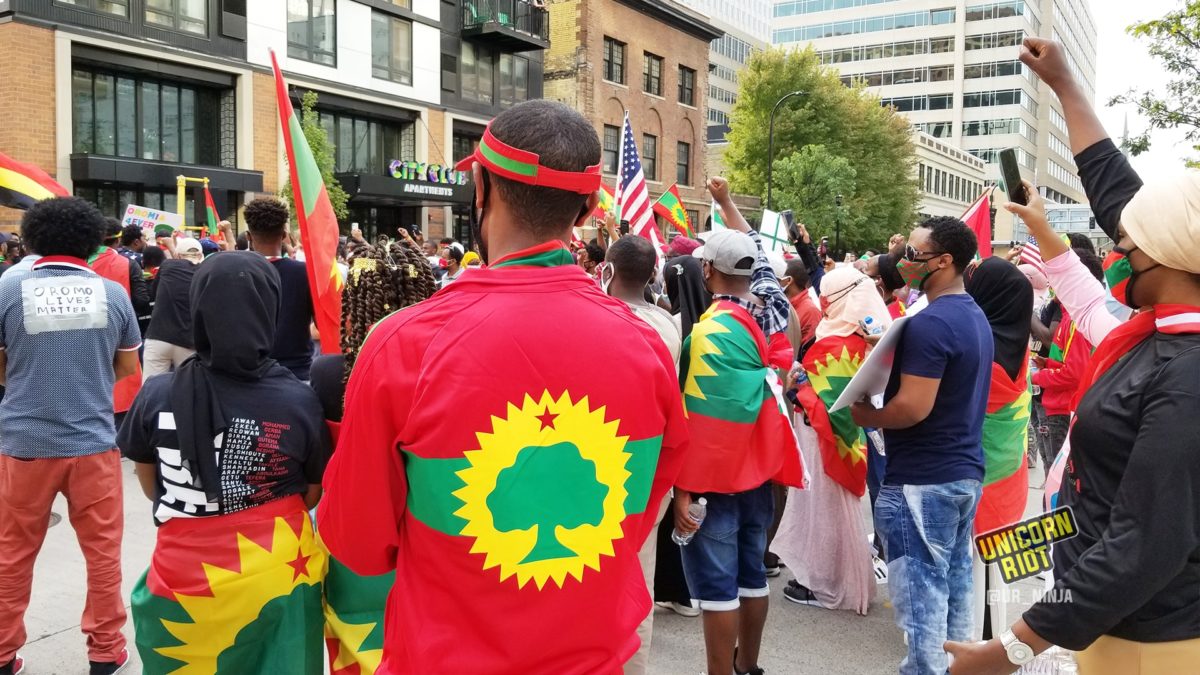 The Twin Cities Oromo community has been very active protesting for justice in Ethiopia. Dozens of demonstrations have been organized, largely by Oromo youth.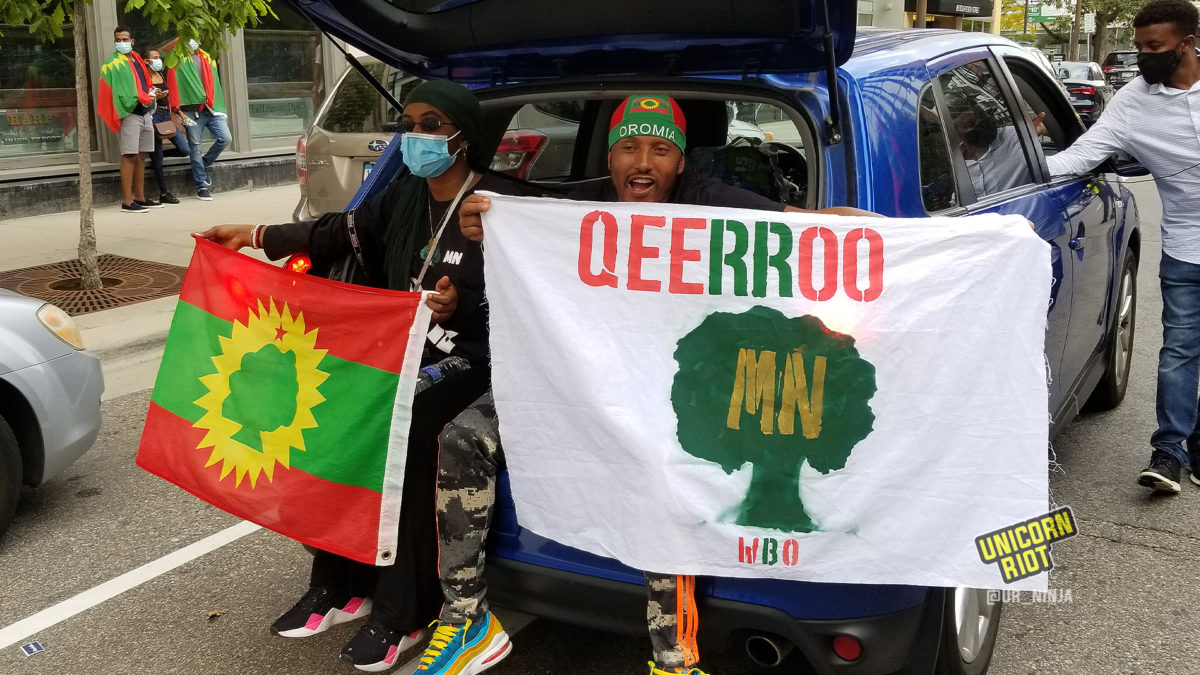 "For the Ethiopian government, they need to stop the terrorism narrative and the qeerroos. Qeerroos are not terrorists. Qeerroo simply means 'youth' in Afaan Oromo. So you can't call the entire youth in Ethiopia a terrorist." — Oromo protest organizer
This popular pressure has led to numerous elected officials in Minnesota writing letters to Secretary of State Mike Pompeo and Tibor Nagy, the American Ambassador to Ethiopia, pushing for peaceful resolutions, dialogue, and the allowance of opposition parties in Ethiopia.
"There's people that are dying back home. I lost a couple cousins back home. All of these people are bleeding inside." — Oromo protest organizer
A main theme of Friday's North American Grand Rally was the demand that the U.S. government stop funding Ethiopia. According to USAID data, the USA has dispersed $434 million in taxpayer funds to Ethiopia's authoritarian government so far in 2020, with $160 million more still promised to be paid.
Oromo attendees of the rally said that U.S. funding is being used "to buy weapons and to label Oromo politicians as terrorists."
Unrelated to the Oromo protests, recent disagreements over the controversial Grand Ethiopian Renaissance Dam on the Nile River has led to about $130 billion of U.S. aid to Ethiopia being cut.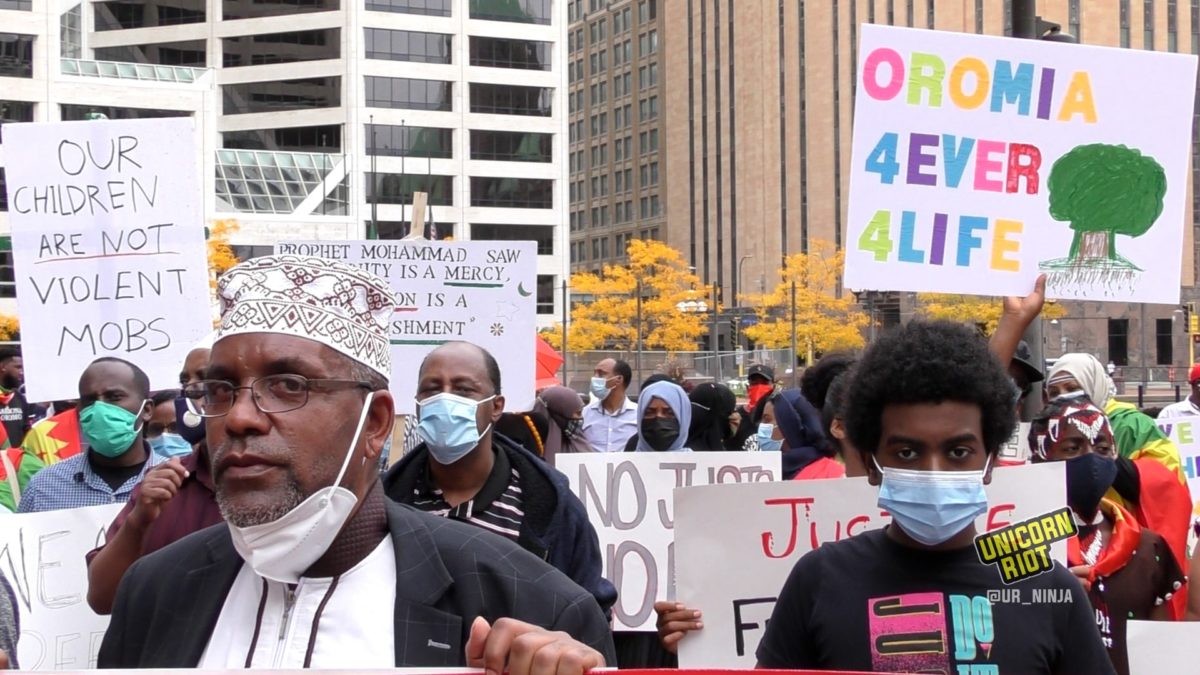 With the upcoming election in Ethiopia, where opposition political figures are being tried as 'terrorists' by U.S.-backed authorities, October may provide some answers as to where the country is headed next. Oromo diaspora communities in Minnesota and elsewhere will surely be watching with interest and concern.
---
Follow us on X (aka Twitter), Facebook, YouTube, Vimeo, Instagram, Mastodon, Threads, BlueSky and Patreon.
Please consider a tax-deductible donation to help sustain our horizontally-organized, non-profit media organization: