Standing Rock's Wind Farm to Prioritize People, Land, and Nature Over Profit
Standing Rock Reservation – The tribe that led the fight against Energy Transfer Partner's Dakota Access Pipeline is expanding its commitment as a leader in addressing climate change with the creation of a public power authority to develop a 235-megawatt (MW) wind farm.
Anpetu Wi — which means "breaking of a new day" in Lakota — will be the single largest revenue source for the Standing Rock Sioux Tribe, who in 2019 formed SAGE Development Authority, a federally chartered Section 17 corporation. They seek to raise $325 million for the wind farm, which the tribe plans to construct on its reservation lands in North Dakota. 
According to the Wind Industry North Dakota, 26.8% of North Dakota energy is being produced from wind power in 2020. More than 1,500 wind turbines are already installed throughout the state, exceeding 3,000 MW of wind energy capacity. North Dakota's wind resource is ranked fourth in the country, and eleventh in terms of number of existing turbines.
Estimates project the wind farm to generate $20–$25 million in revenue its first year and increase from there, which would more than double the tribe's current annual revenue of approximately $9 million.
Meeting the Standing Rock people's need for affordable electricity is a critical goal of the tribe. Currently the reservation receives all of its energy from power companies in North Dakota as far away as Bismarck, roughly 80 miles from the reservation. The commercial providers sell electricity at rates higher than many tribal members can afford. The reservation population experiences 70% unemployment and has a 40% poverty rate, making it one of the poorest regions in the U.S., according to SAGE's research.
"We're building a future so that our people can afford electricity. […] "We would gain utility for the reservation, which hasn't been done before."

Joseph McNeil, SAGE General Manager
To date, the Standing Rock Sioux Tribe has raised nearly $2 million from nine different philanthropic foundations for pre-development work. Beginning in 2016 with the fight against the Dakota Access Pipeline, the project has been committed to stemming the effects of climate change, recently securing a $100,000 grant from NDN Collective, a Rapid City, South Dakota-based advocacy and funding group.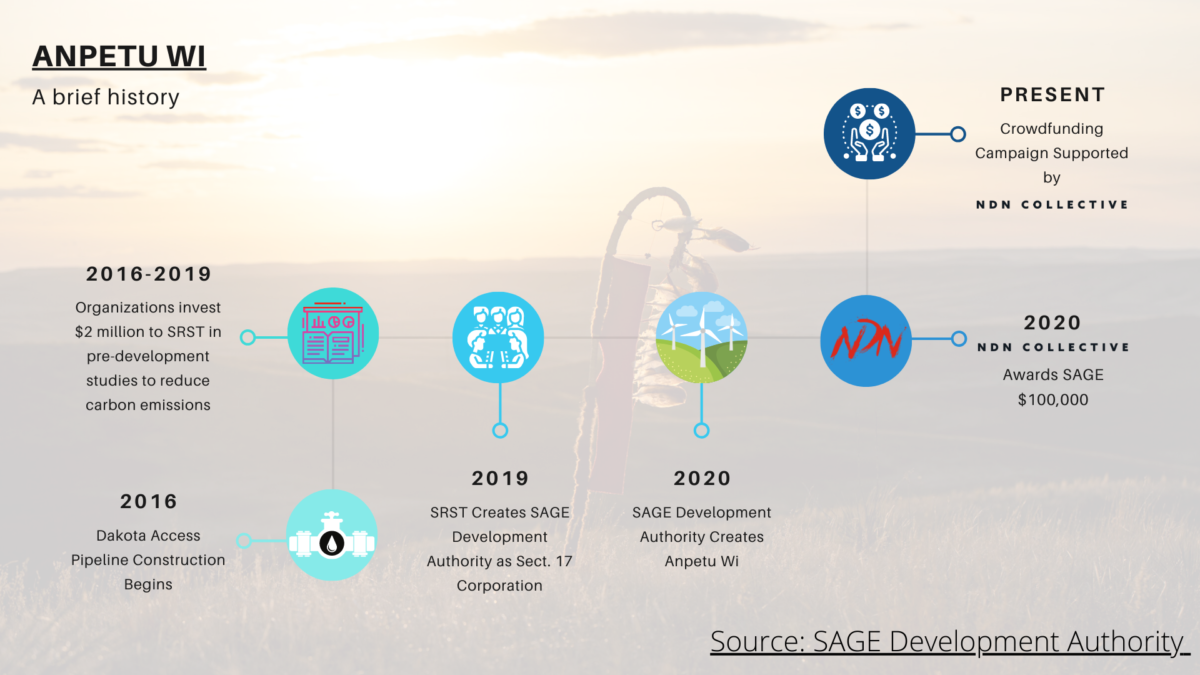 Previous wind energy development proposals on Standing Rock reservation lands were rejected by the tribe because they lacked a significant ownership stake in those projects. In Anpetu Wi, Standing Rock sees not only the opportunity to better control electricity costs for its people, but also a solution to generating revenue for the tribe to reinvest in itself. Executives say the revenue generated from SAGE would flow back to the tribe to fund economic development, reinvesting the money into future projects and the Standing Rock community as a whole, like a non-profit organization.
"If we had other opportunities to invest and develop utilities for our communities to benefit from, we would have invested in them already," SAGE General Manager Joseph McNeil said of the tribe's push to develop the wind project.
"We have two years to interview investors and power purchasers," added McNeil. "The more funds we raise, the more the tribe will own, which is what we want."
SAGE studied several locations on the Standing Rock Indian Reservation for Anpetu Wi, including a site in South Dakota, but ultimately selected a location in the Porcupine Hills — spanning nearly 20 miles from Fort Yates to Cannonball — because of its proximity to existing electric transmission lines. Picking the North Dakota location reduced the connecting distance to 12 miles, much less than the 40 miles that would be needed at the South Dakota location.
The company has already submitted an application for interconnection with Southwest Power Pool Inc., based in Little Rock, Arkansas. The company manages the electric grid and wholesale power market for the central United States.
In October, SAGE launched a crowdfunding campaign to raise $1.5 million as part of a phase one capital raise for the project. The company's pre-development work includes building a road to the planned site of Anpetu Wi.
By planning construction to start yet this year, SAGE will be able to leverage the federal renewable electricity production tax credit that is set to expire at the end of 2020. The program offers a 10-year per-kilowatt-hour tax credit for qualifying projects.
The renewable electricity production tax credit (PTC) is a federal tax credit for electricity generated per kilowatt-hour (kWh). Electricity from wind, geothermal, and closed-loop biomass resources can receive as much as $0.025/kWh under Section 45 of the United States tax code.
Finding Partners
To date, according to McNeil, six developers have expressed interest in partnering with the Standing Rock Sioux Tribe on Anpetu Wi. "We want to pick an investor that aligns with us and our values."
"We're a community-based energy development authority with everything going back into the community."

Joseph McNeil
In seeking out equity partners for the wind farm, SAGE's pitch relies upon the efficiency of design unique to Anpetu Wi.
According to the U.S. Energy Information Association, the highest-performing wind farms in 2019 were operating at a capacity factor just below 35%; the turbine's design, capacity in MW, and wind received over the year all influence that number. The capacity factor for Anpetu Wi has been estimated at 50% capacity by AWS Truepower.
"A 50% capacity factor is better than most other new wind farms and considerably better than the industry average," said Brian Ross, sustainable development program manager at Minneapolis, Minnesota based Great Plains Institute. Additionally, the projects plans to explore options to offload excess electricity by selling it commercially off the reservation.
A higher capacity factor appeals to investors because it means a quicker return on investment and also a more reliable power source, Ross noted. He added also that the wind energy industry includes many older farms and turbine designs.
A 235 MW farm operating at a 50% capacity factor could produce an annual output of up to 1,029,300 MWh. Applying the current average tax credit of $0.022/kWh results in an estimated $22,644,600 in tax credits the tribe could receive over 10 years — about 14% of the total cost of installation.
"When the power is needed is just as important as how much power is available," Ross told Unicorn Riot. "Investors and consumers both want to know if power is going to be there, even on the hottest day of the year."
However, capacity factor marks just one consideration regarding the usefulness or reliability of the project for investors and power consumers. Other factors are complex and can include nearby power producers, energy transmission, environmental considerations and cultural concerns.
According to the National Renewable Energy Laboratory, the Standing Rock Indian Reservation is one of 15 tribal lands with the highest potential for wind electricity generation. The land's estimated wind potential, combined with the capacity factor for Anpetu Wi, places the Standing Rock Sioux Tribe in a unique position to proceed in one of the first renewable energy projects of its kind with the tribe retaining a significant percentage of ownership, executives said.
If successful with SAGE and Anpetu Wi, the Standing Rock Sioux Tribe will demonstrate to other tribes how to exercise sovereignty over their own energy futures. For example, SAGE's board is entirely made up of enrolled members of the tribe, and its chair and vice chair are both women — Fawn Wasin Zi and Phyllis Young, respectively.
"We want this project to be something that's not just beneficial for Standing Rock, but for other tribes as well as we share our findings with others," SAGE manager McNeil asserted. He hoped that "everyone who supported Standing Rock back against our fight against the Dakota Access Pipeline" would be interested also in supporting the tribe's project for a clean energy project and "for a cleaner and safer world for our next generations."
Feature image courtesy of SAGE Development Authority
---
Follow us on X (aka Twitter), Facebook, YouTube, Vimeo, Instagram, Mastodon, Threads, BlueSky and Patreon.
Please consider a tax-deductible donation to help sustain our horizontally-organized, non-profit media organization: