Banners Dropped at Super Bowl Media Day
St. Paul, MN – Two banners were dropped inside the Xcel Energy Center on Monday, January 29, 2018 during Super Bowl LII's Media Day. The banners read #SBLIIBlackOut and #WeReadyWeComin. They were deployed while thousands of press attempted to ask questions of the New England Patriots football team during the NFL's "massive primetime TV spectacle", which also featured the Philadelphia Eagles. No arrests were made.
While the banner drop happened inside, outside hundreds marched through the streets surrounding the Xcel Energy Center following a "pre-game unity kick-off rally" titled 'Our Lives Over Their Game'.
In subzero temperatures the march, led by a pickup truck with a microphone and speaker, snaked through downtown Saint Paul with a police escort.
The banner drop and rally/march marks the first day of the week of protests surrounding SB52. The Super Bowl brings with it a SEAR-I designation, which has resulted in the Minnesota's largest security operation in the history of the state.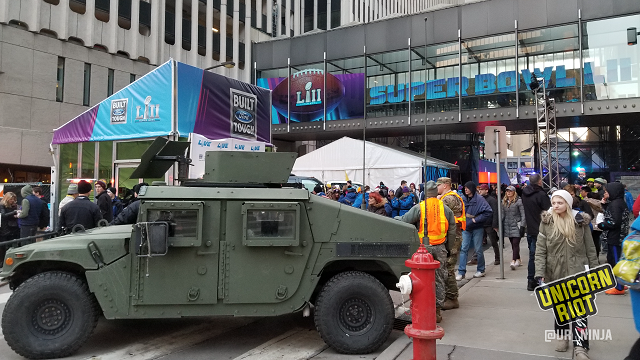 Continue to follow Unicorn Riot on Twitter, Facebook, Instagram, Vimeo, YouTube, and Livestream as we cover some of the events surrounding SB52.
---
Please consider a tax-deductible donation to help sustain our horizontally-organized, non-profit media organization:

---
Unicorn Riot reporting on Super Bowl LII: