"Americans of European Heritage Exclusively": Identity Evropa Front Group Meetings Leaked
Washington, DC – Identity Evropa, the largest neo-Nazi organization in the United States, recently renamed itself the American Identity Movement. The name change came after reporting by Unicorn Riot exposed over a year of internal chat logs from inside Identity Evropa, leading to journalists and antifascists exposing many of the group's formerly anonymous members.
Since rebranding as the American Identity Movement (AmIM), Identity Evropa (IE) leadership has mostly focused on limiting the impact of reports and struggling to regroup. The group's recent weekly meetings, partial recordings of which have been obtained by Unicorn Riot, show the group is still hoping to engineer a fresh, emboldened effort to push white nationalism into the political mainstream.
Editorial note: Identity Evropa and the American Identity Movement are proven to be the same group, so at times the groups' names are used interchangeably. The American Identity Movement is also abbreviated as 'AmIM' to avoid confusion with the American Indian Movement (AIM). 
'Weekly Address' speeches are given by American Identity Movement and Identity Evropa president Patrick Casey and/or his second-in command Matthew Warner, and often include and extensive 'Question and Answer' period at the end. Recordings of four such meetings (held over unlisted YouTube live videos or temporary Discord servers deleted after each meeting) are available at the bottom of the article.
Our previous reports have illustrated how Patrick Casey's claims that American Identity Movement is "not a rebrand" of Identity Evropa are not true. New details from leaked call recordings further confirm the two groups are one and the same. In a March 13, 2019 meeting, American Identity Movement leader Matt Warner told members that their "dues will carry over" from IE to AIM "so don't worry about that".
In a meeting on March 20, 2019, a member asked Matt Warner, "do we need to apply for AIM if we were already in IE?" Warner quickly answered that the American Identity Movement had simply absorbed Identity Evropa's entire membership roll as its own. "Nope", if you want to leave, you can just let us know, otherwise we're gonna assume you're on board."
In an attempt to prevent a repeat of the massive data leaks from inside Identity Evropa, the American Identity Movement has instituted stricter vetting practices. Members are now required to submit to "two Skype calls and one in-person vetting" before being entrusted with "sensitive information" such as the location of their new headquarters in the Washington D.C. area. The group is also instituting stricter rules to try to clamp down on members' habits of sharing personally identifying information in official chats.
The American Identity Movement has continued Identity Evropa's attempts to coordinating members editing the group's Wikipedia page to be more favorable to AmIM/IE. The group's leaders expressed fears that the Identity Evropa Wikipedia page would simply be renamed to the American Identity Movement, which threatens their attempts to distance themselves from the earlier organization. Identity Evropa is currently named in lawsuits as a result of their organizing the events in Charlottesville in 2017. The group discussed investing funds in paying people to manipulate their Wikipedia entries, although it isn't clear if this work would be done by members or a private firm.
Patrick Casey also encouraged members to "rebrand your social media accounts" to avoid overlap with usernames and identities connected to Identity Evropa's leaked Discord chats. According to Casey, his group's new American flag aesthetic is meant to allow members to avoid being held accountable for their racist affiliations:
"We don't want them to be able to tie you to AmIM, right, if you haven't gotten doxxed as a result of the IE leaks, then you know, say that you do get doxxed as a result of AmIM, it would be good for you to be able to say 'I was never part of Identity Evropa', right, you could say 'I joined a patriot group', …'I joined a conservative activist group… now that might sound like cucking, but when you're trying to keep your job, right, that's how you do it. That's how you spin things."

– Patrick Casey, American Identity Movement weekly address, April 3, 2019
While Identity Evropa's new front group makes cynical use of mainstream conservatism, in private the group does not shy away from the open racism that forms its foundation. In the AmIM Weekly Address on March 20, 2019, Matt Warner said that the American Identity Movement does not "accept [people of color]" and "will always be a space for Americans of European heritage exclusively."  "I wouldn't think POC would be allowed at official functions", wrote one participant in the chat for the YouTube stream used to conduct the meeting. Warner's address went on to reiterate that "AmIM membership require[s] applicants to be of wholly European non-semitic descent." Like Identity Evropa, the American Identity Movement is anti-semitic by policy; Jewish individuals are forbidden from joining. The group also subscribes to 'The Great Replacement", a neo-nazi conspiracy theory which holds that Jews are plotting to exterminate white people in the US and Europe by encouraging non-white immigration. 'The Great Replacement" was also the title of the manifesto of the gunman who murdered 50 Muslim worshippers at a mosque in Christchurch, New Zealand in March 2019.
Casey claimed that leftists and liberals "love that the Christchurch mosque got shot up" and "love that Heather Heyer died" in Charlottesville because these events were "politically useful" to those looking to fight neo-Nazis and the far-right. This echoes false flag conspiracy theories about the shooting currently popular amongst the global neo-nazi movement.
During another weekly address on April 3, Patrick Casey spent a lot of time discussing the theory that drives activism strategy for Identity Evropa/American Identity Movement. He describes how ideally the organization would become "hegemonic" and exploit crises to seize control of the government through political means, and/or would "dissolve" the government entirely and replace it with a whites-only 'identitarian' regime.
…if we build up parallel institutions in this country, then we can absolutely be ready for whatever may come. Maybe it's the government kind of collapses, maybe secession becomes an option. There's a lot of economic discontent that I think is going to, in the future, is going to be ripe for being channeled into a more Identitarian and or Nationalistic direction. 

You know, a lot of this stuff was, a lot of the sexual deviancy was done back in the Weimar era…degeneracy is not progress. At the end of the day I don't need to tell you guys that… what will happen is we take power through other means, through political maneuvering and so forth, and then we promulgate an ideology that justifies, that is identitarian that justifies our existence, keeps us in power and so forth, defines the enemy, pathologizes enemy beliefs and so forth.

We want… people on the right… to be able to look at us, and say, hey, that's cool, yeah, they're pro-American, it's anti-illegal immigration, whatever. You want these people to see us as potentially being future rulers. They don't have to understand our ideology…"

– Patrick Casey, American Identity Movement weekly address, April 3, 2019
Despite its proven basis in overt racism and fascism, the American Identity Movement has achieved some success in courting a wider right-wing audience. Alex Jones' massive InfoWars video platform has repeatedly promoted Patrick Casey and the American Identity Movement in several recent fawning interviews, none of which mentioned Identity Evropa once.
In a weekly address dated March 27, held via Discord, Patrick Casey explained how strategy for building political capital by courting the "boomer patriot crowd":
"The point is that we can absolutely advocate for what we believe in and what we care about in a way that the average conservative white person and the average Trump supporter, maybe former Trump supporter at this point, finds accessible and finds to their liking. So that's what we're doing…the fact that I went on Infowars, that's evidence that our strategy is working, because at the end of the day you can talk about optics and say this is the right approach, that's the right approach… we're really A/B testing, we're seeing what works."

– Patrick Casey, American Identity Movement weekly address, March 27, 2019
Casey also cited the fact that the American Identity Movement was able to sell shirts online as evidence of his strategic wisdom guiding the group to success. He was referring to Free Speech Apparel, a right-wing political clothing website that partnered with 'AIM' right after its launch to sell hoodies printed with the group's logo. On April 25, the American Identity Movement's Twitter account posted that "Shopify recently disabled Free Speech Land's entire store for selling AIM merchandise". Free Speech Apparel seems to be back in business but the link for 'AIM' merchandise on their site now leads to a dead page.
The American Identity Movement has been using the payment processor Zelle to accept donations and collect dues from members. After Unicorn Riot reached Zelle for comment on our last report on this topic, Zelle appears to have banned the group. In recent weeks, Patrick Casey has switched to asking members to send funds via PayPal.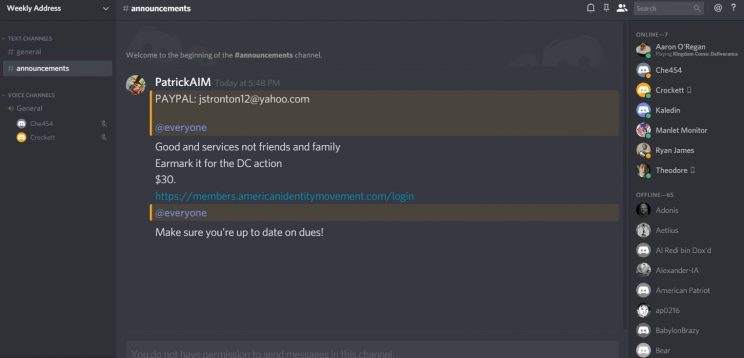 This weekend of April 27, 2019, the American Identity Movement is holding a secret gathering for members who traveled to their new headquarters in the Washington D.C. area. The group plans to hold a short flash rally, visit museums, and entertain a visit from white nationalist author Jared Taylor from the American Renaissance conference.
American Identity Movement also plans to attend the American Renaissance conference in Tennessee next month. Patrick Casey is slated to speak alongside Lana Lokteff, a neo-nazi propagandist for the YouTube-based streaming network Red Ice TV, which also employed Casey until he left earlier this year. Also speaking will be James Allsup and Nick Fuentes, both racist YouTubers closely tied to Identity Evropa. In addition to publishing Identity Evropa's Discord chat last month, Unicorn Riot obtained and released chat logs from Nationalist Review, a Discord chat tied to a podcast hosted by Allsup and Fuentes. Most users in the chat displayed neo-nazi, pro-Hitler views and discussed holocaust denial. One user with many violent and anti-semitic comments ended up being exposed by antifascists as Bennett Bressman, former campaign field director for Nebraska's Republican Governor Pete Ricketts.
Primary source materials obtained for this report are below. Note: several of the recordings are incomplete.
-March 13, 2019 American Identity Movement weekly address: .mp3 | .PDF transcript | YouTube live chat screenshots (.zip)
-March 20, 2019 American Identity Movement weekly address: .mp3 | .PDF transcript | YouTube live chat screenshots (.zip)
-March 27, 2019 American Identity Movement weekly address: .mp3 | .PDF transcript
-April 3, 2019 American Identity Movement weekly address: .mp3 | .PDF transcript
New leaked Discord logs:
–March 27, 2019 AIM weekly address Discord server
–April 3, 2019 AIM weekly address Discord server
–April 17, 2019 AIM weekly address Discord server
Please note: all DiscordLeaks message timestamps display in UTC, not in USA time zones.
---