Ex-Marine Linked to Minneapolis Mass Shooting Shared War Gore and Murder Fantasies After Trial
Minneapolis, MN – An armed far-right attack on protesters in North Minneapolis in November 2015 started a new chapter in America's long history of white supremacist violence. Allen Scarsella, an "alt-right" neo-Nazi indoctrinated on 4chan, shot five unarmed Black men at a protest against the police killing of Jamar Clark. As murders and violent crimes by white supremacists continue to spike across the world, the historical significance of Allen Scarsella's mass shooting of Black protesters should not be forgotten.
Two years after Scarsella was sentenced to 15 years in prison in April 2017, Unicorn Riot has uncovered more details about ex-US Marine Corps member Julio Suarez, who helped lead the armed harassment of protesters alongside Scarsella days before he attacked. Significant additional details about Suarez have been revealed in leaked chats from Discord, a chat program designed for gamers and popular among online white supremacists.
Several members of the military have recently been outed as espousing white supremacist ideology thanks to Unicorn Riot's releases of messages from Discord chat servers. Millions of chats have been released since August 2017's violent Unite the Right convergence in Charlottesville.
Research into the Anticom Discord chat server, leaked in late 2017, shows 448 messages in 2017 from User Name @E4S1911-MN between February 7 and April 14.
(The Discord chat for Anticom, short for Anti-Communist Action, was active for most of 2017. Anticom served as a loose-knit fascist organization to bring together various neo-Nazis and white supremacists while publicly claiming to be libertarians. The group included underage teenagers as well as members of the neo-Nazi terror group Atomwaffen, and some posts in Anticom included manuals about making explosives. Anticom was also involved in planing paramilitary militia operations for Unite The Right in Charlottesville.)
@E4S1911-MN is Julio Alberto Suarez, an ex-Marine who served in Iraq and had previously brought firearms to threaten the Minneapolis protest encampment with Scarsella four days before the 2015 shooting.
Most of Suarez' posts fixated on his past military service, Alex Jones and Joe Rogan memes, PTSD, his love for weapons and his hatred against Muslims, Somalis, antifascists, and communists. He also shared several disturbing pictures of corpses that he said were kills made during his military service in the Iraq war.
Content Warning: Disturbing contents, graphic imagery of war fatalities and violent and racist language.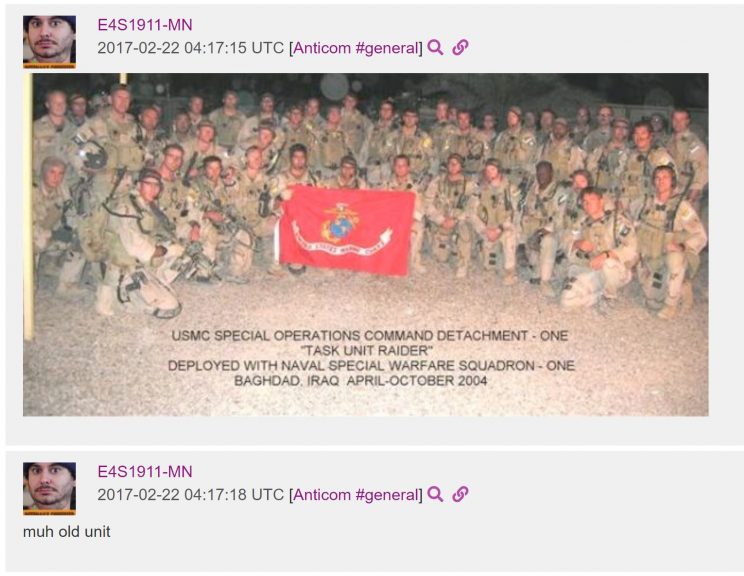 In Anticom's #general chat room, Suarez posted a pic of a body being dragged by a rope behind a military vehicle numerous times, asked in a message "GOD EMPEROR TRUMP PLEASE STRIKE DOWN ISLAM," calling to "Pls nuke mecca" and said killing was "fun".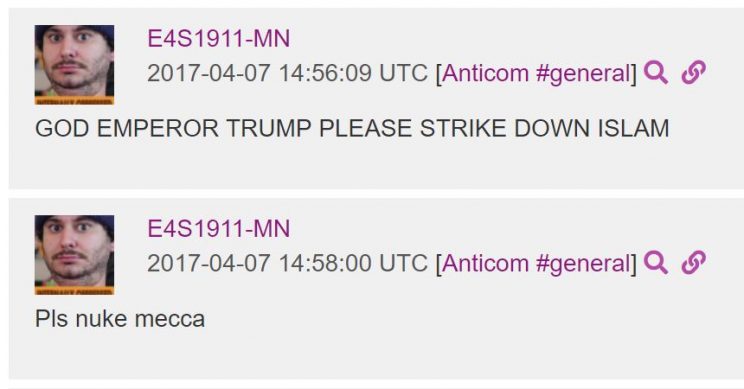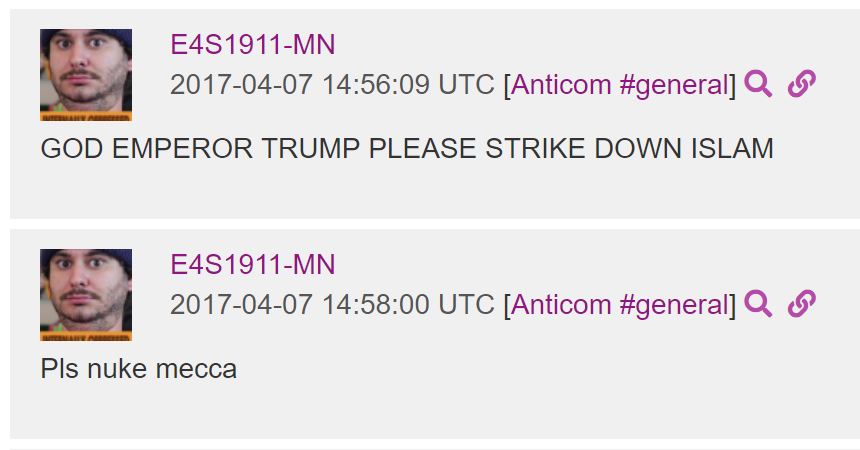 Suarez posted that he was 1st Recon, which is now MARSOC (Marine Corps Special Operations Command) and served in Mosul, Iraq. He shared kill images multiple times of what seemed to be three different victims, presumably from Iraq. During a thread on February 10, 2017, Suarez shared two images of kills with the words "kebab removed" in between them and then posted his USMC (United States Marine Corps) squadron picture.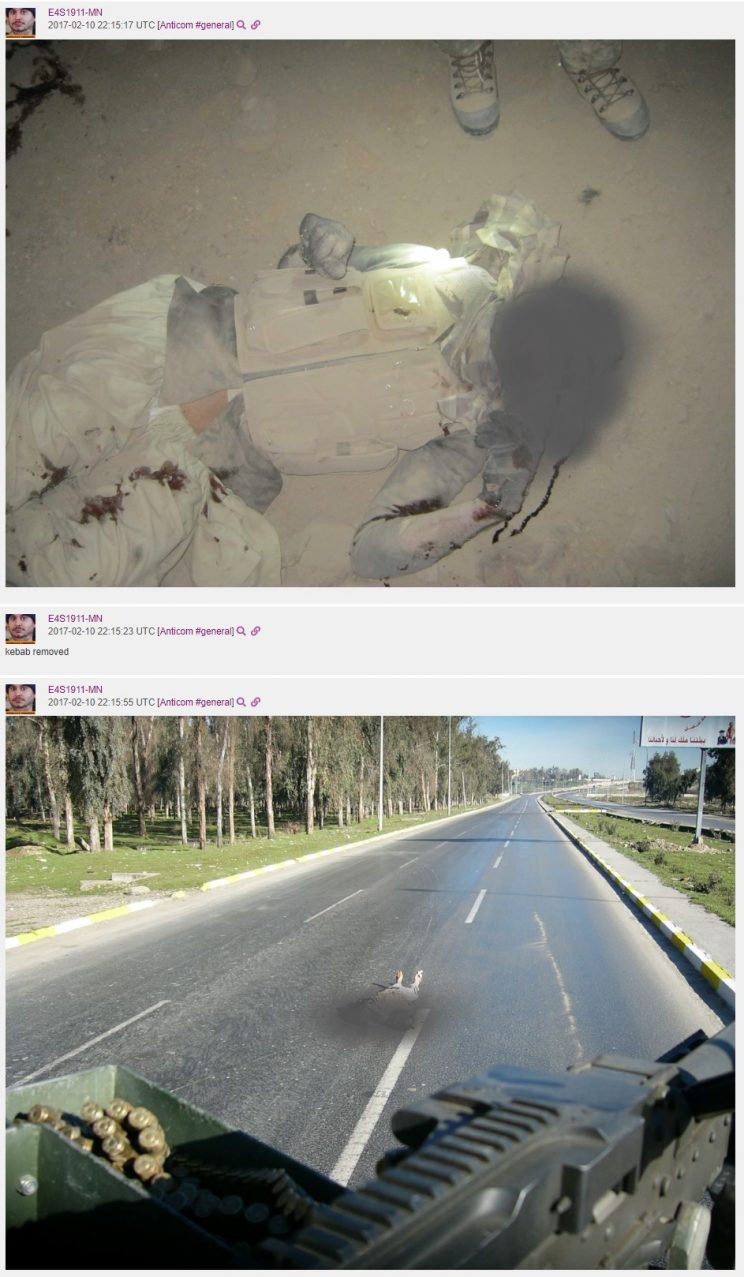 "Remove kebab" is a meme popular among neo-Nazis that serves as a whimsical, yet serious, call for genocide against Muslims. "Kebab" in this context is used as an anti-Muslim slur. The New Zealand shooter who murdered 50 Muslim worshippers in Christchurch mosques last month had written "kebab remover" on his assault rifle with white-out. The gunman also played "Remove Kabab", a song popular with online neo-Nazis, in his car during his livestream of the shooting.
According to the Daily Dot, Serbian soldiers "made it to honor their former leader, Radovan Karadžić. Karadžić was convicted of war crimes during the Bosnian war, during which he was responsible for the killing of approximately 7,500 Muslims."
In numerous posts, Julio Suarez paints an image of himself as a war criminal participating in bigoted violence towards Muslims in Iraq, among many other statements extolling desires to carry out racist violence and murder in real life. He also made statements threatening Minneapolis' large Somali population. In one March 2, 2017 message, Suarez, wrote "bitches dont know about my guns and night vision optics tho", after saying he "fucking hate[s] somalians" and that he lives "in the middle of them."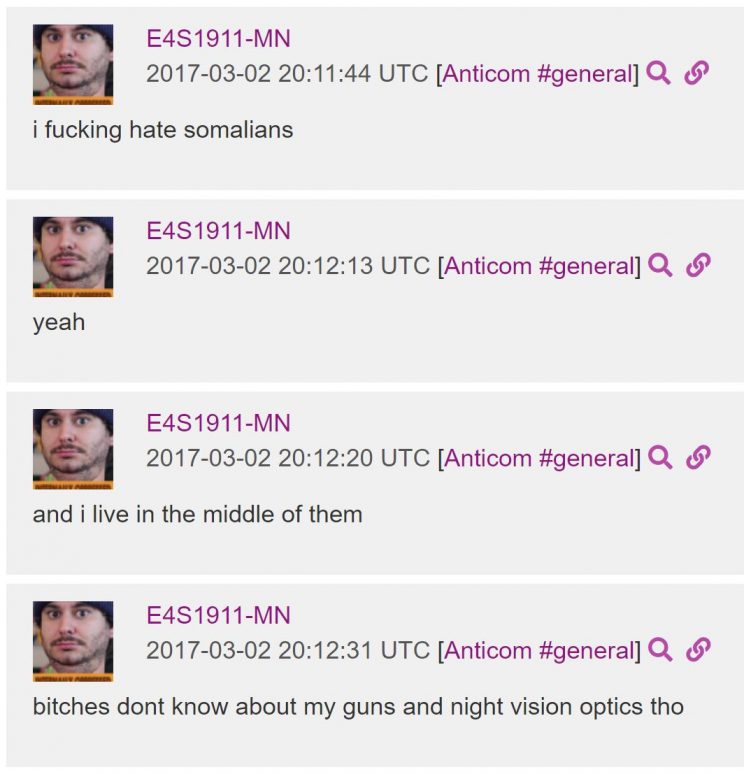 Suarez said that he used the 1911 pistol in the military, hence his user name E4S1911-MN (side note: Scarsella also used a 1911 pistol in his November 2015 shooting). Suarez posted several pictures of himself posing with weapons, body armor, and even his 'SCAR' or 'Special Operations Combat Assault Rifle'.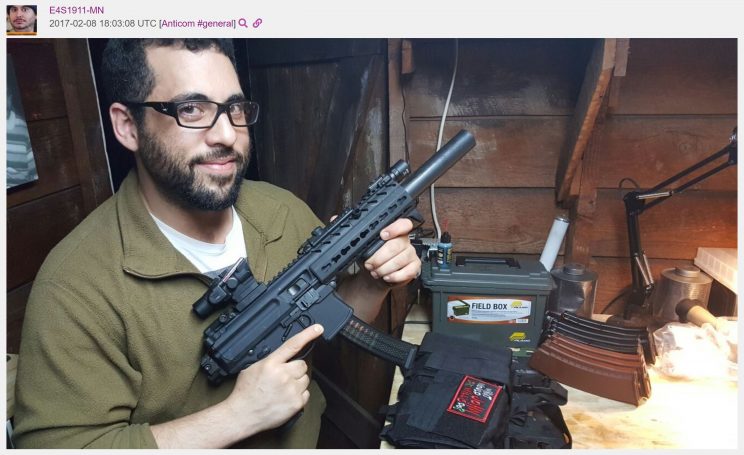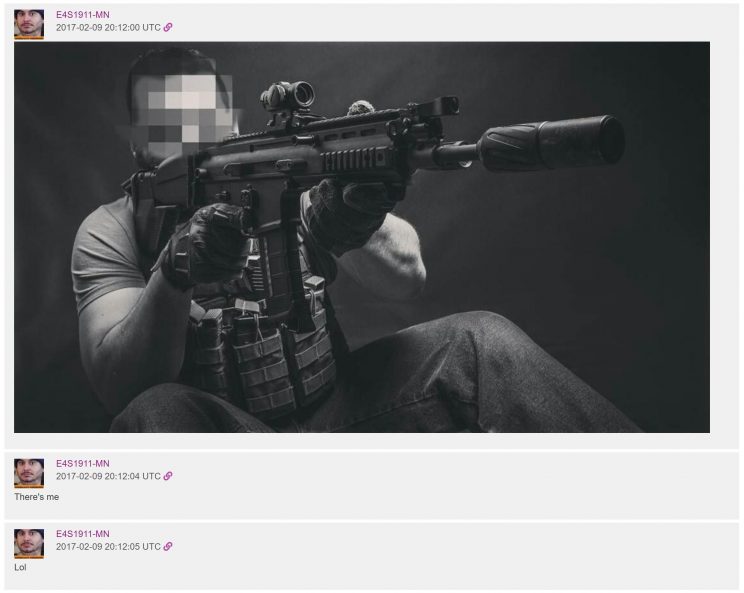 "Mosul was crazy but fun since no rules", Suarez posted in a long conversation on February 22, 2017, in which he shared his feelings about war and his military service. He said that in 2016 he went "to fight with the Kurds" and that he was "so happy, like happier than id ever been in years". He shared, once again, a thread of multiple kill images, "kebab removed", and a picture of his "old unit."
Three days later, on February 25, Suarez again shared grotesque multiple images of kills in Iraq, including a new one of a assault rifle in the sand with blood on it. Suarez also shared a video, available through his Google Drive, made from footage he and other soldiers recorded in Iraq, and asked the chat room to share their thoughts.
SUAREZ'S PUBLIC PAST
When Allen Scarsella perpetrated his racially motivated mass shooting of five Black men during a Justice for Jamar Clark protest in Minneapolis, he was not alone. Seeking internet popularity with 4chan, on the first of his two trips to the protest site to mock or "meme" the protests in real life, on November 19, 2015, Scarsella was joined by Suarez.
The pair had met through Minnesota "meet-ups" from 4chan's /k/ board. Suarez used his 4chan username "Saigamarine" and Scarsella was "Black Powder Ranger".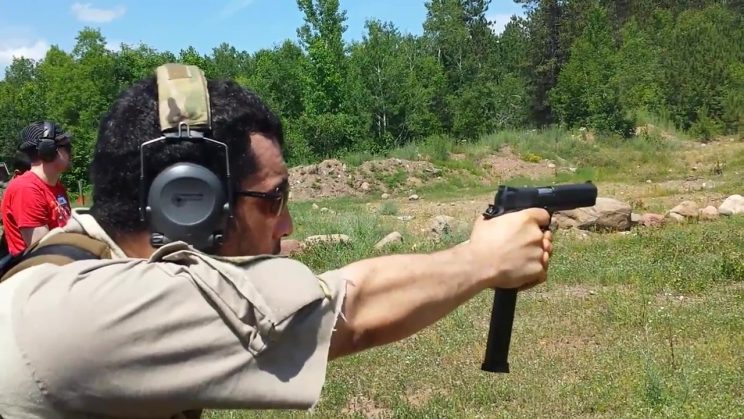 In a series of Anticom chats, on February 13, 2017, eleven days after Scarsella was found guilty of 12 felonies, Suarez said he "cant be doing shit in public" because he "went to a blm protest to banepost and meme IRL" and that he "got in trouble w blm and shit [last] year for meeming irl".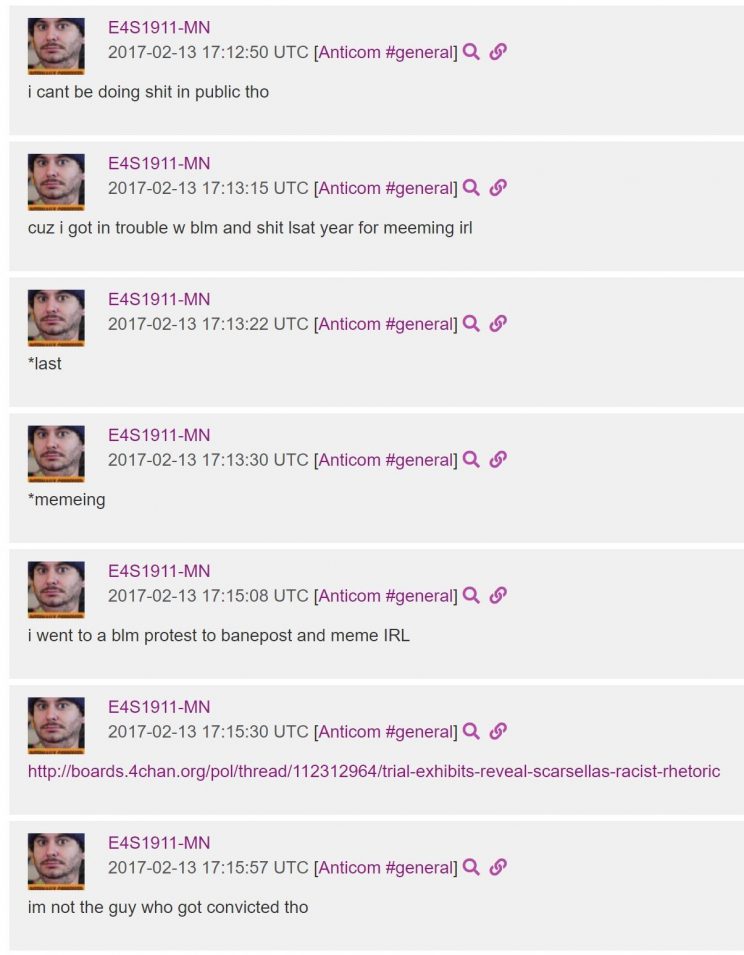 On the night of November 19, 2015, while driving to the protest site, wearing camouflage with their faces covered, Suarez and Scarsella made a Facebook and Livestream video brandishing a gun, saying they were "locked and loaded", headed to the protests. They used numerous racial slurs, implored people on /pol/ to "keep on watching the stream" as they were on their way "to knock this shit out" and ended the video with "stay white".
Shortly after arriving at the precinct that night, Scarsella, Suarez, and another individual from the 4chan trolled different groups at the protest while live on their own stream before seeking out Unicorn Riot's livestream in front of the 4th Precinct, where they were interviewed for a brief three minutes. Scarsella and Suarez used a slew of phrases from movies, 'Bane memes', and other racist memes popularized in internet forums like 4chan and Reddit.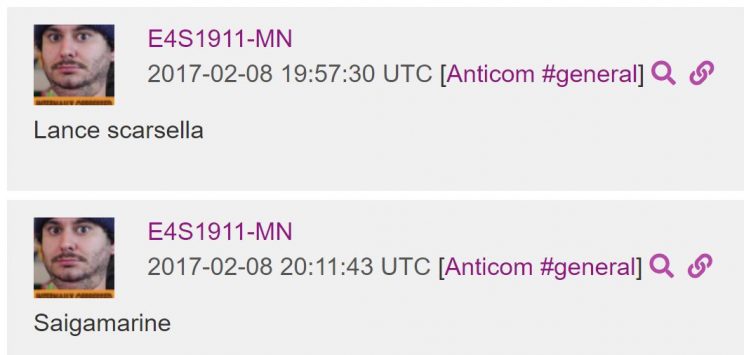 That night, four nights before the mass shooting, Suarez said, "it's boiling man, it's soon, it's gonna be happening soon. We don't know how, we don't know when, but it's gonna be happening" and Scarsella ended the interview with "one might say it was our plan to get caught." After being confronted by protesters and asked to leave, Suarez, who was livestreaming at the time, was filmed again by a Unicorn Riot reporter.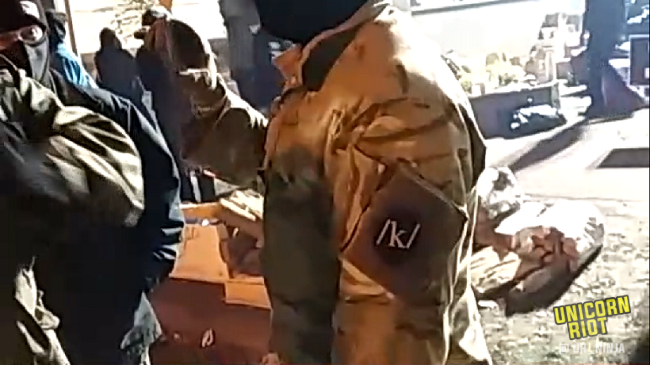 Four nights later, Scarsella returned with three companions, and he was once again armed with his Remington 1911 .45 semi-automatic handgun. Within minutes of arriving at the precinct, he had emptied out a full magazine of bullets towards unarmed protesters that were demanding he and his friends leave the protest after the four refused to remove their masks. Five victims laid wounded and bleeding, one, 20-year-old Tevin King, barely clinging to life.
Watch a video showcasing the timeline of the November 2015 events below and watch all of the media from November 19, 2015 pertaining to Suarez.
After the shooting in North Minneapolis, Scarsella and those with him; Nathan Gustavsson, Joseph Backman, and Daniel Macey, went directly to Julio Suarez's uptown Minneapolis residence before going to Scarsella's place in Bloomington, Minnesota.
Scarsella was arrested the next day in Bloomington, Minnesota and has been in protective custody since the first day of his incarceration on November 24, 2015. Scarsella is serving a 15 year sentence in a "non-DOC facility" where he is "housed at another facility for safety reasons", according to his DOC case worker Abby Domagalski.
Suarez testified in Scarsella's trial that it was his idea to go to the precinct. Suarez was apprehended by the Minneapolis Police in his vehicle and was brought in for questioning in the days after the mass shooting but was released and never charged (read about Suarez's testimony here).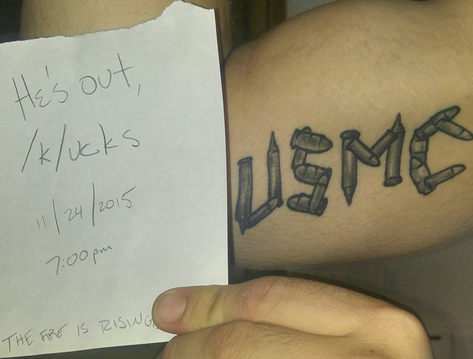 Elizabeth Werner, Suarez's girlfriend also testified in Scarsella's trial and was not charged (read about Werner's testimony here).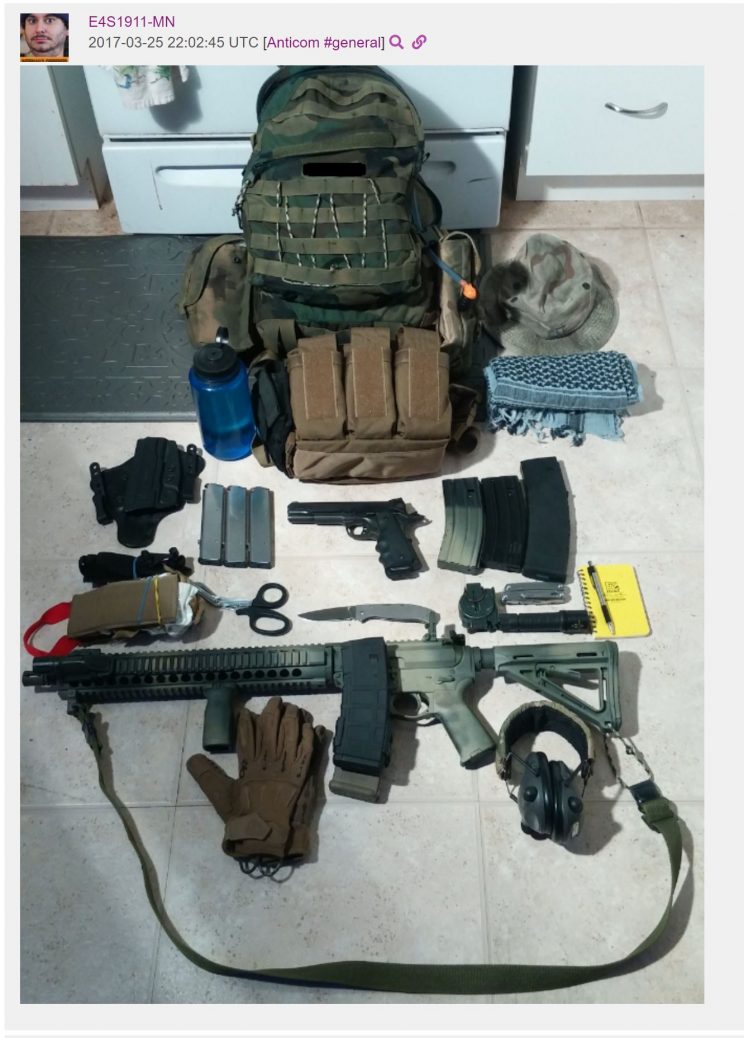 Many in the community, including Scarsella's shooting victims, felt the prosecutors were lenient in bringing charges against Scarsella and wanted charges on the others involved as well.
---
---
In other posts he made in the Anticom Discord chat, Suarez sought out links to help "redpill" his friends, stated that he wished he was in California "to bust some antifa skulls" and also expressed his wish to "bash some commie heads".
He also shared a meme referencing Chilean dictator Augusto Pinochet's practice of murdering political dissidents by dropping them from helicopters. Like "Remove Kebab", "Pinochet did nothing wrong" and "free helicopter rides" have become popular memes that neo-Nazi and far-right groups use to call for the mass murder of their perceived opponents.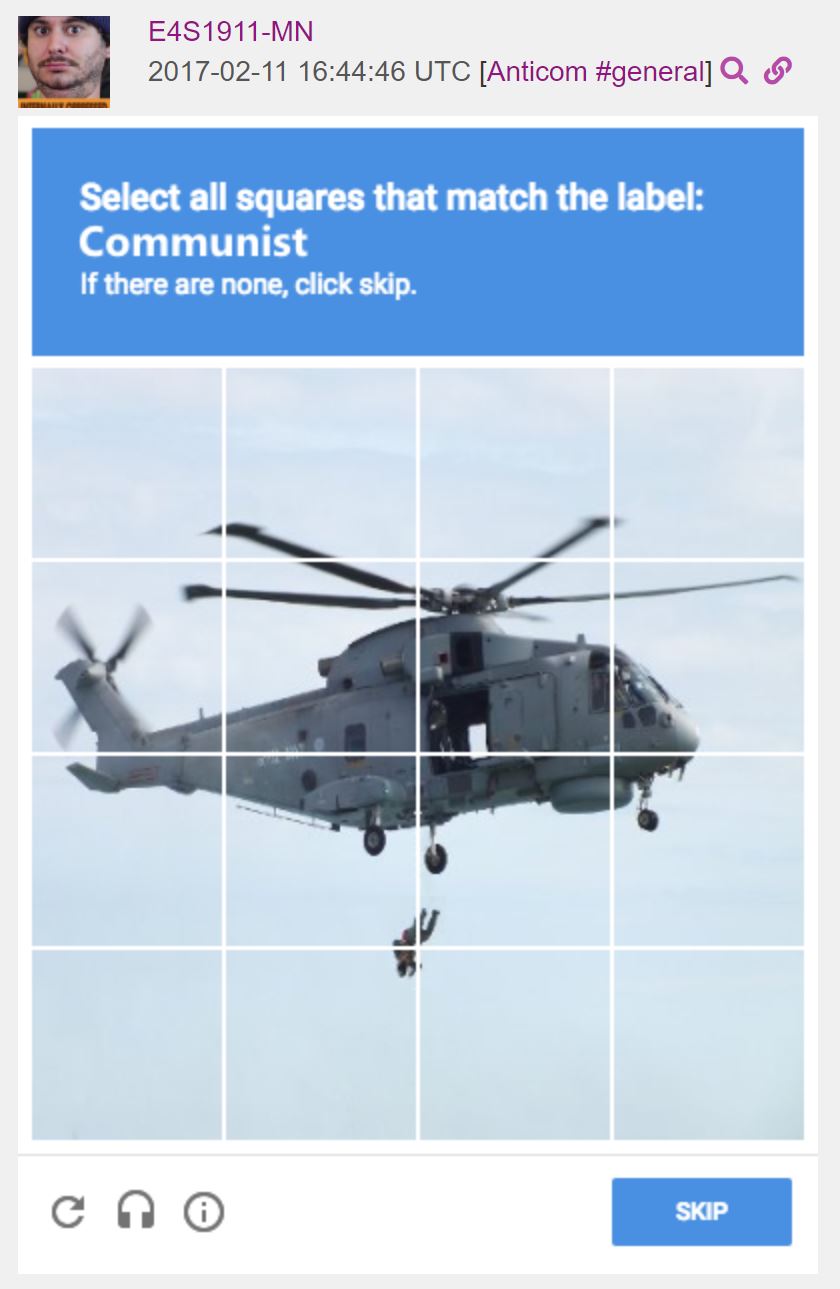 Suarez also posted that there was a planned antifascist rally a block from his home on March 15, 2017, and that he was "gonna hole up with [his] AR" at his house. It was that same conversation that led to him stating that he couldn't "do shit in public tho".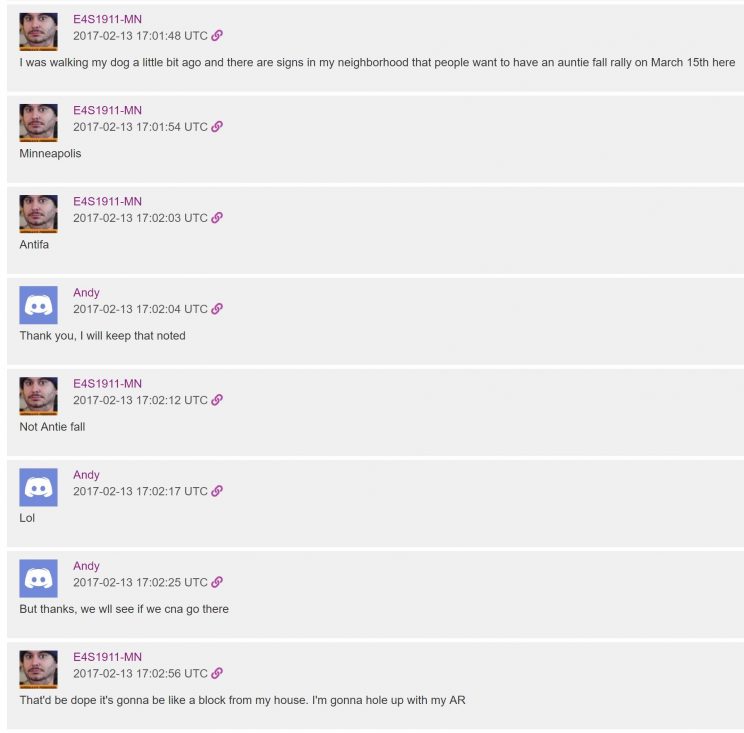 Julio Suarez is a prime example of the concerning reality of some military service members harboring intense hatred for their neighbors, while also having access to high-powered weaponry.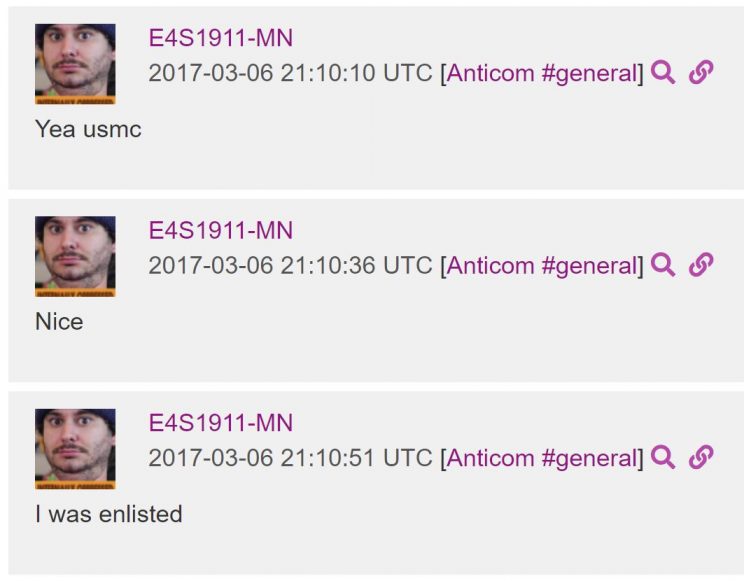 Scarsella's trial and sentencing hardly inhibited the vitriol and visions of racist violence Suarez continued to publish after his close friend was convicted in the jury trial on all counts. It raises the question of what direction will Suarez and his associates go next, with their shared interest in neo-Nazi ideology, guns, and a fixation on celebrating mass murder.
See our past Scarsella reporting and our previous stories based on Anticom Discord chat leaks.
Additional reporting was contributed by Chris Schiano.
---
Please consider a tax-deductible donation to help sustain our horizontally-organized, non-profit media organization:

Scarsella Trial Reportbacks & Coverage of Shooting at 4th Precinct: