Maunakea Protectors Supported at Gathering at Dakota Sacred Site
St.Paul, MN – Sunday, July 28 Indigenous peoples and allies gathered to share prayer, story, song, and dance to support the Kia'i (Protectors) of the mountain Maunakea, in Hawaii, which is held sacred to the Kanaka Maoli Ohana (Native Hawaiians).
The gathering in Minnesota was held near
Wakan Tipi
a sacred site to the Dakota people. The event was opened with prayer, and then speakers shared information about the ongoing
blockade
at the base of the mountain by a Pu'uhonua, a traditional place of refuge, put in place by ceremony by Kanaka Maoli Ohana which has seen thousands of Kia'i come in support.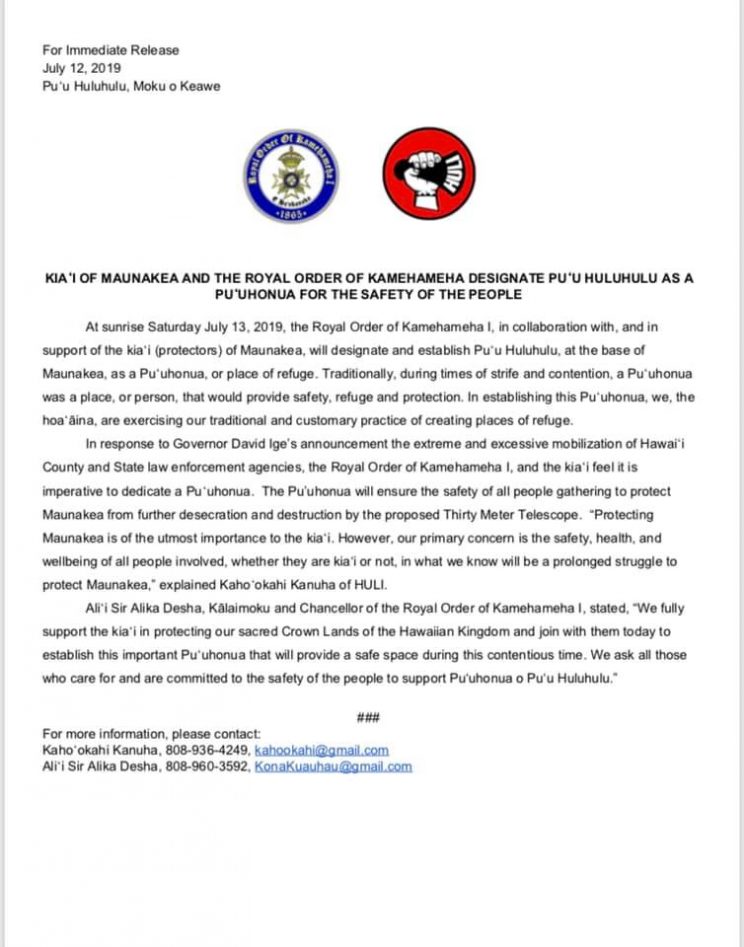 Those gathered in support in St. Paul, Minnesota wanted to add their voices of support and offer prayers for what one speaker called an ongoing spiritual conflict as well as physical conflict.
Dozens are gathered in #StPaul which has been organized to support the Kanaka Maoli Ohana who are protecting their sacred mountain, #MaunaKea in #Hawaii.

Watch #LIVE https://t.co/5y3L1ou1ma pic.twitter.com/73VkQHMH4V

— Unicorn Riot (@UR_Ninja) July 28, 2019
The Kia'i have blocked work crews since July 15, 2019 from beginning construction of the $1.4 billion Thirty Meter Telescope (TMT) on the peak of Maunakea, which is the tallest mountain in the world if its total height is measured from its base below the ocean.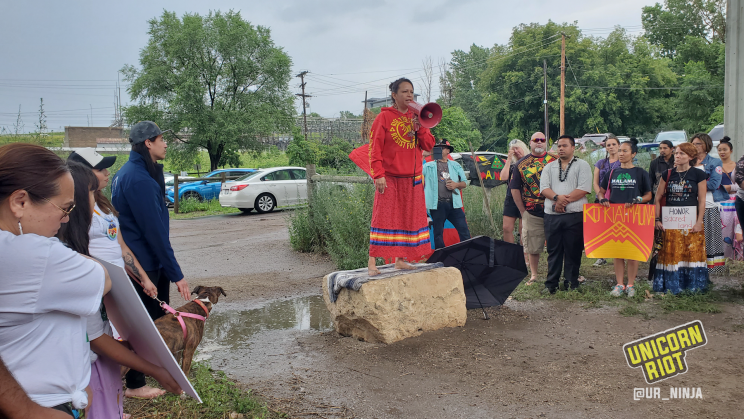 Holy Elk Lafferty spoke about watching 33 kupuna (elders) who were arrested blocking the access road to Maunakea on July 17, 2019 and wanted to send prayers and healing because she felt that it triggered historical trauma. She said,
"I wanna honor all of the kupuna who were arrested in our prayers right now, honor their hearts, their minds, their spirits and send prayers and love to them for healing." – Holy Elk Lafferty
Vincent Diaz another speaker at the event said the struggle for sovereignty, self-determination and nation building seen in Maunakea, Puerto Rico and on other island nations is also about reclaiming knowledge systems. He said that this struggle
"is also connected with the struggle to reclaim knowledge systems from the systems that have built themselves by not only appropriating land, but the knowledge systems of indigenous people."  – Vincent Diaz
Speakers continued to share songs and stories before closing the gathering with prayers for the Kia'i of Maunakea.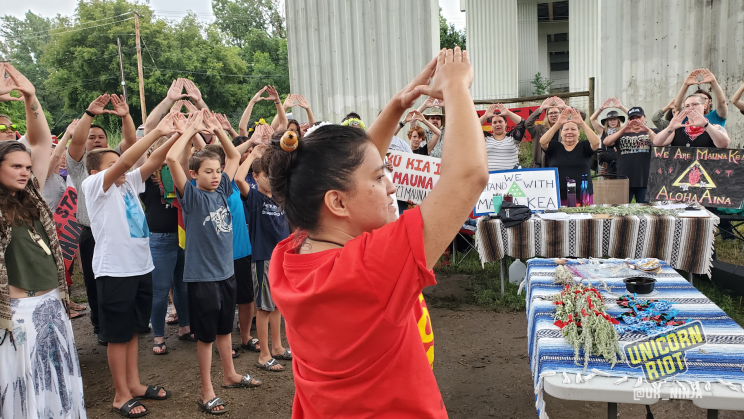 Since the Pu'uhonua was established on Maunakea, the Governor of Hawaii has instituted a state of emergency and deployed the National Guard. This most recent face-off is a continuation of an ongoing struggle by Kanaka Maoli Ohana against further desecration of their most sacred mountain, which already has 13 telescopes in place that also saw disputes. Today, the Kia'i continue decades of struggle to protect their mountain and are camped at its base watched by a mixture of law enforcement that includes police, sheriffs, and national guardsmen.
The government has faced mounting opposition to the telescope as the most recent flare-up of this ongoing struggle reaches its second week. The Kia'i have said they have no intention of moving.