Protest Shuts Down Highway, Marches Through Eagan's High-End Outlet Mall
Eagan, MN – Protests shut down roads around Eagan's Outlet Mall and miles of Minnesota Highway 13 on Saturday, July 27. About 100 protesters marched through the area seeking justice for 23-year-old student and entrepreneur, Isak Aden, who was killed by police after a standoff in the St. Paul suburb of Eagan in early July.
Braving the mid-day summer heat, community members gathered at the parking lot in Eagan's high-end Outlet Mall to continue to press their demands that Eagan Police release any of the police videos and transcripts related to Isak's case.
Protesters marched through the walkways of the outlet mall, down Highway 13 to the site of Isak Aden's last moments, and then back through the mall before dispersing. Security and police responded to the protest by shutting down most of the access roads that lead into the mall and long strips of Highway 13. No arrests were made.
After the crowd marched to the scene of Isak's death, Badrudin Aden, one of Isak's brothers, spoke to the crowd, as did his sister Sumaya. Standing where his brother was shot to death, Badrudin pointed to a fire hydrant about 100 yards away saying that was where he was at during the standoff on July 2. He questioned why the police had to call 90 officers to the scene for just his brother. Aden's family has yet to see the autopsy report or hear from the authorities how many bullets hit Isak. Badrudin continued the calling for the release of all of the evidence.
"They don't even have the decency to tell us how many bullets hit my brother." – Badrudin Aden
Sumaya Aden said the police lied to their family multiple times the night of the standoff. She questioned why her family was told that police "would wait this out as long as they need to," yet within a few hours they ended up firing the shots that killed her brother. She went on to say that while police shot her brother at 10:45 p.m., they "didn't put him in the ambulance until 11:20 p.m." saying that police prioritized fixing a gas line damaged by their gunfire before putting her brother in the ambulance to try to save his life.
"This is a clear execution", Idris Ahmed said at the scene of Isak's death. Idris has created a GoFundMe to help cover funeral costs for Isak, his childhood friend. He compared the situation that Isak was in, as a Black Somali man, to a police standoff last year in Burnsville with a white man that lasted 12 hours and ended peacefully.
"They gave Isak Aden until it got dark and they killed him … He was not a threat to anybody … They could've waited." – Idris Ahmed
The same Burnsville standoff was also spoken about in the protest at Eagan's City Council meeting on July 16. The protest was attended by family members of Map Kong,  a 38-year-old Cambodian father who was killed by Burnsville police after a short standoff in a McDonald's parking lot as he was going through a drug-fueled mental crisis three years ago.
The crowd of protesters marched behind a banner reading "Justice 4 Isak", chanting "Black Lives Matter! Somali Lives Matter! Immigrant Lives Matter!", "Eagan's not above the law!", and "No justice – No peace! Prosecute the police!"
Recently built and filled with high-end stores like Armani, Saks Fifth Avenue, and Coach, Eagan's Outlet Mall was marched through twice by the protests. Shoppers showed a full range of reactions, with some running away in fear while others joined the march. Speeches were given in the mall's walkways. One of which, Badurin led off by apologizing to the shoppers for the inconvenience, while also saying that they wouldn't stop until they got justice.
"I see everybody out here, sorry to inconvenience you guys, but my brother getting killed was an inconvenience to me." – Badrudin Aden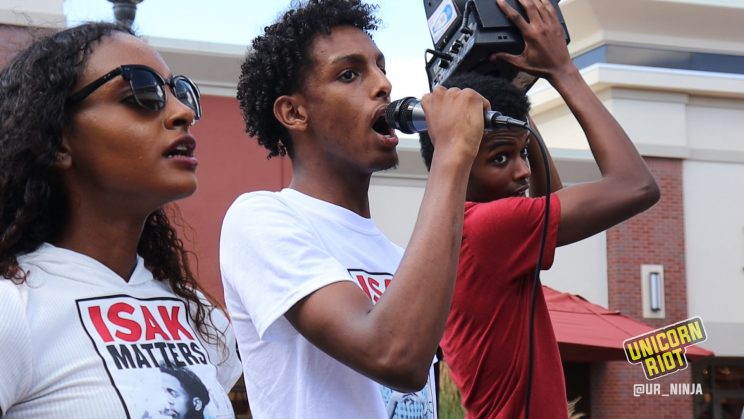 This was the second public protest for Isak Aden. The first action was July 16, when over a hundred people flooded into Eagan's City Council Chambers. Unicorn Riot spoke with two of Isak's siblings after the action.
During the sit-down with the siblings, Sumaya spoke about how the Young Muslim Collective (YMC) organized a healing space in Minneapolis' West Bank for Isak's family and the Somali community.
"Join us for a space of collective healing to discuss the police brutality and violence facing the community and how it impacts our black youth. Isak's family will be in attendance." -YMC Event on July 14
YMC is an organization with Muslim youth taking the lead on social issues. Among many things they organize, they've been holding community forums on government surveillance of Black Muslim youth.
Sumaya said that providing spaces for youth to speak out about "their experiences with police brutality and trauma and not be dismissed" has been very important and also important for the elders in the Somali community to further understand how authority has treated people of color since the conception of the United States of America. She said a lot is "lost in translation within the Somali community" and that some of the elders "don't understand that there is a system in place to hinder the excellence of Black and Brown bodies in this country."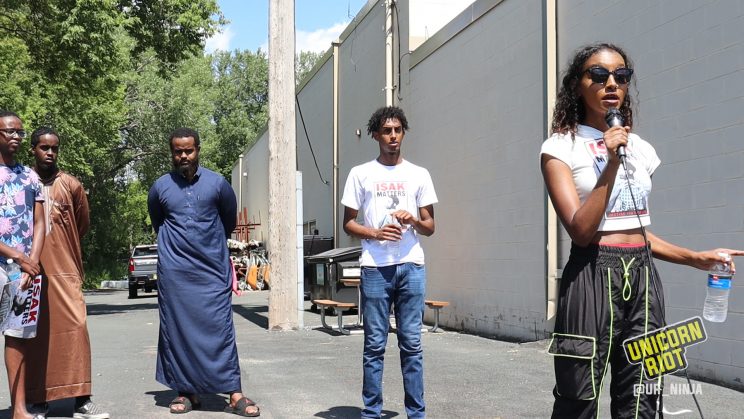 Isak Aden was shot by seven officers, five using live rounds and two using non-lethal rounds, three hours into the standoff with Eagan police. According to police, they were responding to a domestic disturbance call. The Minnesota's Bureau of Criminal Apprehension, the lead investigative body in most of cases of police killings in Minnesota, reported that they recovered a gun and a bullet near Isak.
Four of the officers who shot and killed Isak were from the Bloomington Police Department (Anthony Kiehl, Daniel Nelson, Matt Ryan, Adam Stier) and one was from the Eagan Police Department (Jacob Peterson).
Two of the officers that shot Isak Aden have killed before. Jacob Peterson of the Eagan Police Department, killed 26-year-old Zachary Premo in Duluth, MN, in 2013 and Anthony Kiehl killed 24-year-old Quincy Reindl in Bloomington, MN in 2015.
Isak Aden's family and supporters have issued three demands:
Eagan Police to release all body and dash cam footage of the shooting to the Aden family
A thorough, transparent, and honest investigation of the shooting
All officers responsible for Isak's death fired and prosecuted
Protesters plan to continue holding public actions until their demands are met.
---
Please consider a tax-deductible donation to help sustain our horizontally-organized, non-profit media organization:

Unicorn Riot's Isak Aden Coverage: