Thousands Rally in Support of Striking Oakland Teachers
Oakland, CA – On Thursday, February 21, 2019, thousands of teachers, students, union organizers and community supporters rallied in downtown Oakland in a show of support for local teachers as they started their first day of striking. Represented by the Oakland Education Association, teachers walked off the job in protest over low wages, the lack of a contract, classroom sizes and other issues.
The Oakland strike is now the latest teacher strike following a wave of activism in Denver, West Virginia, Arizona, Kentucky, and other parts of the country.
Teachers and their supporters joined picket lines as early as 6:30 a.m. to prevent the use of the schools. Several weeks ago, the Oakland Unified School District was criticized for attempting to hire temporary strike breakers at almost double the daily wage of Oakland school teachers.
It is unclear exactly how the Oakland Unified School District planned to replace the nearly 4,000 workers in the union who are striking with temporary labor. Halfway through the day, the teachers and their supporters rallied at Frank Ogawa Plaza (or Oscar Grant Plaza, as it is known to locals) before marching to the headquarters of the Oakland Unified School District.
Youth out in support of the #OaklandTeachersStrike chanting "get up, get down, Oakland is a union town" pic.twitter.com/3BfSFjccJA

— Unicorn Riot (@UR_Ninja) February 21, 2019
Unicorn Riot was able to speak with Oakland resident and 5th-grade teacher Susan Brookes about some of the conditions that teachers where organizing over. She said that many school teachers are forced to leave Oakland schools because neighboring districts often pay much higher, and that they have been without a contract for a year and a half. Brookes also complained that only a total of 22 counselors and nurses are employed in the entire school district.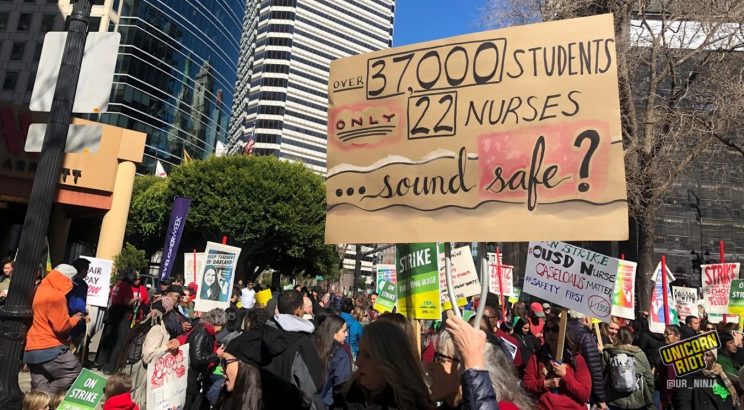 Brookes stated that the teachers' salary negations are also linked to the high cost of living in the Bay Area.
"I've been a teacher for 22 years, it used to be that Oakland was an affordable area to live in. It no longer is in any way, so a young teacher coming in, my observation is that they're kind of living like college kids. They have rooms in shared houses, it's not a future that they can live a life on. Whereas, if they go to Berkeley they can probably increase their salary around 15,000 a year, its that big of a difference." – Susan Brookes
As the teachers rallied outside of the school Oakland Unified School District headquarters, they were joined by members of the Democratic Socialist of America (DSA) who had raised funds for a "Bread for Ed" campaign. In an effort to feed teachers and students during the strike, a coalition of groups, including the DSA, the teachers union, and other groups like Food Not Bombs, organized free community food programs. The Black Panther Party, founded in Oakland, is famously known for its social programs including providing free breakfast for children before school.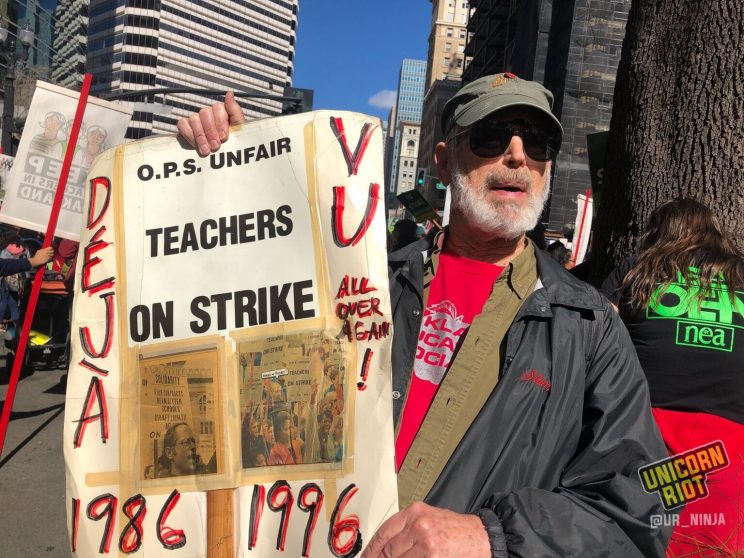 We also spoke with community member and retired teacher Norman Farrell. Farrell told us his daughter was making more money as a beginning teacher in a neighboring town than he was making as a retiring teacher after 31 years on the job. Farrell said he has gone on strike four times in his career, including in 1986 and 1996.
It is expected that the strike will continue at least a few more days with a call for a rally and march in West Oakland on Friday, February 22.
---