Minnesota African American Museum Showcases Black History
Minneapolis, MN – Unicorn Riot honors Black History Month by taking you to Minnesota's only Black History Museum, which brings a year-round gallery and free community space.
Since September 2018, the Minnesota African American Heritage Museum and Gallery (MAAHMG) has been an educational space dedicated to African American history in the State of Minnesota.
Unicorn Riot visited the museum where co-founder and curator, Tina Burnside gave us a walk through. In a two-part video series (see below), we tour the museum and hear about the exhibits and we sit down with Ms. Burnside for more on the history, the importance of the museum, and the one-year celebration gala.
Making itself a staple in the community since opening, MAAHMG has served as more than just a display of African American history.
Throughout its first year, the museum has also been home to open-mic nights, poetry performances and book signings. One of the most popular special exhibits has been the GRACE exhibit, a visual history of hats traditionally worn to church.
People from all over the world are visiting MAAHMG, the only such museum in Minnesota.
MAAHMG is a 501(c)(3) non-profit organization operating with the purpose to preserve, record and highlight the achievements, contributions and experiences of African Americans in Minnesota.
"I always say that African American history is American history. And so it's all part of the telling of the American story in the United States.

A lot of times, Black people and our history and our culture and our experiences are excluded. And so we want to make sure that those stories are told." — Tina Burnside, co-founder & curator of MAAHMG
The museum is volunteer-operated and has no paid staff. It is located on the fourth floor of the newly erected Regional Acceleration Center on the corner of Penn and Plymouth Avenues in North Minneapolis.
Burnside, the co-founder and curator, is a writer and historian who works full-time as a civil rights attorney, yet still finds time to volunteer at the museum. She curates, directs, and runs operations along with Coventry Cowens.
Cowens, the museum's operations coordinator and co-founder, is credited by Burnside as the one to "come up with the idea of doing a museum for African American history in the state".
Cowens was a part of a previous effort in the Twin Cities to open up a museum on Black history in Minnesota. After about a year of organizing and laying the groundwork for this new museum, the MAAHMG has had a successful start with a lot of buy-in from community members, elected officials and dignitaries, historians, and more.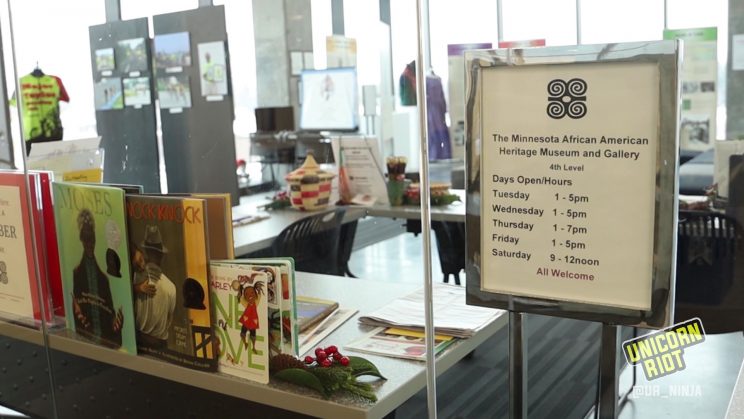 Educational workshops and exhibits showcase, educate, and inform the public about the history, culture, and art of African Americans in Minnesota.
"Even though we're in a small space, we have a lot going on."
In efforts to promote literacy in youth, the museum holds a children's reading circle on Saturdays where local authors and community members come in and read to the youth.
All books read during the children's circle were either written by African American authors or feature African American characters.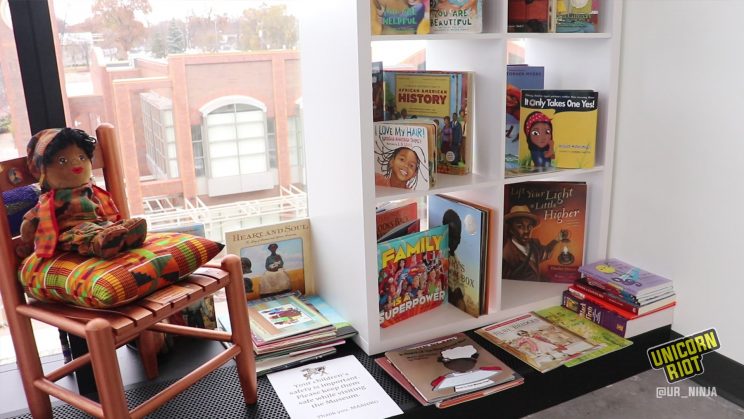 Burnside spoke to the fact that representation matters when it comes to piquing children's interest and engagement with visual materials.
"We think it's really important for kids to be able to see themselves in books and see themselves in different situations and hear their stories because representation does matter.

And so if they see a story with somebody who looks like them, they're more likely to be engaged in that story, in reading."
During the tour of the museum, Burnside described each of the four exhibits currently on display.
The first exhibit to be featured when the museum opened, "Unbreakable: Celebrating the Resilience of African Americans in Minnesota", is also a permanent one.
The "Unbreakable" exhibit "tells the history of African Americans in the state from about the 1800s to the 1950s" and features a special panel dedicated to women trailblazers from Minnesota.
Burnside said they started with the "Unbreakable" exhibit to "build a kind of foundation for people learning about African American history in the state, because a lot of times this was not taught in the schools and also because the black population is so small in Minnesota."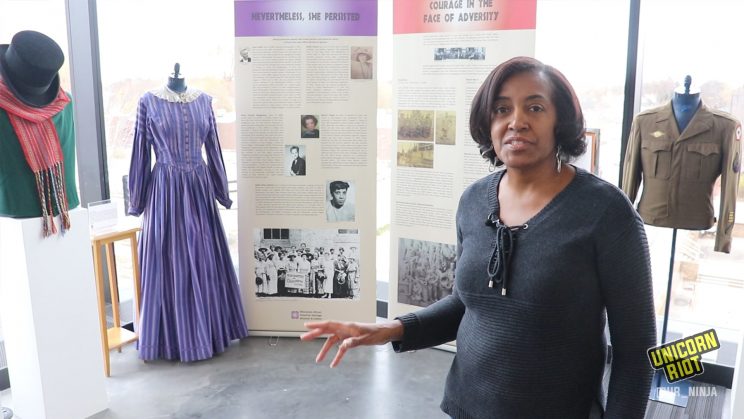 Other panels on "Unbreakable" include a feature on war veterans, settlers and pioneers, and another on the Great Migration and its impacts in Minnesota.
An exhibit on Marshall "Major" Taylor, the first African American to win the world championship cycling race in 1899, and the Major Taylor Bicycle Club of Minnesota, is titled, "Keep on Rolling".
"History Harvest: The Exhibition" is an exhibit in partnership with the Hennepin History Museum, showcasing the history of African Americans on the Northside and Southside of Minneapolis.
The Northside history is featured at MAAHMG and South Minneapolis history is featured at Hennepin History Museum.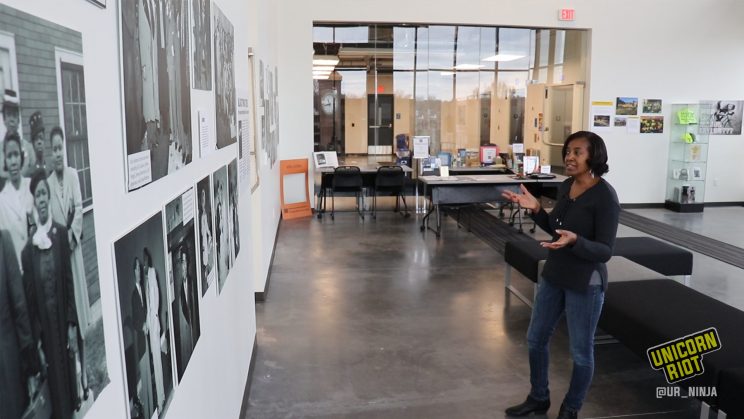 The exhibit, "Black Twin Cities: The 1940s Photographs of John F. Glanton", is displayed on a large wall with dozens of images taken by freelance photographer John Glanton in the 1940s.
Because "people don't see the everyday of African Americans," Burnside said that this exhibit is important to showcase as it gives a "glimpse of the Black community in the Twin Cities in the 1940s."
"It focuses on community, family, sport, social life […] shows African-Americans getting married, starting businesses, going to churches, going to clubs, participating in drum corps…."
The Northside Oral History Project, accessible through a computer station and headphones, features nine of 90 total Northside elders and residents speaking about struggle, resiliency, and history of the African American community on the Northside of Minneapolis.
This project was an initiative of ReCAST Minneapolis, or Resilience in Communities After Stress & Trauma. Created in 2017 and inspired in part by the police killing of Jamar Clark, ReCAST disperses federal funds to trauma-impacted communities in Minneapolis. Clark was killed a mere six blocks from where MAAHMG is located.
To celebrate the one year anniversary of MAAHMG, the only African American Museum in the state, the 2019 Northern Lights Gala was held in downtown Minneapolis.
Civil rights icon Dr. Josie Johnson, historian Mahmoud El-Kati, Children's Minnesota Chief Equity and Inclusion Officer James Burroughs, and President of the Minneapolis chapter of the NAACP, Leslie Redmond, were all honored with awards for their service for the community.
Former news anchor and author Roxanne Battle served as the host for the evening. She used the platform to speak about how important it is to have a space where the history of African Americans is celebrated.
The gala was also a way of drawing monetary support for the museum. MAAHMG is "always looking for volunteers," Burnside said.
"That's one of the great challenges; raising money to be able to get staff so that we can expand and do more, do more exhibits, more programming and more education programs."
The museum is open 1 p.m. to 5 p.m. Tuesday through Friday with an extra two hours later on Thursday, and on Saturday, one can visit from 9 a.m. to noon. For more information, see MAAHMG.
---
Please consider a tax-deductible donation to help sustain our horizontally-organized, non-profit media organization: