Philly Starbucks Worker Delivers NLRB Unfair Labor Practice Complaint
Philadelphia, PA – An employee of the Starbucks at 1900 Market St. delivered a National Labor Relations Board form stating she'd been retaliated against for 'Protected Concerted Activity'. The worker filing the complaint alleges she was punished via a reduction in hours for organizing a strike and told not to discuss working conditions with her coworkers.
The worker filing the NLRB paperwork told Unicorn Riot she "filed an Unfair Labor Practice with the [NLRB] regarding retaliation for union activity and protected concerted activity… I organized a sick-in strike with some coworkers – following that I was punished and told not to talk about workplace conditions w my coworkers on the floor" and experienced a serious reduction in working hours, threatening her income and access to healthcare.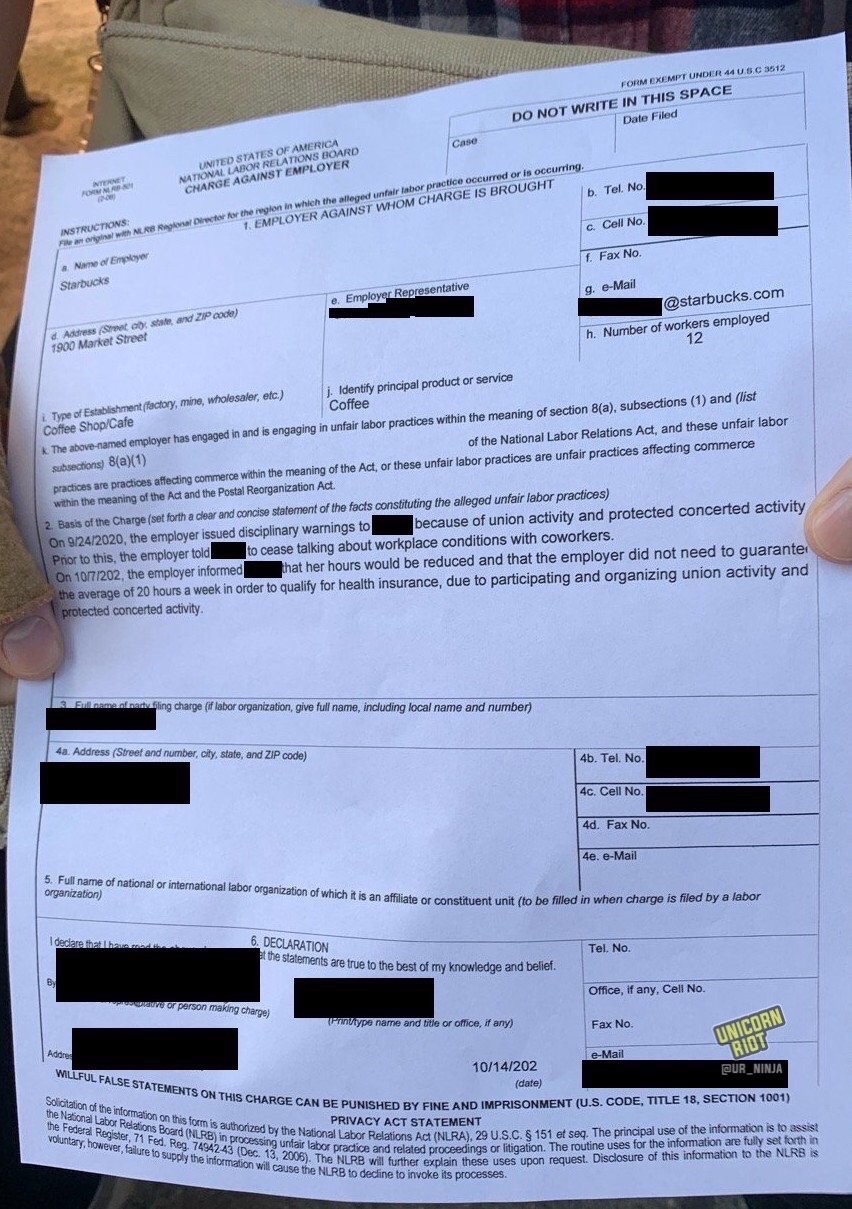 The strike was also brought on in part by baristas' concerns for coworkers living with weakened immune systems due to conditions like asthma, the worker told Unicorn Riot. Starbucks management's insistence on reopening indoor cafe seating was reportedly "the straw that broke the camel's back", with the location's staff becoming frustrated enough to agree to strike together by calling in sick.
"We've had hour cuts, we've lost our hazard pay even though the [COVID] numbers in Pennsylvania have still been going up… When i brought my concerns up with my manager, I was told that this was going to happen eventually, we knew this at the beginning that Starbucks was eventually going to reopen the indoor seating, and that they're a company and they need to make money…It just doesn't feel like they care about us at all and it's all security theater type stuff."
She also mentioned added job stresses due to the COVID-19 pandemic such as more intensive cleaning and dealing with customers who don't want to wear masks.
See Unicorn Riot's full livestream of the delivery of the NLRB complaint and the short protest outside this Starbucks location (14 mins):
Earlier this year, baristas at a different Philly Starbucks at Broad and Washington successfully demanded a manager's resignation over "discriminatory practices" and issues involving "schedules and paid sick leave", according to the Philadelphia Inquirer.
In 2019, another local Starbucks location (at 18th and Spruce) because embroiled in national controversy after a manager called the police two Black men were sitting and waiting for a colleague for a business meeting, leading to their arrests.
---
Follow us on X (aka Twitter), Facebook, YouTube, Vimeo, Instagram, Mastodon, Threads, BlueSky and Patreon.