"He Got Away With Murder," Says Family of Elisa Gomez
Minneapolis, MN – On the 4th anniversary of a Minneapolis woman being found dead in her home, community members gathered to celebrate Elisa Gomez' life and question why the hanging death of a newlywed wasn't investigated as a homicide.
Community members met on Sunday, October 11, at the intersection of Cedar Avenue and 42nd Street with "Justice For Elisa Gomez" signs. The gathering was held just yards away from the home Elisa had owned and shared with two roommates.
Unicorn Riot reported live from the remembrance event. Watch the rally and march as it happened (two parts, below):
Part 1
Part 2
Elisa Gomez had met Bradley 'Brad' Alexander through Craigslist in 2016. Both her parents say they were uneasy at the urgent, rapid pace Brad courted their daughter.
Elisa's friends and family alike were startled when she announced, just a couple months after she and Brad had met, that they'd gotten married at the government center. It had been Brad's idea, Elisa told her mother and her friends – and he'd insisted that she immediately take his surname. "He wanted to do it before I could run away," she wrote jokingly to a friend.
Less than 24 hours after their marriage, Elisa's networks were reeling from new, far more devastating news. Despite Elisa having no history of self-harm, and despite the 911 call from her neighbor regarding "commotion" and a distraught-sounding woman in the backyard at Elisa's address, her sudden hanging death was declared "undetermined."
An online petition started in 2016 by Elisa's mother Judy Hunt and sister Maria has been slowly accruing signatures. They want to meet with a member of the Hennepin County attorney's office; although Elisa's case is still active, it is not labeled as a homicide, and local police are no longer investigating.
Judy added to the petition that her 47-year-old daughter "loved life" and that there is "no way on the face of this earth" she would have voluntarily ended her own life.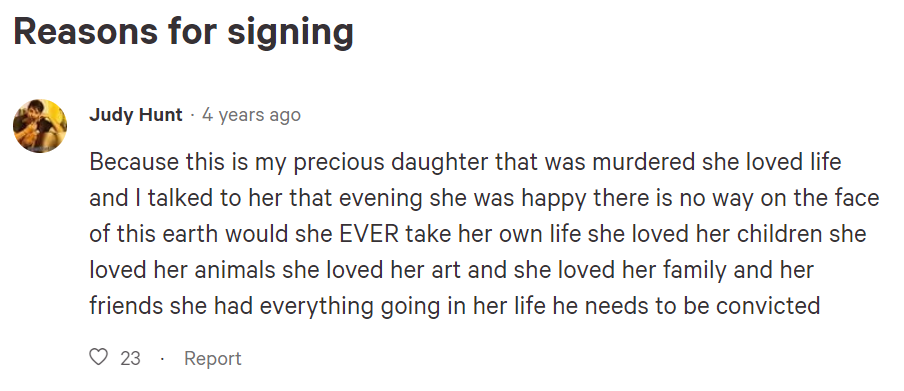 At the four-year anniversary march on Sunday, Judy told Unicorn Riot that she strongly suspects Brad was involved because of what happened following her daughter's death.
"Her human rights and civil rights were stomped on by Hennepin County. She was married to this man for five hours. He has a history of choking women and he tried to kill his first wife and [the police] didn't even consider him a person of interest."

— Judy Hunt, Mother of Elisa Gomez
"Not only did he murder Elisa but he completely, 100% trashed her house. […] The kids didn't even get anything from their childhood," she explained tearfully.
Minneapolis police only spent about an hour gathering evidence, then gave Brad (now Elisa's husband) control of Elisa's house. The same day, friends of Brad's moved into the house. Elisa's two roommates noticed their belongings were missing; Brad would claim there had been a break-in.
Though MPD officers were called to Elisa's home the night of her death, they reportedly did not investigate the 911 call much more deeply than ringing the doorbell of Elisa's home.
Why a newlywed, ecstatic about life by all her friends' accounts, would suddenly choose death by ligature hanging is a new mystery created by the lack of official suspicion around this 47-year-old woman's death.
"The Minneapolis Police, the investigation unit headed by Richard Zimmerman, they got on the scene and the first thing they said: "Oh, she's Mexican." That should tell you everything about their intentions, about the fact that they had no desire to take the case seriously."

— Michelle Gross, Communities United Against Police Brutality
In the United States, October is National Domestic Violence Awareness Month. During arguments between Brad and Elisa, according to one of her roommates, Brad had smashed Elisa's drinking glasses as well as kicked in her backyard fence and according to experts destruction of a partner's personal property is a major sign of intimate partner violence.
October is also the month for Indigenous Peoples Day. Participants in Sunday's march wore masks with a red handprint to represent missing and murdered Indigenous women and girls (MMIWG). The intersection of race- and gender-based violence against MMIWG in the United States, Canada, and Mexico contributes to the ongoing genocide of Native peoples in North America.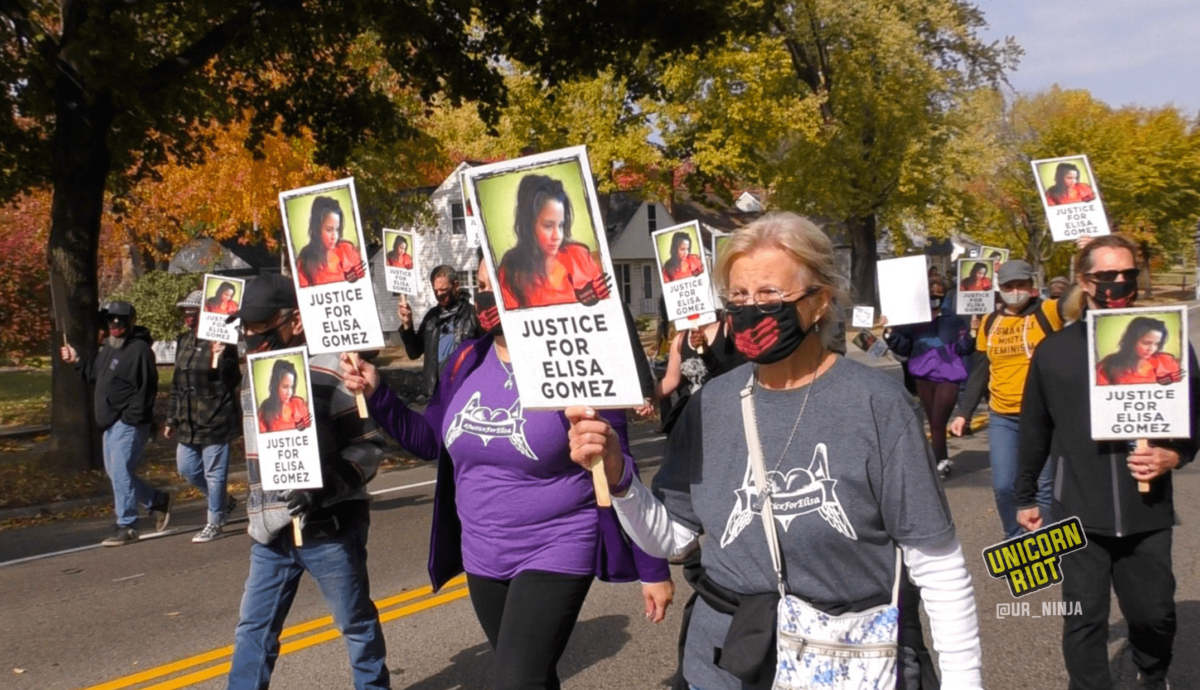 Elisa's mother noted sadly on Sunday, "The ironic thing is that Elisa had volunteered at Tubman for domestic violence [survivors], and then she was a victim of domestic violence herself."
Femicide is the intentional killing of females (women or girls) because of their gender; more than 80% of homicides involving females in Minnesota are caused by their intimate partners.
Judy emphasized that justice for her daughter would involve the Minneapolis police investigating her death as a killing, rather than continuing to assume that what took place was a suicide. "All we need is for them to see the evidence of homicide, and they will have to change it. There's solid evidence," she said firmly.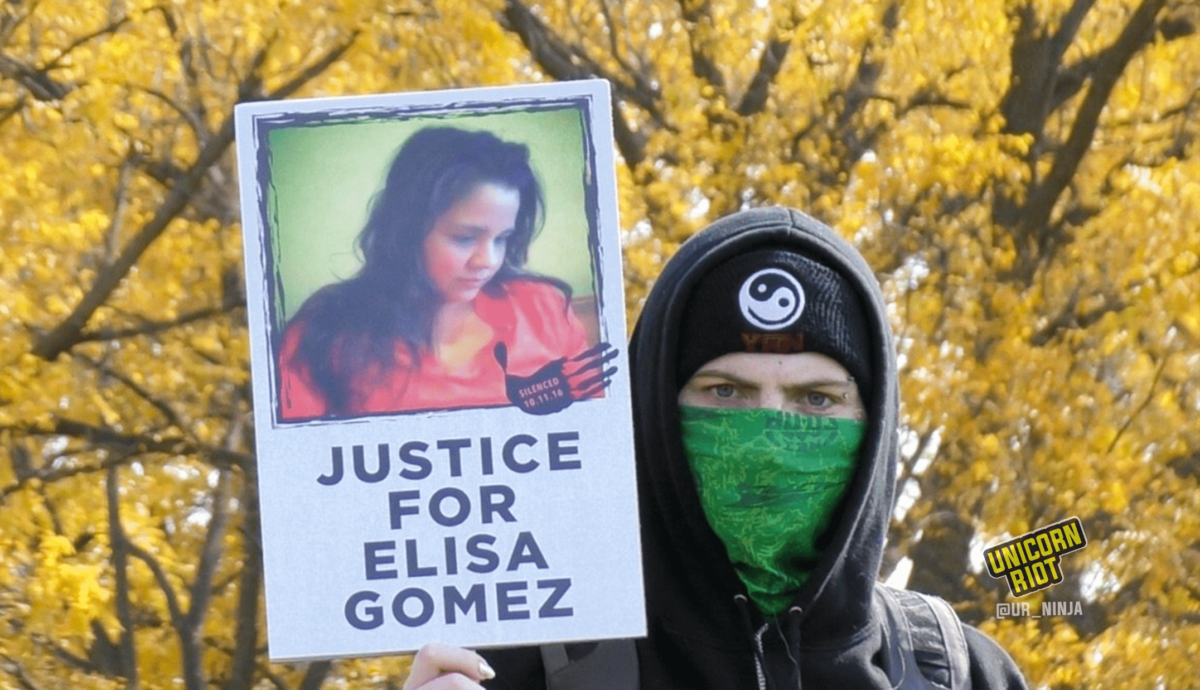 Friends and family of Elisa's are continuing in their quest for justice for their lost loved one. They are planning on a press conference to bring their evidence to the Hennepin County Medical Examiner, in the hopes that the death will be re-investigated as a homicide.
---
Follow us on X, formerly known as Twitter, Facebook, YouTube, Vimeo, Instagram, Mastodon, Threads, BlueSky and Patreon.
Please consider a tax-deductible donation to help sustain our horizontally-organized, non-profit media organization: