Twin Cities Anti-Fascists Scuffle with Proud Boys and Pro-Trumpers
Saint Paul, MN – Since the 2020 presidential election, an assortment of armed pro-Trump and white supremacist groups such as the Proud Boys have been defying pandemic orders against public gatherings to hold weekly Saturday protests against the coronavirus mandates and the election results at Minnesota's Governor's Residence. On November 28, 2020, a group of around 100 anti-fascists from various coalitions rallied to oppose the gatherings after a counter-protester was assaulted the week before.
Nationwide, far-right groups have been organizing weekly protests since the November elections. In Minnesota, the "Stop the Steal Saturdays" protests at the Governor's Residence have been organized by Hold the Line Minnesota.
Nov 28, counter protest of the fascist paramilitary/militia, alt-right types that descend upon St. Paul another weekend. This time many gathered before marching to the governors mansion in response to the recurring event planned by alt-right organizers. pic.twitter.com/QIccU1C5u3

— yelloehelmetMSP (@yelloehelmet) November 29, 2020
Anti-racist activists from varied demographics gathered at a park in Saint Paul before marching to oppose the Hold the Line rally. They led their march with a large banner, "follow your leader" written in white letters on a red field alongside a depiction of Adolf Hitler shooting himself. Other banners were "Unite to fight the far right" and one saying "Thanksgiving is (A) lie, decolonize or die."
When the anti-fascists converged on November 28, at least two scuffles broke out on Summit Avenue in front of the governor's mansion between the opposing sides. Participants from each side made use of pepper spray.
Proud Boys show up to a QAnon/Trump rally outside the Governor's Mansion open carrying canisters of pepper spray and big guns. Spraying and sucker punching counter protesters. Meanwhile, St. Paul Police stand by watching and telling people to get off the neighbors lawn. pic.twitter.com/FVSkcRkAlb

— daviss (@daviss) November 29, 2020
A leaf blower brought by an anti-racist was said by multiple participants to have blown back the first blasts of pepper spray back to the Hold the Line crowd, its point of origin.
The counter-protest was prompted by right-wing violence reported from the protest the week before. Then, a few people opposing the pro-Trump gathering were accosted, pushed, and punched by members of Bikers for Trump as well as others (Tweet video below).
— MNUPRISING (@MnUrising) November 21, 2020
Around 1:30 p.m. on November 28, after a standoff of about an hour, the anti-fascists dispersed as units of Saint Paul Police and Minnesota State Patrol descended on the scene.
The Hold the Line crowd remained in front of the Governor's Residence while the anti-fascist crowd marched down Grand Avenue, drawing onlookers, expressions of solidarity, and additional participants.
At the end of the march, numerous participants spoke, many saying they would be returning the following Saturday with more people.
— MASKMOSPHERE (@atmosphere) December 2, 2020
One said that they were proud of the anti-fascists for standing toe-to-toe with those whom they opposed. The participant said they had left "in good order" because anti-fascists value each other's "freedom to fight them [far-right groups] another day" and see little point in having encounters end with people "rotting in a prison cell because the cops are always on their side."
Minnesota's Hold the Line group is planning for their fifth straight Saturday protesting in front of the Governor's Residence this Saturday, December 5.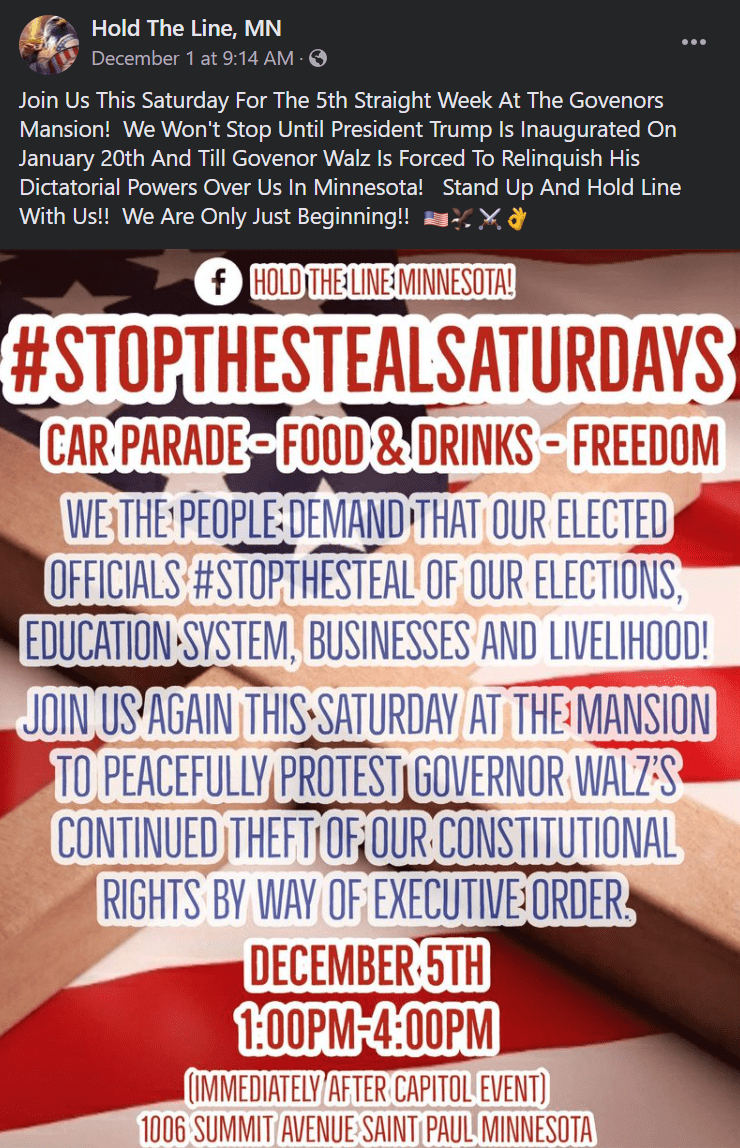 Continue to follow Unicorn Riot for more media on this subject.
---
Follow us on X (aka Twitter), Facebook, YouTube, Vimeo, Instagram, Mastodon, Threads, BlueSky and Patreon.
Please consider a tax-deductible donation to help sustain our horizontally-organized, non-profit media organization: