Greek Police Occupy and Desecrate Memorial Site of Teen They Killed
Athens, Greece – On the anniversary of his death, riot police occupied the memorial site and desecrated flowers left for 15-year-old Alexis Grigoropoulos, who was killed by Greek police twelve years earlier. Police made at least 62 arrests in Athens and over 150 across Greece on December 6 as the far-right government continues its repression of anti-authoritarians.
Update: different groups have been detained and taken to police headquarters, at least 60 people so far, including residents out for unrelated reasons. In the below video you can see police destroy the flowers a woman left at the memorial. https://t.co/D4ghpNR7x1

— Off The Couch (@xoriskanape) December 6, 2020
Στις απαγορεύσεις απαντήσαμε με ανυπακοή.
(Υλικό από τις δράσεις που έγιναν σε όλη την Ελλάδα και καλύψαμε στο timeline μας. Αρκετές δράσεις δεν περιλαμβάνονται καθώς δεν διαθέταμε υλικό)#6dec #grigoropoulos #antireport #AlexisGrigoropoulos #COVID19gr #Video pic.twitter.com/gSSVBVypVX

— antirinfo (@antirinfo) December 9, 2020
Along with the existing ban on public gatherings (set before the November 17 commemorations), Athens officials closed most of the metro stations and deployed at least 4,000 police around the district of Exarcheia on Sunday. A near-complete lockdown of the streets occurred; though press were exempt, their movements were limited at times.
Police charges journalists in Athens.
Press freedom takes a harsh hit in #Greece @RSF_inter @amnesty @hrw pic.twitter.com/If0tpYzNiU

— Savvas Karmaniolas (@savvaskarma) December 6, 2020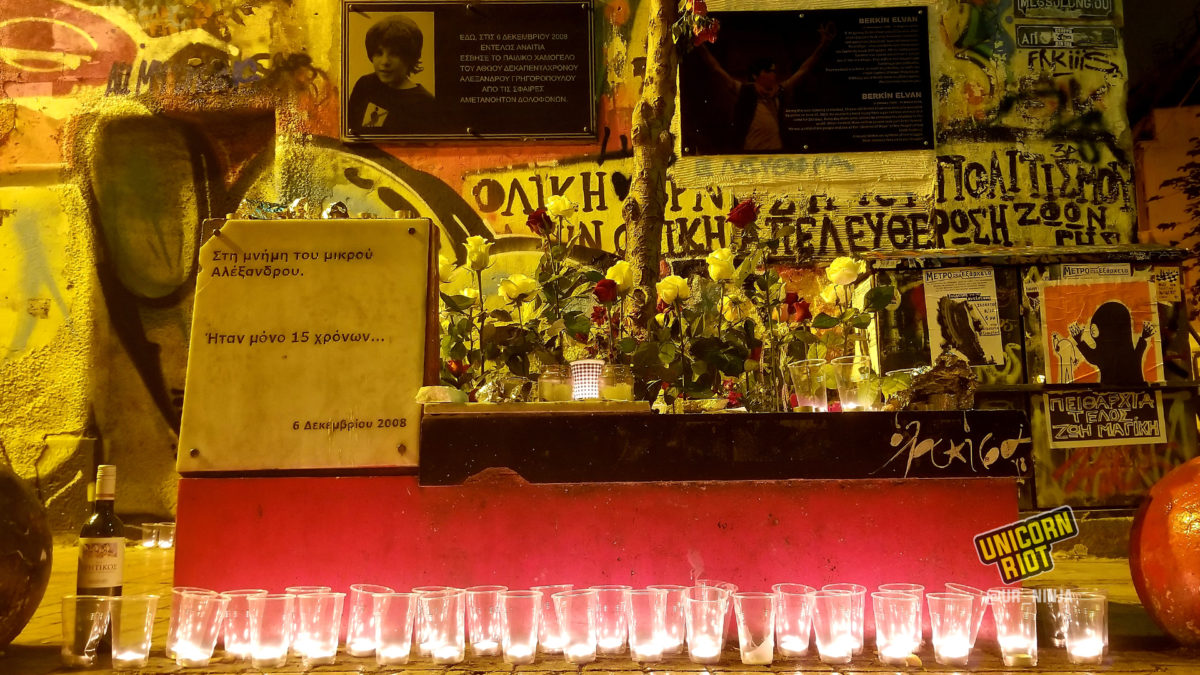 On the night of December 6, 2008, Alexis Grigoropoulos was with his friends when Epaminondas Korkoneas, a special guard member of the Greek police, shot Alexis in the heart, killing him instantly. In his first trial, Korkoneas was found guilty of culpable homicide and was given a life sentence for Alexis' murder.
Korkoneas had his life sentence overturned on July 29, 2019 after an appeals court confirmed him guilty for the murder, but reduced his sentence from life to just 13 years. He had served over 10 years in an agricultural prison up to that point; he was released the next day.
Every time I write anything about Greece it will contain the phrase "the police in Greece harbors neonazis in its ranks under the tacit approval of the Minister in charge" and it will be true.

— ʏɪᴀɴɴɪs ʙᴀʙᴏᴜʟɪᴀs (@YiannisBab) December 6, 2020
The killing of Grigoropoulos sparked a massive insurrectionary revolt in Athens with weeks of riots that were the largest in Europe since 1968. Every December 6 since 2008, Alexis has been commemorated in Greece and throughout the globe with a revolting spirit.
On December 6, 2018, we reported from Exarcheia during the ten-year anniversary as heavy clashes occurred between thousands of police and black-clad protesters. Hundreds of molotov cocktails and other incendiary projectiles were lobbed at police from the streets and rooftops, as pitched battles stretched late into the evening. 66 were detained, 13 were arrested. Greek riot police used water cannons, hundreds of tear gas canisters and grenades, and some officers threw rocks at protesters.
Last week, authorities extended the second round of coronavirus lockdowns in Greece past December 6. Over 3,000 have died in Greece from COVID-19, where the lockdown rules are to send an SMS request to the government for permission to go outside, or face a fine.
This year's commemoration, happening in the midst of coronavirus lockdown orders and the ban on gatherings, meant that most attendees were expecting heavy repression from authorities who have made it their routine to tightly surveil and patrol Exarcheia. According to people living in Athens, what they saw during December 6, 2020 was even more totalitarian than they'd expected.
All streets surrounding #AlexisGrigoropoulos memorial are blocked by police. #Greece #6december pic.twitter.com/tnWpyTEYNB

— Savvas Karmaniolas (@savvaskarma) December 6, 2020
From early in the morning on December 6, riot police took positions throughout Exarcheia, occupying Tzavella Street and the commemoration site for Alexis Grigoropoulos. Journalists, residents, and those attempting to bring flowers to the vigil site for Alexis were blocked by rows of various police forces.
An officer was filmed smashing flowers left for Alexis onto another officer's shoulder (video released by radiofragmata). Later, officers arrested two people attempting to bring flowers to the site.
At one point during police operations, an attachment of riot police (Unit 11) moved down the pedestrian street of Tsamadou and threw a stun grenade into the lobby of an apartment building (video below).
The ND regime has send their thugs in uniform on the Greek streets today to surpress any commemoration for #AlexandrosGrigoropoulos. Police terror across the Greek territory. Solidarity with all companions on the Greek territory! #antireport https://t.co/9ml1W4mWCk

— Riot Turtle (@RiotTurtle65) December 6, 2020
Mass detention in downtown Athens. Among them health workers, unionists… https://t.co/DoRCWxWKdW

— Keep Talking Greece (@keeptalkingGR) December 6, 2020
After being yelled at to leave by their superior the police left the apartment building, dozens of press recording their movements. A Tweet from independent media collective, Dromografos, revealed the same unit had also beat unionists from the All Workers Militant Front (PAME) during the November 17 march remembering students killed by the military junta in 1973.
«η 11 όλοι έξω» μάθαμε και το νούμερο της διμοιρίας (αυτή με την κόκκινη περικεφαλαία) που ξυλοκόπησε τους διαδηλωτές του ΠΑΜΕ την 17Ν και χθές μπούκαρε στην πολυκατοικία ρίχνοντας κρότου λάμψης pic.twitter.com/tc0BJFx727

— Δρομογράφος (@dromografos) December 7, 2020
In Athens' neighborhood of Vyronas, about 120 people defied the gathering-ban and marched for Alexis. Reportedly, no arrests or repression took place (video below).
In Chania, marchers were beaten by police and detained. In Thessaloniki, a demonstration broke into chants in memory of Alexis after starting from what looked like people waiting on the bus.
A banner was hung by the anti-authoritarian movement in Thessaloniki saying, "There is no health without freedom and there is no freedom without Decembers."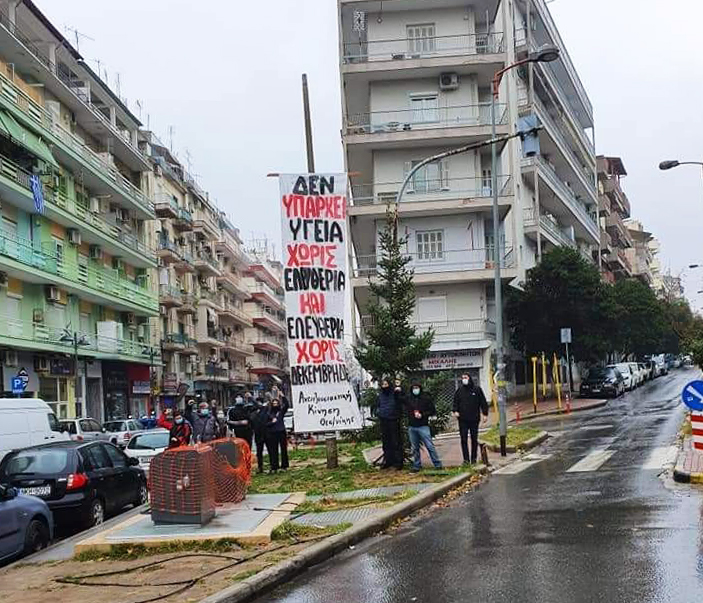 The next day, December 7, in response to the police's desecration of the monument of Alexis Grigoropoulos, people rallied at the site.
Μεσολογγίου κ Τζαβέλλα τώρα. Συγκέντρωση με αποστάσεις. Αρκετός κόσμος στο σημείο. #antireport pic.twitter.com/6mBR4aISLP

— U (@kinimatini) December 7, 2020
Later in the night, helicopters shone lights onto streets throughout Exarcheia. Gatherers were beaten and detained by police. An Amnesty International petition is being circulated at present, calling for the end of police violence.
The next parliamentary election happens in 2023. Until then, the ruling far-right New Democracy government will likely continue weaponizing pandemic restrictions to oppress and diffuse movement-building.
Cover image is screenshot from Perseus999.
---
Follow us on X (aka Twitter), Facebook, YouTube, Vimeo, Instagram, Mastodon, Threads, BlueSky and Patreon.
Unicorn Riot's Specials From Greece [2018-2021]:
Please consider a tax-deductible donation to help sustain our horizontally-organized, non-profit media organization:

Unicorn Riot's Special Reports From Greece [2017]:
Access to all 13 Stories: