Exclusive: State Patrol Spy Plane Over Protest (Video)
Saint Paul, MN – Footage obtained by Unicorn Riot provides a never-before-seen view of the powerful surveillance capabilities police spy planes possess. Nearly two full hours of video was released by the Minnesota State Patrol following public records requests for footage and data collected by their Cirrus SR22 aircraft, N115SP, as it circled a rally outside the Governor's Residence in Saint Paul.
Following a protest after last year's Presidential election, hundreds of demonstrators were arrested on Interstate 94 in what has been described as an overreach by law enforcement. In total, 646 were kettled and arrested en masse with no warning, including young children and elders. In response to this aggressive response to a not uncommon protest tactic, many gathered the next day outside of Governor Walz's residence to call attention to the mass arrest, police brutality and law enforcement in general.
While Unicorn Riot was streaming from the ground, N115SP circled from several thousand feet above. Those operating the plane were surveilling the general neighborhood as well as the protest.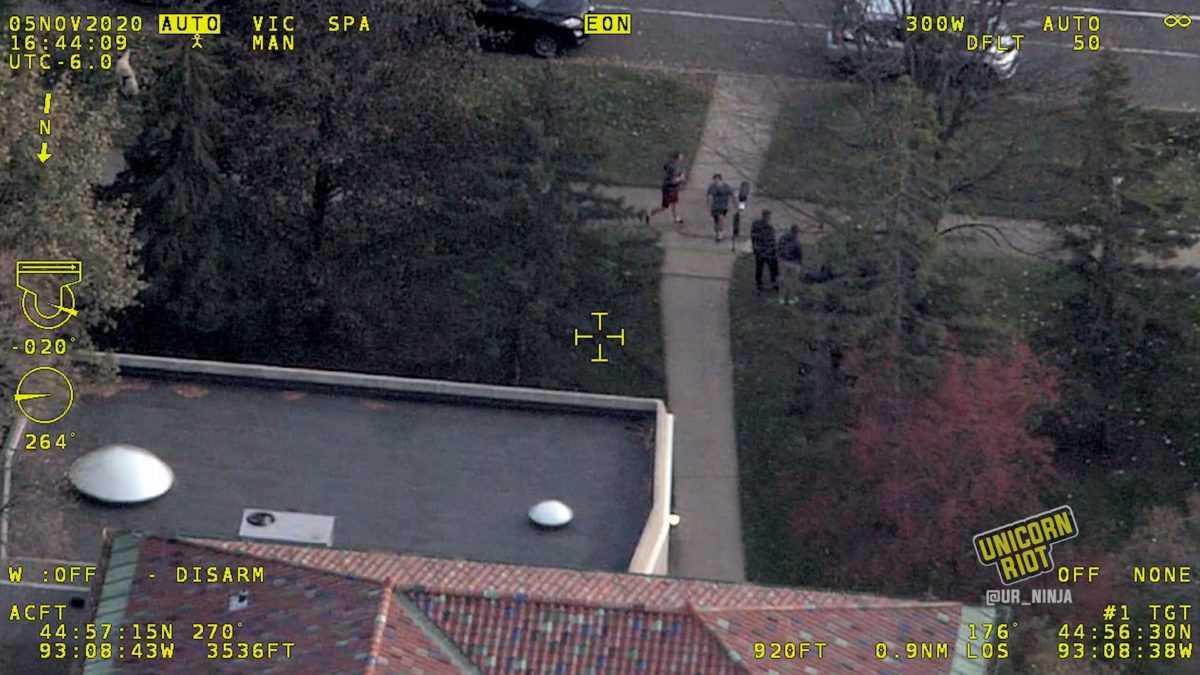 The spy plane was primarily focused on the rally but did several perimeter searches that clearly surveilled unrelated bystanders, some of which were on private property. This included a person and a child near their garage, and others who simply had been outside and several blocks away from the action.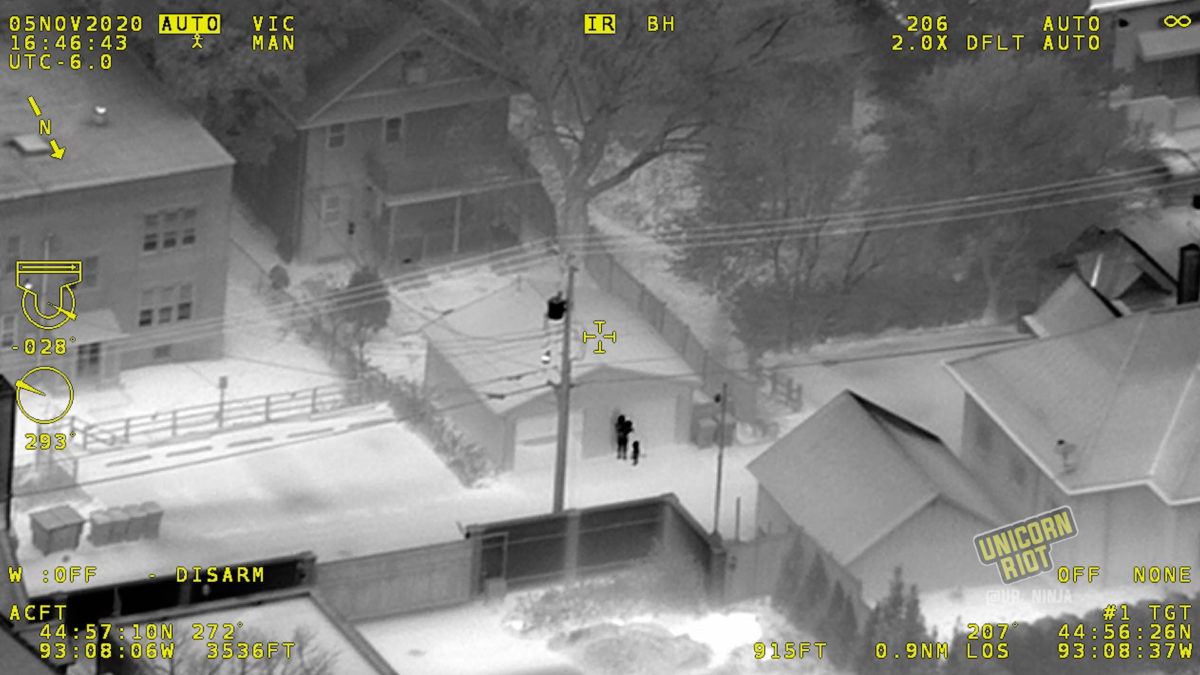 There is understandably some quality loss involved in the video presented below; despite this, the Patrol is clearly in possession of a powerful asset in this aircraft. One can even observe the heat signatures of squirrels chasing one another through trees.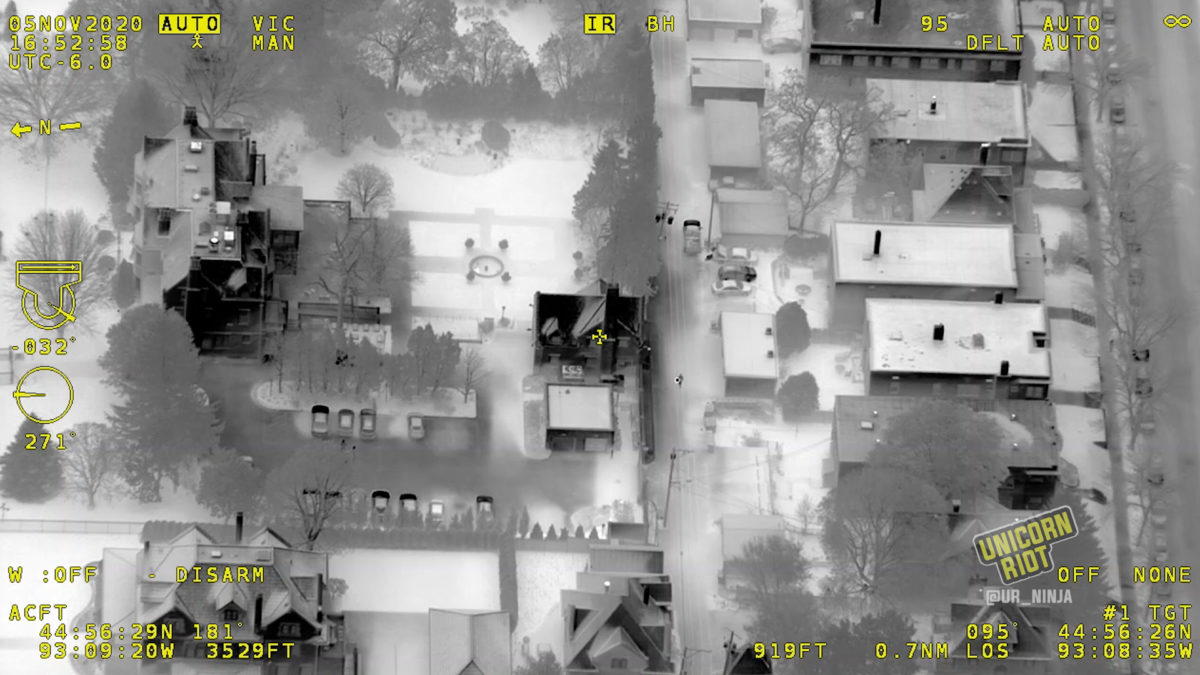 Despite being a civilian law enforcement agency, the Minnesota State Patrol has some impressive optics on their spy plane. Commentators often disagree with the labeling of the Cirrus SR22 as a "spy plane," but when the U.S. Air Force Inspector General's office probed the use of surveillance aircraft over the many protests last year, they made some important conclusions. The Pentagon official noted that the State Patrol had better capabilities than the military, who used somewhat dated RC-26 spy planes over Minneapolis and other hotbeds of domestic strife last year. While the report specifically referenced images acquired by the State Patrol's helicopter, the quality of images from their fixed wing counterpart is even greater.
It took a number of public records requests to obtain the footage, which has been condensed from just under two hours in total. These videos represent the first time Minnesota State Patrol spy plane footage of a protest has been released to the public.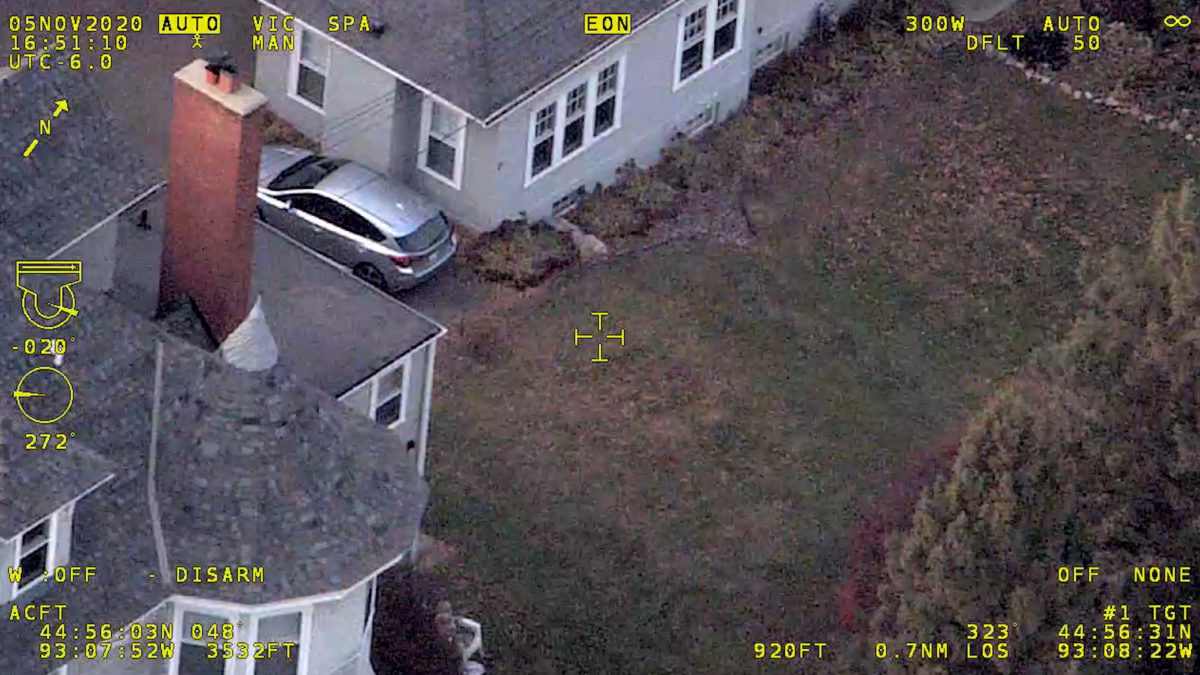 The video switches between multiple modes including infrared (IR) (showing heat emanating from people and vehicles), very high definition video and a 'blend' mode which combines both image types for an increasingly revealing composite.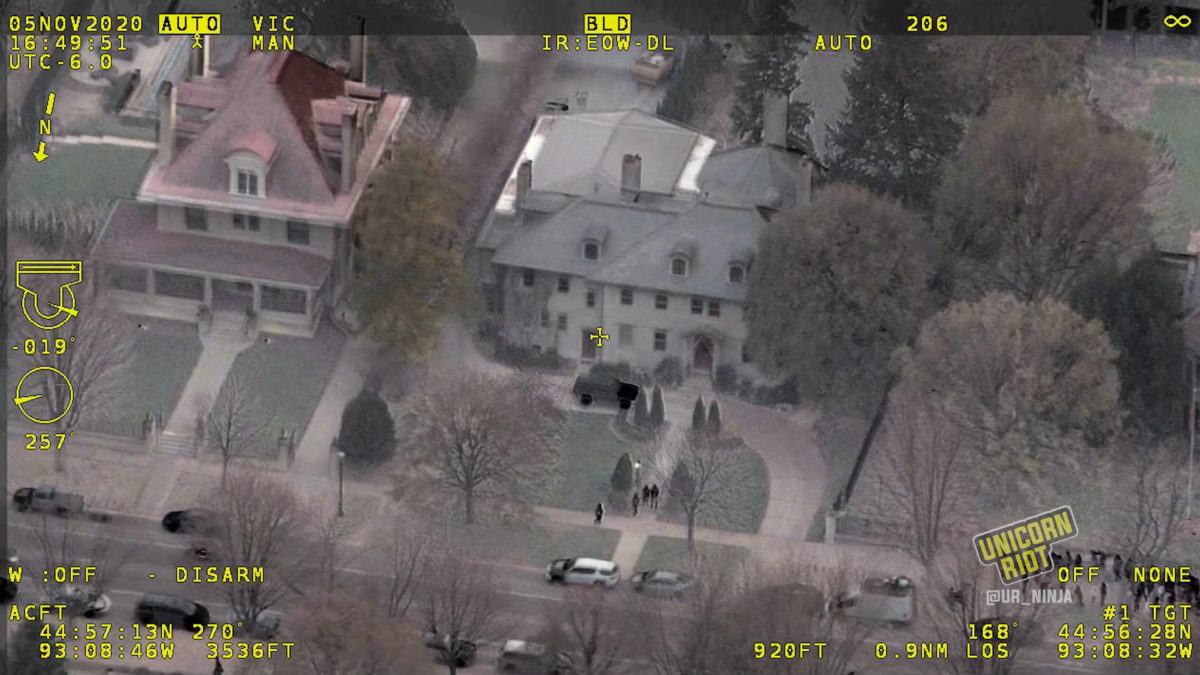 Previously, the only footage that the State Patrol would release from that aircraft was neither of protesters nor First Amendment activity but people shining a laser at N115SP as it circled the unrest early last summer.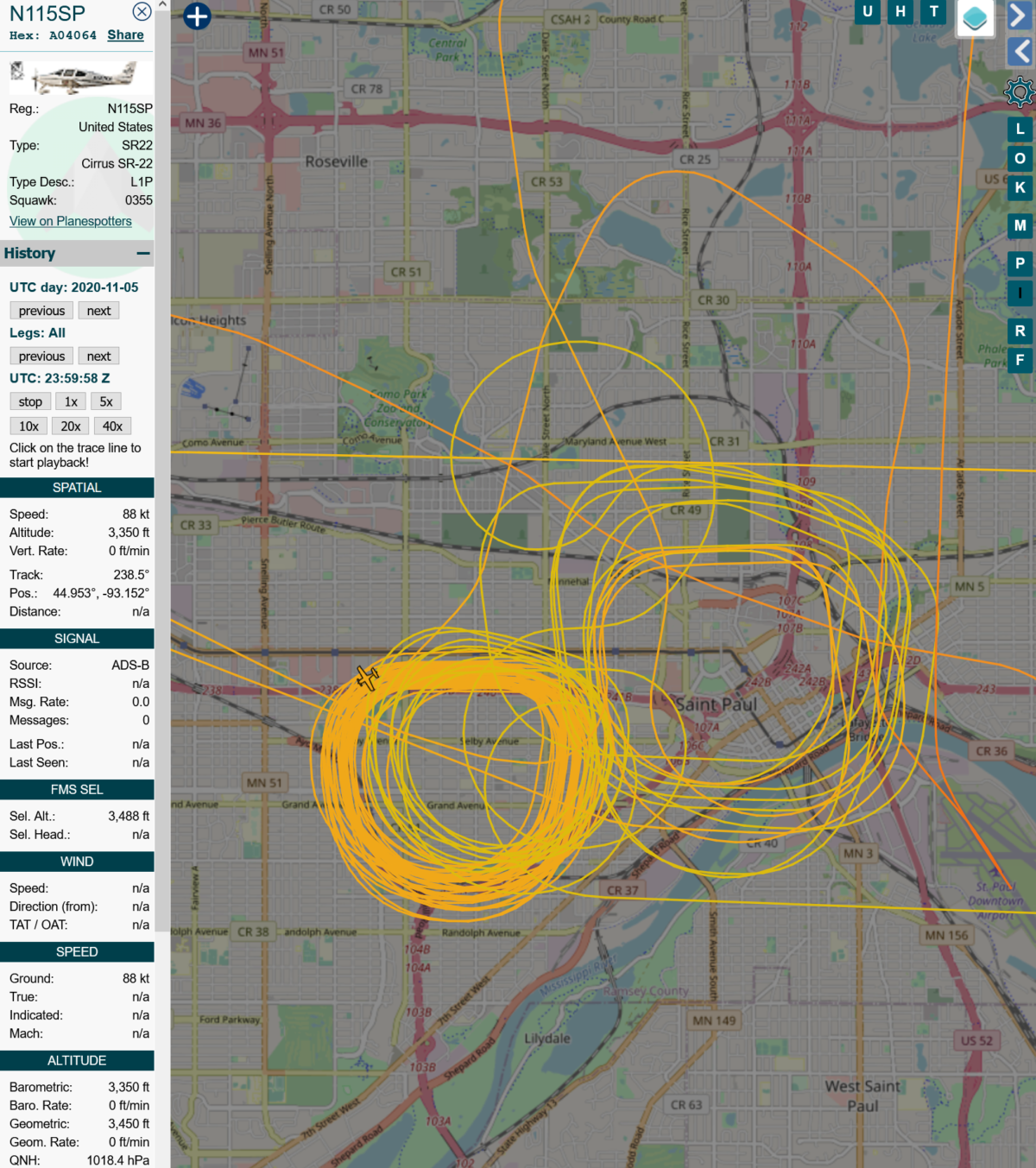 Although this instance of surveillance comes in a higher-class, mostly-white neighborhood in Saint Paul, Cody Hanson pointed out a significant issue on Twitter. He raised the correlation between the neighborhoods affected by frequent, almost daily State Patrol helicopter flights throughout January and a "map showing where racist deed covenants prohibited POC (people of color) from buying homes." Correlation isn't causation, but the maps pretty clearly overlap providing further arguments concerning the racialized nature of modern policing.
First image: S. Minneapolis map showing the near-constant aerial surveillance by MPD of late.

Second image: Minneapolis map showing where racist deed covenants prohibited POC from buying homes. (https://t.co/EIQRaflywb)

Invert one and you get the other. https://t.co/NMvpul97lb pic.twitter.com/GozpBLwQMh

— Cody Hanson (@codyh) January 28, 2021
When asked for the total cost associated with just Patrol helicopter flights, the agency admitted to spending $137,000 on fuel for the choppers, $209,000 on maintenance for around 650 hours of flight time from April to November 2020.
As was speculated at the time and confirmed later on, a number of these flights were part of a multi-agency effort targeting carjackings, or as D.A. Bullock put it:
We have a giant $185 million apparatus to manage 46 criminals. https://t.co/ACDlqC8LtT

— D.A. Bullock (@BullyCreative) February 3, 2021
Bullock is a filmmaker, community organizer and often comments on public safety issues affecting Minneapolitans. Bullock was reached for comment to expand on the thought expressed in the above tweet.
"The whole helicopter tactic was so conspicuous and so right after the budget vote, it's clearly as much cynical politics as it is best law enforcement practice. And the net of 46 arrests really doesn't speak well to general competency, not because there should be more arrests but because it means a police force of 600 plus officers and a budget of $185 million should be able to manage 50 criminals without a helicopter surveillance apparatus or the whole larger law enforcement apparatus is an expensive failure and we should be looking toward something better. They trotted the arrests out there like success, and all I see is largesse."

– D.A. Bullock, filmmaker, community organizer
Watch the full video of the Minnesota State Patrol spy plane over the November 5 press conference decrying the mass arrest of 646 people below.
Aerial Surveillance Task Force update & correction – February 19, 2021
Intrepid investigative reporter Lou Raguse of KARE11 followed the story and found that, "Five could be charged… none are related to carjacking. 'All five of the men charged were charged with some form of a drug offense,' said retired Judge Daniel Mabley, who is consulting with the Hennepin County Attorney's Office on carjacking cases." Furthermore, as was bound to happen following the aerial surveillance dragnet, "some of the arrests included people wanted on warrants for past cases." Read his report here.
Following a lot of social media comparisons after the publication of this article, it would be diligent to explain a major distinction between aerial surveillance methods. The typical type of police spy plane is quite a bit different from the PSS spy planes that flew over Baltimore and have sought to fly over St. Louis.
Spy planes used for persistent surveillance capture the 'pattern of life' of huge numbers of people underneath and must fly as often as possible directly over those areas. PSS uses high resolution still images to capture 32sq mile areas to track movement below. Their last proposal concerning St. Louis would have deployed three such aircraft simultaneously, expanding the area under watch accordingly. The images are sent to analysts who draw lines on those maps and play forward and backward to make "tracks." The suspects are then identified when the target moves past a known stationary ground camera that their investigators can tap into.
The new and rapidly increasing use of aerial surveillance by police generally rely on aircraft such as the one featured prominently in this article. Obviously, both methods described (hopefully helpfully) in this addendum can be incredibly invasive but they are different. When approaching complex, evolving issues that wrap technology and ethics together in an ever tightening coil, nuance is key to understanding.
Niko Georgiades contributed to this report.
---
Follow us on X (aka Twitter), Facebook, YouTube, Vimeo, Instagram, Mastodon, Threads, BlueSky and Patreon.
Please consider a tax-deductible donation to help sustain our horizontally-organized, non-profit media organization: