Greek Police Shoot Student Protesting Their Installment on Campus, Demo & Clashes Follow
Thessaloniki, Greece – Greek riot police shot a student protesting their installment on campus at point-blank range in the face with a projectile, breaking his jaw and rupturing his ear drum. After confrontations broke out across campus, traumatized students organized a massive demonstration through the center of the northern Greek port city of Thessaloniki and clashed with police later in the night.
Greece's far-right New Democracy government passed law 4777 [pdf] in 2021, allowing police back onto university campuses despite the historical ramifications of such a move in Greece. On November 17, 1973, a U.S.-backed military junta, or dictatorship, massacred at least 26 students during an occupation of the Greece's largest college, Polytechnic University in Athens. The junta lost its power a week after slaughtering students and laws were enacted that prevented police on campuses, making universities an asylum for students.
Since the government crafted educational bill 4777, the student movement at Greece's second largest school has been organizing against it. In March 2021, students from Aristotle University of Thessaloniki [AΠΘ / A.U.Th.], organized one of the biggest demonstrations ever held in Thessaloniki with over 10,000 people demanding no cops on campus.
Yet, the installation of the university police is now in its final stage in Thessaloniki. The scheduled move-in for the new "Unit for University Protection" is set for the beginning of June 2022.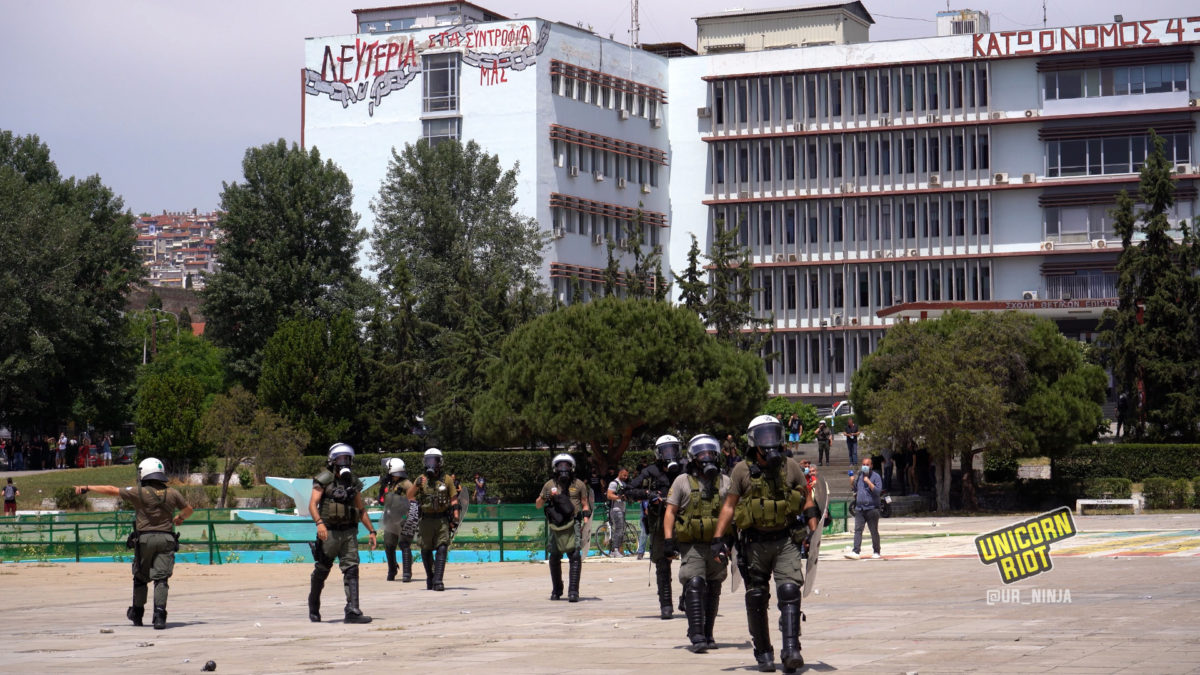 Meanwhile, the tension had been building as riot police have recently become permanently stationed on the campus under the pretext of building a library at the site of an anarchist squat that was evacuated some months ago.
During a student-led demonstration against the police on May 26, 2022, student Giannis Dousakis was shot with a flash-bang grenade at point-blank range in the face; breaking his jaw and rupturing an ear drum.
After the traumatic shooting of Dousakis, confrontations broke out across campus between students and the police who shot rubber bullets and used tear gas. In the evening, students organized a massive march through the city center in which over 5,000 people participated.
The march ended at nighttime on campus, where a few hundred people clashed with the police, attempting to chase them away from the university premises.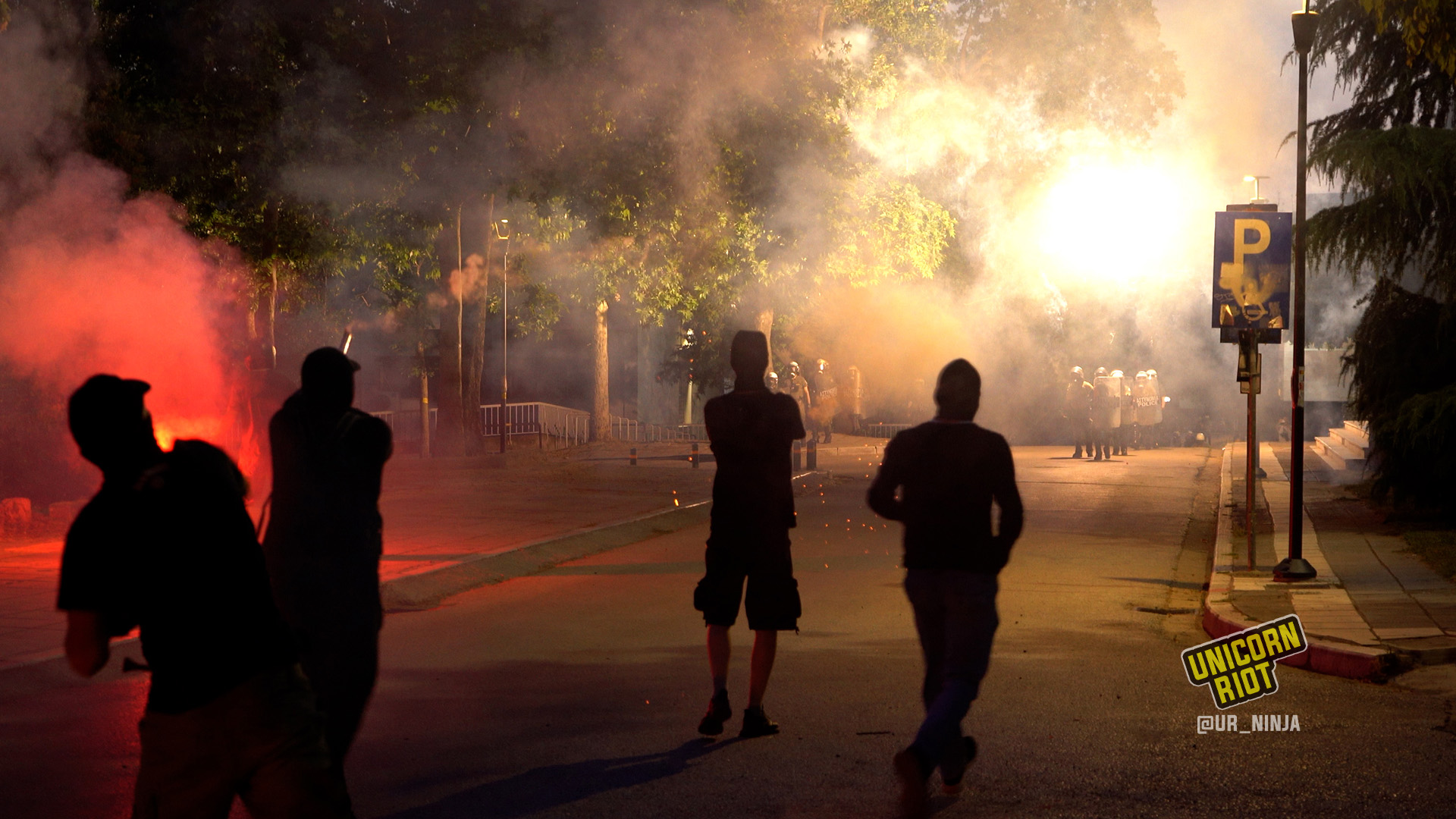 The next day, May 27, 2022, more police were brought to the university along with a police water cannon. The students then held a press conference in front of the riot police denouncing the police and announcing their intention to not give up until the cops are off campus.
A student representative said:
"These universities they dream of, with cops with martial law in the A.U.Th., with the water cannons ten meters from the entrances of our schools will not become reality and we will not allow it to happen.

Our message is that we will not allow our universities to become prisons, to become places to torture students, because this is not a junta and those who want to make our universities a junta should go back to other times.

What we have to say is that the university police will remain on paper and we will step over them."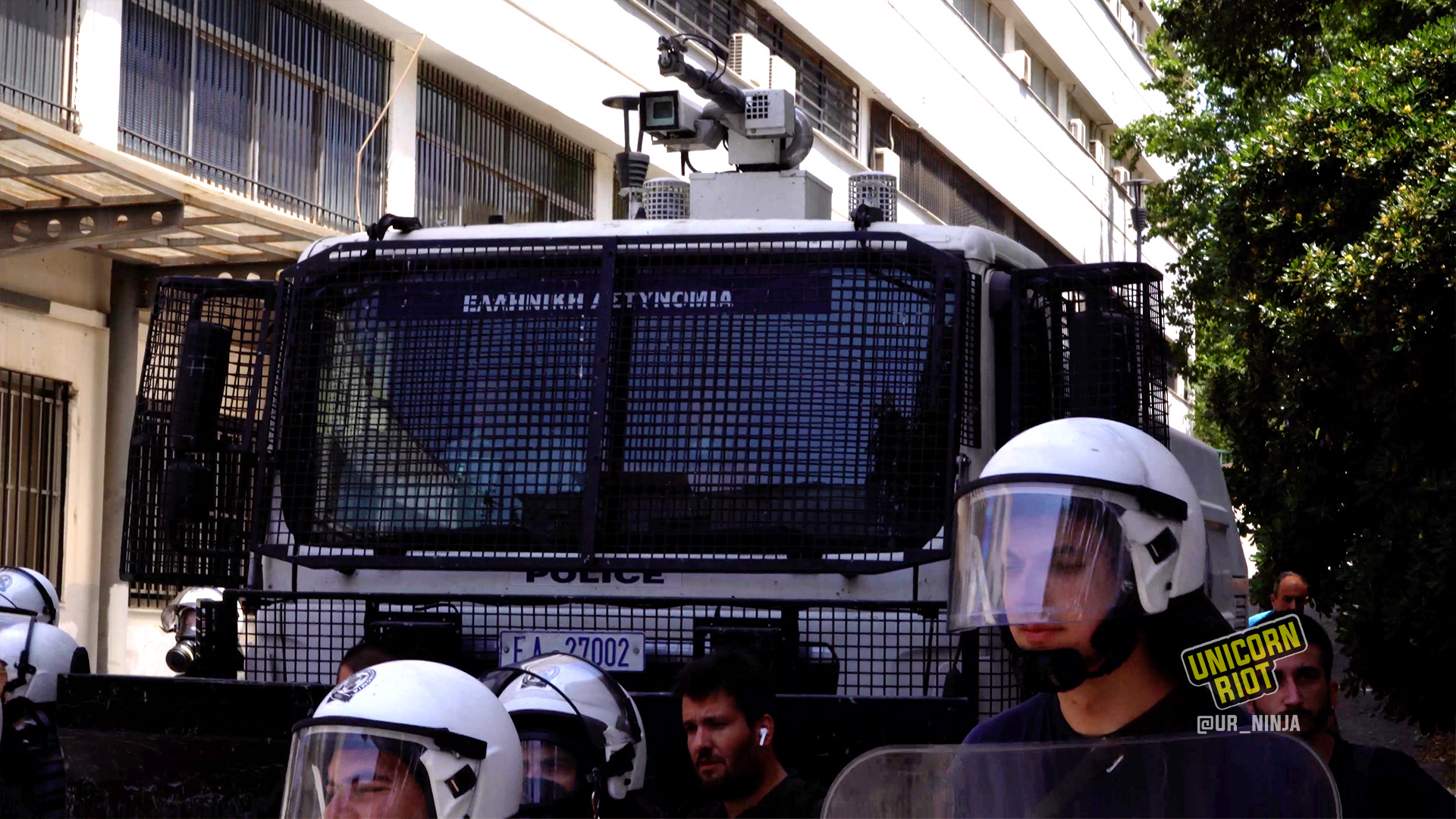 Dousakis has since had a successful surgery and has been released from the hospital with metal irons in his teeth for 6-8 weeks. In an interview after his release, Dousakis called for unity amongst students to protest against the university police and said he was afraid he would "die" from being shot with the projectile at such close range, calling it an "attempted murder."
Demonstrations and protests are planned for the upcoming week in Thessaloniki and throughout Greece. For more on the education bill and the recent rise of the student movement, see 'Greece: New Education Bill Brings a New Students Movement.'
For more media from Greece, see our Greece archive page.
Niko Georgiades contributed to this report.
---
Follow us on X (aka Twitter), Facebook, YouTube, Vimeo, Instagram, Mastodon, Threads, BlueSky and Patreon.
Please consider a tax-deductible donation to help sustain our horizontally-organized, non-profit media organization: