Israeli Raid on Nablus Kills Two Palestinians and Wounds Many
Nablus, Occupied West Bank, Palestine – Two Palestinians were killed and at least 12 were wounded during a large-scale Israeli military raid on the northern occupied West Bank city of Nablus at dawn on July 24. Armed clashes went on for nearly four hours after Israeli anti-terrorism and army units infiltrated Nablus' Al-Yasmina neighborhood and surrounded a building before bombing it with missiles and explosives.
Muhamad Azizi, 25, and Abdul Rahman Jamal Suleiman Sobh, 28, were killed during the raid; it is believed they were members of militant organizations but this was not immediately confirmed. Video from a Nablus rooftop captured some of the sounds of the fighting and scenes from the aftermath of the explosives as well as the funeral that followed.
"Today, the city of Nablus and the country and the whole world are awakening to a crime against our Palestinian people," Unicorn Riot heard from Nasser Abu Jaish, the Coordinator of the Factional Coordination Committee of Nablus, during the funeral.
The target of the raid was Palestinian commando Ibrahim Al-Nabulsi of the Al-Aqsa Martyrs Brigades, an armed militant group of Fatah, Palestine's second largest political party. Al-Aqsa Martyrs Brigades has been labeled as a terrorist organization by Israel, the U.S. and some Western governments.
Al-Nabulsi evaded capture on Sunday morning and has been evading capture by Israeli's top terrorism unit for many months now. Israeli forces thought they had killed him during a February 8 daytime attack dubbed by Palestinians as a "field execution" but Al-Nabulsi wasn't in the car that undercover Israeli soldiers surrounded and fired dozens of bullets from close-range at.
Ibrahim al-Nabulsi (on the left with his rifle raised), the target who managed to escape (again) from the IDF during an arrest operation in Nablus this morning, says over the body of one of the two militants who was killed, "You won… you are in the grace of Allah now." pic.twitter.com/YGfN6H8JGq

— Ariel Oseran (@ariel_oseran) July 24, 2022
Armed clashes occurred at the Nablus building for three hours on Sunday morning and after Israeli forces managed to enter, they reportedly found weapons, ammunition and explosive devices.
Later in the day on Sunday, July 24, thousands of people in Nablus participated in the funeral procession of the two Palestinians killed during the raid.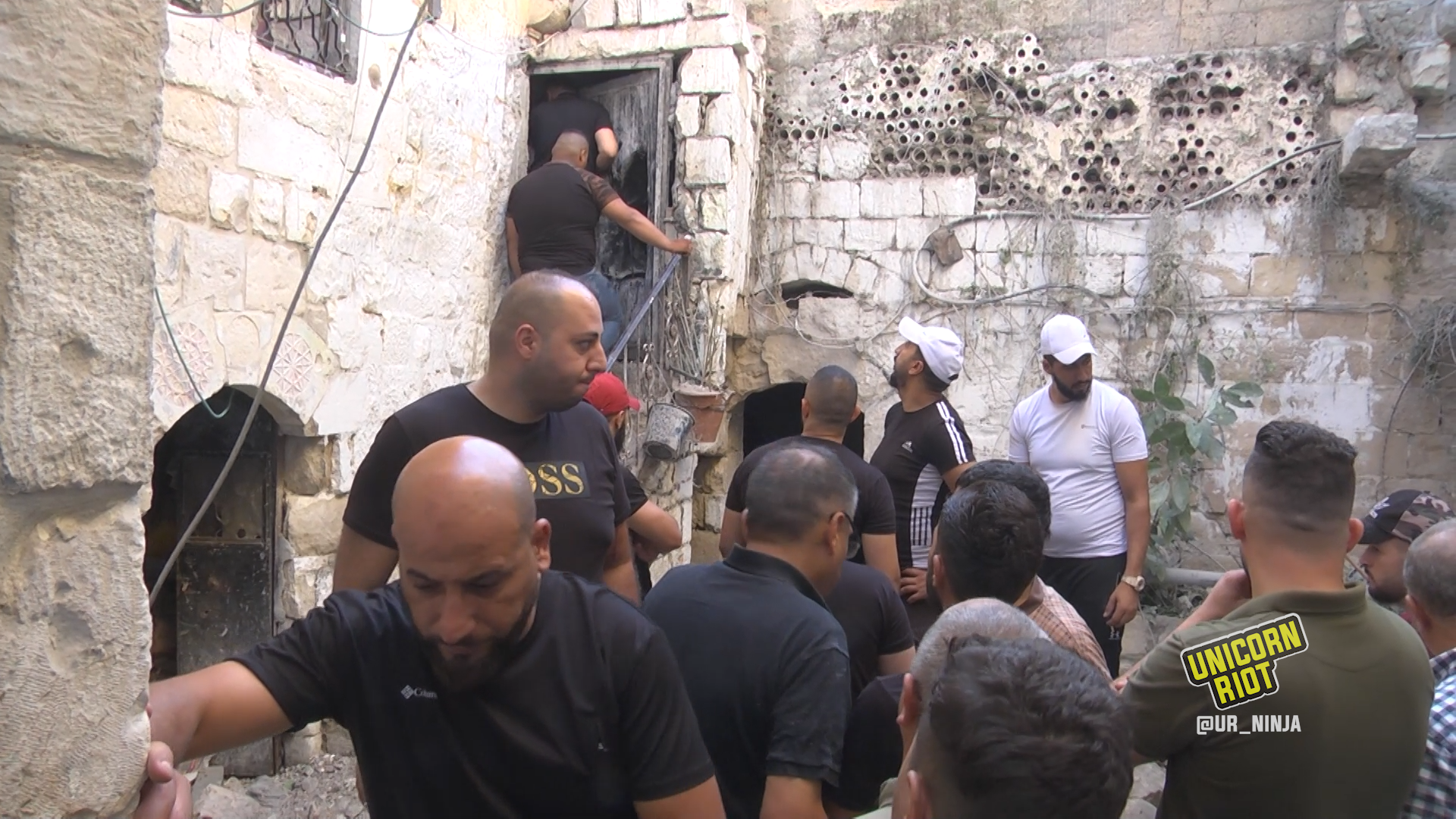 For more from Palestine, see below.
Unicorn Riot's Coverage from Palestine:
---
Follow us on X (aka Twitter), Facebook, YouTube, Vimeo, Instagram, Mastodon, Threads, BlueSky and Patreon.
Please consider a tax-deductible donation to help sustain our horizontally-organized, non-profit media organization: