Operation Breaking Dawn: Israel Kills 44 Palestinians Over Three Days
Gaza City, Gaza, Palestine – Over the course of three days, at least 44 Palestinians were killed by Israeli airstrikes targeting leaders and sites of the Palestinian Islamic Jihad (PIJ) movement in the Gaza Strip. Starting on August 5, 2022, Israel began what they called "Operation Breaking Dawn" to "neutralize" PIJ and its military wing, al-Quds Brigades. After three days of airstrikes, a ceasefire between Israel and the PIJ brokered by Egypt was put into place at 20:30 GMT on Sunday, August 7.
CONTENT ADVISORY: DEATH, VIOLENCE
Unicorn Riot was on the ground in the Gaza Strip during the violent hostilities which killed at least 15 Palestinian children and saw hundreds of retaliatory rockets fired from Gaza toward Israel. Videos below feature voices of impacted Palestinians, community funerals, and show some of the rockets and airstrikes from the three days of the operation.
The year of 2022 has been a deadly one in the occupied territories with at least 60 Palestinians being killed by Israeli forces in the first seven months. Early in the year, several uncoordinated, lone-wolf attacks by Palestinians killed nearly a dozen Israelis. In response, deadly and near-daily raids targeting members of armed paramilitary groups, many of whom are labeled as "terrorists" by Israel and Western governments, are occurring throughout the occupied West Bank and Gaza.
---
What is "Palestinian Islamic Jihad"?
The Palestinian Islamic Jihad movement was targeted in Operation Breaking Dawn. PIJ was founded in 1981 to create an independent Palestinian state and is the second largest armed Palestinian group in the Gaza Strip behind Hamas, who has governed the territory since 2007; its current chairman is Ismail Haniyeh. Both Hamas and PIJ are labeled as "foreign terrorist organizations" (FTOs) by the U.S. and Israel, while many Palestinians and their supporters consider such groups to be elements in a legitimate armed resistance campaign to overturn the Israeli occupation. The U.S. State Department says, "FTO designations […] are an effective means of curtailing support for terrorist activities and pressuring groups to get out of the terrorism business."
Supporters of the Palestinian national cause have argued that Palestinians have a legal right to armed struggle, citing for example the 1982 UN General Assembly Resolution 37/42 which "reaffirms the legitimacy of the struggle of peoples for independence, territorial integrity, national unity and liberation from colonial and foreign domination and foreign occupation by all available means, including armed struggle;" in reference to colonial power structures in Palestinian territories, Lebanon and apartheid-era South Africa. The additional Protocol I to the Geneva Convention adopted in 1977 (PDF) also acknowledges "national liberation movements" including the Palestine Liberation Organization (PLO), and says the rules "include armed conflicts in which peoples are fighting against colonial domination and alien occupation and against racist régimes in the exercise of their right of self-determination."
In a statement on August 5, Israeli Prime Minister Yair Lapid called PIJ "an Iranian proxy that wants to destroy the state of Israel." PIJ is mostly funded and trained by Iran and the al-Quds Brigades make up the paramilitary wing of the PIJ.
A few days before Lapid's statement, Israeli Defense Forces (IDF) arrested Bassam al-Saadi, a 62-year-old senior leader of PIJ during a raid in the Jenin refugee camp that killed a teenager. (Jenin is a city in the northern West Bank.)
---
Israel Activates 'Operation Breaking Dawn,' Dozens Killed & Injured
It was after they arrested al-Saadi and feared reprisal attacks from PIJ over the arrest, that Israeli forces started their operation by closing the Kerem Shalom crossing linked to Gaza Strip and imposing restrictions on the movement of Israelis living in the vicinity of the Strip.
Lapid said they had to then launch "preemptive" strikes because according to him, PIJ were getting ready for a "missile attack against Israel."
"The Israel Defense Forces – in cooperation with the Israel Security Agency – struck Islamic Jihad targets in Gaza. Among those killed were Taysir al-Jabari, one of the two most senior commanders in Islamic Jihad, as well as a cell preparing to launch an anti-tank missile attack against Israel."

Israeli Prime Minister Yair Lapid statement on August 5, 2022
The opening airstrike of Operation Breaking Dawn was aimed at a seventh-floor apartment within the Palestine Tower, a high-rise residential building in the center of Gaza City on August 5. The strike, which hit multiple apartments, was a targeted assassination of al-Quds Brigades Commander, Taysir al-Jabari.
"The kids screamed in fear and we hugged each other," Mohamed Ahmed, who lives in the Tower, said. He was at home with his children at the time of the attack. He said there was no warning at all and his apartment and all of the furniture in it was destroyed from the bombing.
Ahmed said he and his children were lucky to be alive and that if his kids were asleep in their room as they normally would be, they would've been killed.
"There was no previous warning and no current warning of the bombing. It was surprising. If the children were sleeping in their room, they would have been killed."

Mohamed Ahmed, house was bombed by Israel
At least 10 people were killed the first day of airstrikes on Gaza, including five-year-old Alaa Qaddoum, a 23-year-old woman, and al-Jabari.
On the second day, Saturday afternoon southwest of Gaza City, Ahmed Shamlakh escaped with his mother and wife from their home before it was targeted and demolished by a bomb. Shamlakh said they woke up to citizens shouting to "get out of the house" before Israeli warplanes rained several missiles onto it. No casualties were reported as the people were warned ahead of time to get to safety.
"I was sleeping and heard the citizens shouting, get out of the house. I asked what's happening, they said the house next to you will be targeted and we went out immediately. Me, my wife and my mother."

Ahmed Shamlakh, house was bombed by Israel on August 6, 2022
Residents of another house in Rafah city in the southern Gaza Strip weren't as lucky as Shamlakh: seven people were killed by an Israeli airstrike, including a 14-year-old boy and two women. The airstrike targeted and killed Khaled Mansour, one of the most prominent leaders of the al-Quds Brigades. Rescue crews attempted an extended, yet unsuccessful rescue operation on the building after the strike.
By the end of the second day, at least 24 Palestinians were killed, including six children, while at least 84 citizens were injuried, according to the Gaza Ministry of Health. On the third day, Sunday, Israeli forces killed at least 20 more people.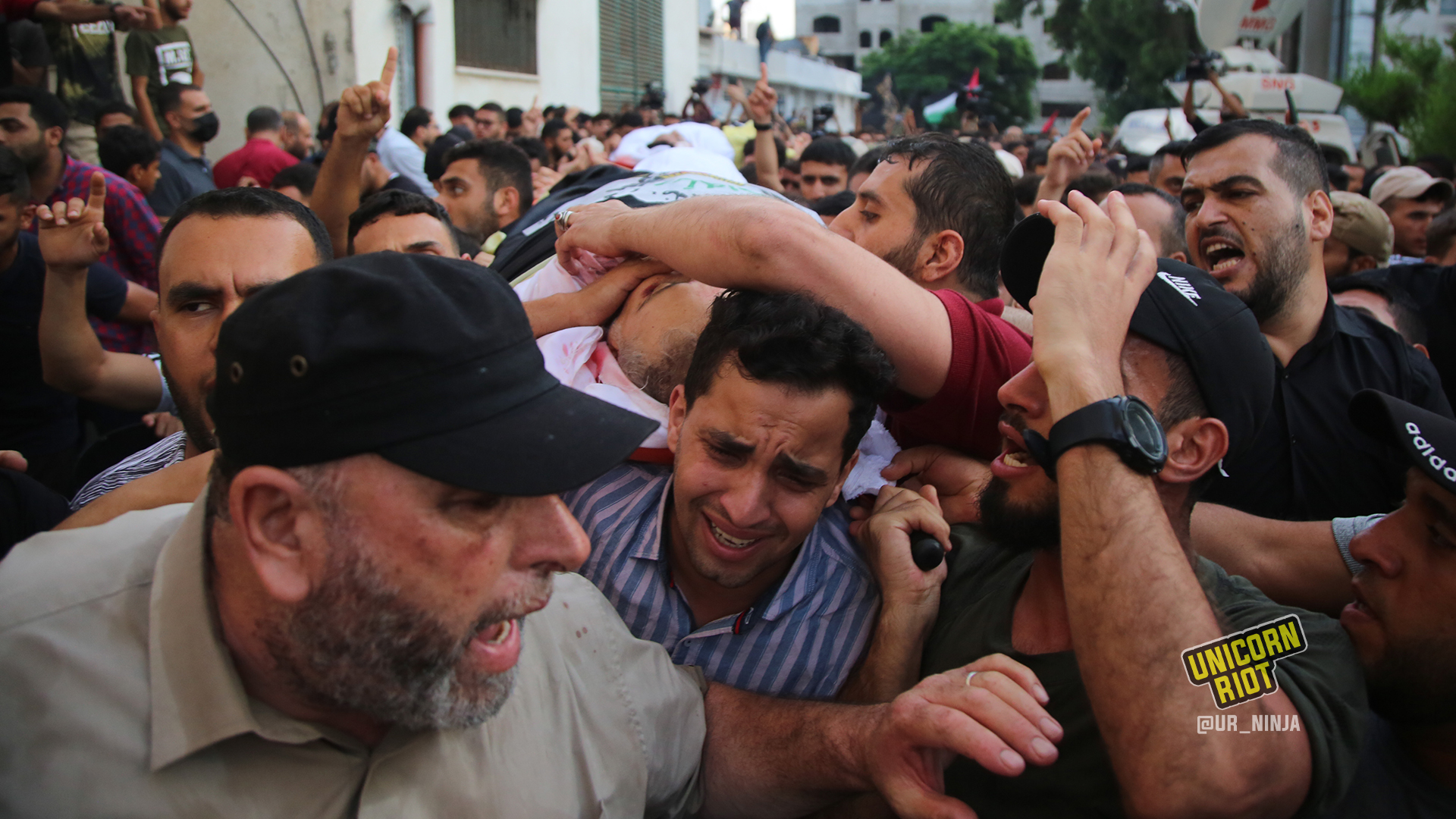 A horrific bombing scene unfolded on Sunday near the al-Falujah Cemetery in the northern Gaza Strip, where five youth were killed in what Palestinians are calling a massacre. Strikes hit numerous other targets, such as a horse-drawn cart and civilian car near the Al-Samer junction in Gaza City, killing three, including a traffic policeman.
The total number of those killed in Gaza from Operation Breaking Dawn stands at 44 as of August 8—15 of them being children and four women—while 360 were wounded.
Al-Quds Brigades stated that the strike on the residential building in Rafah that killed Mansour also killed two other members, Ziyad Al-Mudallal and Raafat Sheikh Al-Eid. The Israeli army announced Mansour's death in a "qualitative and joint operation between the army and the Shin Bet (General Security)."
In response to the targeted airstrikes, hundreds of retaliatory rockets were fired from within Gaza toward Israel over the three days, including what al-Quds Brigades said was 130 missiles fired in 10 minutes "as an initial response to the assassination of the leader of the Al-Quds Brigades, Khaled Mansour." That particular barrage prompted warning sirens in 58 Israeli sites near the Gaza Strip. The IDF said 97% of the rockets fired in the three days were intercepted by Israel's Iron Dome missile defense system, which is partially funded by the U.S. government.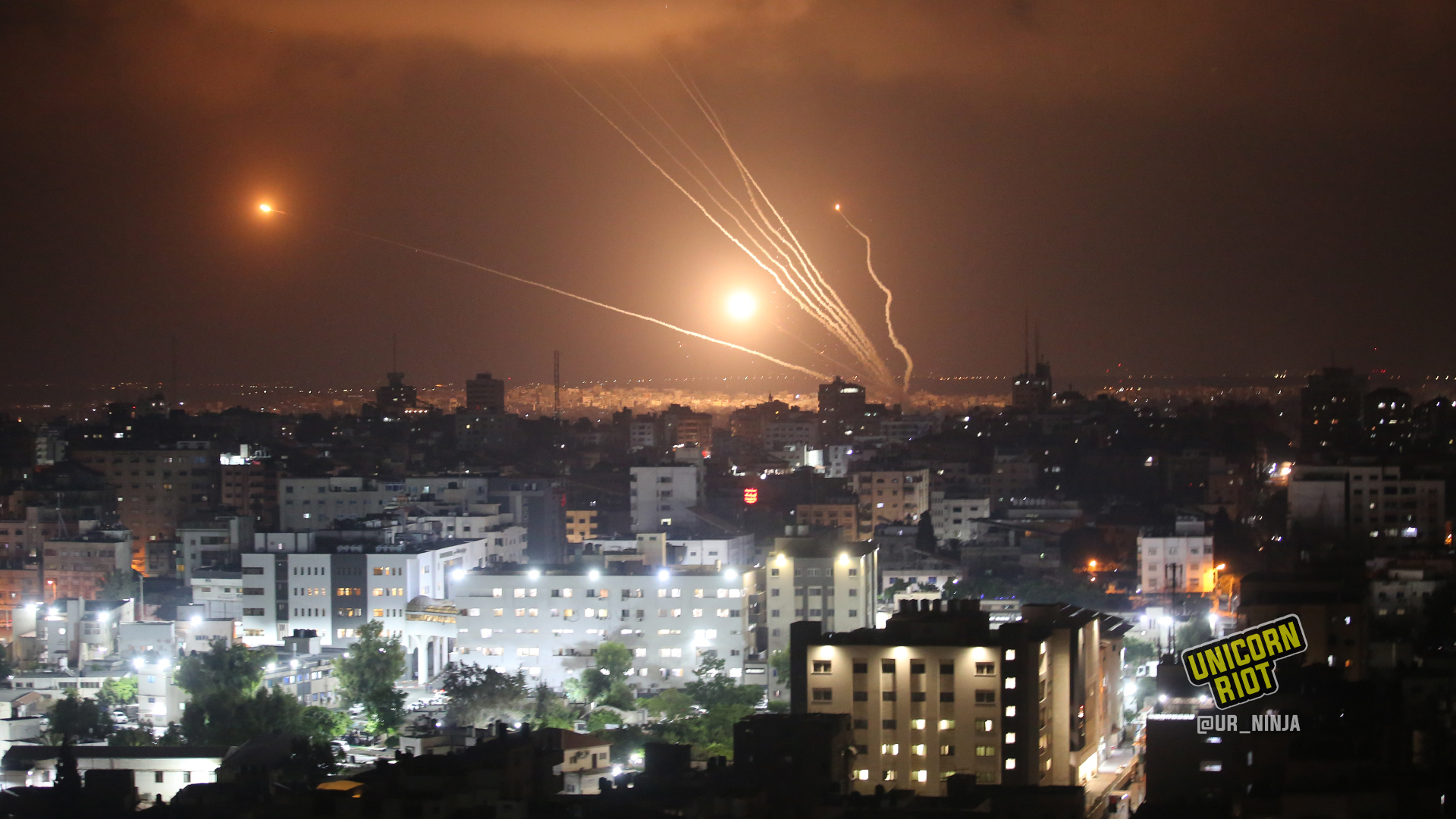 ---
Egypt Sets Up Ceasefire
Shortly after the bombing started, Egyptian officials acted as third-party mediators. After days of negotiation and talks, they were able to broker a ceasefire between Israel and the PIJ that went into effect at 20:30 GMT on August 7, 2022.
Celebratory marches took place across Gaza City and Jabalia Refugee Camp in light of the ceasefire. Mahmoud Abu al-Fahm, a citizen in Gaza, said he was tired of the wars and "the blood of the martyrs has not dried up" since the last war in Gaza. He said now is not the time for war and that the siege on Gaza creates enough "psychological pressure." Abu al-Fahm continued to say that the destruction, death, and violence of war is "not necessary."
After seven days of closure, on Monday, August 8, Israeli authorities reopened the Kerem Shalom commercial crossing into the Gaza Strip, allowing for the entry of goods and fuel, which were becoming drastically short. Nour al-Habil, a representative of the Al-Khaznadar Company, the petroleum carrier to the power station in Gaza, said that around "30 trucks loaded with Qatari fuel will be brought into the power plant" in Gaza, which was closed for a lack of fuel from the closed crossing, causing power outages across Gaza.
---
PIJ Exercises Preceded Israeli Operation
A little over a month before Israel executed Operation Breaking Dawn, al-Quds Brigades held military exercises in Gaza called "Azm al-Sadiqin" which featured hundreds of fighters "in several operational theaters" and ended with artillery and rocket fire toward the Gaza Sea, given the small space for missile testing in Gaza. In 2007, Israel imposed an air, land, and sea blockade on the Gaza Strip and its more than two million inhabitants.
The "Azm al-Sadiqin" military maneuvers came after three al-Quds Brigades members in Jenin were killed during an Israeli raid. A PIJ spokesman told Al-Monitor at the time that exercises were an attempt by al-Quds Brigades "to confirm that the resistance in Gaza and Jenin is unified on the ground and the Palestinian people support the Palestinian resistance against the Israeli occupation's crimes that cannot be tolerated."
Also on the same weekend in Jenin, dozens of masked armed men participated in a parade featuring different factions of paramilitary Palestinian groups including the Al-Aqsa Martyrs Brigades, al-Quds Brigades, the Mujahideen Brigade and the Night Confusion Brigade. These exercises were seen as threats by Israel who, according to the Israel Army Radio, had decided to liquidate the al-Quds Brigades.
Last weekend's confrontations between the Palestinians in Gaza and the Israeli army were the most violent since the 11-day confrontations of May 2021, which led to the killing of 31 Palestinians and the injury of hundreds, according to the Ministry of Health in the Gaza Strip.
Israeli warplanes bombing Palestinian targets is not a rare occurrence. As recently as last month, on July 16, Israeli forces bombed locations in the Gaza Strip, after four rockets were fired from Gaza toward the city of Ashkelon in southern Israel (three landed in open spaces and one was intercepted). The bombed sites were completely destroyed and homes near the area were damaged.
For more from Palestine, see below.
Unicorn Riot's Coverage from Palestine:
---
Follow us on X (aka Twitter), Facebook, YouTube, Vimeo, Instagram, Mastodon, Threads, BlueSky and Patreon.
Please consider a tax-deductible donation to help sustain our horizontally-organized, non-profit media organization: