Occupation Forces Repress Palestinians Fighting Land Grabs in the Northwestern West Bank
Occupied West Bank, Palestine – Palestinian protests against Israeli settlement expansion and land confiscations in the northwestern regions of the occupied West Bank are frequently being met with violence by Israeli forces who are also conducting violent and often deadly raids on a near-daily basis.
To gain more insight and context into the situation we take a look at four protests that were suppressed by Israeli forces in the last several months (April, May, June, July 2022) along with a funeral for a teenager killed by Israeli forces in Nablus and hear from activists on the ground.
Since the 1995 Oslo II Accord, land in the West Bank has been sectioned into three divisions — Area A (Palestinian control), Area B (Palestinian/Israeli control), and the area making up over 60 percent of the West Bank, Area C (solely Israeli controlled). Area C has seen an increase in Israeli settlements and confiscations of Palestinian land. Palestinians in Area C also face a litany of issues that include a lack of schools, healthcare and water.
South of Nablus near the village of Jabal Sabih in Beita, a town of nearly 15,000, protests occur in the area weekly and last year an extended uprising held off settlement expansion while Israeli violence resulted in the death of at least nine Palestinians and over 1,200 shot.
Marking that anniversary, on April 29, 2022, dozens of Palestinians protesting against land seizures and Israeli colony settlements were injured after Israeli forces used rubber bullets, sound bombs, and deployed tear gas.
Palestinian social worker, human rights defender and organizer with the Popular Resistance Committee in the West Bank said that a year later "Beita is still steadfast and fighting" and the Palestinian struggle "will continue until the last settlement is removed."
"It's close to a year since the latest Beita Intifada and the authentic national soul is still here, defending Jabal Sabih. A year of martyrs, prisoners, and wounded. A year of suffering for the people of Beita village, but with that Beita is still steadfast and fighting. Today we are on the doorstep of the settlement built on Jabal Sabih. The voice of the people of Beita will remain high. The struggle of the Palestinian people will continue until the last settlement is removed from this land."

Munther Amira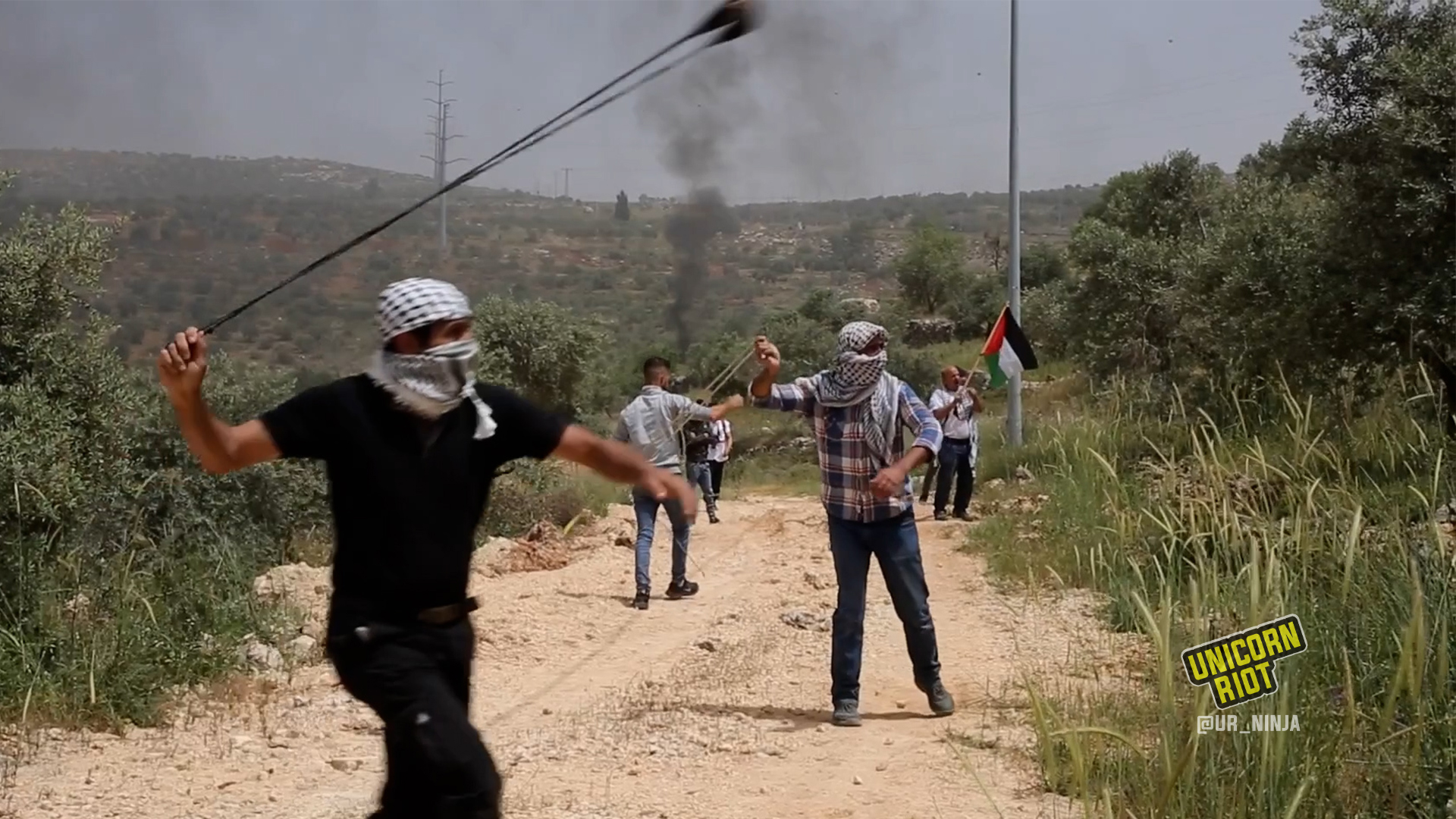 ---
Palestinians Protest Israeli Colony Outposts in Northern West Bank – March 22, 2022
Palestinians Prevented from Reaching Confiscated Lands in Qusra, Gassed by Occupation Forces – March 31, 2022
Palestinian Protesters Fight Occupation on Mount Sabih, Nablus – April 15, 2022
---
A week later and down the road a few miles in Beit Dajan during their weekly Friday protests, Nasser Abu Jaish, head of the Factional Coordination Committee of Nablus, said they were marching against Israeli settler outposts and in support of Al-Aqsa Mosque and it's defenders during a time when Israeli forces were brutalizing worshippers during Ramadan 2022 and clearing way for settlers' tours of the compound.
"From Jerusalem to Gaza to Jenin to Beit Dajan, this is Palestinian land and this occupier and occupation will end."

Nasser Abu Jaish, head of the Factional Coordination Committee of Nablus
Medics on scene of the afternoon protest treated dozens of protesters for tear gas exposure and injuries from falling as people attempted to flee from Israeli forces who were firing live bullets amongst the other munitions from the hilltops.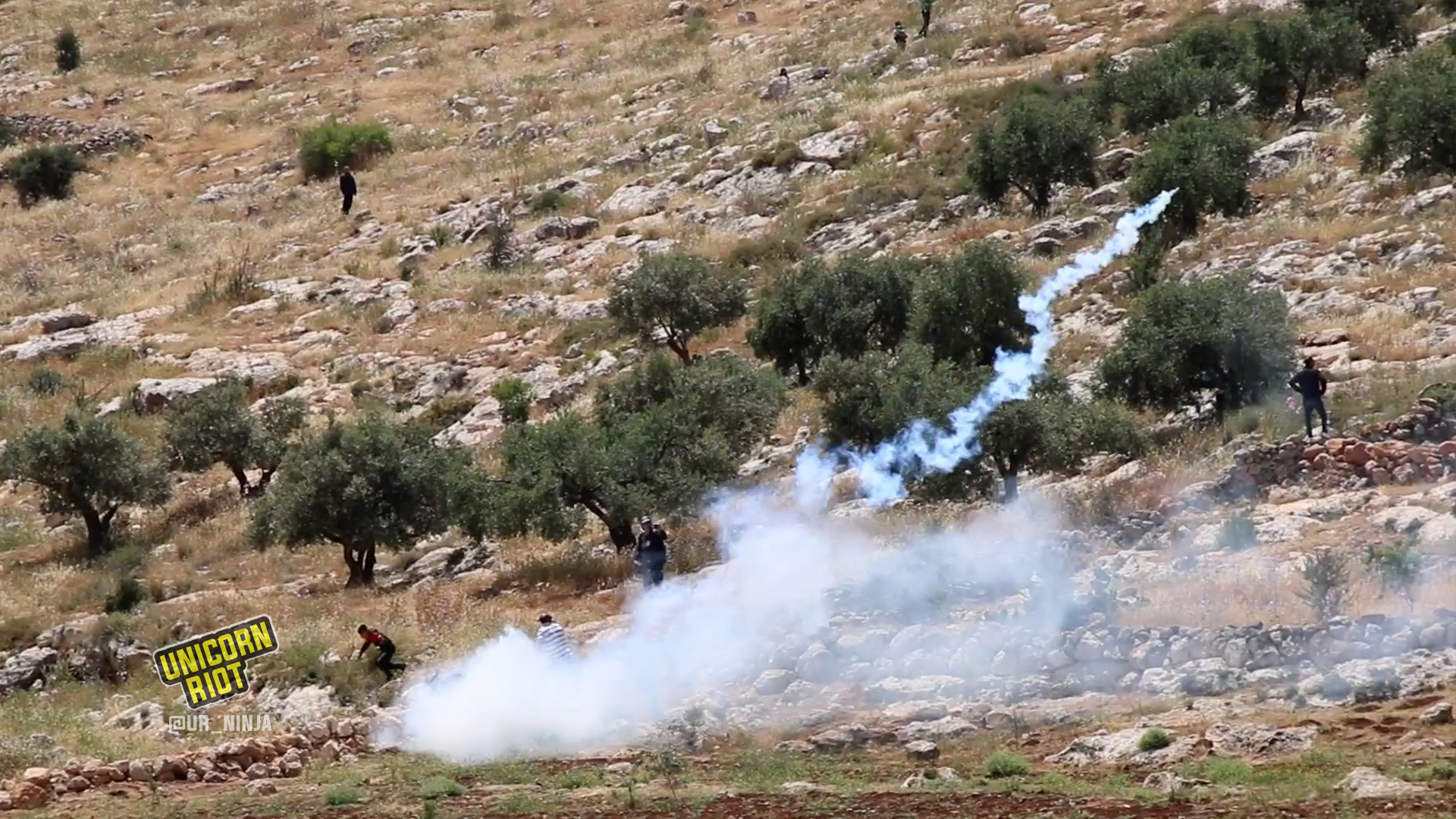 ---
Israeli Forces Stifle Religious Freedoms During Ramadan – April 5, 2022
Al-Aqsa Mosque Stormed: Israeli Police Detain 400, Injure 153 – April 15, 2022
Last Friday Prayer of Ramadan at Al-Aqsa Draws 160K Despite Strict Measures by Israeli Forces – April 30, 2022
Israeli Forces Clear Al-Aqsa for Settlers' Tours – May 6, 2022
Israeli Forces Assault Mourners of Young Man Dead After Israeli Attack on Al-Aqsa – June 16, 2022
---
Meanwhile, a month later and a few miles northeast of Nablus in the Palestinian village of Al Farisiya, Israeli forces dispersed a march condemning settlements and Israeli outposts in the northern Jordan Valley. The protest was attacked by Israeli forces at the "Al-Tayseer" checkpoint with beatings and tear gas.
"We came to protest the settlement expansion here," Abdullah Abu Rahma, Bil'in Popular Committee Against the Wall and Settlements
"Specifically there is an outpost inside Al-Farisiya area [Palestinian]. Our message today is that the Persian region and the entire Jordan Valley are Palestinian. The occupation tried to prevent us from crossing to the checkpoint but with our will and the will of those present today, we crossed the barrier. We traveled more than a kilometer but they suppressed everyone who was present whether with gas, pepper spray, sound bombs, or assault with hands."

Abdullah Abu Rahma, Bil'in Popular Committee Against the Wall and Settlements
The Israeli settlement of Maskiyot has been growing, sparking fears that Al Farisiya would be cleared to make way for settler expansion. Israeli authorities have continued to prevent Palestinian construction and land reclamation in areas classified as "Area C" without licenses. Obtaining these licenses is almost impossible and demolitions of homes and structures are a normal occurrence, with over 900 in 2021 alone.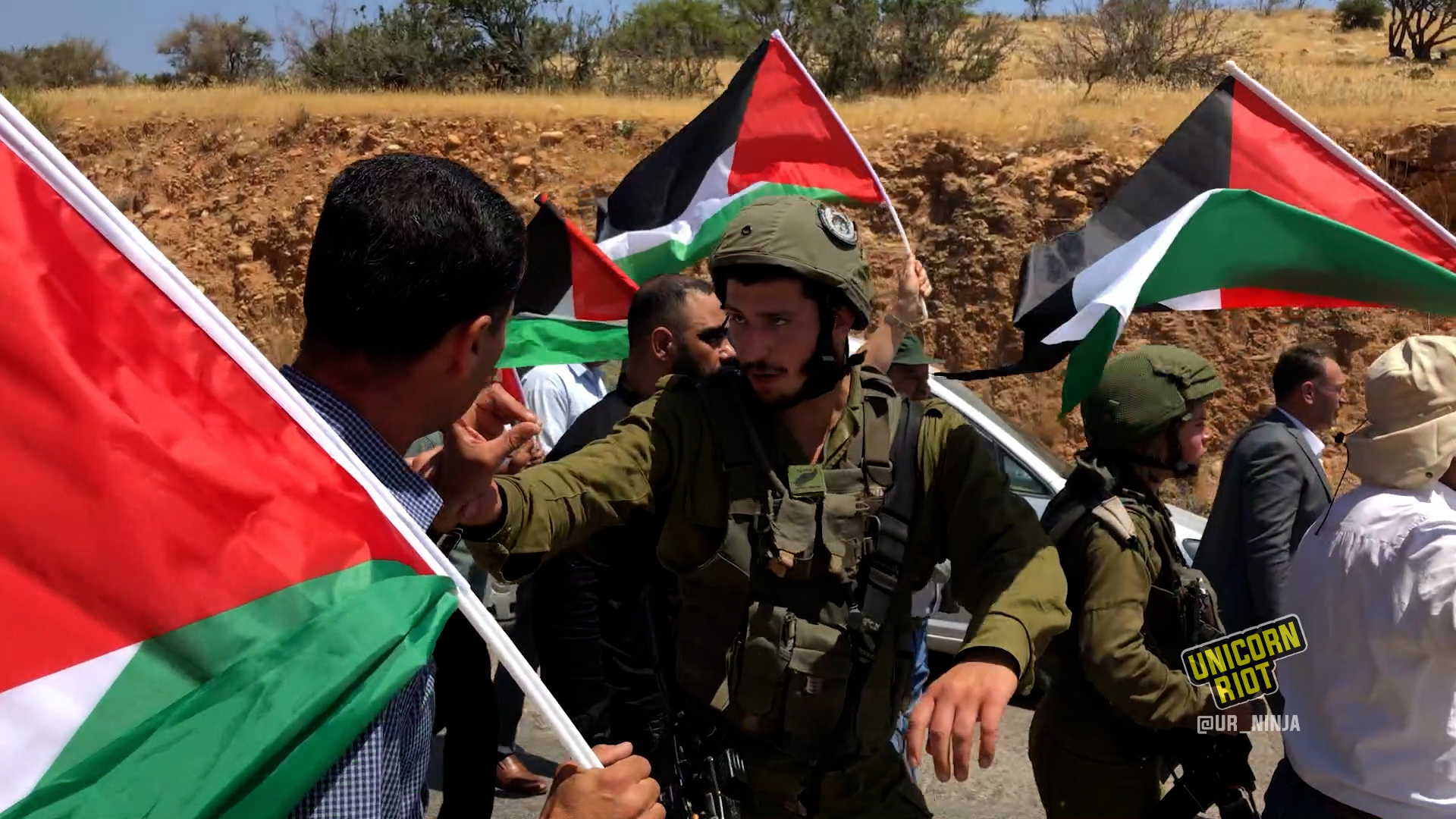 ---
As settlement expansion continues, Israeli police and army act as protectors of the settlements as well as settlers' movements. During the night of May 24, Israeli forces stormed the eastern region of Nablus with about 30 vehicles, accompanied by a military bulldozer and were met with resistance from the Palestinian population.
Confrontations led into the next day and worsened when Israeli forces escorted a group of settlers into the "old city" of Nablus. Protected by police, the settlers were embarking on a tour of Joseph's Tomb that the Palestinians called a "storming" of the tomb and an "incursion" by the Israelis.
Extended heated confrontations took place through the daytime with dozens of young men blocking Amman Street with burning tires and rocks obstructing occupation patrols amid heavy firing of bullets, sound bombs and tear gas.
In this atmosphere, Israeli forces shot 16-year-old Ghaith Yamin in the head, killing him, while also injuring nearly 100 others during the confrontations.
The Red Crescent Society, who reported that they were attacked by Israeli forces, said that at along with Yamin being killed nearly 75 civilians were shot with rubber coated bullets. After the funeral for Yamin, Abu Jaish said that Israeli forces are "racist" and their "attacks" are politically motivated "terrorism." He furthered "that is why they raided yesterday and allowed the settlers' storming of Joseph's Tomb in the morning."
"These repeated attacks are a political decision and are organized terrorism from a racist government, spilling the blood of Palestinians. Even the Palestinian flag has become annoying to this government. That is why they raided yesterday and allowed the settlers' storming of Joseph's Tomb in the morning as well as the attacks on streets and villages in the Nablus governorate. It is an indication that there are racist terrorist political decisions by this government, the Israeli occupation government."

Nasser Abu Jaish, head of the Factional Coordination Committee of Nablus
Last week on Sunday, July 24, Israeli forces killed two Palestinians and bombed a house with explosives and missiles during a large-scale military operation targeting Ibrahim Al-Nabulsi who evaded capture.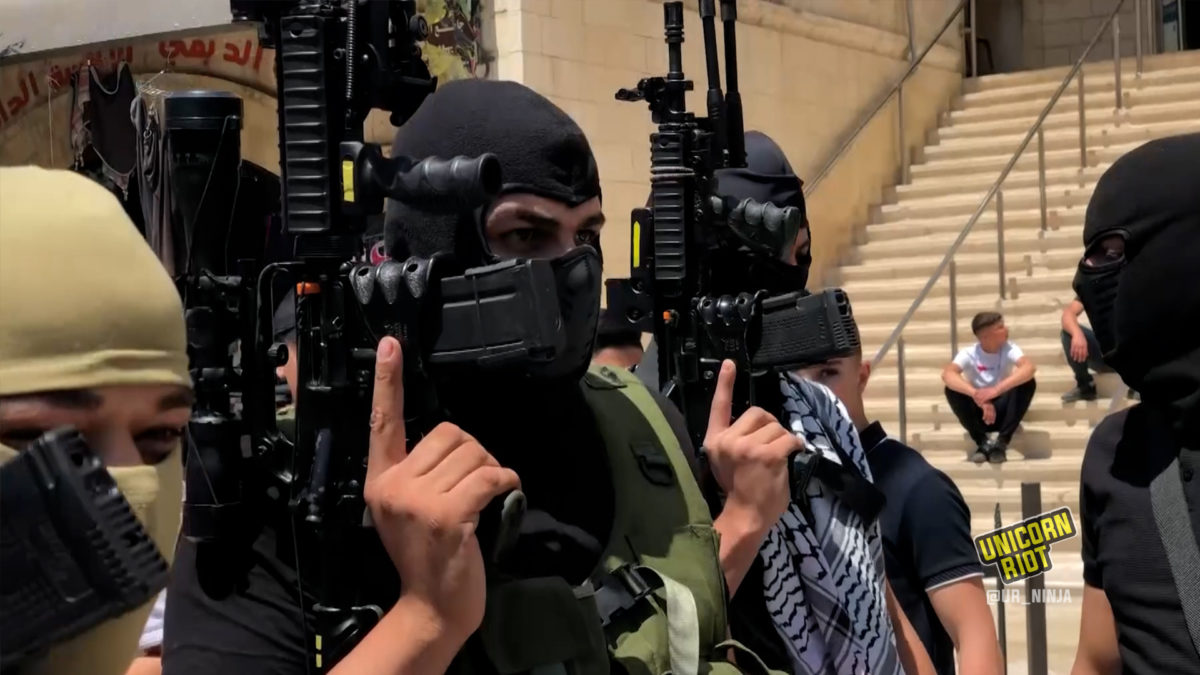 ---
Just 14 miles away from Nablus in Kafr Qaddum, a protest on July 1 commemorated the eleventh anniversary of the launch of the popular resistance against Israel aggression and land grabs in the town of around 5,000 Palestinians.
Major General Rafeh Rajbeh, Governor of Qalqilya Governorate, said, "We came today to share the town of Kafr Qaddum's struggle, steadfastness and sacrifices, as it entered its auspicious march into its twelfth year with vigor, determination and indomitable determination."
Citizen of Kafr Qaddum and Coordinator in the Popular Resistance Committee, Murad Ishtiwi, said they've been pushing for over a decade against Israeli settlements and particularly they were demanding that the main road be opened again so that Kafr Qaddum can be connected to "three governorates of Nablus, Tulkarm and Qalqilya."
"Emphasizing in this twelfth year that we will continue our march despite all the violent acts of the occupation, incursions into Kafr Qaddum, arrests in Kafr Qaddum and casualties in Kafr Qaddum. From what you see now is this scene: poison gas, rubber bullets and metal bullets. Despite this, we affirm that will not discourage our marches for the independence of our country, Palestine."

Murad Ishtiwi, Coordinator in the Popular Resistance Committee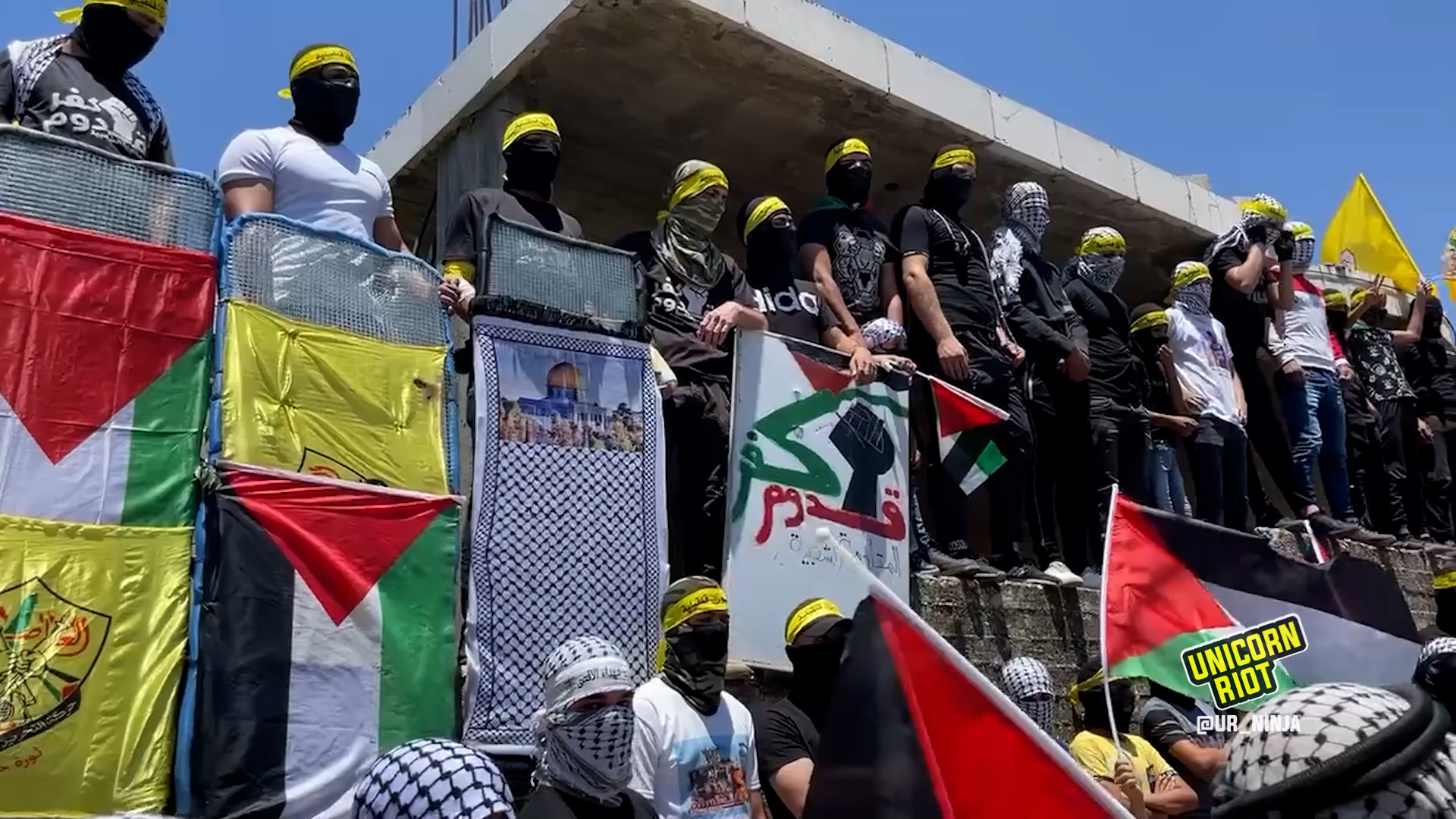 ---
For more from Palestine, see below.
Unicorn Riot's Coverage from Palestine:
---
Map of the West Bank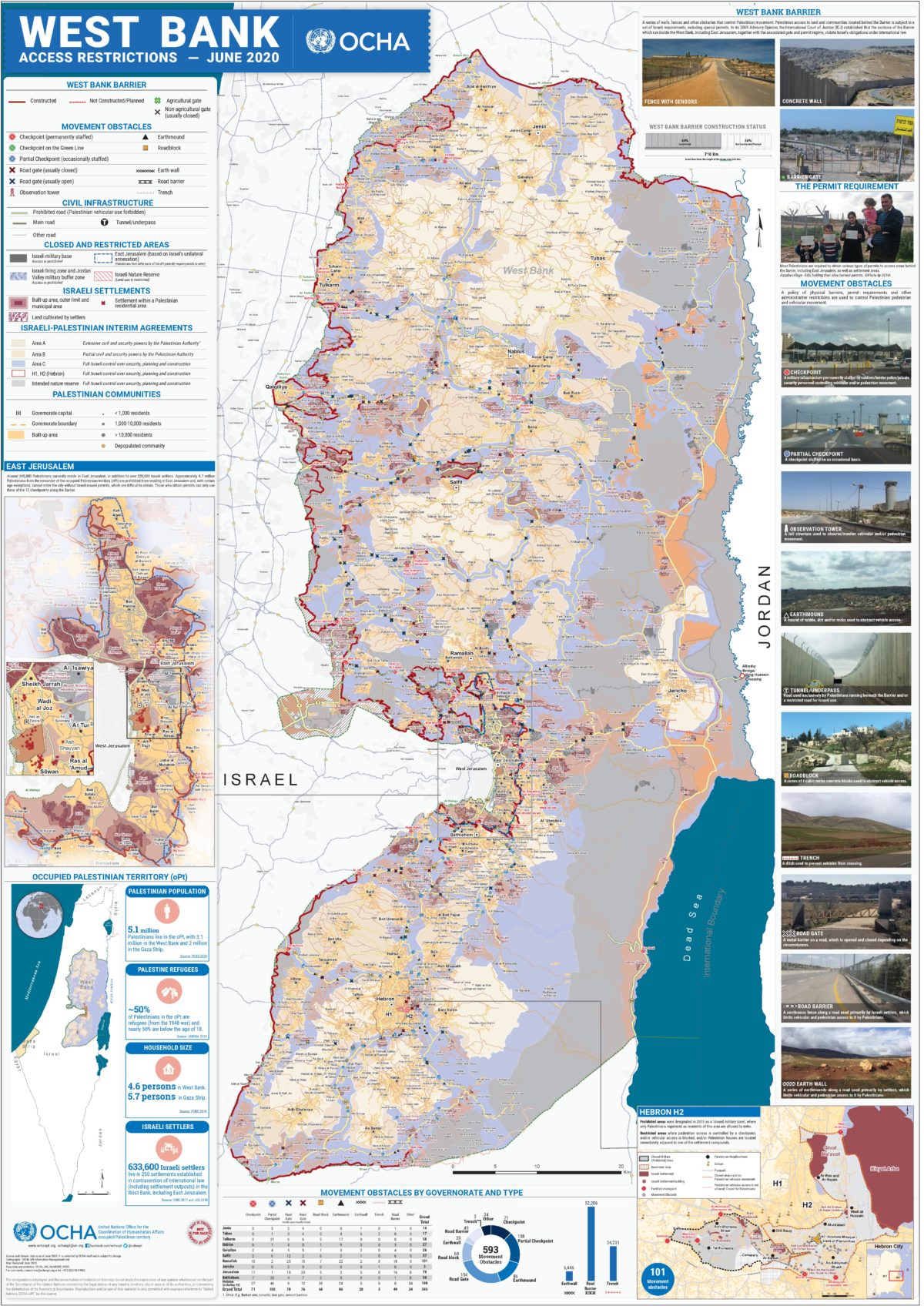 ---
Follow us on Twitter (aka 'X'), Facebook, YouTube, Vimeo, Instagram, Mastodon, Threads, BlueSky and Patreon.
Please consider a tax-deductible donation to help sustain our horizontally-organized, non-profit media organization: