Over 2,200 Israeli Raids Killed 140 Palestinians Thus Far in 2022
Occupied West Bank, Palestine – A day after a ceasefire ended Israel's deadly Operation Breaking Dawn on August 7, Israeli forces conducted a raid on Nablus using missiles and heavy weaponry to target a house where Ibrahim al-Nabulsi, the commander of Al-Aqsa Martyrs' Brigades, was holed up in. The raid eventually killed him and two others.
In the first 250 days of 2022, Israeli forces have conducted at least 2,200 raids in the occupied West Bank and have killed at least 140 Palestinians, while injuring nearly 7,000. This report features videos from the funeral of al-Nabulsi and a funeral of a different young man who was killed during a separate raid in Halhul.
Al-Nabulsi aka the 'Lion of Nablus' was an armed 18-year-old known to some Palestinians as a freedom and resistance fighter, but deemed a terrorist by the Israeli government. Israeli forces had unsuccessfully attempted to kill him in February and in July, leaving a trail of bodies in their wake.
He continued to openly evade capture for nearly a year until August 9 when al-Nabulsi was pronounced dead in the hospital an hour after being removed from a bombed-out home.
Bilal Muhammad, an eyewitness, said Israeli forces "sabotaged everything" by blowing up all the cars in their path. Sixteen-year-old Hussein Taha and Islam Sabbouh were also killed during the raid and at least 40 others were injured.
Al-Nabulsi was born into a generation whose peers are being killed by Israel's occupation forces at an exponential rate — at least 86 Palestinian children were killed in 2021.
Over the years, Nabulsi rose in popularity among Palestinians, becoming somewhat of a legend in the streets. While the Israeli forces were on the hunt for him during the last year of his life, Nabulsi was reported to have been seen walking through Nablus regularly and treated as a celebrity by the residents.
"I love you so much. If I am martyred, guys, I love my mother. Take care of the homeland after I'm gone, and my final will to you, on your honor: don't let go of the rifle — on your honor. I'm surrounded, and I am going towards my martyrdom. Pray for me."

Voice message reportedly from Ibrahim al-Nabulsi shortly before he was killed
A large funeral procession was held for al-Nabulsi, Taha and Sabbouh, and was led by fighters from the military wings of the Palestinian factions who shot bursts of automatic gunfire into the air in an act of mourning.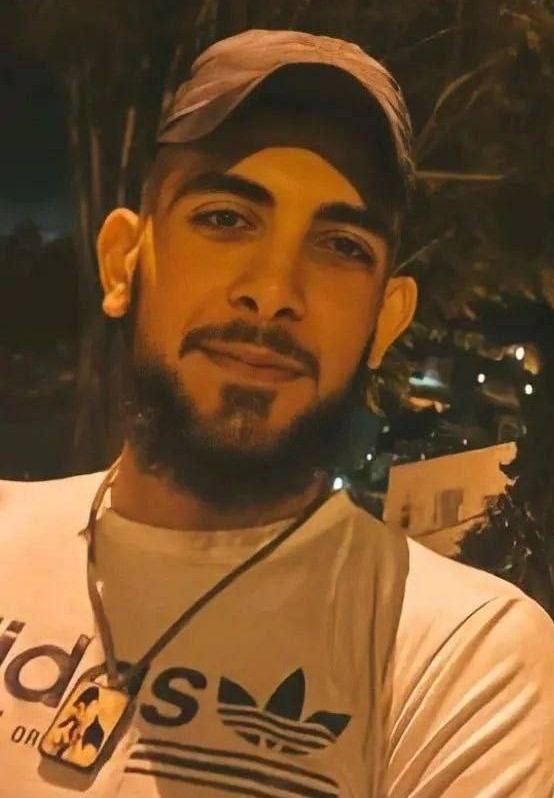 ---
Palestinian Father of Two Leaving Work Killed by Israeli Sniper
In one of the thousands of deadly Israeli raids this year, Mahmoud Fayez Abu Ayhour (27), was fatally shot in his abdomen with a sniper's bullet which pierced his diaphragm and aorta. His family said that he had just left work and was on the way to take his daughter to the doctor when Israeli forces killed him. Israel was conducting a raid on July 9 in the town of Halhul, north of Hebron in the occupied West Bank.
Seven others were injured with live bullets, while two others were shot in the face with rubber coated steel bullets by Israeli forces.
Israel said the target of the 10:30 a.m. raid in the city center was a money exchange allegedly funding Hamas, which they then forced the business to close. The Israeli army admitted it used live fire and said it was because "Palestinians threw stones, explosive devices, and Molotov cocktails at Israeli troops."
Ayhour was married with two children, one born less than a month prior to the raid. A large funeral procession took place in Hebron where residents carried Ayhour's Palestinian flag-wrapped body to the mosque.
Niko Georgiades of Unicorn Riot contributed to this report.
For more from Palestine, see below.
Unicorn Riot's Coverage from Palestine:
---
Follow us on X (aka Twitter), Facebook, YouTube, Vimeo, Instagram, Mastodon, Threads, BlueSky and Patreon.
Please consider a tax-deductible donation to help sustain our horizontally-organized, non-profit media organization: