Queer Colorado Community Responds to Club Q Shooting
Colorado Springs, CO – In the days since the Nov. 19 shooting at Club Q that left five dead and 25 more injured, the local queer community and their allies have been commemorating the lives lost and comforting those affected. Billed as an all-inclusive nightclub, Club Q has long been a respite for the queer population in a conservative Christian city that's home to prominent anti-trans and homophobic organizations.
The venue, which was hosting a punk and alternative show on Nov. 19, was set to host an all-ages drag performance the following day for Transgender Day of Remembrance—the annual observance honoring the memory of transgender people whose lives were lost in acts of anti-transgender violence. Minutes from the start of the annual commemoration, a shooter adorned with body armor entered Club Q.
The deadly attack was stopped by attendees at the show who beat the shooter, Anderson Aldrich, and confiscated an AR-15 style rifle and handgun, likely preventing further death and injury, according to club attendees.
Aldrich was taken into custody the night of the shooting. On Nov. 22, Aldrich was booked without bail for five counts of first-degree murder (CO Rev Stat § 18-3-102 (2016)) and five counts of a bias-motivated crime causing bodily injury (CO Rev Stat § 18-9-121 (2016)), though formal charges have not been filed as of this story's publication.
---
There have been multiple memorials and vigils across Colorado commemorating Daniel Davis Aston, Kelly Loving, Ashley Paugh, Derrick Rump and Raymond Green Vance. In Colorado Springs, a mural is being painted in their memory by a local artist known as Paes 164.
Mourners continue to place flowers, candles, rainbow flags, and other items at the entrance of Club Q. Community members have been gathering outside the venue and spending time with one another, maintaining its legacy of being a loving and comforting queer space.
There are two online fundraisers for the families of the victims and for the survivors, one through GoFundMe and the other through the Colorado Healing Fund. On Dec. 1, community members are having an in-person fundraiser in Colorado Springs for the Club Q employees who are currently out of work (the event page says armed security will be present).
Other local queer community members responded to the shooting by taking a targeted action on Nov. 24. At the headquarters of the far-right Evangelical Christian lobbying and media organization Focus on the Family, a message was spray painted across the stone wall bearing their name, and signs quoting 2 Corinthians 11:14-15 were placed at the wall's base.
The message read, "Their blood is on your hands, five lives taken."
A press release and claim of responsibility for the act, shared anonymously with Unicorn Riot, attributed the act to "members of the Front Range queer community."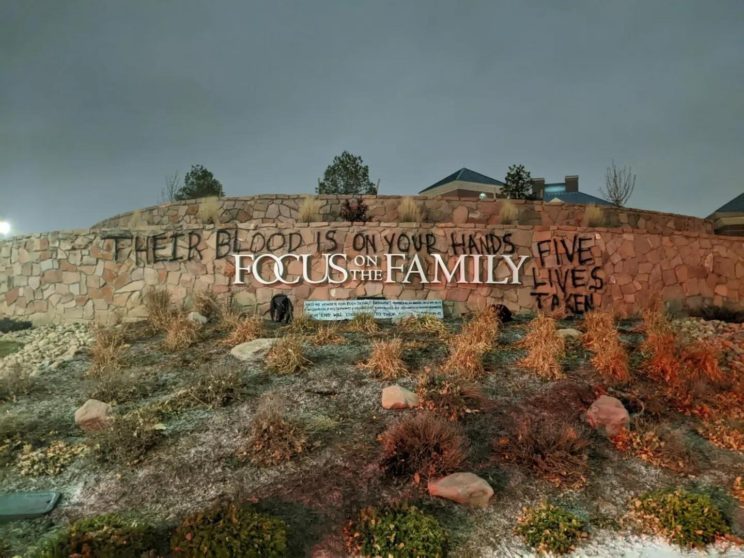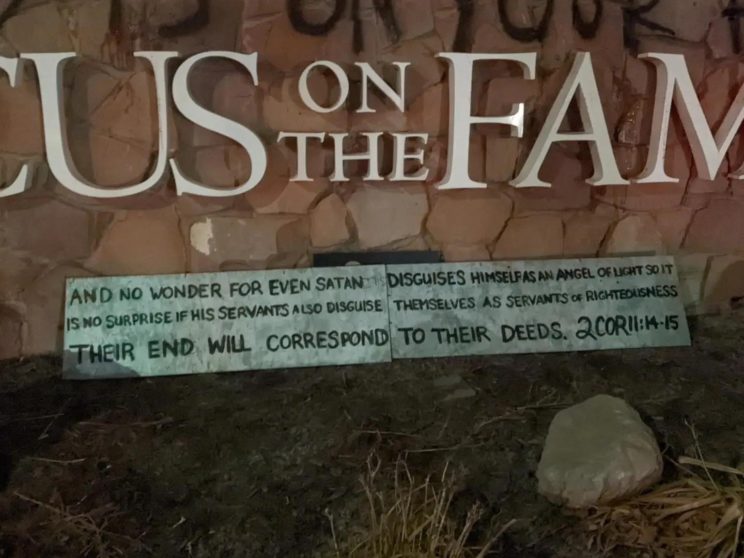 The anonymous group pinned responsibility for the killings on Focus on the Family specifically and groups that espouse similar beliefs in general. From the press release:
"It is important to us that you understand why Focus on the Family must be held accountable for the ramifications of their hateful theology. You have likely seen the onslaught of anti-trans legislation, of which Focus on the Family is a huge proponent, both in funding and propaganda."
Family Policy Alliance, which is the 501(c)(4) lobbying arm of Focus on the Family, shares a campus with the Evangelical ministry at its Colorado Springs headquarters. The lobbying group is actively opposed to trans-affirming care and homosexuality.
On its "Help Not Harm" website page, Family Policy Alliance asserts that "there is no solid data that treatment with either puberty blockers, cross-sex hormones, or surgery reduces the risk of suicide."
However, a 2020 study by the American Academy of Pediatrics found that transgender adults who received pubertal suppression hormone therapy as adolescents were less likely to experience suicidal ideation in their lifetime. And respondents to the 2015 U.S. Transgender Survey who had gender affirming hormone therapy or surgical care had lower frequencies of past-year suicide attempts compared to those who had not received the care they needed.
Family Policy Alliance preaches that "kids struggling to embrace their God-given bodies need real care," and they believe gender-affirming care and treatment is harmful. Yet, according to The Trevor Project, which is the world's largest suicide prevention and mental health organization for LGBTQ young people, the high rate of suicidal thoughts or suicide attempts are directly attributed to "how [LGBTQ youth] are mistreated and stigmatized in society."
The LGBTQ advocacy organization found in their 2022 National Survey on LGBTQ Youth Mental Health that 45% of LGBTQ youth seriously considered attempting suicide in the past year, including more than half of transgender and nonbinary youth.
According to the Human Rights Campaign, politicians introduced over 300 anti-LGBTQ bills across the country in 2022 "instead of focusing on real issues like economic relief, healthcare or infrastructure."
Focus on the Family president Jim Daly released a statement about the Club Q shooting on his website, saying how the tragedy "exposes the evil and wickedness inside the human heart. We must condemn in the strongest terms possible the taking of innocent life."
Meanwhile, Daly and his ministry believe same-sex marriage is anti-family, and they "try to avoid language that affirms gender ideology," such as using someone's correct pronouns.
In January 2021, Focus on the Family's media outlet The Daily Citizen posted to Twitter about President Biden's nomination of Dr. Rachel Levine as the nation's assistant secretary for health. The tweet, which was deleted by Twitter, described Dr. Levine as a "man who believes he is a woman." Outraged by the social media platform's deletion, Family Policy Alliance led a campaign against Twitter.
One article on The Daily Citizen claimed to "not [be] trying to be unkind to Dr. Levine" and that their "language and tone express both love and truth," while also insisting that "Christians believe transgender identities are false." Evidently, The Daily Citizen believes that through dehumanizing Dr. Levine and other people who are transgender, they can help them "embrace their true identity as a man or a woman."
In the press release claiming responsibility for the Focus on the Family defacement, the anonymous group pinpoints this erasure of certain identities.
"Focus on the Family's goal is to eradicate queerness. Tactics they use to achieve this include indoctrination, media saturation, falsified research, and conversion therapy."
Aldrich's first court appearance was on Nov. 23, before El Paso County Judge Charlotte Ankeny. The arrest affidavit and warrant were sealed at the request of the prosecution on Nov. 20. Aldrich is scheduled to appear again on Dec. 6
---
Follow us on X (aka Twitter), Facebook, YouTube, Vimeo, Instagram, Mastodon, Threads, BlueSky and Patreon.
Please consider a tax-deductible donation to help sustain our horizontally-organized, non-profit media organization: