Ancient Roman Graves Discovered in Gaza
Gaza Strip — Over the past two years, Palestinian workers in the Gaza Strip have discovered 134 ancient Roman era-graves. The most recent discoveries came in September of this year as dozens more graves were found, with a number of them displaying very unique and special characteristics.
Located in the town of Jabalia, north of Gaza City, the cemetery site is the largest ever discovered in Gaza and estimated to be about 2,000 years old. The site was initially discovered last year during the construction of an Egyptian-financed housing project. Since then, excavations of the 2,700 sq. meter site have been ongoing with the support of French experts.
Archeologists estimate that the historic Roman cemetery dates back to between the first century BC and the second century AD. It's also believed to be the first complete ancient cemetery discovered in Gaza.
The vacant plot of land, originally designated for construction, has turned into something of a gold mine for archaeologists looking to understand more about the Gaza Strip. For example, back in January, Unicorn Riot reported on the discovery of ancient antiques in Gaza dating back some 4,500 years ago.
Archeologist Fadel Al-Otol said that the recent tomb discovery was of immense importance since it shows that "residents of Gaza City have been present here since Roman times." He further revealed that the total number of graves discovered in the cemetery has now reached "134 so far," the most prominent of which are two coffins made of lead.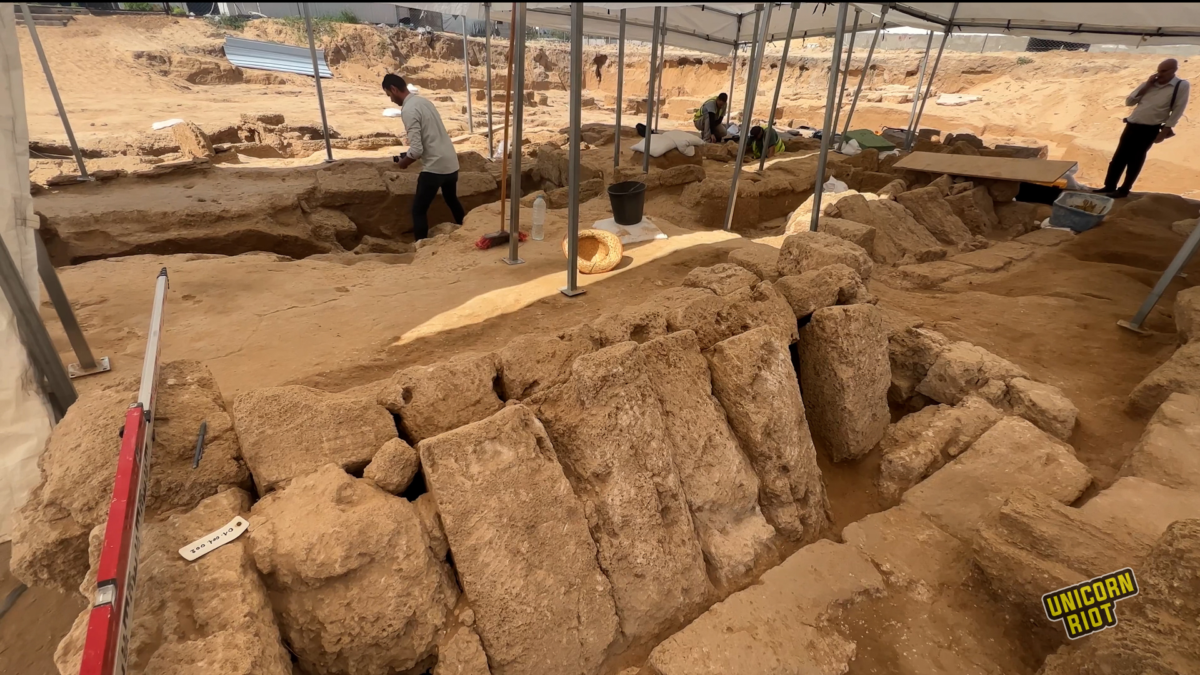 One of these lead coffins was engraved with the shape of grape harvests, and the other had engravings of dolphins swimming in the water. Some of the graves were built in a pyramidal shape, and parts of pottery vessels and metal pieces used in funerary rituals were also found.
A number of technicians within the excavation and antiquities team are continuing the restoration and study work inside the cemetery, using primitive tools during excavation, underground digging, cleaning, and maintenance work.
While the recent discoveries represent yet another historic milestone, efforts to continue the excavation and preservation of Gaza's cultural heritage are not without significant challenges. Gaza Strip's 2.4 million inhabitants continue to live in a tightly confined, poverty-stricken area that is subjected to constant Israeli surveillance, military raids and a highly restrictive blockade.
Antique smuggling is also a major problem, as the profits made from selling Gaza's artifacts is often too great to ignore — especially considering its economic hardships. As summarized by Al-Otol "[there is] insufficient financial support to fully excavate the history of Gaza due to the density of the population."
Despite this, Al-Otol and his small team — with much needed assistance from international partners — continue on their mission to properly secure Gaza's rich cultural legacy.
---
Follow us on X (aka Twitter), Facebook, YouTube, Vimeo, Instagram, Mastodon, Threads, BlueSky and Patreon.
Please consider a tax-deductible donation to help sustain our horizontally-organized, non-profit media organization:

Unicorn Riot's Coverage from Palestine: