Anti-Zionist Jews Hold Solidarity Shiva for Palestinian and Israeli Lives Lost
Minneapolis, MN — Days after the start of a deadly war has killed nearly 2,000 people in Gaza and Israel, Jewish people in the Twin Cities who are standing in solidarity with Palestinians held a shiva, a Jewish mourning ritual, to grieve the loss of lives of both sides on Tuesday, October 10 in South Minneapolis.
According to a press release, "Jews [will be] publicly reciting the mourner's kaddish for Palestinians and Israelis killed [and will] call for an end to Israeli apartheid and occupation." Watch the gathering live on Unicorn Riot below.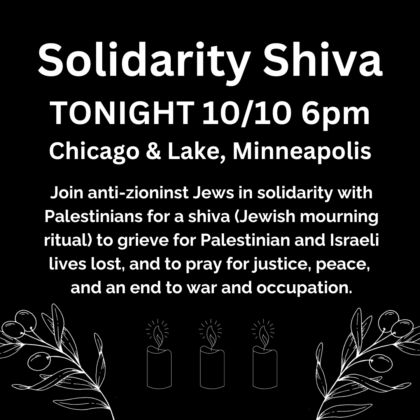 The organizers distributed the following press release:
Jews in solidarity with Palestinians will hold a shiva (Jewish mourning ritual) to grieve for Palestinian lives lost, Israeli lives lost, to pray for justice and peace, and an end to war and occupation.

We decry the impression that Jews are monolithically supportive of Israel's ongoing occupation of Palestinian lands and human rights abuses. We support human rights for all, including those of the Palestinians who have suffered under brutal occupation and apartheid for over 70 years. We absolutely reject the notion that apartheid and oppression of Palestinians promotes Jewish safety; rather, we recognize it as a zero-sum strategy rooted in trauma and the same European colonial system that produced the Holocaust. We know that we will not see an end to these cycles of violence without an end to the occupation.

In the past few days Palestinians executed a military attack on the Israeli state and Israel is executing retributive attacks against Palestinians. Israeli leaders have used genocidal rhetoric, with Prime Minister Netanyahu threatening a limitless war and telling Gazans to leave, an impossibility for the territory under siege. Senior members of his government are calling for a second Nakba, a reference to the ethnic cleansing of Palestinians in 1948. Against this backdrop, the Biden administration has since publicly committed to providing military assistance to Israel. It is in this context that we gather to say, not in our name.

We oppose the deliberate targeting of civilians and civilian infrastructure. We mourn for all lives lost in Palestine over the last 75 years. We believe in a just world. We believe in Tikkun Olam – repairing the world. We believe that "Never Again" means "Never Again for Anybody." We believe that the path to justice starts with justice, not retribution. As Jews, we know that inevitably, oppressed people everywhere will seek — and gain — their freedom. We all deserve liberation, safety and equality. The only way to get there is by uprooting the sources of the violence. We believe in, and are committed to working for, a world where all life is precious.

Press release from "Jews and allies, including members of Jewish Voice for Peace-Twin Cities and If Not Now-Twin Cities"
---
Follow us on X (aka Twitter), Facebook, YouTube, Vimeo, Instagram, Mastodon, Threads, BlueSky and Patreon.
Please consider a tax-deductible donation to help sustain our horizontally-organized, non-profit media organization:

Unicorn Riot's Coverage from Palestine: