Dakota 38+2 Run Commemorates Hanging of Dakota Ancestors
St. Paul, MN – On Dec. 25, 2022, organizers of the Dakota 38+2 run gathered around a "pétu wakȟaŋ, sacred fire" at Fort Snelling to start the 71-mile relay non-stop run to Mankato.
The Dakota 38+2 Run is a way for Indigenous Nations in Minnesota and Dakota Nations to physically connect with the memory of their ancestors, and to celebrate another year of life. It is also a way for Dakota peoples to retain their cultural and political relationship to their homelands. The run is a way of raising awareness of the largest mass execution in United States history as 38 Dakota men plus 2 more were hung following the Dakota War of 1862.
---
---
Šišókaduta (Sisseton Wahpeton Oyate) is one of the lead organizers for the Dakota 38+2 memorial run and a Dakota language professor at the University of Minnesota. He described the origin of the run while standing at the sacred fire, "Dekši (uncle) Willie Malebear, he had this vision and his son is here with us tonight. He's going to be running with us. And he had this vision about people running to Maŋkato. And he asked what that meant. The elders told him, 'you gotta do this run.' So that's what we're doing here. Thirty six years later."
Willard Malebear Sr. started the commemorative run, and Amos Owen was the spiritual guide. Willard Malebear Jr. will be the next leader and Ray Owen will help guide the spiritual direction.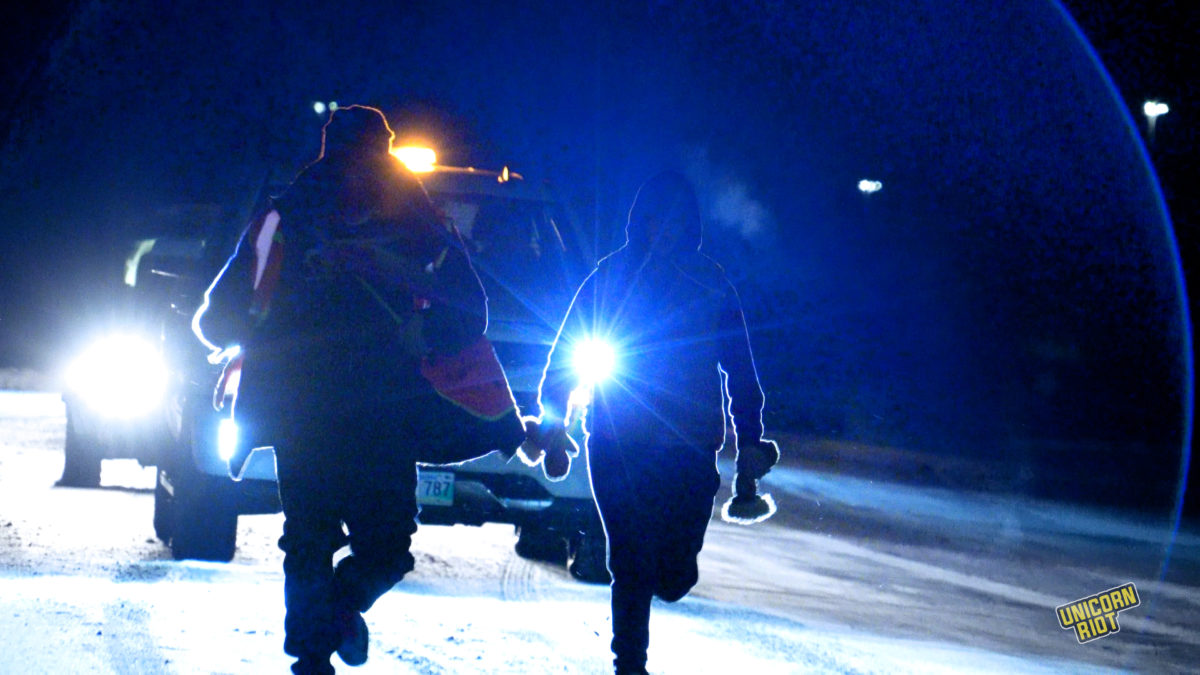 Across generations, Dakota people experienced trauma, violence, and exile, which continue to affect communities today. The Dakota 38+2 Memorial Run honors Dakota ancestors' bravery and sacrifice. Carrying the community's prayers, an eagle baton is handed off from runner to runner as they make their way to Mankato from Fort Snelling.
The historical land loss of the Dakota people was a loss of sustenance, culture, language, and life itself. The Dakota were forcibly transformed from a nomadic, self-sustaining people into a more sedentary, dependent, and assimilated lifestyle.
The Dakota grew hungry in 1862 because of oppressive environmental changes and led a series of attacks on neighboring settler communities to restore ancestral hunting grounds.
A military commission held trials for 498 Dakota men who were suspected of raiding settler towns. 38 men were convicted and sentenced to public execution by hanging. This mass execution, ordered by President Abraham Lincoln, is the largest mass execution in U.S. history. Two more Dakota leaders, Medicine Bottle and Shakopee, were captured and hung at Fort Snelling on Nov. 11, 1865.
The Dakota War of 1862 further poisoned the relationship between Natives and non-Natives, as the colonial response to the Dakota attacks was imprisonment, execution, and forceful relocation of the Dakota, thus increasing the unjust victimization of the Dakota.
In 1863, Minnesota passed the Dakota Removal Act, which made it illegal for Dakota to live in Minnesota. The Dakota are still living in exile today.
The Dakota 38+2 ride and relay run has changed leadership following this 160 year anniversary of the hanging, and it is up to the community to keep this alive.
According to dakotavictims1862.com the featured cover image "was drawn by W. H. Childs and copies were offered for sale for 15 cents each. It was originally published by Leslie's Illustrated Newspaper on January 24, 1863."
---
Follow us on X (aka Twitter), Facebook, YouTube, Vimeo, Instagram, Mastodon, Threads, BlueSky and Patreon.
Please consider a tax-deductible donation to help sustain our horizontally-organized, non-profit media organization: