Atlanta PD Releases Bodycam Footage from Deadly Jan. 18 Forest Raid
Atlanta, GA – The Atlanta Police Department released body camera footage captured during the multi-jurisdictional raid in the South River Forest that resulted in police killing Manuel 'Tortuguita' Paez Terán last month.
Footage from four body-worn cameras used by Atlanta Police Department (APD) officers was released Wednesday evening. APD officers were not directly involved in the shooting, which was carried out by a Georgia State Patrol SWAT team, video released Wednesday confirms.
Georgia State Patrol is not required to wear body cameras, and the Georgia Bureau of Investigation has said no bodycam footage of the shooting exists. While none of the videos released captured images of the shooting itself, the videos reveal new details about the deadly January 18 raid.
The raid came as a response to ongoing protests against what activists have dubbed 'Cop City.' The $90 million, 85-acre campus, if completed, would include firing ranges and explosives testing grounds in addition to a mock city for law enforcement agencies to train in urban protest suppression methods. Since late 2021, protestors have occupied the wooded site where the facilities would be built.
The four videos track one group of APD officers as they move through the woods south of metro Atlanta where protestors have set up encampments.
Audio from one recording captures orders delivered over the radio instructing APD officers to check tents, confirm that they are empty, and dismantle them as they see fit.
Shortly after, another video shows police surrounding a camp site and demanding the occupants leave. After not receiving a response, police approach a tent and slash its walls, finding no one inside.
"Think they're gonna come back now," one officer asks while slashing the tent.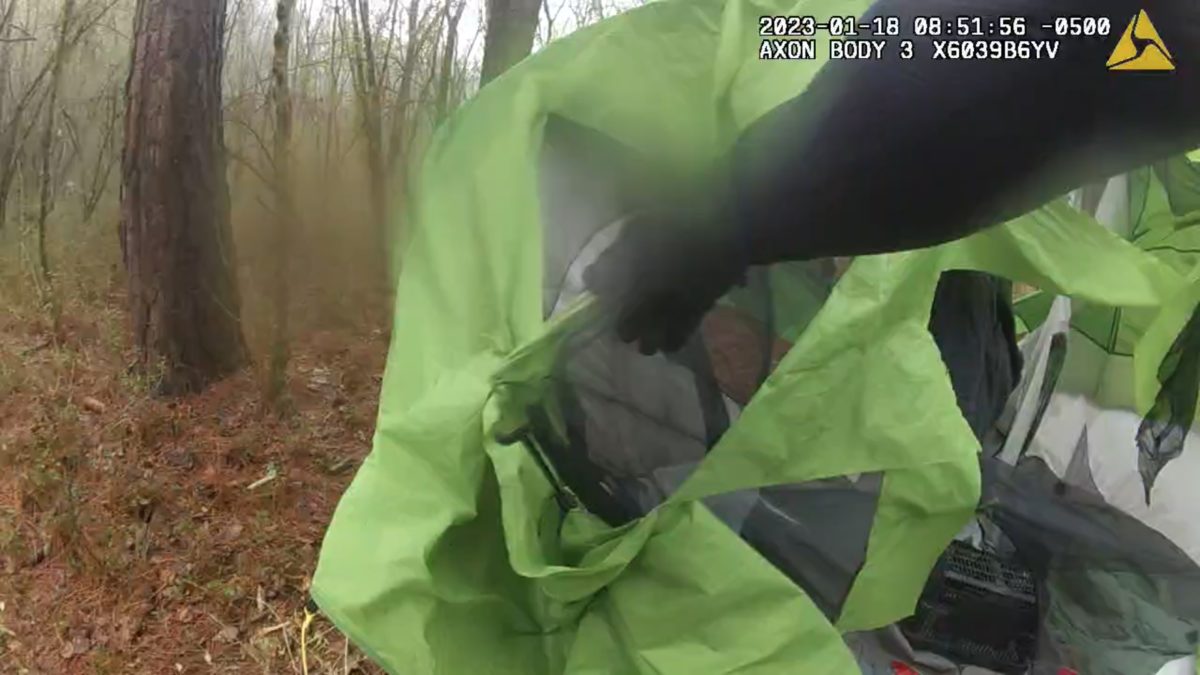 The group of officers continue through the forest, some complaining about the mud as they walk through the woods looking for camp sites. Officers crack jokes with one another as they approach another tent.
Approximately 18 minutes into one video, gunshots ring out off camera and the police stop in their tracks. Four gunshots are heard, quickly followed by another 16, before the barrage blends together and individual shots become indistinguishable.
"Is this target practice?" one officer asks.
Inaudible yelling comes from the distance as another officer turns and says, "Those are real shots being fired."
Police in the recordings, still removed from the scene of the shooting, draw their weapons and focus on the area that the shots came from. Orders are shouted for officers to hold their positions before someone instructs officers to turn on their body-worn cameras if they aren't already activated.
"Body cams on," an unseen voice says. "On, put 'em on," another echoes.
Police hold their position for about two minutes before moving toward the location the shots came from. As the group moves through the woods, weapons drawn, an officer reminds them to watch for cross-fire between officers.
"Crossfire, watch the crossfire, toe the line, stay on line" calls a law enforcement officer identified as Sergeant Hill.
Police speculate that it may have been fireworks, but quickly refute one another with claims that it sounded like suppressed gunfire. Radio traffic confirms that it was a Georgia State Patrol SWAT unit that was with the wounded trooper.
Reports come in over the radio of an active shooter and an officer down. The group stops again while others, some distance away, work to transport the injured officer out of the woods. Officers speculate about the gunfire.
"They're shooting at us," one officer says softly.
"Na, that sounded like suppressed gunfire," the officer next to him responds.
"Yeah, it did," another officer replies.
Indistinguishable radio chatter comes through, and the first officer to speak seems to respond to it, speaking to himself.
"You fucked your own officer up," he says.
While police in the camera's view hold their position off site, others can be heard moving through the woods, communicating with one another and working to get an ATV to the site of the shooting.
Voices yell back and forth before the man identified as Sergeant Hill tells those in the area to hold positions on account of active gunfire, reminding the police once more to watch for crossfire. Several minutes pass before increasingly frantic voices are heard, apparently directing the ATV.
Another loud sound startles one officer wearing a camera. Radio traffic attributes the sound to a flashbang grenade deployed by police.
Someone off camera identified as a sergeant instructs an officer, who asks about the presence of Georgia State Patrol, to try to "keep the air clear," in reference to radio communications, until they clear the area the shots came from.
After another moment, officers begin talking over one another amid reminders to be mindful of crossfire. A voice cuts through the cross-talk and instructs officers in the area to adjust positions to reduce the risk of crossfire.
"Listen, listen, listen to to what I'm saying. Everyone is back here, so we need to shift. Everyone is back here, so if y'all shoot from that side, there's more officers over here," he says.
Officers begin shifting positions before being instructed to stop once more and position themselves in a semicircle. The voice issuing commands has difficulty identifying a person in the woods in front of them, and confusion ensues around who is where.
"Who is that right there?" the voice asks.
"That's our sergeant," an officer responds.
Officers hold their positions, while one says he needs to grab evidence.
"Evidence can take a backseat," someone responds.
The group then begins to yell orders at a green tent they've surrounded, commanding anyone inside to come out with their hands up. Officers threaten any potential occupants of the tent with a K-9 unit.
"The dog will bite you," one officer yells.
"Fuck around, and you're gonna find out," another shouts.
They hold their positions, waiting for a response. The officer who commanded the repositioning urges the police to take their time.
"Stand by. One second. We've got so many resources, we can't rush this shit," he says.
An Atlanta Police Department officer comes to the front of the line with a less-lethal weapon and fires several pepper ball shots at the tent. Police move in on the tent, coughing from the pepper ball rounds, to find an empty tent. They quickly leave the area once they determine no one is there.
Officers regroup and begin chatting about the live rounds fired approximately 19 minutes earlier.
"Did they shoot their own man?" one officer asks.
"We don't know what he got shot by," another officer responds
"The first one, I'd say, was suppressed," another officer says, referring to suppressed gunfire.
---
The 4 body camera videos, released by Atlanta PD online on February 8, 2023, can be viewed below. Click through to the Vimeo page for an individual video to download the file directly.
---
Unicorn Riot's coverage on the movement to defend the Atlanta Forest:
---
Please consider a tax-deductible donation to help sustain our horizontally-organized, non-profit media organization: