Jackson Heights NYC Drag Story Hour Draws Defenders, Homophobes
Queens, NY – On Dec. 29, 2022, hundreds of New Yorkers gathered outside the Jackson Heights Public Library in Queens, where a drag story hour was taking place. On one side were roughly 40 people protesting the event, including Proud Boys, neo-Nazis, anti-vaccine activists, and conservative Internet personalities. As is usually the case in New York City, protesters against drag story hour were outnumbered by their opponents: over 300 community defenders, intent on ensuring the event continued safety and without disruption. This report outlines key figures involved and the structure of the police response.
Drag story hour has been an institution in New York City since 2017, only two years after its inception in San Francisco. These events have been a major target of anti-queer rhetoric; in the past year politicians and mainstream media have cast a spotlight of demonization on queer communities, in tandem with legislation aimed at curtailing human rights. This has created a right-wing movement of protesters that show up to drag story hours around the country. Many of them have also doxxed drag performers, attempted to enter and disrupt events, and harassed and threatened the libraries that host these events. In the wake of this wave of harassment, community defense groups have formed across the country to protect the performers and families that attend drag story hour events.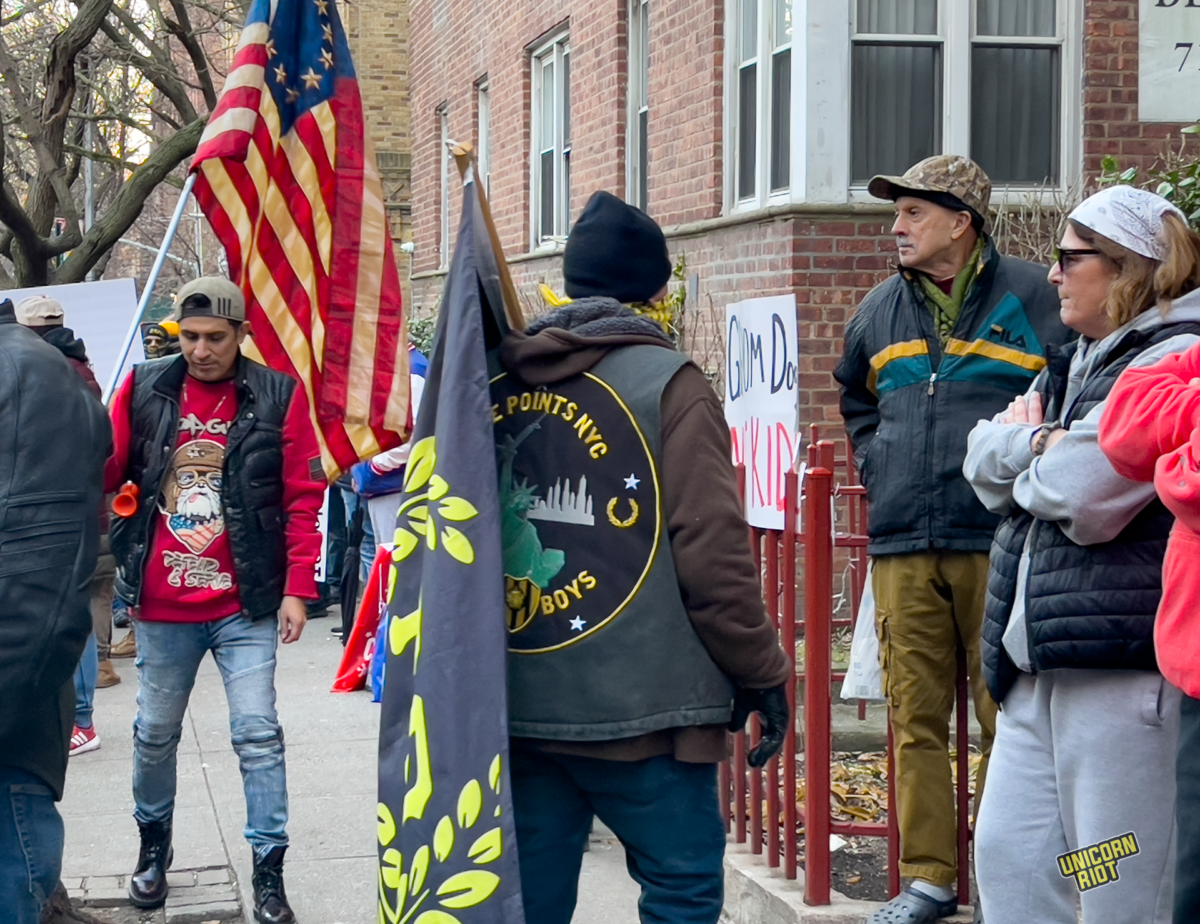 A gay NYC Councilman, Erik Bottcher (District 3), expressed his support for drag story hour and was subsequently targeted by several of these protesters, mainly D'anna Morgan, Erica Sanchez, and David Nieves (commonly known as King Jesus), who are associated with Guardians of Divinity. The three were recently arrested for attacking Bottcher's neighbor, trespassing in his apartment building, and vandalizing his office. Morgan and Nieves were present at the protest.
Unicorn Riot discovered the Guardians of Divinity website was hosted in an account managed by a dating coach named Paula Grooms (archived here on January 29). The page disappeared shortly after Unicorn Riot requested comment. (Technically it was hosted in an old school HTML frame.)
The protesters are all closely associated with several groups that push other right-wing causes, such as anti-vaccine/mask mandates, and opposition to abortion rights. (Abortion clinic defense has been another key cause in New York recently.) These protesters also tend to travel from other parts of New York or even different states for these events.
At this event the Five Points chapter of the Proud Boys, Guardians of Divinity, Freedom Rally, and the neo-Nazi group Goyim Defense League (GDL – a rival of Patriot Front) made up the majority of the protesters. Guardians of Divinity and Freedom Rally formed during the pandemic originally as anti-vaccine and anti-mask mandate groups. Both promote unfounded conspiracies including Qanon related child trafficking theories, and have a history of harassing businesses and individuals. Several conservative journalists were also present including Elad Eliahu, Pamela Hall, and Oren Levy (known online as Leeroy Press and Viral News NYC).
Eliahu is a journalist associated with Tim Pool's conservative news website "Timcast News," and is best known for being thrown out of a Turning Point USA conference in 2021 because of questions he asked Kyle Rittenhouse. Hall, an affiliate of high-profile islamophobe Pamela Geller, is a local photographer who runs a conservative blog featuring anti-queer, anti-abortion, and anti-vaccine and anti-mask articles that urge people to protest for these causes.
Edwin de la Cruz, a Republican who ran for New York State Assembly District 72 in 2022, was seen speaking to Proud Boys during the event. Shawn Olivo, Pedro Gutierrez, David Rem, Bob Porco, and Augusto "Lito" Alarcon are frequent attendees of similar protests, and were seen at this event yelling at the community defenders and threatening to assault them. A January 6 insurrection participant, Danny Christmann, was also present.
The NYPD had a large presence at this event, including the Strategic Response Group (SRG), Community Affairs, Disorder Control Unit (DCU), Technical Assistance Response Unit (TARU), and Legal. SRG, a common sight at almost every protest in NYC, was originally founded in 2015 as a counterterrorism unit. Protest monitors were also present in Jackson Heights. SRG's actions led the ACLU of New York to relaunch their protest monitoring program in 2020, due to the the unit's frequent use of excessive force against protesters.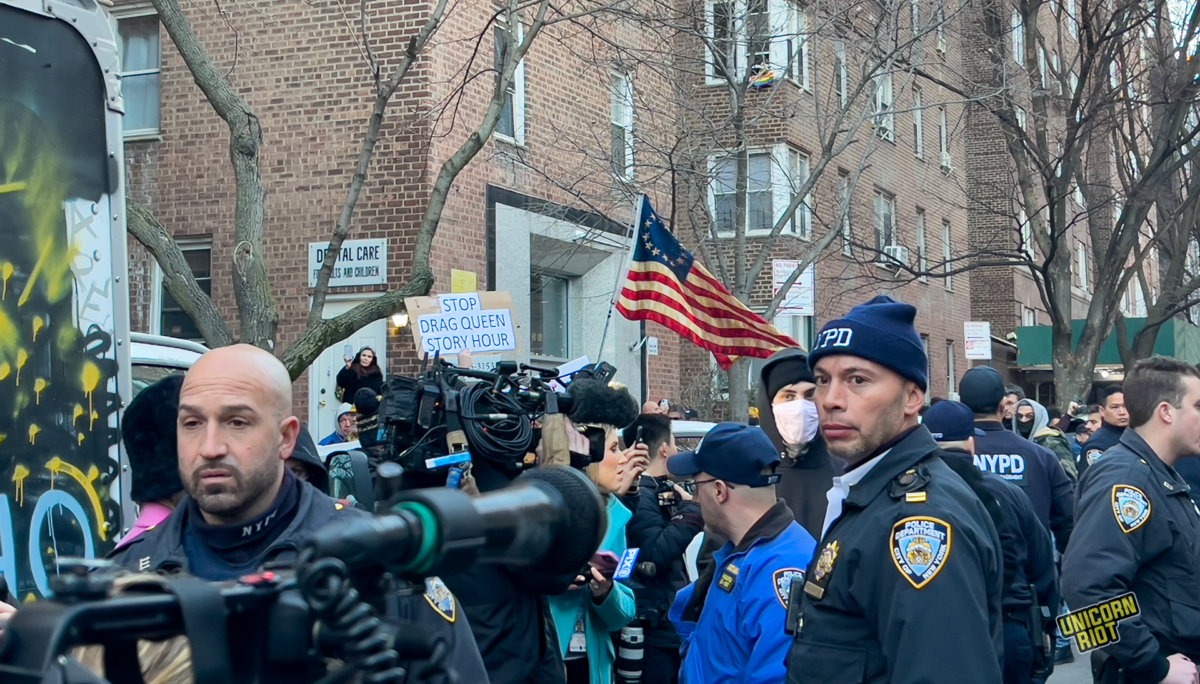 The event quickly drew a crowd on both sides. Jovi Val, a widely disliked neo-Nazi associated with Goyim Defense League, got into an argument with a Proud Boy, and had to be escorted away from the premises by the NYPD. The NYPD set up barriers between the community defenders at the entrance of the library, and the protesters on the other side of the street. In the process of these barriers being set up, the NYPD, mainly SRG, got physical with a group of community defenders, including shoving them, hitting them with batons, and crushing them against a car with one of the barricades. A community defender was arrested for allegedly assaulting a police officer, and was later released on bail.
Further along, Eliahu and Hall argued with a community defender. The content of the argument was not discernible over the noise of the protest, but it became so heated that another community defender stepped in between Eliahu and the community defender. Eventually the individual left and walked off, yelling "Fuck you," at Eliahu, as he began following her, smiling and recording her. The other community defender stepped in between telling him, "Stop following her," before coming over to Unicorn Riot to explain the situation.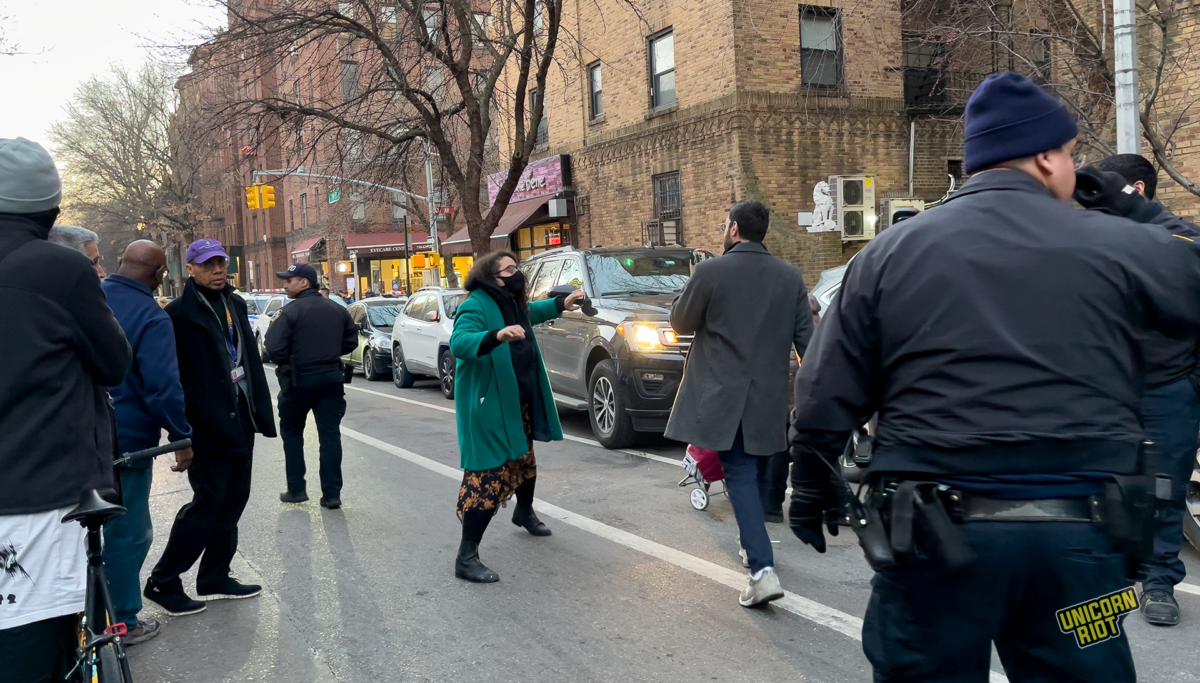 "He was making her uncomfortable, and told him 'do not do that, that's sexual assault.' He said 'no it's not' and gaslit her, and went on to say she's never been sexually assaulted, which she has, and then he went to follow her," they said.
As the drag story hour wrapped up, a few community defenders began quietly moving back towards the entrance to allow the attendees and drag performers to slip out unnoticed. Using umbrellas, the community defenders blocked press and other cameras from recording children and adults without their consent, and blocked them from view of the protesters across the street. As they did, several members of the press, a local CBS team in particular, became agitated and began pulling out their smartphones and a DJI pocket camera in an attempt covertly to record the attendees, all while arguing with community defenders.
"We have a right to record them," said one CBS reporter, "this is a public sidewalk." A community defender replied, "They've literally tried to doxx and harass us and these people in the past… You're putting everyone in danger by violating their privacy."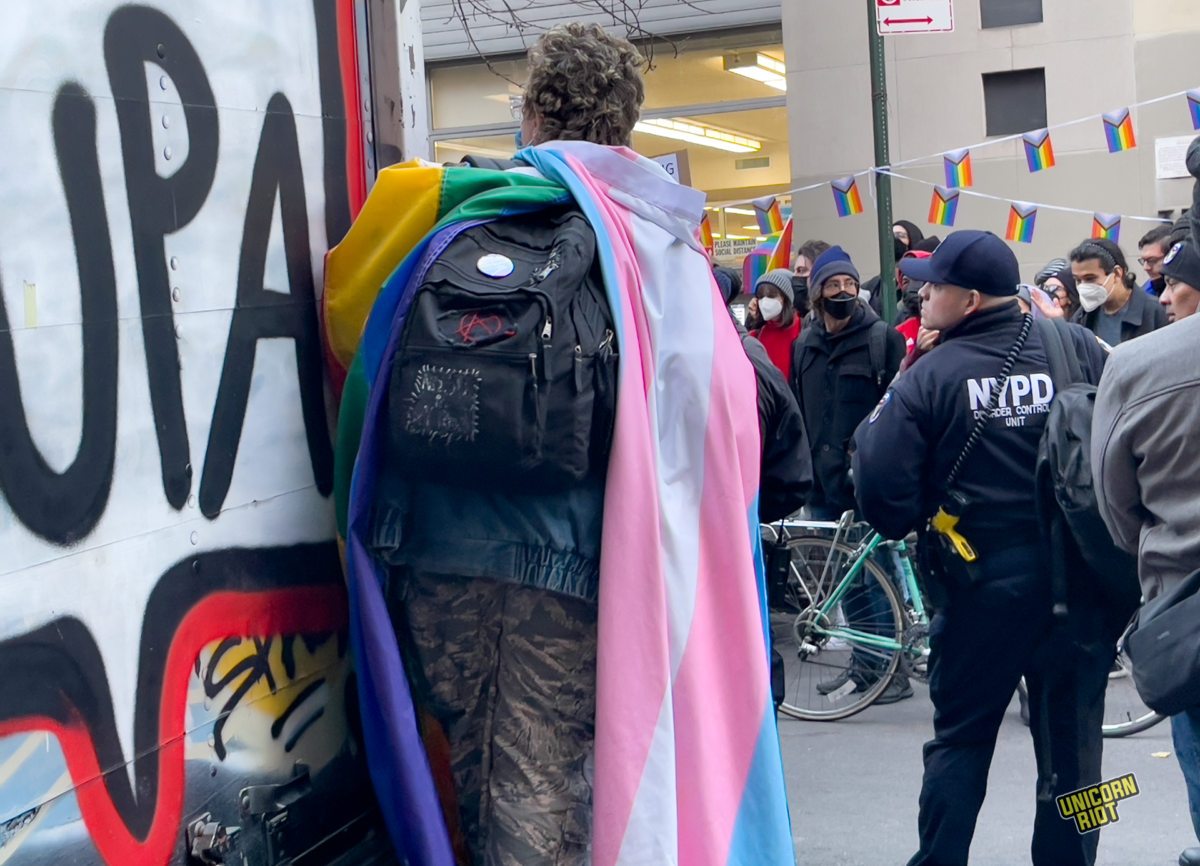 After the drag performers and attendees had safely left the Jackson Heights Library, the community defenders hung around for a short period. A few protesters and community defenders yelled at each other over the barricades, other community defenders clanged cowbells and sang songs. Once the Proud Boys and a few other protesters began to head out, some of the community defenders began yelling at the others that it was time to go. "They're leaving! Let's go, let's go! You're putting us in danger!" they said.
The first of the protest groups to leave were the Proud Boys, with the Guardians of Divinity right behind them. Following from a distance were community defenders, shouting chants such as "What's that noise? F*ck the proud boys," "Go home scared boys," and "Run away back to Long Island, little Nazis."
As the Proud Boys and protesters associated with Guardians of Divinity continued down 8th Street and crossed 37th Avenue, they gathered up on the right side of the street and sidewalk. Some of the group began moving down 37th Avenue; a few hung back to yell at press and community defenders. As they stood on the corner of 37th Avenue and 81st Street an unidentified individual sprayed an eye irritant at anti-vaccine advocates "Juju" and Amanda Joy, as well as anti-drag protester Angee Pink, who were at the rear of the group. Nieves, a Guardians of Divinity leader, jumped behind Juju to pepper spray, before regaining composure and standing near Juju with the other protestors.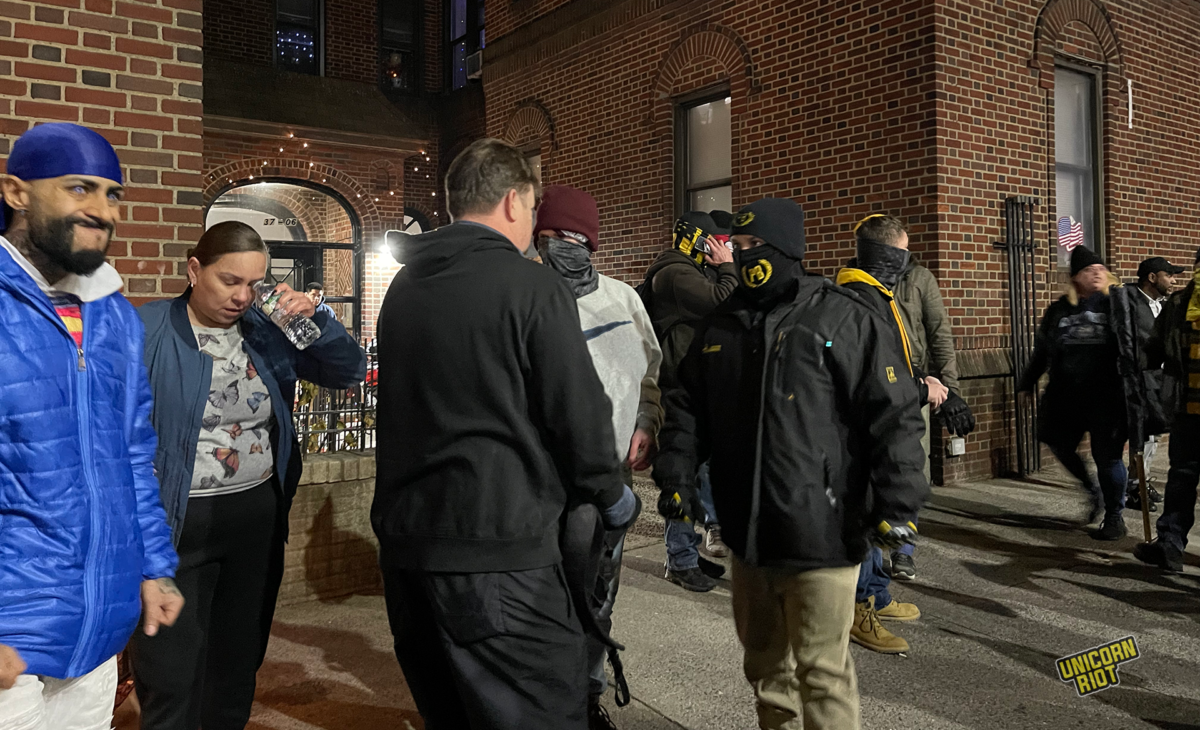 NYPD officers began forcing community defenders onto the sidewalk across the street and blocking press from getting close to the protesters, forming a barrier between protesters and everyone else as the group of protestors attempted to regroup. As Unicorn Riot got close to the huddle of protesters, NYPD officers approached the few members of the press still on the same corner as the protesters. "I'm just going to step in between you guys, just letting you know. If I put my hand on you, it's guiding you," said Community Affairs Sergeant Salvia (#2437 Patrol Borough Queens North).
As the protesters passed by, several began yelling obscenities at the press. "Stop recording us, we're not a side show," said Joy. "I should beat the fuck out of you too man, y'all are a bunch of assholes," said another.
New Yorkers stopped to get out of the way of the procession of NYPD officers and Proud Boys walking down the center of the sidewalk, staring as the press tailed closely behind recording them. Across the street, community defenders shadowed the procession.
On the way to the subway station, several Proud Boys stopped to yell at or harass community defenders and journalists. On one occasion, a Proud Boy pulled out pamphlets, waving them at independent journalist Brenna Lip while saying, "Come on, read now, stop being ignorant," before being redirected by Community Affairs officer Gonzalez.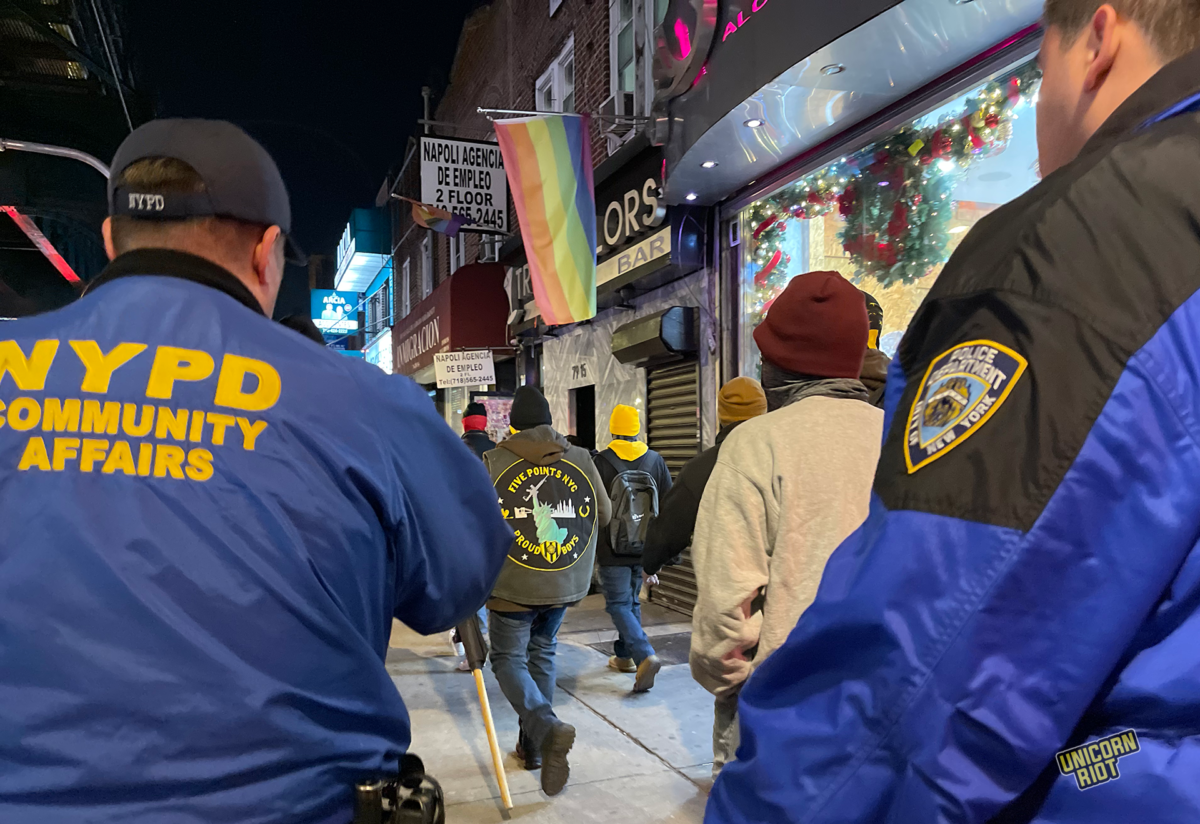 As the Proud Boys and Nieves entered 74th Street/Broadway subway station, Community Affairs, uniformed and undercover officers, and MTA employees were waiting to open an emergency exit door to allow them to pass through. As they did, Lip said, "Oh wow, Proud Boys don't have to pay for the fare?" One of the Proud Boys replied, "We're special. Thank you. Appreciate it. It's from your taxes."
As press tried to walk through the emergency exit being held open by MTA employees to continue filming the Proud Boys, Sergeant Salvia walked over. "I'm sorry press, we need to press to leave," said Salvia, "There you go, go pay lawfully."
"I have to pay for the fare but they don't? Is that what you're saying?" replied Lip.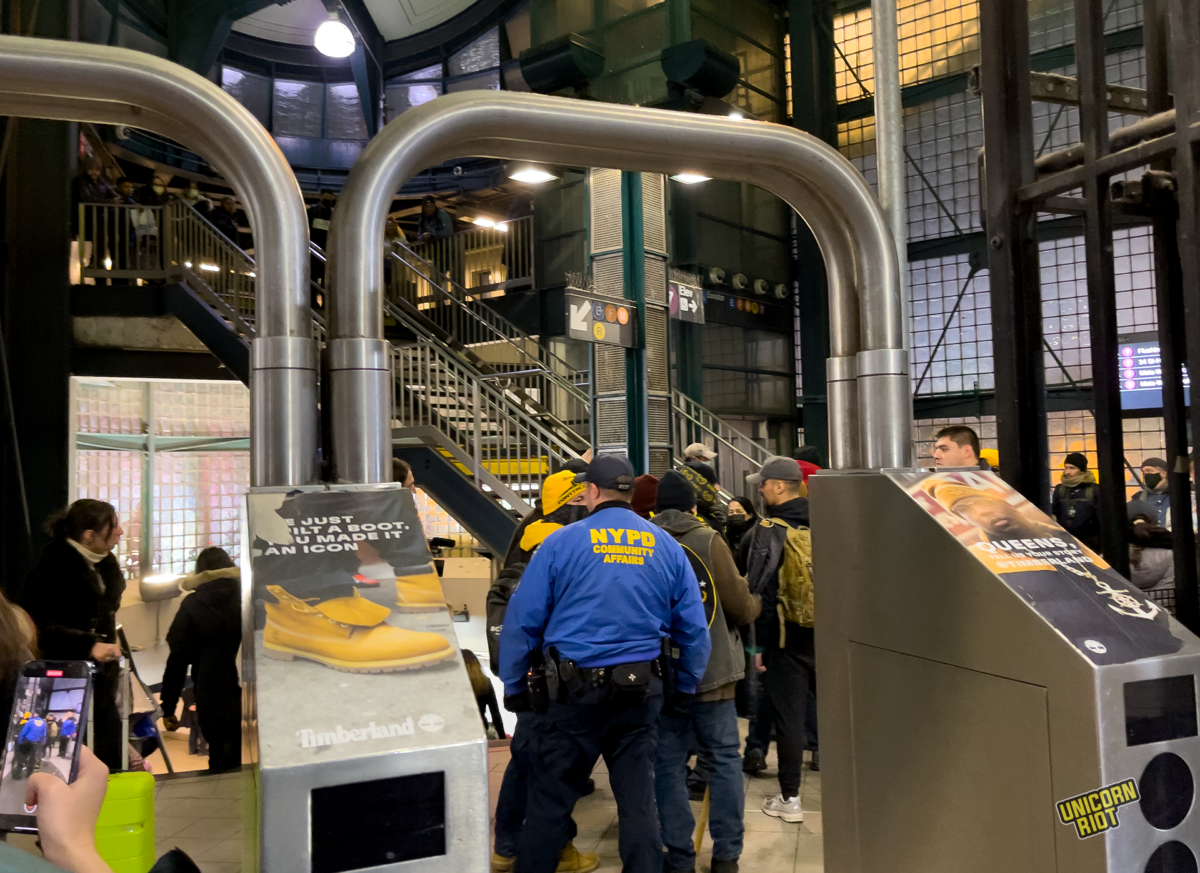 In a statement to Newsweek, a spokesman for the NYPD said, "Due to the urgency and rapidly evolving situation, a determination was made to place the group on the subway and remove them from the area before the situation could escalate further."
In a public letter, the community defenders explained the situation, talking further about the Drag Story Hour and subsequent events:
"The atmosphere outside the library was filled with joy, music, love, and community. … Our safety team and medics were there to ensure the safety of the families and performers the entire time. We were in every way the opposite of the hateful groups who had hoped to intimidate us away.

We cannot write this statement without mentioning the NYPD's behavior throughout the afternoon. First, NYPD officers put up barricades around the library entrance that were not conducive to a proper door defense, and additionally made it difficult for library-goers to access the building. Then, the NYPD began to crush library defenders between barricades and cars. … Officers also used batons on the bodies of defenders, hitting one in the stomach. Let us not forget that the NYPD has a long record of homophobia and transphobia and a history of making arrests at LGBTQ+ events and protests … Cops then not only escorted two Nazis to their car, but, later in the evening, escorted Proud Boys into a Jackson Heights subway station without them paying the fare. (This is not the first time the NYPD has escorted Proud Boys.)

At best, cops who show up are unable to identify and keep the harassers away. At worst, they provide an escort to violent far-right actors, arrest defenders, and brutalize the local community. […] We will never stop protecting our LGBTQ+ spaces from violence and hate."

Community Defenders' Communiqué
Cover image: Community defenders, protesters, journalists, and ACLU protest monitors stand outside the Jackson Heights Queens library underneath pride flags. Photo by Cristina Panagi
Please consider a tax-deductible donation to help sustain our horizontally-organized, non-profit media organization: