Mississippi Police Arrest Protesters Seeking Transparency in Police Killing of Teenager
Gulfport, MS – In Oct. 2022, Mississippi police fatally shot fifteen-year-old Jaheim McMillan in the head outside of a Family Dollar. Since the incident, protests demanding video footage, accountability, and justice have been ongoing. In the leadup to a larger planned Feb. 4 "Arrest My Murderer" block party and demonstration, Gulfport police arrested five activists on Thursday, Feb. 2 at a protest at the City Hall, initially charging them with up to a dozen offenses.
– CONTENT ADVISORY: DEATH, POLICE VIOLENCE –
Witnesses to the Oct. 6 shooting, along with McMillan's family and friends, say that McMillan had his hands up and was unarmed when he was shot by police whose bullets also entered Family Dollar, nearly striking several customers. The police then handcuffed him as he lay in a pool of his blood for "at the very least eight minutes," according to an eyewitness. McMillan was put on life support for several days before he died succumbing to his injuries.
The police say McMillan ran from them during a traffic stop following a 911 call about several people in a Kia vehicle allegedly brandishing firearms. During a press conference several days after the shooting, Gulfport's Police Chief Adam Cooper stated that after not complying with orders to stop and drop his weapon, McMillan "turned both his body and his weapon towards the officer and the officer fired at McMillan."
The police have yet to release body camera footage to the public after stating they would by the end of 2022. McMillan's mother, grandmother, and family attorney were shown an edited clip in late December.
Gulfport's Mayor Billy Hewes recently said that he expects the police videos to be released by the end of February. The Mississippi Bureau of Investigation is conducting the investigation and public debate has risen recently around the agency's efforts to negate transparency in not releasing names of officers involved in police shootings or detailed evidence to the public.
The Family Dollar that Jaheim was killed outside of reportedly gave their footage of the incident to the police. A petition on Change.Org includes an update that notes that the bodycam footage shown to Jaheim's family "shows that Jaheim may have been armed, yet he STILL did not turn toward the officer."
---
Witness Statements / Videos
EXCLUSIVE: Our team obtained cell footage of the aftermath of police shooting of 15 year-old Jaheim McMillan by Gulfport Mississippi Police.

Eyewitness BERATES OFFICER for shooting Jaheim with "nothing in his hands" and "POINT BLANK!"

Chief says "End of year" for bodycam pic.twitter.com/0ysMhJBERO

— Benjamin Dixon (@BenjaminPDixon) October 17, 2022
---
During yesterday's protest, the police say they were intimidated by the crowd of protesters demanding the video footage of the shooting of McMillan be released. Protesters say they were violently attacked after leaving the City Hall building.
Footage from inside the building was released through local news and the Justice Jaheim Facebook page live streamed from the outside (below).
---
On Feb. 1, family and friends gathered for a barbeque to celebrate Jaheim's life, marking the day he would've turned 16. For months, his family, friends, and supporters have been organizing a large gathering for his birthday block party which starts at 2 p.m. in Gulfport, Mississippi on Saturday, Feb. 4.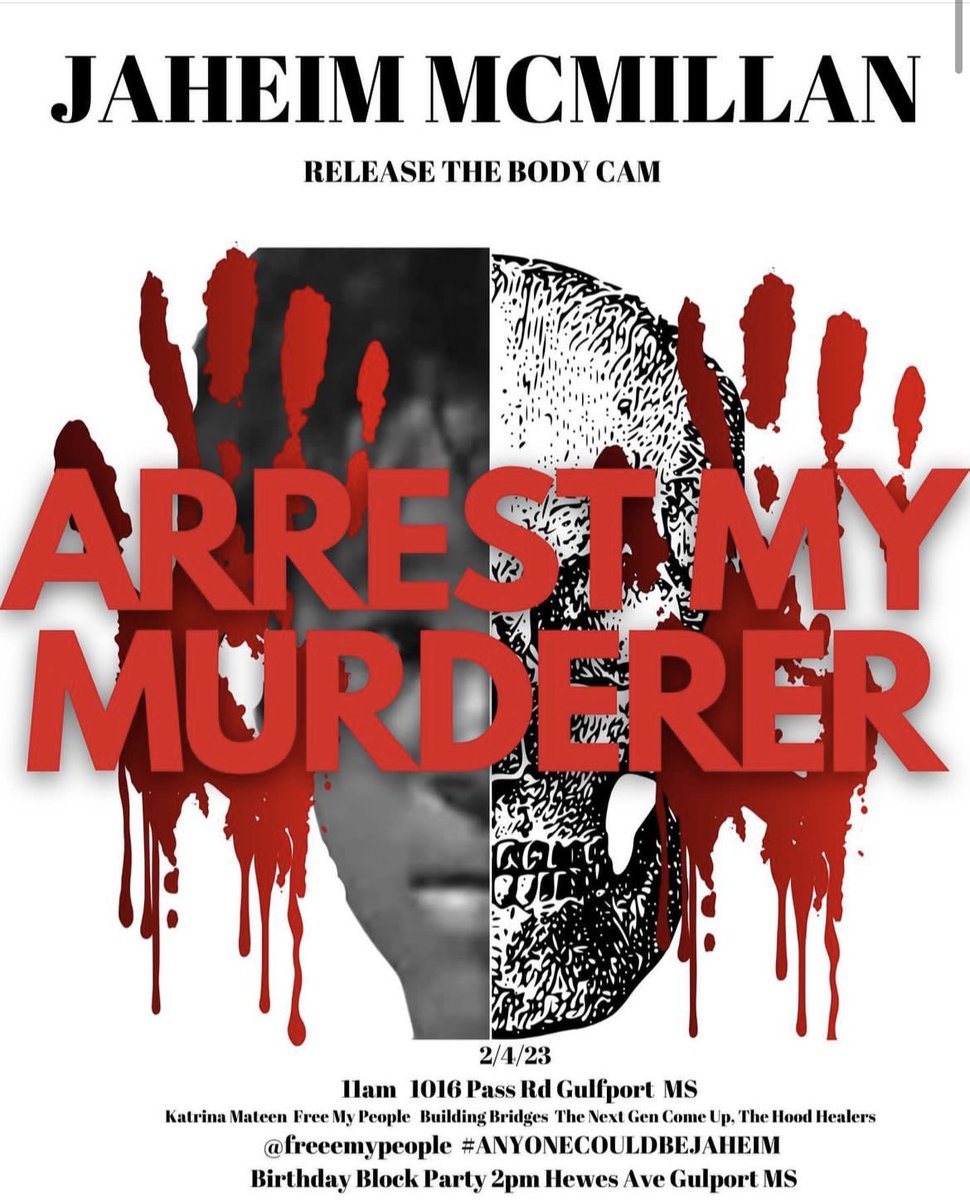 Cover image via Justice Jaheim posted on Oct. 20, 2022.
---
Follow us on X (aka Twitter), Facebook, YouTube, Vimeo, Instagram, Mastodon, Threads, BlueSky and Patreon.
Please consider a tax-deductible donation to help sustain our horizontally-organized, non-profit media organization: