NYE Misdemeanor Riot Charges Taken to Trial
Minneapolis, MN – Two years after being arrested during a New Year's Eve noise demo and charged with misdemeanor riot, one person has taken her case to trial this week in which her supporters are calling on the broader community for court support. [UPDATE: Justina was acquitted of her charges on Wednesday, Feb. 1, 2023. Minneapolis lawyer Tim Phillips tweeted: "the protester just won this case halfway through the trial on a motion for judgment of acquittal. Great job by the Hennepin County public defender's office."]
On Dec. 31, 2020, Minneapolis Police violently swarmed an annual noise demo outside the Juvenile Detention Center downtown, arresting three dozen. Five were given "politically motivated" felony charges, none of which wound up being felony convictions and now, Justina is the last one fighting misdemeanor charges.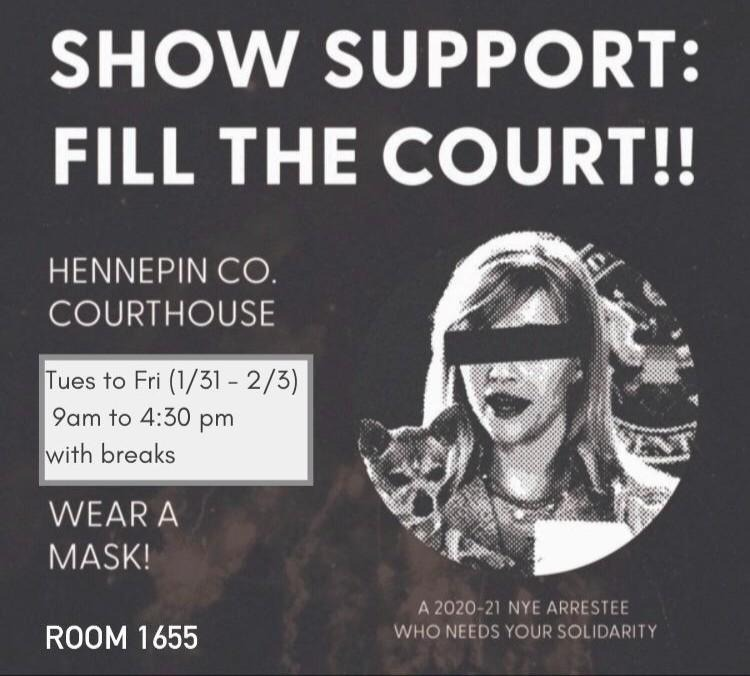 A person who wished to remain anonymous submitted a statement on behalf of supporters of Justina saying she was fighting the charges that stemmed from having "a few harmless sparklers" to prove how "baseless" they are.
---
"On New Year's Eve from 2020 to 21, angry abolitionists gathered in so-called Minneapolis for the tradition of holding noise demonstrations outside prisons to ring in the new year with our incarcerated neighbors. The walls manifest the isolation that the state puts human beings through, noise demos symbolically tear those walls down on the one time of year we hold hope for; the new year.

It was out of that optimistic hope that Justina and others gathered outside the so-called juvenile justice center, making noise, and standing in solidarity with juvenile prisoners. In response, MPD and HCSO officers surveilled, stalked, kettled, brutalized, and ultimately arrested 35 of the peaceful protesters without warning. Despite charges ranging from misdemeanors to five felonies in the group, all the felonies were dismissed or reduced to a misdemeanor, and most of the misdemeanors were also dismissed or reduced. Casualties ranging from head traumas to cold weather injuries were sustained by the protesters.

In J's case, her possession of a few harmless sparklers were enough to charge her with a misdemeanor 'riot' charge. Starting this week, J's has taken her case to trial to prove how baseless these charges are. Your support through this protracted process is key to reminding the state that we are watching and willing to challenge them in court, if only to expose their repression in their own little venue of courts and amerikan 'justice.'

Join us for court support!"

Statement from supporters of Justina
---
According to court support, trial is ongoing at the Hennepin County Government Center in Room 1655 from 9 a.m. to 4:30 p.m. See our past report from February 2021 which featured statements from a handful of noise demo participants and arrestees. Their testimonies paint a picture of a cold, traumatic night of aggressive police repression.
Cover image via Chad Davis.
---
Follow us on X (aka Twitter), Facebook, YouTube, Vimeo, Instagram, Mastodon, Threads, BlueSky and Patreon.
Please consider a tax-deductible donation to help sustain our horizontally-organized, non-profit media organization: