White Supremacist Mob Carrying Torches Attacks Anti-Racist Protesters in Charlottesville
Charlottesville, VA – A group of hundreds of neo-Nazis, KKK members, and other white supremacists in town for Saturday's 'Unite The Right' rally assembled at 'Nameless Field' on University of Virginia (UVA) campus Friday night. [Unicorn Riot's team covered Saturday's far-right rally and street confrontations, full report here]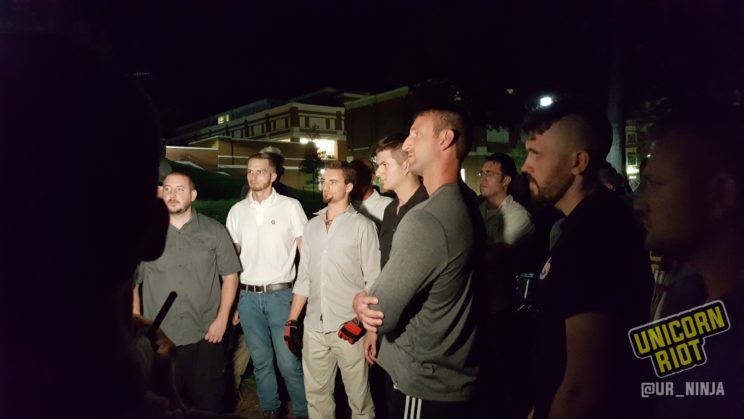 The group was marshaled by a security team who instructed them to march in a column bearing lit tiki torches. The leaders also announced no women could carry torches. The torchlight vigil had been planned as a secret event, but details were leaked online by an anonymous source on Friday afternoon.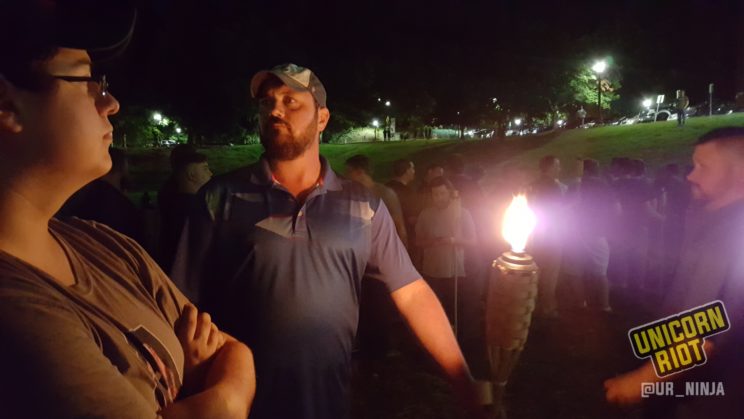 At the start of the march, Unite The Right event organizer Jason Kessler spoke to the crowd about the need to oppose 'white genocide.' 'White genocide' is a term often invoked by white supremacists to argue that cultural developments such as immigration and inter-racial relationships are part of a conspiracy to bring on the extinction of white people. We asked Kessler to tell us his definition of white genocide, and he was apparently unwilling or unable to do so.
#UniteTheRight organizer Jason Kessler talks a lot about 'white genocide' so we asked him what it is. He wouldn't tell us. pic.twitter.com/ynwMqbeKhk

— UNICORN RIOT 🦄 mastodon.social/@UnicornRiot 👈 (@UR_Ninja) August 12, 2017
Unable to get an answer from Kessler, we asked some of the other torch-bearing racists what 'white genocide' meant to them. While some of the self-described fascists were willing to speak with us, others repeatedly laid hands on our reporters and attempted to steal and damage our media equipment.
When we asked other #UniteTheRight attendees about their 'white genocide' claims, some of them responded violently pic.twitter.com/erxgZ3aFG1

— UNICORN RIOT 🦄 mastodon.social/@UnicornRiot 👈 (@UR_Ninja) August 12, 2017
Without any apparent police presence, the group then marched through UVA campus, chanting "Blood and Soil" (an old Nazi slogan) and "Jews will not replace us." The torch-bearing mob of hundreds descended a staircase into a plaza where a few dozen anti-racist protesters had circled around a statue. The white supremacist marchers immediately surrounded the anti-racist protest and attempted to physically prevent anyone from leaving. One of our reporters was shoved, called a "crazy bitch", kicked, and tripped by the Unite the Right rally goers as she had to force her way through the mob. Another one of our reporters was hit in the face with tiki torch and maced.
VA Students Act Against White Supremacy chanting "Black Lives Matter" #Charlottesville #CharlottesvilleKKK pic.twitter.com/02T7yVznXL

— Unicorn Riot (@UR_Ninja) August 12, 2017
After the two sides exchanged chants of "Black Lives Matter" and "White Lives Matter" the white supremacists began beating the anti-racist protesters with their lit tiki torches and macing them at point blank range.  Dozens of fights erupted as anti-racist protesters defended themselves.
Richard Spencer later confirmed in a tweet that the white supremacist torch march had intentionally surrounded and trapped the anti-racists before violently attacking them.
After fights broke out, a few police officers, who had not been present at all when the violence began, started to intervene. As soon as police arrived, the leaders of the white supremacist groups began yelling "torches out" and they promptly extinguished their torches, and walked or ran away. One of the white supremacists seen attacking counter-protesters was chased by police and arrested while trying to flee. The police then declared an unlawful assembly and forced those people remaining (anti-racist protesters and journalists) to leave campus.
Tiki torches have been extinguished and rally broken up. One of our femme reporters was pushed, kicked and tripped by #CharlottesvilleKKK pic.twitter.com/W5FIeyVYDM

— Unicorn Riot (@UR_Ninja) August 12, 2017
Archived Unicorn Riot livestreams from the torch march:
The Unite The Right rally took place at Emancipation Park on Saturday morning at 10 AM – our full report is here.  Unicorn Riot provided live updates on the ground. Please consider making a tax-deductible donation to support our ongoing coverage:
---
Unicorn Riot's leaks from Charlottesville:
Unicorn Riot reporting in Charlottesville & beyond: