Minneapolis Gathers to Honor Missing & Murdered Indigenous People
Minneapolis, MN – Unicorn Riot covered a gathering and march to an interactive mural commemorating missing and murdered indigenous people on Saturday, October 14, 2018. We joined around a hundred people in East Phillips Park where we were welcomed by Sage Trudell, who helped organized the event. She began by thanking everyone for coming and letting them know they were going to hear from five families whose relatives had gone missing or had been murdered. She had the families circle up and face outward, and the other people who had gathered created a circle facing inward, around the families.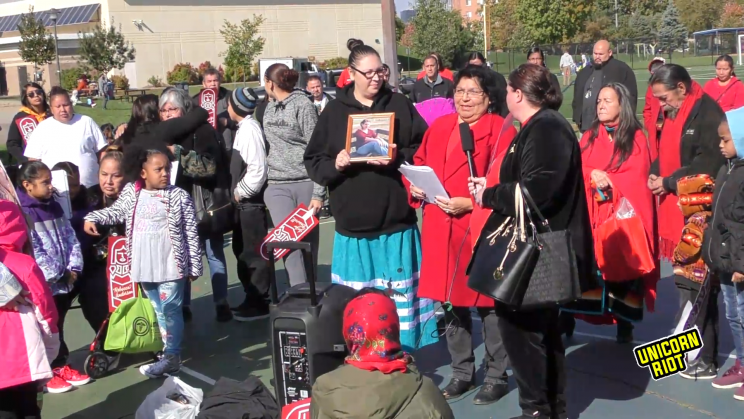 The event opened with song by the drum group the Ringing Shield Singers, followed by a Dakota prayer and Ojibwe prayer as someone holding smoldering sage moved around the gathered circles. After the opening ceremony, Sage Trudell, gave a microphone attached to a small mobile PA to one of the families. Unicorn Riot went live and listened as families shared stories of loved ones, lost through murder, or from going missing and not knowing what happened to them.
The families shared difficult stories of murdered and missing loves ones. One speaker, a sixteen year old niece of Jojo Boswell (missing since 07/11/2005) admitted to not knowing Boswell well, since her aunt Jojo, had disappeared when she was only three years old. The niece broke into tears at wishing she could tell her aunt Jojo about her upcoming High School graduation and college plans. Boswell disappeared after being released from jail in Owatonna, MN.
The family of another missing native woman, 22 year old Kateri Mishow, who disappeared Janurary 1, 2007, spoke about hearing that their daughter was in the river. The family also spoke about her father, who spent every day, for over a year, walking the river bank looking for their daughter. We first heard the story of Kateri Marie Mishow during a February 14 march to raise awareness of missing and murdered indigenous women. The family continues to search for her and asks for anyone with information to come forward.
The family of murdered Rebecca Anderson spoke about wanting answers. Her body was found on 12th Ave. and Lake St. laying in alley on Thanksgiving Day. Her sister said,
"It's just hard to find someone you love like that. And know that's just what somebody had thought of her, that she was nothing, laying in the garbage like she was nobody. I pray we find our closure someday. I just pray we find closure."
Rebecca Anderson was beaten, raped, and left to die. Her family held Rebecca's weeping children in their arms and stated they are still looking for justice.
The family of Corrina Day, Clyde Day, and Lynaee Strong, spoke about seeking justice after their loved ones were killed under strange circumstances. The families spoke about missing and murdered loved ones and wanting answers. After hearing similar stories from other families, Sage Trudell closed the speak out by reading a poem by John Trudell, "After all these years." Before we left on the march to interactive mural, Sage said,
"As we advocate for not only our missing and murdered missing loved ones, let's advocate for the human nation and Mother Earth and Father Sky."
The march left East Phillips Park to the Ringing Shield Singers drums and songs, led by dancers, and followed by a huge Eagle.
After arriving at the mural, artist Denae Shanidiin introduced the #MMIW project #MMIWhoismissing, and showed the mural she'd created. She asked those that gathered to sign the names of their relatives who were missing, or had been murdered, on the wall.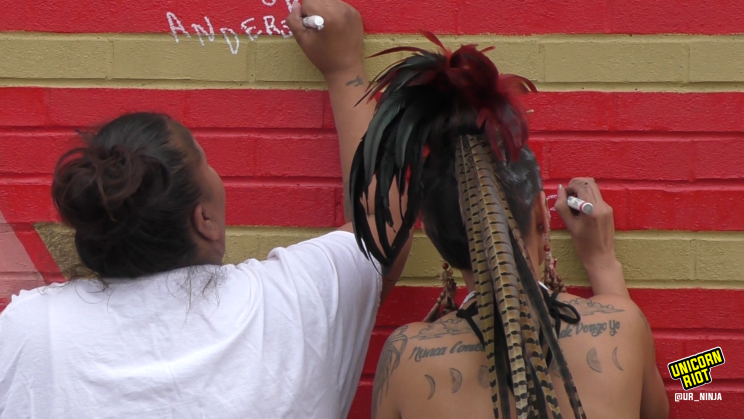 Families went to the wall and added loved ones' names, while Yolando from the Meshka Dancers said that this wasn't only a problem in the north, but also the south and shared the story of Berta Cáceres, a "Honduran rights defender" assassinated in March 2016. The dancers closed out the event in a ceremonial dance and told us they were honored to stand with their relatives from the north.
The families that gathered thanked everyone for coming, and said that being seen and heard helped with their healing. Others in the crowd took thanked everyone for speaking about their traumas and how seeing them speak, empowered them to be able to move forward. The Meshka dancers closed the day with a four directions song, to thank the ancestors for coming, and also send them and us back into the world in a good way.