'Weed Nazi' Bethany Sherman Sues Antifa For Defamation
Eugene, OR – A new defamation lawsuit seems to be the last hope of redemption for Bethany Sherman, a 36-year-old woman who recently lost her head position at a marijuana company after she and her husband were exposed as participants in neo-Nazi groups. Sherman had been the CEO of OG Analytical, a legal cannabis testing company based in Eugene, until her employees ousted her late last year after Eugene Antifa exposed her as an active white supremacist.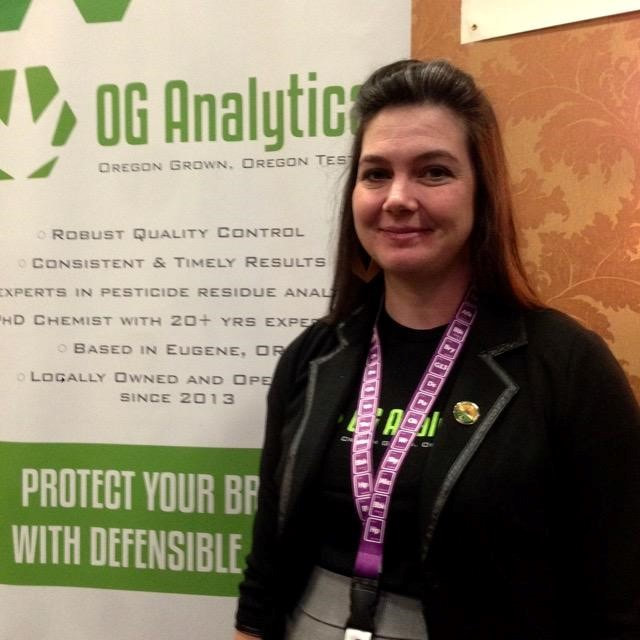 Now a new legal filing from Sherman's lawyer, neo-Nazi attorney William D. Johnson, seeks damages based on the assertion that Eugene Antifa took "numerous private correspondence and social media postings out of context with the intent of portraying SHERMAN as a dangerous neo-Nazi, white supremacist who should be shunned and ostracized in her community."
Evidence published by Eugene Antifa in late 2017, some of which was independently obtained and published by Unicorn Riot in August 2018, demonstrates how Bethany Sherman is married to Matthew Lee Combs, an organizer for American Patriots Brigade, a feeder group for American Front, once one of the more prominent neo-Nazi groups in the US.
Leaked messages from the chat app Discord show Combs, who used the alias 'black hat 16,' encouraged his fellow neo-Nazis in the chat group to help him "fill body bags" and often spoke of his wife's support for his neo-Nazi activities. According to Eugene Antifa, Bethany Sherman was on Twitter under the username @14th_word, a reference to the '14 words' slogan coined by David Lane, the now-deceased neo-Nazi who had been imprisoned for murdering Jewish talk show host Alan Berg in 1984. The Twitter account reportedly operated by Sherman also had its display name set as 'Mrs. Blackhat' in an apparent reference to her husband Matthew Combs' 'black hat 16' username.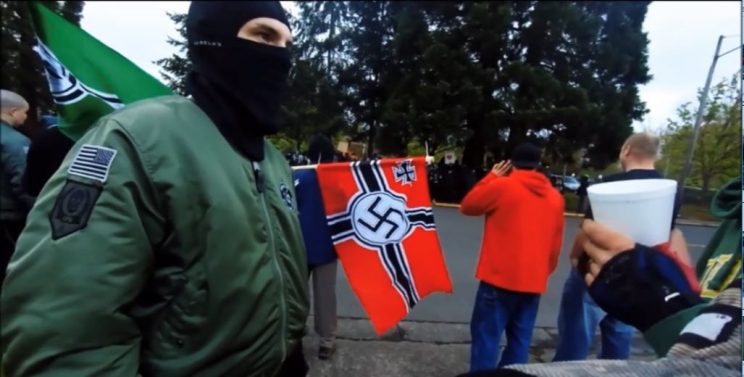 Sherman's defamation suit now claims that Eugene Antifa made "false statements … for the sole purpose of interfering with" the "prospective business relationships" of OG Analytical, Sherman's weed testing company. A subpoena to Weebly, a web company which had hosted a now-offline website for Eugene Antifa, was filed in the Superior Court of California in San Francisco. The subpoena seeks to identify anyone tied to Eugene Antifa's account and names 10 John and Jane Does as defendants. Defense counsel for Eugene Antifa accused Sherman of "venue shopping" because "plaintiff Sherman is an Oregon resident, her business was based in Eugene, OR, and the article was posted on the Eugene Antifa website makes it puzzling that plaintiffs claimed that all of their injuries occurred in San Francisco…it is clear that the only connection to San Francisco is Weebly, Inc., which is based out of San Francisco."
The motion to quash the subpoena, filed by Cooper Brinson of the Civil Liberties Defense Center, who is representing Eugene Antifa in the case, argues that the subpoena would violate the defendants' First Amendment rights. The motion to quash notes that boycotting a business over the owner's political views is protected under law and states that "the fact that, once Sherman was exposed as a neo-Nazi, plaintiffs lost business and were subject to a boycott should not be surprising."
Brinson's motion also states that Sherman and her lawyer "have produced no evidence of any kind to support their claims" and alleges that their defamation complaint "was only filed for the purpose of harassing and intimidating" members of Eugene Antifa.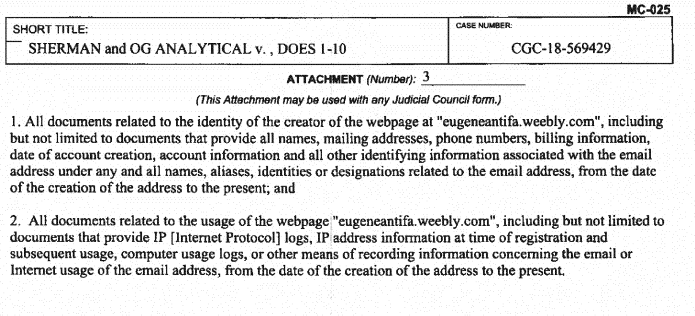 Not mentioned anywhere in Sherman's defamation complaint are the actions taken against her by her own employees. In December 2017, OG Analytical lab director Rodger Voelker explained to The Oregonian how employees demanded Sherman leave her position as CEO after finding her online white supremacist activities to be "horrific" and "disgusting." Voelker also described how Sherman "immediately berated and blamed" employees "for not supporting her" after her neo-Nazi associations became public.
"She doesn't seem to get that those views are repugnant to most people," said Voelker, who added that OG Analytical had "already seen a 100 percent decline in our business. Nobody likes Nazis… The brand is dead. It's over."
Sherman is also facing an ongoing lawsuit filed in September 2018 by OG Analytical employees who say she never paid them for their work. The OG Analytical workers claim that Sherman has been blocking access to their 401(k) accounts, and that she owes them $10,981 in wages. The suit also seeks 'penalty wages' of $45,000, or approximately a month's pay.
Perhaps the most curious aspect of Sherman's defamation suit, which claims that she has been wrongly labeled a neo-Nazi, is her choice of attorney. Sherman's lawyer, William Daniel Johnson, based in Los Angeles, is a known white supremacist who has called for the deportation of all non-white people from the United States. He also has documented ties to neo-Nazi groups such as the World Congress of Aryan Nations and the American Freedom Party.
The next hearing on the motion to quash the subpoena to Weebly for Eugene Antifa's web hosting data is on November 9, 2018.
---
You can read/download the legal filings from the lawsuit below:
Defamation Complaint (by Bethany Sherman)
Defamation complaint

Notice of Motion and Motion to Quash Subpoena Duces Tecum and for Monetary Sanctions (by Jane Doe/Eugene Antifa)
motion to quash

Memorandum of Law In Support of Motion to Quash Subpoena Duces Tecum and for Monetary Sanctions (by Jane Doe/Eugene Antifa)
meomrandum

Declaration of Counsel, Cooper Brinson (for Jane Doe/Eugene Antifa)
declaration of counsel cooper brinton-compressed

---
Please consider a tax-deductible donation to help sustain our horizontally-organized, non-profit media organization: