Idaho GOP Group Cancels Alt-Right Event At IHOP Amid Protests
Coeur d'Alene, ID – Early this morning, several dozen people rallied outside an IHOP in northern Idaho where a local Republican group had been scheduled to host a speech by white supremacist pundit Brittany Pettibone.
Brittany Pettibone, who has a long history of involvement with alt-right and neo-nazi groups, was invited by the North Idaho chapter of the Pachyderm Club, a network of local Republican clubs around the country. The North Idaho Pachyderm Club had been slated to host a speech given by Pettibone to their members over breakfast at IHOP. A rally against Pettibone's appearance was organized after concerned locals learned she was coming, and then the GOP civic group swiftly cancelled the event.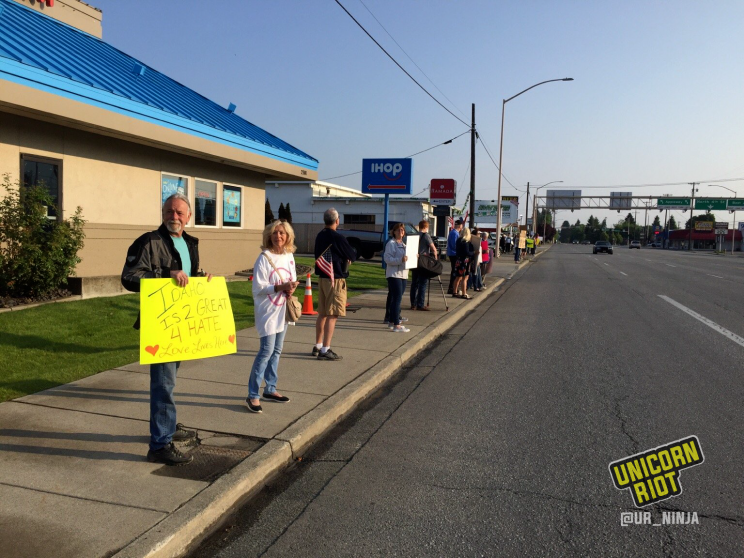 North Idaho Pachyderm Club president Bob Brooke claimed that the event was cancelled at Pettibone's request due to her desire to avoid the press. According to Brooke's statement to local media, Pettibone "had prior reason to believe that she would be speaking privately at a private meeting. When she learned on good authority that members of the press and particularly the broadcast media might not respect her policy, she informed me on Wednesday that she would not be speaking."
Laura Tenneson, organizer of the anti-hate rally that took place outside the Coeur d'Alene IHOP on Friday morning, told Unicorn Riot "we did hear that the Pachyderm cancelled their meeting", but "that did not change our objective… to hold a rally to show our community that we stand against hate."
In north Idaho, a Republican group was scheduled to hear racist alt-right YouTuber Brittany Pettibone speak at an IHOP this morning.https://t.co/kAKWCe7gBx

They cancelled when a counter-protest was organized by local residents who said they didn't want hate in their community. pic.twitter.com/aaTDKqhRAa

— UNICORN RIOT 🦄 mastodon.social/@UnicornRiot 👈 (@UR_Ninja) May 31, 2019
Pettibone is largely known for working alongside Canadian alt-right celebrity Lauren Southern to block aid ships working to save drowning refugees in the Mediterranean Sea. She was also one of the early proponents of PizzaGate, a discredited conspiracy theory that claims the Democratic Party is running a secret pedophile ring out of pizza parlors. Like Lauren Southern, Brittany Pettibone makes heavy use of YouTube as a platform to spread racist propaganda and collect donations from viewers.
Pettibone is engaged to Martin Sellner, a leader of the European white nationalist group Generation Identity who was recently raided by Austrian police over his connections to the Christchurch shooter. Brittany Pettibone, Martin Sellner, and Lauren Southern were all banned from entering the UK in March 2018 after their racist activities were found to be "not conducive to the public good" by British authorities. Sellner was recently denied entry into the US, and Pettibone has been visiting with local Idaho Republican groups to try to get them to intercede on his behalf.
Pettibone lives in Post Falls, Idaho, not far from the Coeur d'Alene IHOP where the North Idaho Pachyderm Club usually meets over breakfast. Northern Idaho has a troubled history with white supremacist groups, with a notorious 20-acre Aryan Nations compound being active in the area until 2001.  Shawn Keenan, a local resident who attended the anti-hate rally, told local news that he worried the area could still be seen "as a haven for white supremacists. That taste is still in people's mouths, and Republicans' invitation for Brittany Pettibone to speak does nothing to help us."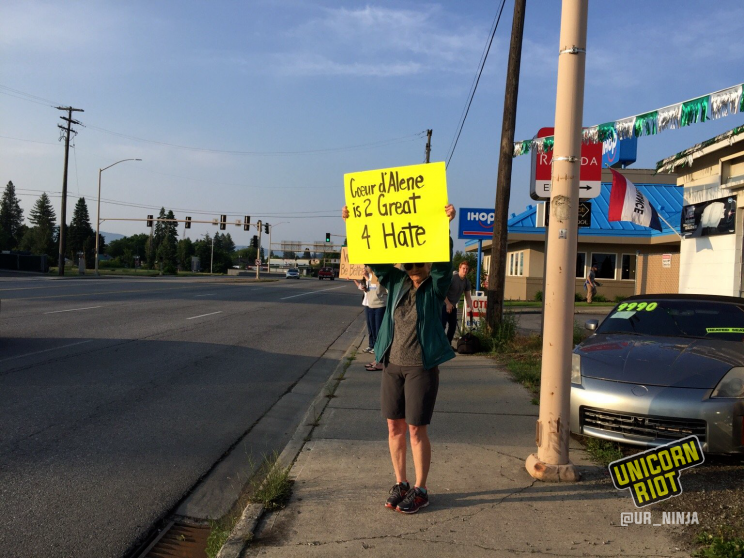 ---