Tennessee Police Protect White Nationalist Think Tank Meeting in State Park
Burns, TN – Last weekend, several hundred white supremacists, as well as about 100 counter-protesters, converged on Montgomery Bell State Park in Tennessee. Anti-racists gathered to oppose the American Renaissance conference, founded by racist author Jared Taylor, which experts say has laid much of the groundwork for the modern alt-right movement. In recent years the event has also become a symbol of law enforcement overreach and political bias against antifascists in the post-Charlottesville era.
While the white supremacist alt-right has largely abandoned public rallies in the nearly two years since Unite The Right, the same forces behind that movement still seek to gain power. American Renaissance is arguably one of the most influential entities still looking to build respectability and political influence for white nationalism in 2019 and beyond.
The conference both predates the 2016 election-era resurgence of racist activism and has outlived most alt-right groups, many of which have disbanded or collapsed since 2017. For years, American Renaissance has focused on pushing white nationalism in a nicely-dressed, soft-spoken package that seeks to gain respectability. The conference has taken place yearly since 1994, but protesters have driven the organizers away from holding the event in cities such as Washington, DC or Nashville, TN by pressuring hotels to not host the group.
For the past eight years, the white nationalist gathering has been welcomed by Tennessee State Parks officials, who have ignored demands to stop hosting the event and have not publicly condemned the racist ideology of the event's organizers.
Tennessee State Parks officials did not respond to our request for comment for this story.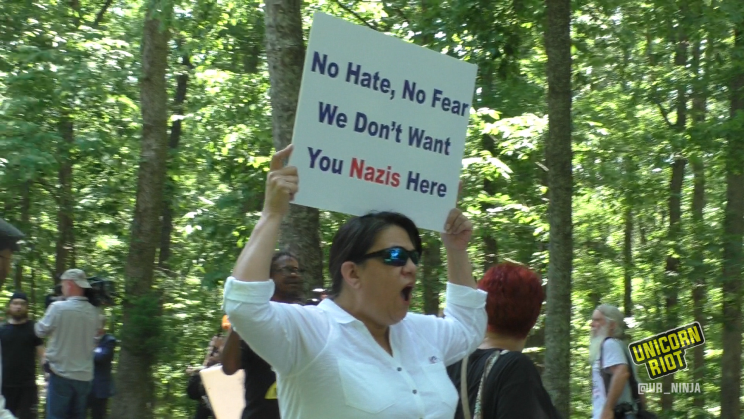 Law enforcement deployed for 2019's American Renaissance event included Tennessee State Park Rangers on ATVs, Tennessee State Troopers, a Tennessee Department of Corrections Strike Team, and deputies from the Rutherford County Sheriff's Office. A Tennessee Bureau of Investigation mobile command center and a Department of Corrections prison bus were both parked directly outside the conference center.
Since Unite The Right in Charlottesville, police have ramped up militarized security around the conference, spurring accusations from protesters of pro-white nationalist bias in law enforcement.This year, protesters told Unicorn Riot that they were also denied a permit to rent a pavilion over a half-mile away from the Montgomery Bell State Park conference center.
Information such as guest lists for the park resort (where conference attendees book rooms) had previously been available via pubic records requests. In 2017, Tennessee officials began denying requests for the information in what some critics said was a misapplication of the law intended to protect the identities of racist organizers.
Emails obtained by Unicorn Riot in 2018 show that Tennessee officials described the Traditionalist Worker Party, a neo-nazi group known for beating people with clubs, as "not the issue" and told officers to focus on "opposing groups" instead.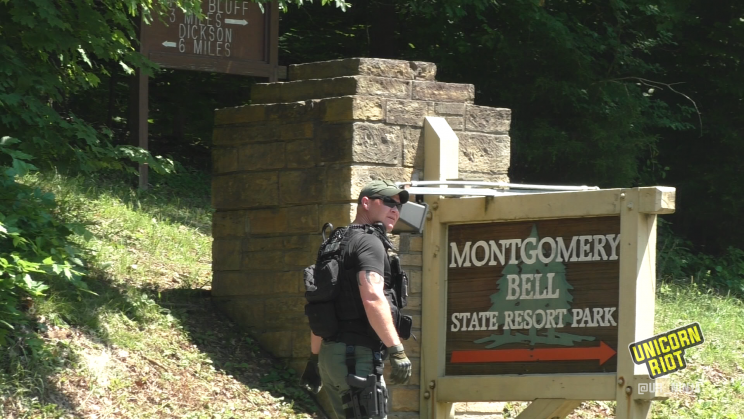 About 100 counter-protesters came out to oppose American Renaissance on Saturday, May 18, 2019. The crowd included antifascists, anarchists and members of the Democratic Socialists of America (DSA) as well as clergy and members of the local arm of the Poor People's Campaign.
Anti-racist activist @DLamontJenkins of @OnePeoplesProj spoke at the state park's entrance about the history and context of people coming out to protest American Renaissance.

Shortly after this video was taken, a man drove by and yelled "white power". pic.twitter.com/Abn0obMCrC

— UNICORN RIOT 🦄 mastodon.social/@UnicornRiot 👈 (@UR_Ninja) May 18, 2019
The anti-racist coalition rallied and held a press conference at the entrance to the park before marching closer to the conference center where the white supremacists had gathered to network and hear speeches.
The anti-racist march largely refused to enter the fenced-off "protest zone" created by police, which had a list of banned items including any bags or backpacks, and required anyone entering to be searched at a TSA-style checkpoint. After a protester allegedly tossed a water bottle towards a car arriving for the white nationalist conference, police made four arrests and officers on horseback charged into the crowd, causing several injuries.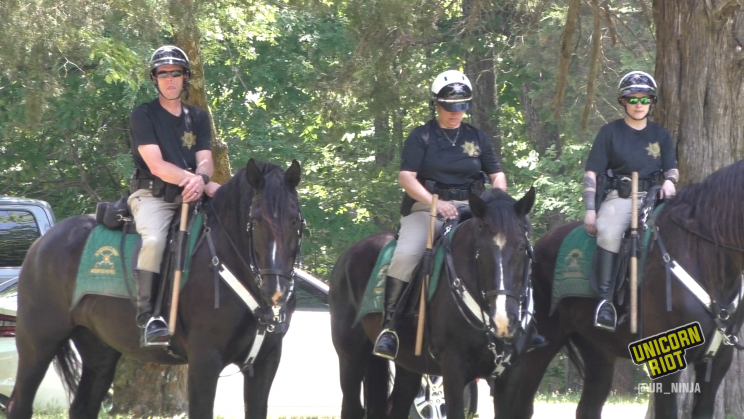 The neo-nazi group Identity Evropa (IE), which recently rebranded as the American Identity Movement (AmIM), had a major presence at the conference.  A leaked call by the group's president Patrick Casey suggest that "about 25" members of the group were present, and were using the event to recruit new members and solicit donations. Casey also told his group that the American Renaissance conference was being organized by a man named 'Henry Wolff' who had taken over most of the planning in recent years. Henry Wolff's real name is Devin Saucier, who is also a member of Identity Evropa/American Identity Movement. Another member of Patrick Casey's group, Andy Strickland aka FlyingDutchmann, rented out several of the cabin villas at Montgomery Bell State Park for IE/AmIM members to stay in during the conference. Strickland is a wealthy immigration lawyer based in Florida who is one of Identity Evropa's main funders.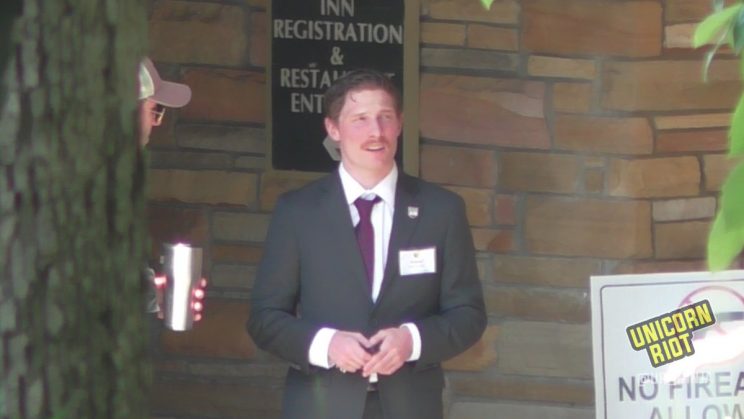 Speakers at American Renaissance this year included Identity Evropa/American Identity Movement leader Patrick Casey, as well as neo-nazi YouTuber James Allsup, who is also a member of Identity Evropa. Other speakers included former Ku Klux Klan lawyer Sam Dickson and Lana Lokteff from the white nationalist YouTube channel Red Ice TV. (Red Ice had employed Patrick Casey, who hosted short propaganda clips for the outlet, until earlier this year.)
Other attendees Unicorn Riot photographed attending the conference included Peter Tefft of the National Socialist Movement (NSM), an openly racist and anti-semitic Neo-Nazi group.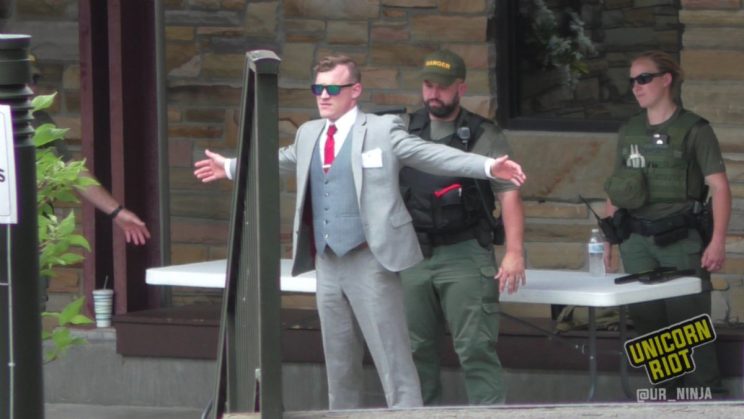 Unicorn Riot had previously captured video (seen below) of Tefft at the August 11, 2017 torch march the night before Unite the Right in Charlottesville, where several people, including our reporters, were violently assaulted by white supremacists.
When we asked other #UniteTheRight attendees about their 'white genocide' claims, some of them responded violently pic.twitter.com/erxgZ3aFG1

— UNICORN RIOT 🦄 mastodon.social/@UnicornRiot 👈 (@UR_Ninja) August 12, 2017
The suit-and-tie dress code for the conference is a visual representation of the political infiltration strategy employed by American Renaissance founder Jared Taylor and the younger generation he has groomed. As racist mass shootings continue to target mosques and synagogues and Republican politicians legitimize white nationalist talking points, groups seeking to promote hateful ideologies continue to work to gain influence in the shadows.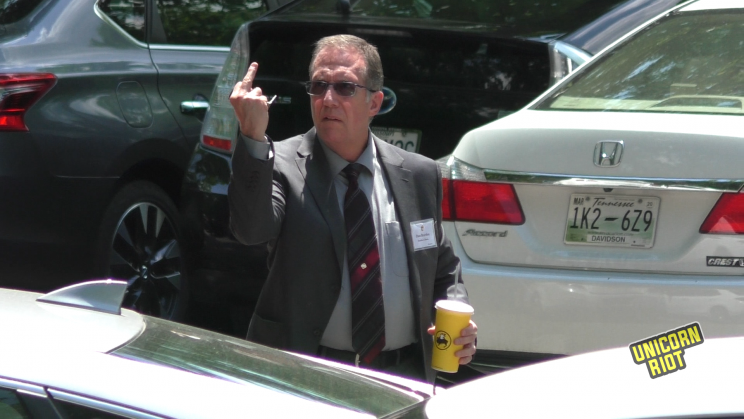 Below is a slideshow of images we captured of conference-goers attending American Renaissance.
Click here to show/hide the slideshow
Click here to close the slideshow.
Use left/right arrow keys, swipe or click buttons to change slides.
---