Earthquakes Rock Puerto Rico/Boriquén, The 'World's Oldest Colony'
Guánica, Puerto Rico – Federal disaster relief aid was requested by Puerto Rico and granted on January 7 in the wake of the area's 6.4 magnitude earthquake, which had caused most of the main island to endure a power outage. Over two hundred quakes greater than 2.5 M have been felt over the past week, more than 13 at or stronger than 4.5 M on the Richter scale.
Private residences and historic landmarks have all been damaged, and many people have been displaced from their homes that either have already collapsed or have worryingly large cracks growing in their foundations. The Costa Sur power plant, which formerly provided electricity to a quarter of the island, may take up to a year to repair.
A resident of Isabela, a city of 45,000 on the north side of the island, told Unicorn Riot yesterday that "no hay electricidad pero estamos bien" (there's no electricity but we're OK). Generators are being used as a source of power by residents and by the city. Another resident of Isabela told Unicorn Riot that in the weeks following Hurricane Maria, the air had been "filled with diesel fumes" from generators.
At least one death is known to have been caused so far in this seismic event, which continues to produce tremors. As of the morning of Friday, January 10, power has reportedly been restored to over 75% of customers.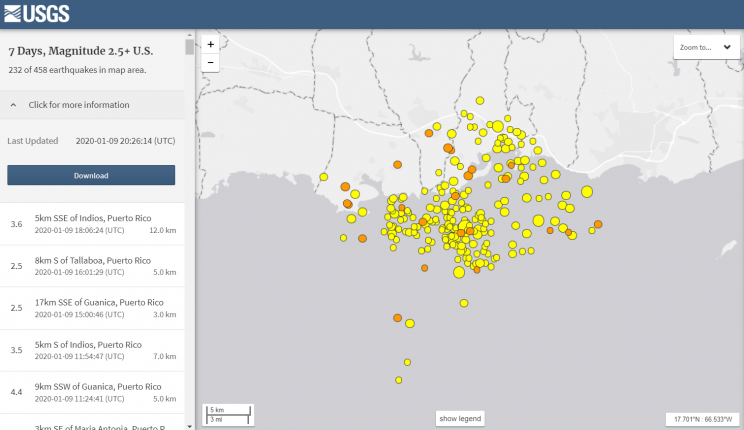 Earthquake activity over the past 7 days off the coast of Guánica. (Image courtesy of earthquake.usgs.gov)
Natural land formation Punta Ventana (Window Point) has collapsed as a result of the quaking.
[GUAYANILLA] Desaparece la ventana natural en Punta Ventana, Guayanilla. pic.twitter.com/IN0LI7XuKK

— UPRM Meteorological Laboratory (@UPRMetLab) January 6, 2020
Tremors began the evening of December 28, 2019, with a 4.7 earthquake around 6:35 p.m. local time, less than 8 km from the center of the municipality of Guánica, Puerto Rico. Five more quakes took place in the span of just two hours, the strongest with a magnitude of 5.0 on the Richter scale, all near Guánica, Guayanilla, and Yauco.
These earthquakes have been happening during a time when many people have returned to celebrate Día de los Reyes (Three Kings' Day) the traditional end of Christmas holiday celebrations in Puerto Rico.
Due to its unique geological position in the Caribbean, the archipelago of islands known collectively as "Puerto Rico" and the rest of the Antilles are prone to hurricanes and also earthquakes. Enormous chunks of the Earth's crust and mantle continually moving at a rate slower than the growth rate of a human fingernail meet in the Caribbean, resulting in tectonic activity and volcanism in some spots.
In addition to an independent Caribbean lithospheric plate moving laterally between the much larger North American and South American landmasses, four microplates have been further identified in the transform boundary region adjacent to the Caribbean plate.

There are fault lines at Lajas and Guánica, and there are also faults on the sea bed floor. South of the island of Puerto Rico the sea floor forms a mountainous slope until it reaches a deep pit called la Fosa de Muertos (Muertos Trough) and the ocean floor of the Caribbean sea, where the earth is clenching together. This slope contains faults heading east to west as well as northeast to southwest, and was discovered in 2013 to be the source of previously-undiscovered oil and natural gas reserves.
A small section of spreading ocean floor known as the Cayman Spreading Center near the Cayman Islands feeds the production of the largest of the four microplates. The debilitating 7.0 M earthquake and tsunami that struck Haiti in 2010 is thought to be a result of movement by the Gonâve Microplate, separate from that of the Caribbean and North American plates.

Map showing fault lines within the North American – Caribbean tectonic plate boundary. (Image courtesy of NOAA.gov)
Earlier this year, Puerto Rico's Red Sísmica (Seismic Network) reported a "swarm" of 1,000 aftershocks from a 6.0 M quake in the Canal de Mona. La Canal de Mona (Mona Passage) is the site of many quakes, including the epicenter of a deadly >7.0 M seismic event in 1918; the resulting 6-meter tsunami killed 40–100 people in northwestern Puerto Rico.
The earthquakes that have been happening since December 28 have mostly been off the coast of Guánica, on the western-most part of the southern shore.
Though a handful of quakes have occurred to the north of the main island over the past week, a tsunami advisory is not in effect at this time for Puerto Rico or for the Virgin Islands, according to the U.S. National Tsunami Warning Center. Underwater, the area of the Puerto Rico trench is the deepest point of the Atlantic Ocean.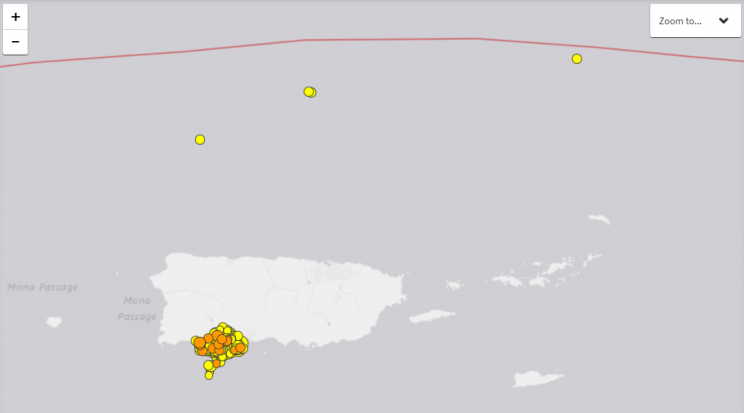 At least four quakes greater than 2.5 M have occurred north of Puerto Rico in the past week, along with hundreds more off the
coast of Guánica, PR. (Image courtesy of
earthquake.usgs.gov
)
The island of Puerto Rico was called Boriquén, "Of The Brave People of the Sacred House" by the Taínos, the Indigenous people who lived throughout the Greater Antilles prior to European colonization and invasion. Christopher Columbus re-named it after St. John the Baptist, and in 1508 Juan Ponce de León received permission to begin the Spanish colonization of the area.
From 1511 into the 1520s the Spanish and Taíno War of San Juan–Boriquén took place, during which "Caparra," the first European settlement in the Americas, was burned to the ground by Taínos. (According to an alternate account told to a captain in 1582, Caparra had been "abandoned because all the children would die as the waters were bad.")
Stone monument to Cacique Mabodamaca, Taíno chieftain whose territory encompassed present-day Isabela, Quebradillas, and Camuy. Monument sculpted in 2001 by artist Isaac laboy Moctezuma.
Puerto Rico is said by some to be the "world's oldest colony", its political agency limited by its status as a commonwealth of the United States. In 2017, residents were battered by Hurricane Maria, a Category 5 hurricane which devastated the island's electrical grid.
Last year, waves of protests rolled through Puerto Rico calling for the resignation of then-governor Ricardo Rosselló, after leaked emails showed Rosselló joking about fatal victims of Hurricane Maria. A week after he resigned, United States Housing & Urban Development Secretary Ben Carson said aid to Puerto Rico and the Virgin Islands would be delayed indefinitely.
Roughly $18 billion in aid regarding Hurricane Maria has yet to be given by the United States to Puerto Rico.
Guánica's population of 17,000 experiences poverty at an intensity greater than most of the rest of Puerto Rico, according to 2013–2017 census data taken by the Census Information Center at the University of Puerto Rico–Cayey.
Hundreds of families lost their apartment homes in Ponce, a city near the quakes named for the Spanish conquistador de León. Young mother Delys Pérez told a local reporter, "Pensé que era un lugar seguro … Es difícil" ("I thought that it was a safe place … It's hard), wiping away tears. Some residents are saying the ongoing harm being caused by this natural disaster feels worse than that of Hurricane Maria, because there is not set time when the stressful ordeal will be over.
A strong 5.7 #earthquake #Terremoto #Temblor #Sismo near Guanica #PuertoRico Right Now Caused collapse inCaused collapse in Ponce 🚨 pic.twitter.com/kgNXDmQijg

— Angel Elemiah (@MaximoSPQR) January 6, 2020
As of the morning of Friday, January 10, power has reportedly been restored to over 75% of customers, although Guánica is still without power.
FEMA Puerto Rico has posted videos of how to protect oneself during an earthquake, including instructions directed verbally accompanied by visual sign language. The 6.4 magnitude earthquake on Monday may have been the most intense earthquake, but another of greater magnitude may also await the area.
Although it is impossible to predict exactly when they will occur, the geological findings about the Gonâve Microplate indicate that earthquakes will continue in the seismically active region.
Some have been working for decades on Puerto Rican sustainability and energy independence. "Casa Pueblo" is a community organization which originated in activists working to stop a gold mining operation from opening in their area. After Hurricane Maria the pink house turned into a makeshift hospital, when people needing electricity for medical equipment came to tap into Casa Pueblo's solar-powered energy reserves.
Potable water, food, mosquito repellant, and diapers are foremost among the short-term needs of those affected by the Guánica quakes, many of whom have been sleeping outside on the ground.
In the long-term, Boricuans/Puerto Ricans need the infrastructure on the island to be not only rebuilt but strengthened against both quakes and hurricanes in order to withstand the forces of nature. The same can be said for the nearby island republic of Haiti, still recovering from the deadly earthquake almost a decade ago, as well as the Dominican Republic, the Virgin Islands, and likely Jamaica.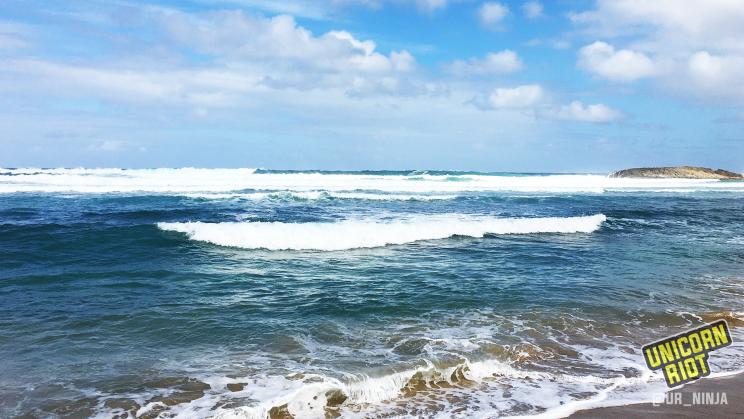 ---
Update (January 12, 9:00 a.m. CST): The morning of Saturday, January 11, another earthquake just under 6.0 M took place off the coast of Guánica. Using available satellite data, NASA scientists have recorded the greatest land displacement so far just west of Ponce. 14 centimeters (5 inches) of ground change has been observed.
This coming Tuesday, Jan 14 satellite flyover data of western Puerto Rico will be collected, including of the region where earthquakes have been taking place.
The NASA Earth Applied Sciences Disasters Program has been providing Earth-observing data as part of their response to the ongoing natural disaster.
---
Update (January 13, 11:00 p.m. CST): Over the past 48 hours earthquakes have been happening farther West. The state of California has sent 35 "disaster specialists" to help Puerto Rico rebuild & recover. More than 2,000 people are reportedly in shelters at this time.
---
Follow us on Twitter, Facebook, YouTube, Vimeo, Instagram, and Patreon.
Please consider a tax-deductible donation to help sustain our horizontally-organized, non-profit media organization: