Killed by Police: Minnesota Man Remembered Five Years Later
St. Paul, MN – Five years ago, St. Paul police officers shot and killed 24-year-old Marcus Golden in a parking lot. Though Marcus' mother was a Reserve officer with the St. Paul Police Department (SPPD) for over two decades, the Golden family has received neither an apology nor justice.
In an exclusive interview with Monique Cullars-Doty, the aunt of Marcus, Monique shares with Unicorn Riot her account of what happened to Marcus, her thoughts on the lack of police accountability and how she's now helping other families of police killings.
Several versions of the last minutes of Marcus' life exist. This exclusive special focuses on the version understood by family and friends.
"It's really a classic example of how the police will demonize their victims and create a whole new scenario to try and protect the thin blue line and their officers." – Monique Cullars-Doty
Marcus was shot in the back of his head and arm by St. Paul Police officers Jeremy Doverspike and Dan Peck while he was sitting in his car in the parking lot of an apartment building next to Regions Hospital.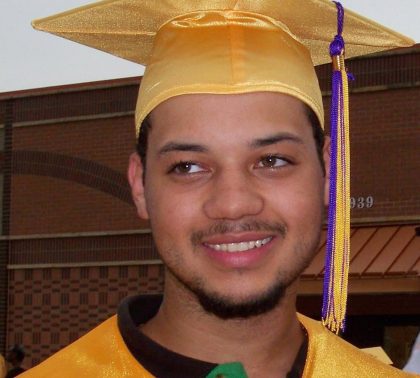 Monique Cullars-Doty, Marcus' aunt, has continually attested that police shot Marcus after "one of the officers slipped on ice and his gun went off. The other began to shoot, thinking his partner had been shot."
The police say they fired when Marcus drove his vehicle towards them in the parking lot as they were responding to a 911 call saying threats were being made. This version has been altered over time, said Monique, who added that the stories had been changed and audio recordings have been edited.
Cullars-Doty told us that police originally did not place Marcus with a gun. Marcus "was unarmed for 11 hours until officer Sheila Lambie, of the St. Paul Police Department, came to my parent's home and retrieved a gun he legally owned."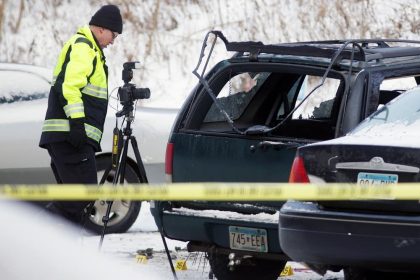 Though Marcus was killed only a few hundred yards away from the Trauma Center at Regions Hospital in St. Paul, he was never taken to the hospital. After he was shot, his aunt said that police called for paramedics, specifying that they park on the street, not to drive up the block-long driveway. The police also requested for only one medic to come. These actions delayed possible medical help, said Monique.
Law enforcement work is common in Marcus' family; several members are involved, including his mother. Monique said that his mother, her sister, knew the police chief "quite well".
After Marcus was killed, Cullars-Doty said, three officers got together and "lied on her [sister] with the report … and said that my sister told them 'Marcus always wanted to kill a cop.'"
Cullars-Doty points to this as part of what she deems a police cover-up as well as a "testament to why we cannot push community relations with the police."
She told Unicorn Riot the police lies made it hard for them, and other families going through similar events, to hire attorneys and private investigators. Though private investigations are possible, they are typically costly and do not often result in successes in court because, as a lawyer told Monique, "jurors always believe cops."
"America is a corporation. And this is why America is not doing anything at a legislative level nationally to stop police brutality, to stop police executions or otherwise homicides — because capitalism needs the police."
During an action and vigil four days after he was killed, Marcus' mother, Ericka, said that she was hurt, torn-apart, and confused. She said that she wanted people to remember, in his 24 short years, that he was a beautiful, "good-hearted", "caring",  and "loving human being."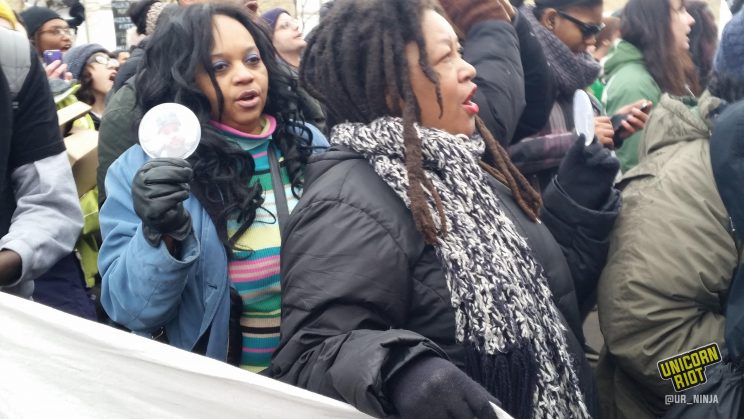 Since her nephew's death, Monique has immersed herself in organizing in order to build a community for those negatively impacted by police brutality and killings. She is the creator and an active member of numerous organizations pushing for social justice issues surrounding police: Blue Lies Matter; Justice 4 Marcus Golden; Black Lives Matter Twin Cities Metro; Black Lives Matter Minnesota; Twin Cities Coalition for Justice for Jamar; and Justice 4 Cordale Handy, among others.
"It's really about helping people rise above the trauma and really to be able to maneuver and survive in a new way of life, knowing that their loved one's not forgotten, that there is a community of people that is able and willing to support them and help them."
Monique has organized and spoken at scores of events. Below is a video of Monique speaking from the first Cordale Q. Handy Remembrance Banquet.
Marcus Golden "was killed by St. Paul Police officers Jeremy Doverspike & Dan Peck. He had a gun planted on him by Dt. Sheila Lambie … an officer slipped on ice and his gun went off, then they started shooting and that's why my nephew is dead." – Monique Cullars-Doty pic.twitter.com/GbywdmyfSZ

— Unicorn Riot (@UR_Ninja) March 21, 2018
Cullars-Doty believes there are a variety of ways to help hold police accountable and bring an end to police killings: jail time, firing, barring from similar employment, and protections for whistle-blowers. Yet, she feels that true police accountability will most likely not happen because of the function that police play in a society structured around the protection of private wealth. Watch our interview with Monique Cullars-Doty.
A Tuesday morning event organized by Cullars-Doty, called 'SPPD: A Decade of Disgrace in Review,' was held at the Rondo Library in St. Paul in commemoration of five years since her nephew's death. A decade of "crimes by St. Paul police" was presented along with a demand to freeze the police budget. Watch the live stream below:
Cover image features Marcus Golden and his aunt, Monique Cullars-Doty and was provided to Unicorn Riot by family of Marcus Golden.
---
Please consider a tax-deductible donation to help sustain our horizontally-organized, non-profit media organization: