Leaked: 2019 Chats Show Alan Swinney Collaborating with Proud Boys, American Guard, and Militias to Plan Violent Rallies
In the Spring of 2019, a coalition of Proud Boys, American Guard, Resist Marxism, Patriot Prayer, and various militia members, using the name 'East Coast Patriot Nomads', plotted a string of violent rallies across the Northeast, to include Providence, Boston, Philadelphia, and Washington, DC. HuffPost reporter Andy Campbell previously reported on these leaked chats, but the chats themselves have not previously been published in full.
Violence is expected at a rally organized by Proud Boys and associated groups in Portland, Oregon this Saturday, September 26. New lawsuits have been also filed this week against several participants in recent street violence organized by Proud Boys.
While police have characterized clashes between leftist protesters and the far-right as "mutual combat" involving "willing participants", leaked chats show that members of far-right hate groups often plan their violence well in advance.
Eugene Antifa recently leaked a series of chats from the PNW Patriot Group, a coalition of Proud Boys, Three Percenters, and Operation Werewolf, demonstrating how the group colluded to create a shieldwall for an August 22 "No to Marxism" rally in Portland, Oregon, in order to spray protesters with mace without fear of retaliation.
Journalists Jason Wilson and Robert Evans have published an in-depth investigation into the PNW Patriot Group chats, which they say "provide[s] an intimate look inside a growing insurgent network, and shed new light on episodes of armed conflict which are already on public record".
The 'East Coast Patriot Nomads' chats were organized by far-right activist Alan Swinney, who recently attracted attention for aiming a revolver at protesters in Portland, and for injuring a woman while shooting paintballs at protesters. The messages reveal the strategy of the far-right groups and persons involved– to hold events as a pretense for attacking protesters, then claiming self-defense. In the case of the planned Providence rally, Resist Marxism would have provided the event itself, a reason to gather, with the East Coast Patriot Nomads, with whom Resist Marxism overlapped and was collaborating, providing the violence.
Since the HuffPost article came out in May 2019, the Proud Boys have attempted to distance themselves from Swinney and claim that the chats were unendorsed rogue behavior. However, they had no objection to fighting alongside him at a prior rally in Providence (see below), and the Proud Boys in the East Coast Patriot Nomads group included a member of national leadership (Ethan Nordean) and at least one chapter president (Philadelphia's Zach Rehl). This suggests that Proud Boy disavowal of Swinney and the group was about optics, rather than any true lack of awareness of what was going on, or objection to the nature of Swinney's activities.

"If any contact is made with you, that's assault. If they take your hat, spray you with silly string, spit, push… Its assault. We need to have all our guys there before we retaliate though If we can. The cops aren't going to let us fight long. We need to inflict as much damage as possible in the time we have", Swinney told the men, using the screen name "Alan Groot."
The first rally was to be a planned return to Providence for Resist Marxism, a Boston-based far-right group founded by Kyle "Based Stickman" Chapman, after a previous rally in October 2018 at which a group of Proud Boys acting as "security," led by well-known Proud Boy brawler Tiny Toese, crossed onto the antifascist side of police barricades and attacked the crowd, leading to several brawls between Proud Boys, American Guard members and the antifascist counter-protesters. Swinney was one of the Proud Boys involved in those brawls, and was caught on camera attempting to strangle a female counter-protester. After the failure of the planned rally, Resist Marxism organizers rebranded as 'Super Happy Fun America', while Swinney and his group attempted to organize their own rally in Providence, as described in the Huffington Post.
Chapman tried repeatedly to steer the conversation from premeditated violence to self-defense, but was met with attitude and machismo from other members; 'Based Stick Man' himself was eventually removed from the chat entirely by Swinney.
While Swinney also tried at times to frame the discussions within the chat as merely referring to self-defense, the veneer was not convincing, not even to Chapman.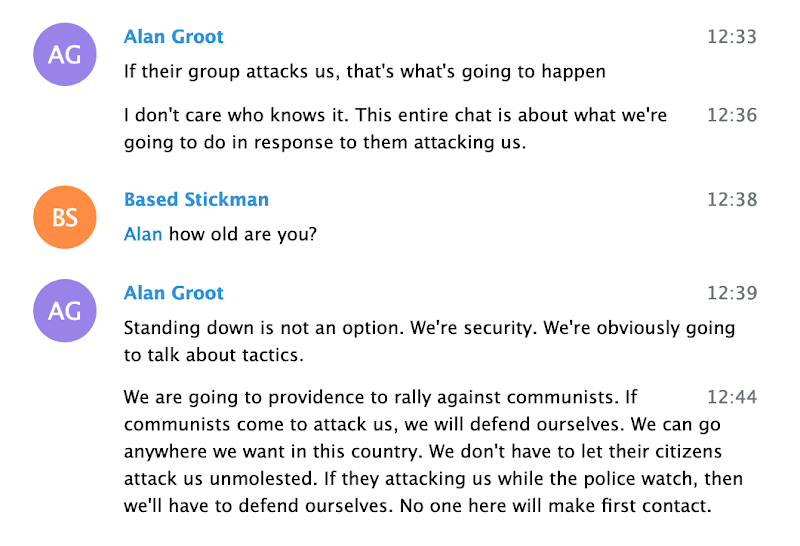 Chats Show Deep Ties Between Far-Right Groups Nationally
The leaked 2019 chats underline how deeply far-right street activity in the USA is interconnected – geographically, organizationally, and ideologically. Previous reporting published in ThinkProgress about Resist Marxism demonstrated that even as such 'alt-lite' groups claim not to be associated with Nazis, they act as umbrella organizations for different parts of the far-right to work together.
Proud Boys and members of other far-right groups in the chats hail from all corners of the continental United States, including the Pacific Northwest, the Northeast, and the Midwest. For example, Patriot Prayer associate Chris Ponte, Proud Boy Jake Adkins, and Proud Boy Tiny Toese, were all participants in the May 1, 2019, attack on the bar Cider Riot in Portland, OR.
Michael Moura, one of Resist Marxism's representatives in the chat and at the time its Boston-area leader, is associated with with numerous neo-Nazi organizations, most recently the Nationalist Social Club (NSC-131). Neo-Nazi John Camden, who attacked counterprotesters with a stick and threatened to kill them at a previous Resist Marxism rally in Providence, is the president of American Guard New Hampshire and a co-founder of American Guard nationally.
Chat participant 'Zee Ferguson' was a member of a III% militia group, and Kyle "Based Stickman" Chapman is the California-based founder of both the street combat group the Fraternal Order of Alt-Knights, and Resist Marxism. Proud Boy Chris White is from Florida, and Proud Boy Dan 'Based Couch Man' Sutherland is from Michigan.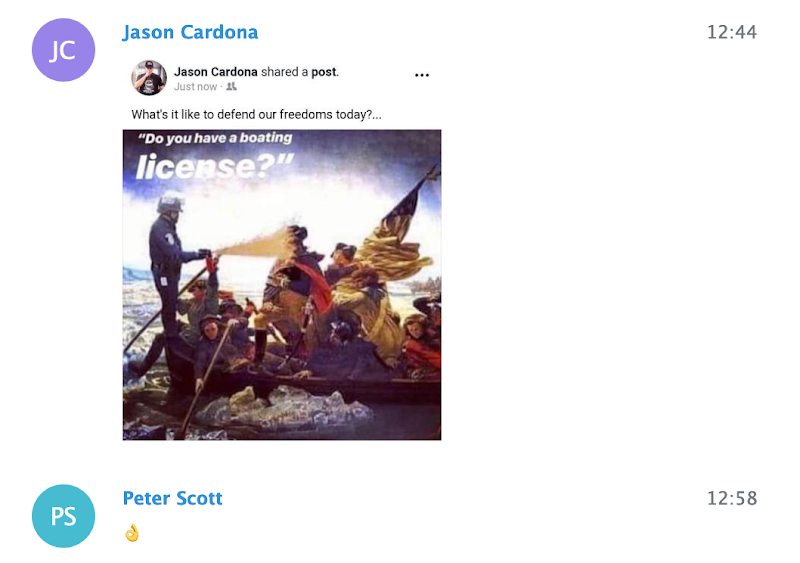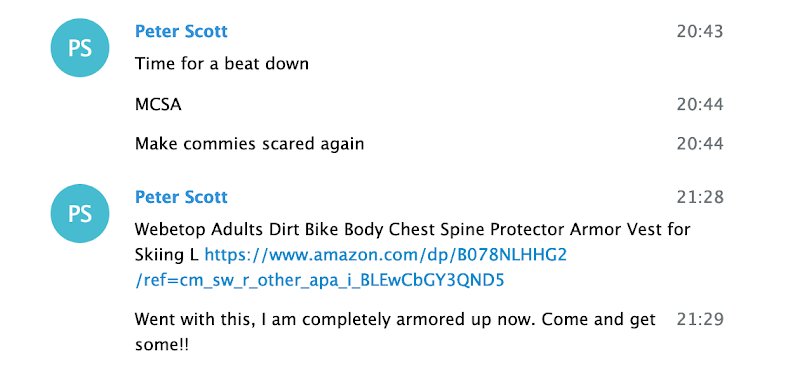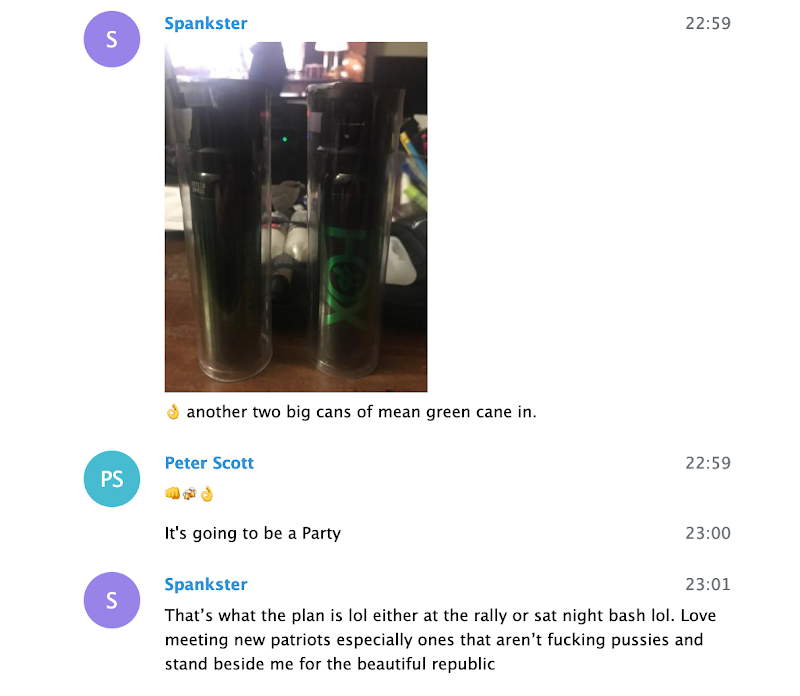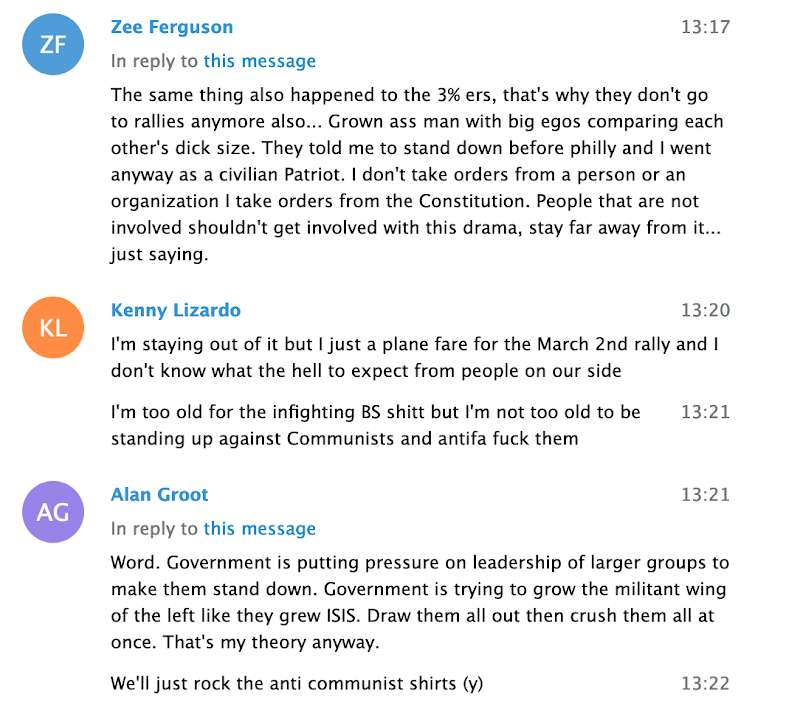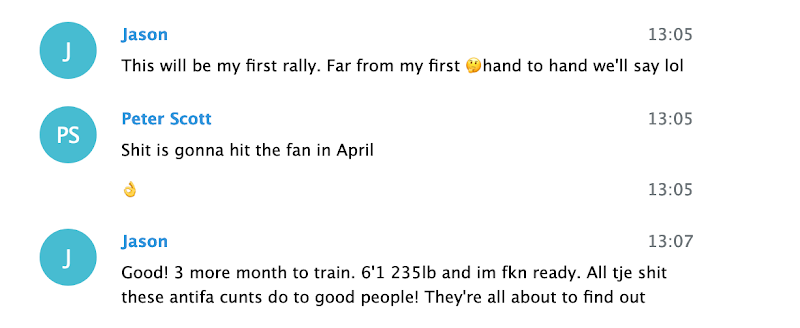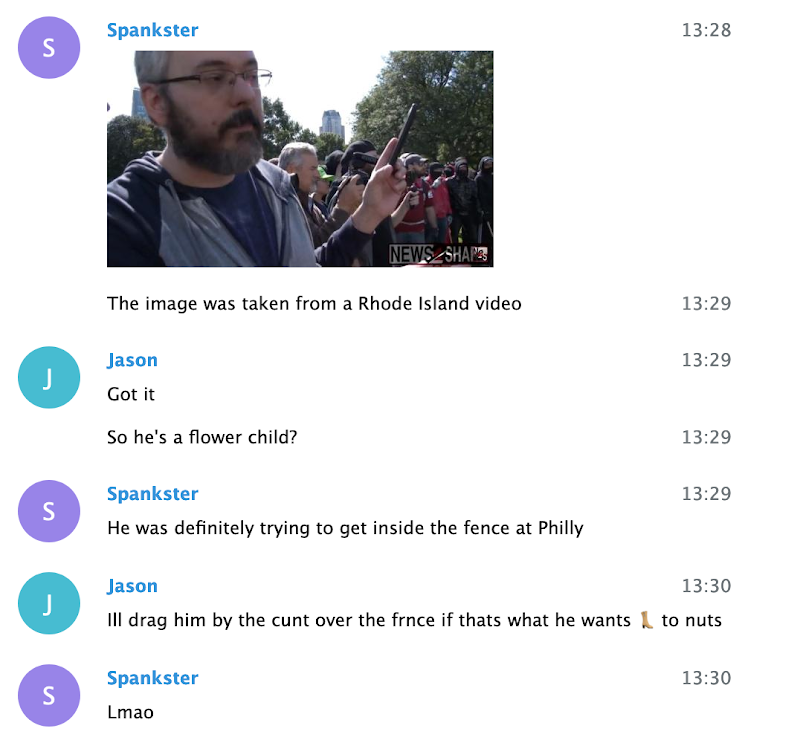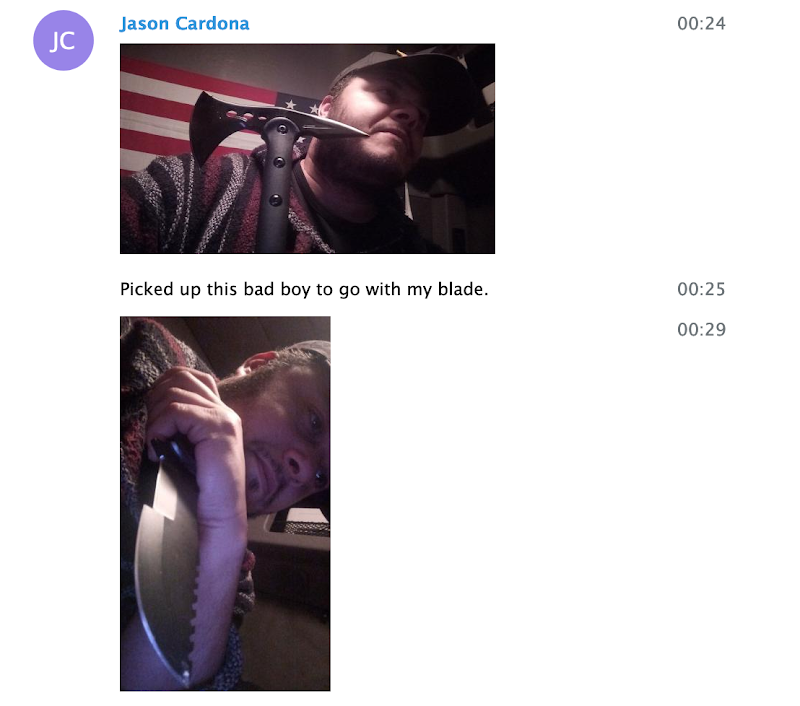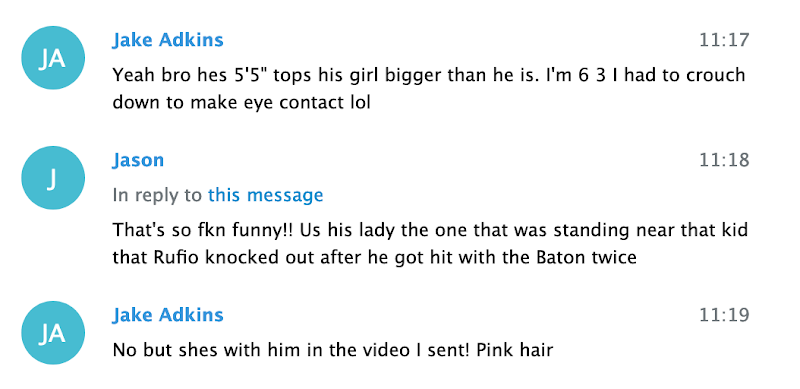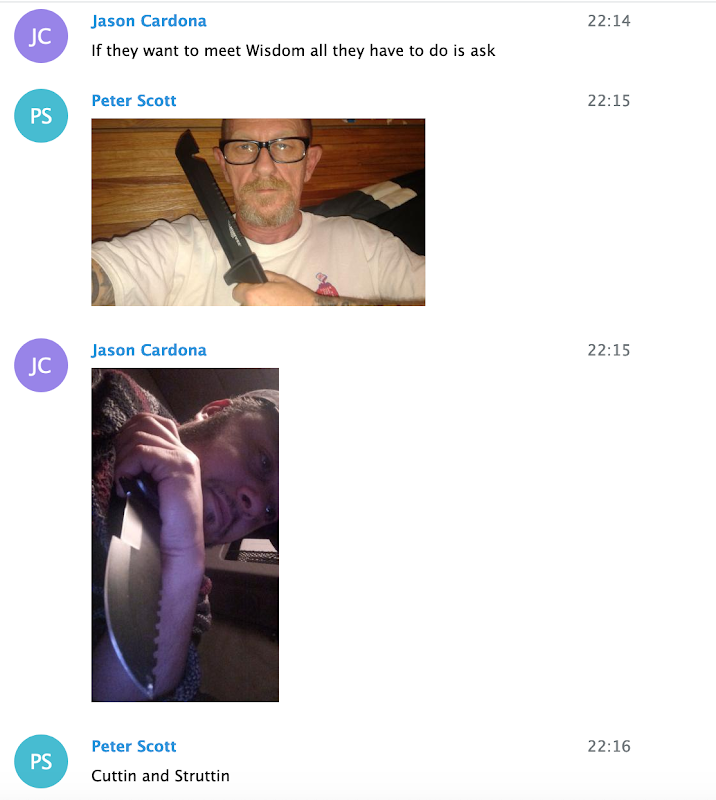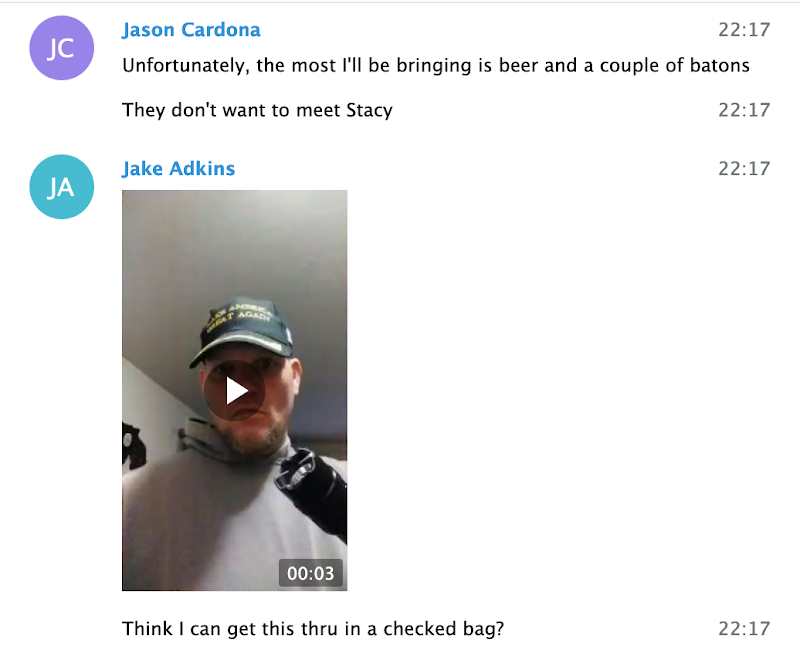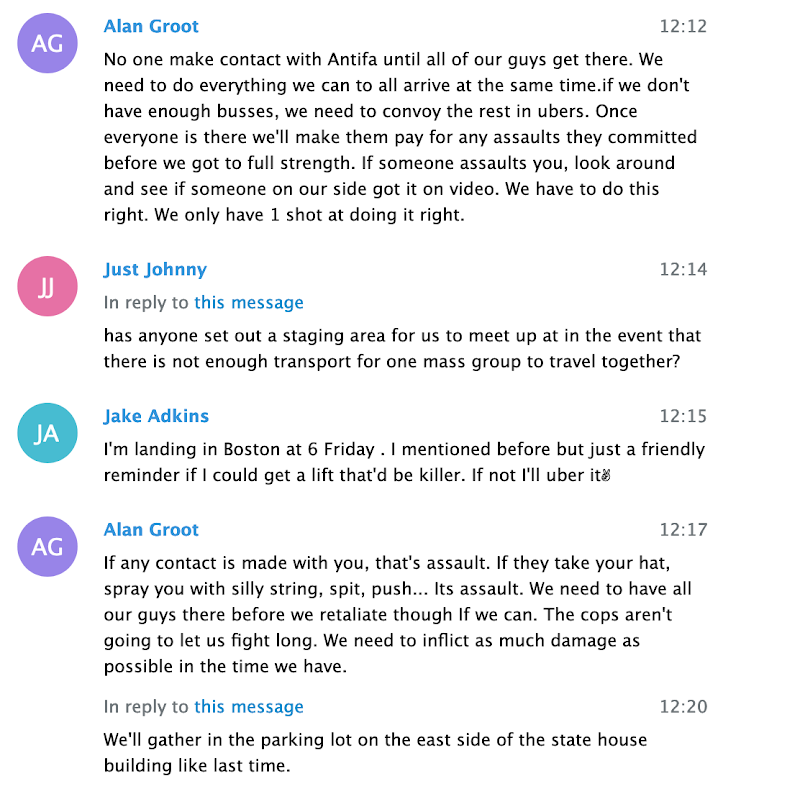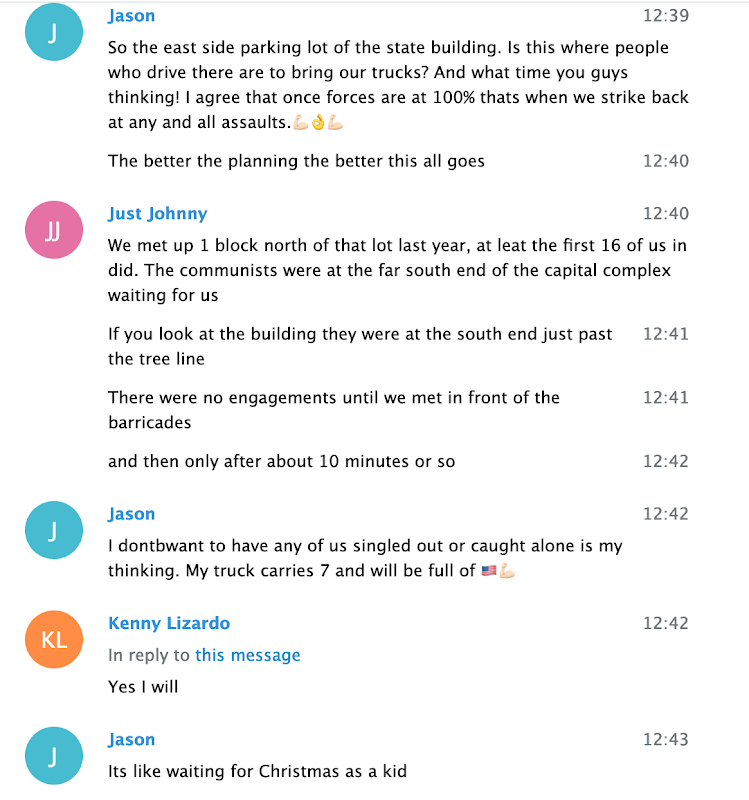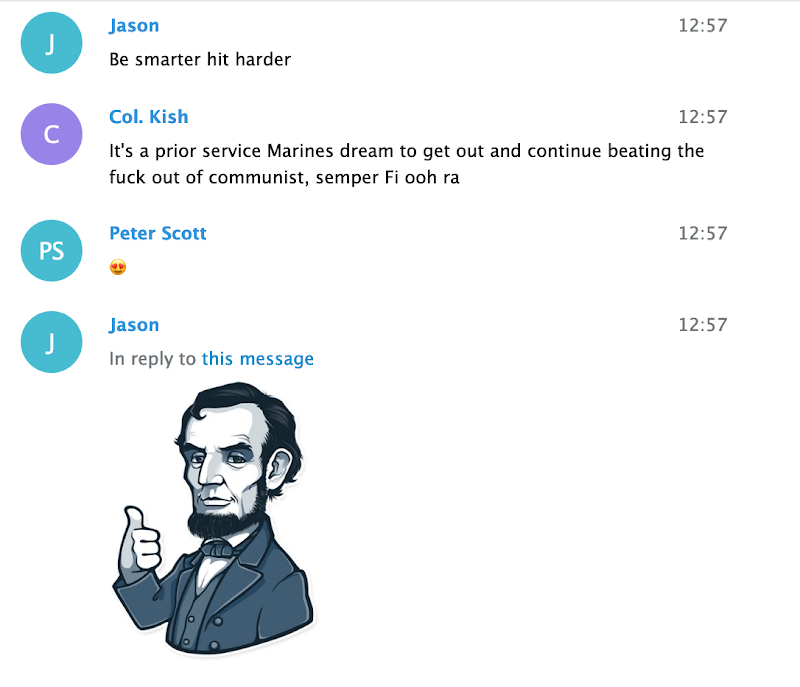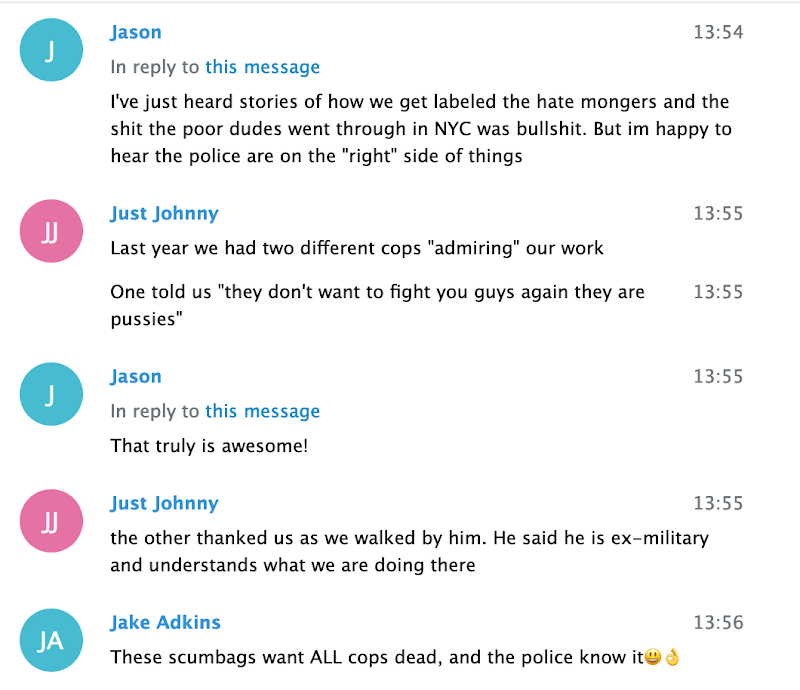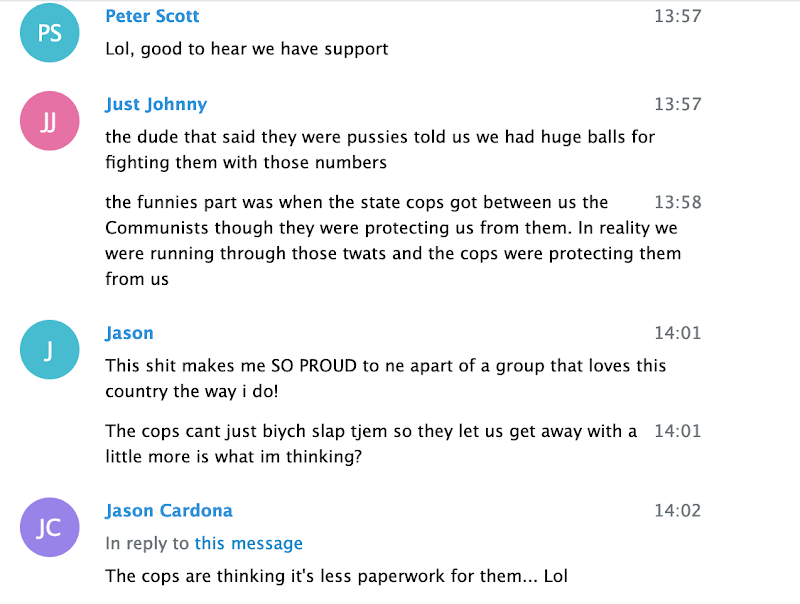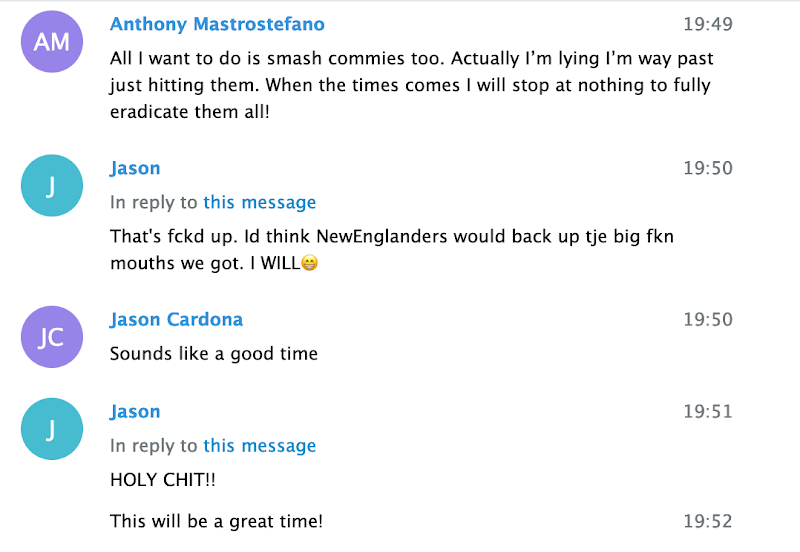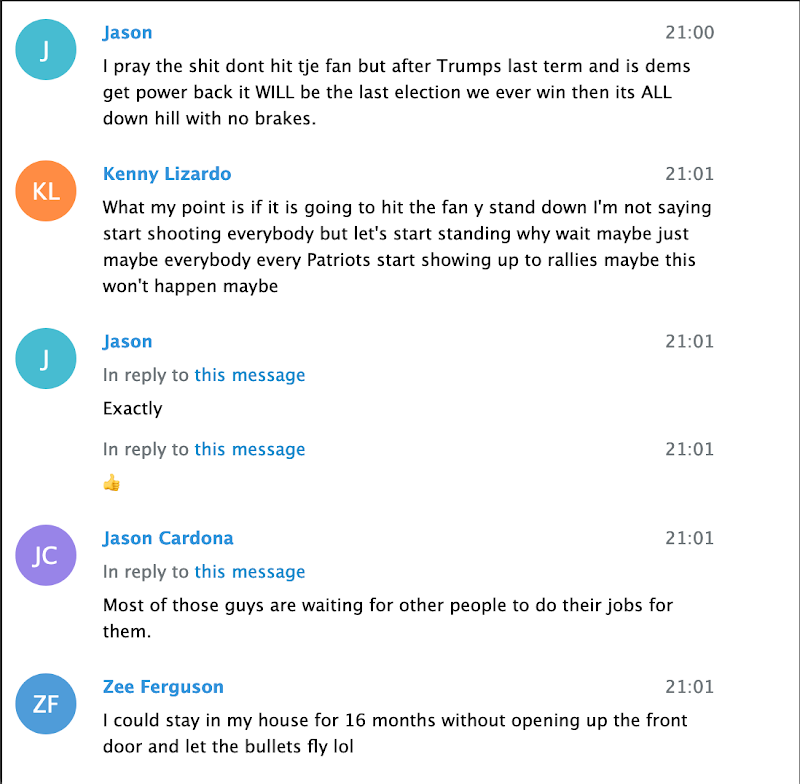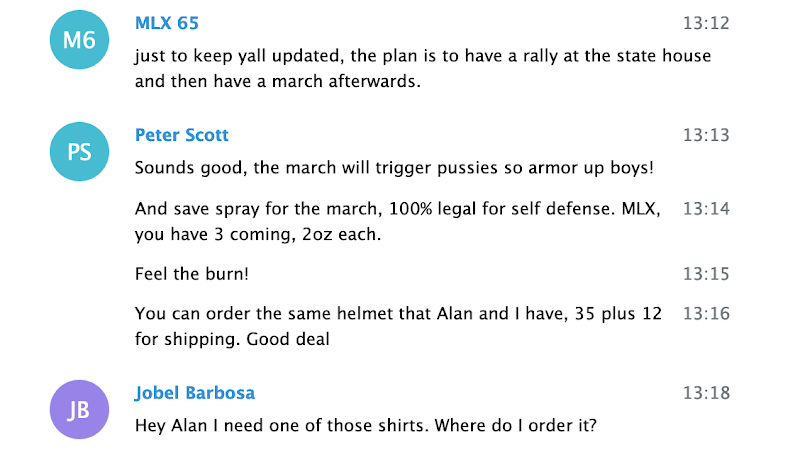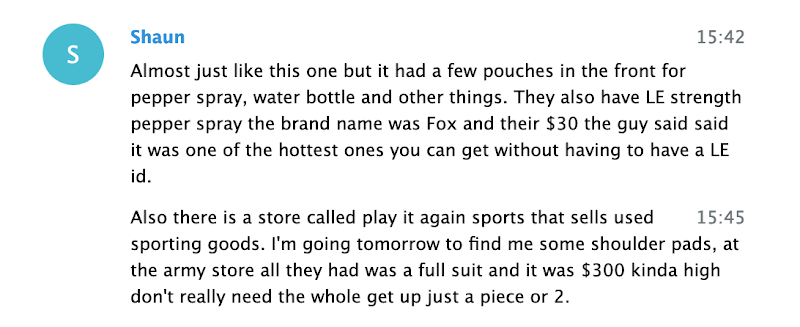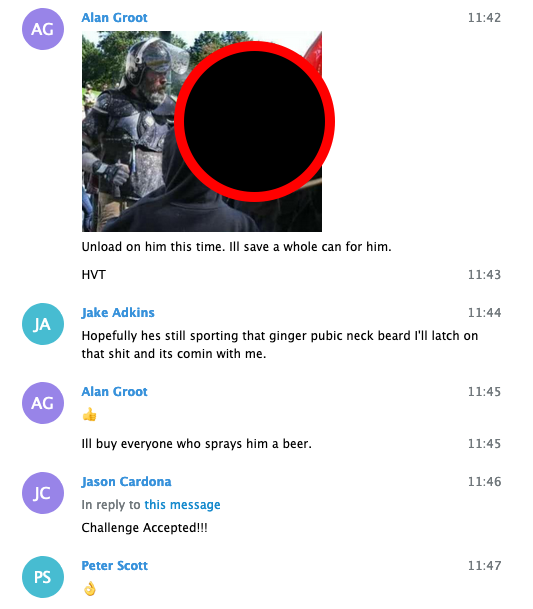 Alan Swinney has been planning a "flag wave" at the Portland Justice Center for September 26, set to coincide with the Proud Boys' rally in Portland, it's likely that any violence that occurs that day could have been planned, online, well in advance.
---
DOWNLOAD:
–CLICK HERE to download archived April-June 2019 'East Coast Patriot Nomads' Telegram planning chats (.Zip, 90.2 MB)
Note: these chats were hosted on Telegram, and were downloaded as HTML via Telegram's built-in export feature. To view them for yourself, download and expand the .zip file, and then open one of the 'Messages.html' files in order to read them in your default browser.
---
Follow us on X (aka Twitter), Facebook, YouTube, Vimeo, Instagram, Mastodon, Threads, BlueSky and Patreon.
Please consider a tax-deductible donation to help sustain our horizontally-organized, non-profit media organization: