Minneapolis March Demanding Justice for Breonna Taylor Draws Thousands
Minneapolis, MN – Breonna Taylor's tragic killing in March 2020 is illustrative of the systemic anti-Black prejudice extant in the United States, and the continued failure at nearly every level of state involvement to provide liberty and justice to Black Americans. State law enforcement officials first concealed Breonna's death from her mother, then prosecuted Breonna's boyfriend for attempted murder for defending himself and his partner from an unannounced armed home invasion. (Full story)
Over three months after Breonna was killed by police and a month after George Floyd, thousands gathered in Minneapolis' Powderhorn Park to protest Taylor's death and the lack of accountability for police. Organized by young women, the June 26 rally featured spoken word pieces, speeches, and a fast-paced march secured by the Minnesota Freedom Fighters.
Participants were calling for justice for Breonna and the arrest of the officers. Local photojournalist and houseless advocate Patience Zalanga stated that Taylor's death is "really painful"; Zalanga is an 'essential worker' as was Taylor.
"We're out here trying to protect the most vulnerable to serve them, and then in turn you get killed. It's just inexcusable." — Patience Zalanga, houseless advocate and photojournalist
Zalanga spoke on the growing presence of consequential thinking within the abolitionist framework. She said she is "struggling" with the push for officers to be handled in the carceral state, saying that "prison is not something we should be going for."
As an alternative to prison, Zalanga suggested the idea of allowing families who are victims of police violence, such as Breonna Taylor's family, to choose what restorative justice looks like.
Watch our live stream below:
As stated on the event page, a goal of the protest was "to shine a light on black women's suffering" noting that since the police killing of George Floyd on May 25, at least two Black transgender women have been killed in the United States: Dominique 'Rem'mie' Fells, and Riah Milton.
"How have you complicitly chipped into #misogyny? How have you complicitly chipped into #WhiteSupremacy?"

Speaker implores the crowd to not stop working towards change, reminds those gathered about the unhoused encampment at Powderhorn Park where ppl are in need of supplies. pic.twitter.com/dgbLRXaGiU

— Unicorn Riot (@UR_Ninja) June 26, 2020
In March 2020, Louisville Metro Police Department (LMPD) officers had secured a warrant to raid Breonna's residence, which they believed was a link to two alleged drug dealers and had been surveilling since January. In order to attain the warrant, a LMPD detective had told a judge that a USPS inspector knew suspicious packages were being dropped off at Breonna's home — though a postal inspector had confirmed the opposite, "no packages of interest," when the USPS office was asked about the matter in January.
Police secured legal permission based on this specious premise to execute a 'no-knock' warrant for Breonna's apartment. In this type of order, officers first force their way into a space, and only afterwards do they announce that they are police.
Just after midnight on March 13, two teams of police prepared to simultaneously raid both Breonna's apartment and an alleged drug house 10 miles away. The three officers at Breonna's apartment were Sergeant Jonathan Mattingly, Detective Brett Hankison, and Officer Myles Cosgrove.
Breonna and her boyfriend Kenneth 'Kenny' Walker were awakened from sleep by a hammering on the apartment door; police were using a battering ram. The couple called 911, understanding that they were being threatened by a home invasion, but didn't realize it was police at the door since they didn't announce themselves.
Kenny was licensed to carry a firearm, and after the men broke in, Kenny fired upon one of the intruders, shooting him in the leg. The officers retaliated by opening fire, shooting Breonna at least eight times and firing more than 20 rounds total.
Kenny placed a phone call to 911, fearing that Breonna had been shot yet still not understanding the ongoing home invasion had been caused by Louisville police.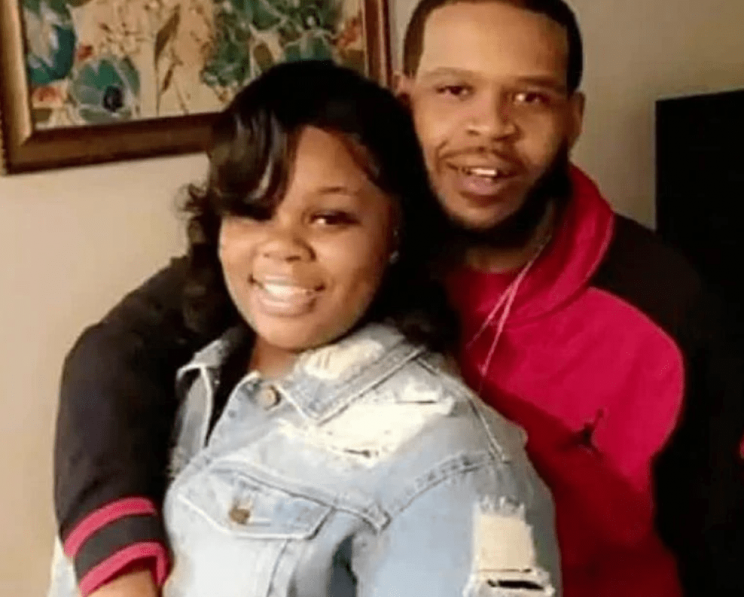 He also called Tamika Palmer, Breonna's mother, saying somebody had kicked in the door and he thought Breonna was wounded. In a recent interview, Tamika laid out in excruciating detail the hours of police manipulation that unfolded after she received Kenny's call.
When Tamika came to Breonna's street, the officer who approached her said that two ambulances had departed the scene for the hospital — one carrying an officer, another took 'the girl.' Tamika traveled to the hospital and waited for two hours, and was updated eventually by a staff member that there was no record of a patient named Breonna on her way into the hospital.
Tamika returned with her family to the scene and requested to be permitted to enter the apartment as Breonna's mother. She was told a detective would speak with them.
After waiting two more hours, the first thing the detective said to Tamika after introductions was to ask her whether she knew of anybody that would want to hurt her daughter or Kenny.
Tamika asked to speak to Kenny, whom she knew was alive and had been there just hours before. After another 90–120 minutes the detective returned, and this time asked whether Kenny and Breonna had been having any problems — insinuating something violent might have happened between Kenny and Breonna.
At this point Tamika still had not been told that her daughter had been killed, nor that it had been by the police. Agitated, she demanded to speak to Kenny, to which the detective responded that he was downtown helping to "piece together what happened here tonight" — he had been arrested by police around 1 a.m., less than 20 minutes after Breonna had been shot.
Having been told by the first officer that another had been shot, she asked how that had happened. The detective replied that he'd been on the scene responding to a call. When asked, "What call?" and pressed for details, the detective revealed that officers had been there to execute a narcotics search warrant, though he couldn't produce the warrant.
Hours later, around 11:00 a.m., the detective told the family they would be able to enter the apartment soon. When Tamika asked directly where Breonna was, the detective replied, "Well… she's still in the apartment."
This was the moment Tamika was informed, albeit indirectly, that her daughter was no longer alive.
She asked to see Breonna, to identify her body. After waiting for the coroner to arrive, and then for the coroner to finish their report inside the apartment, Tamika was told around 1:30 p.m. on March 13 that Breonna had already been identified "through paperwork." Tamika would not be permitted to see her child's body.
Six days later, on March 19, Kenny was charged by a grand jury with assault and attempted murder of an officer. Kenny himself was not permitted to testify live before the judge.
Attorney Lonita K. Baker noted in the testimony of LMPD Sergeant Amanda Seelye, the only portions of Kenny's statement that were included was where he admitted to shooting the officers. Seelye intentionally omitted that at first Kenny didn't realize it was police who were breaking into the apartment.
The grand jury police testimony didn't mention Breonna's name.
After waves of protests and sustained efforts from the community to enact change, the third week of May the FBI opened an investigation of Breonna's killing by police. "Breonna's law" was passed after Louisville Metro Council Public Safety Committee members voted 7–0 in favor on June 3, and the resolution passed the entire city council unanimously 26–0 on June 11.
The law prohibits 'no-knock' warrants in all cases except where there is "imminent threat of harm or death" such as in kidnapping, murder, human trafficking, or a hostage situation.
One day prior to the city council's unanimous vote, Louisville police released their incident report from March 13, the night officers shot and killed Breonna Taylor. Though Breonna died that night from multiple gunshot wounds and the police used a battering ram to knock her door open, the LMPD report lists Breonna's injuries as "none" and indicated that forced entry had not taken place.
Also on June 10, the LMPD released their (bi-)annual report, which data was incomplete and downplayed the number of police shootings.
The same day, Louisville Police Chief Rob Schroeder reassigned (placed on administrative reassignment rather than being terminated) Detective Joshua Jaynes, the person who had obtained the no-knock warrant for Breonna's apartment. There have been no charges placed against the officers, though Brett Hankison has been fired as of late June 2020.
#SayHerName was launched in 2014 by the African American Policy Forum to bring awareness specifically to female victims of police anti-Black violence.
Kimberlé Crenshaw, co-founder of the AAPF, developed the idea of 'intersectionality' as a way to include Black women's voices within feminist theory, which has centered the voices of white women. Black women's lived experience includes both the misogyny and systemic sexism perpetuated against women, as well as anti-Black systemic racism, both of which intersect to create gender-specific violence against Black women and girls.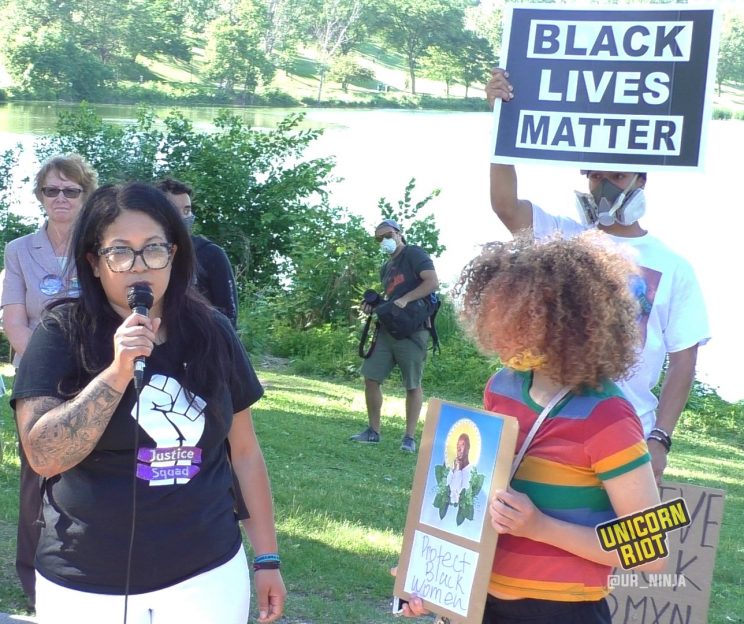 Crenshaw explained in 2012 that the exclusion of Black women and girls from stories about anti-Black institutional racism and police violence contributes to the idea that women are targeted less often, which underscores the prevalence of rape and sexual assault perpetrated against Black women.
"Despite their growing level of system involvement, there is widespread silence about girls and women. The silence […] often excludes research on women and girls. This in turn reinforces the assumption that women and girls are not also suffering because the evidence is comparatively sparse." — Kimberlé Crenshaw, From Private Violence to Mass Incarceration
The event page for the Breonna Taylor march included the names of at least six more Black lives lost to violent deaths. The bodies of three have been discovered hanging from trees: Robert Fuller and Malcolm Harsch, both in California, and Tshegofatso Pule, who was eight months pregnant, in South Africa.
Crowd chants names of Riah Milton and Dominique "Rem'Mie" Wilson, two Black transgender women who have been killed in the #UnitedStates since the death of George Floyd. #SayHerName

We are #live from #Minneapolis — March is leaving Powderhorn Park nowhttps://t.co/RQWJrHJTHH pic.twitter.com/p3feBuF6Sj

— Unicorn Riot (@UR_Ninja) June 26, 2020
The City of Louisville, where Taylor was killed, has seen recent shootings during months of ongoing protests. On Saturday, June 27, Tyler Gerth, a 27-year-old youth mentor and photographer, was shot and killed by a troubled former program participant while at a main protest encampment at Jefferson Square Park. There was a previous shooting during a protest in late May where seven people were shot.
Gerth was the second to be killed during the wave of Breonna Taylor protests. The first was restaurant owner, David McAtee, who was shot and killed by police and National Guard members on May 30 while they were enforcing a curfew.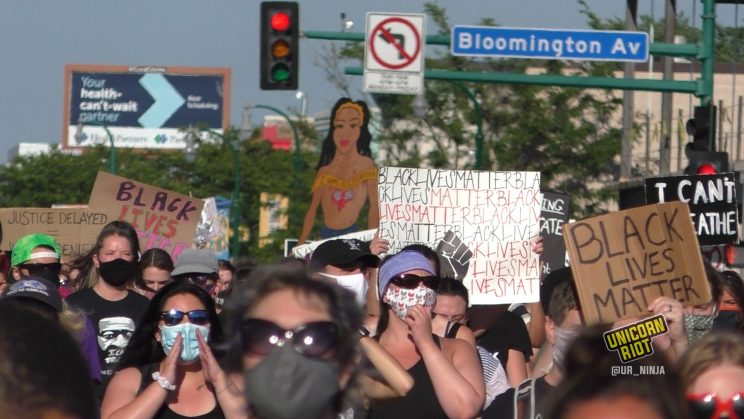 Protests for justice for Breonna are continuing in Louisville and nationwide. Every few days on social media platforms, a message floats around reminding people that #BreonnaTaylor was no longer trending, and to keep calling for justice.
After over 100 days of demanding accountability, and with only one of the officers having been fired, it seems those in a position to enact change seem unmoved to action, despite the historic nationwide uprising against police violence and excessive force in the United States.
Niko Georgiades contributed to this report.
Update 9:24 p.m. CDT: this report has been corrected to state that #SayHerName was developed in 2014. An earlier version of this report incorrectly stated 2015 as its founding year.
---
Follow us on X (aka Twitter), Facebook, YouTube, Vimeo, Instagram, Mastodon, Threads, BlueSky and Patreon.
Please consider a tax-deductible donation to help sustain our horizontally-organized, non-profit media organization: