Pawn Shop Owner Faces No Charges in Killing Man, State Blames Protesters
Minneapolis, MN – Wisconsinite John Rieple shot and killed Calvin Horton Jr. in Minneapolis on May 27, during the second night of the uprising. Horton was protesting the death of George Floyd by Minneapolis police, walking down Lake Street. When his section of the march reached Cadillac Pawn, owned by Rieple, Horton was fatally shot.
From inside his store, Rieple (a white man) shot into a crowd of people, striking and killing Horton (a Black man). Horton, a 43-year-old father of seven, died on the sidewalk. The shooting did not prevent items in Rieple's store from being taken.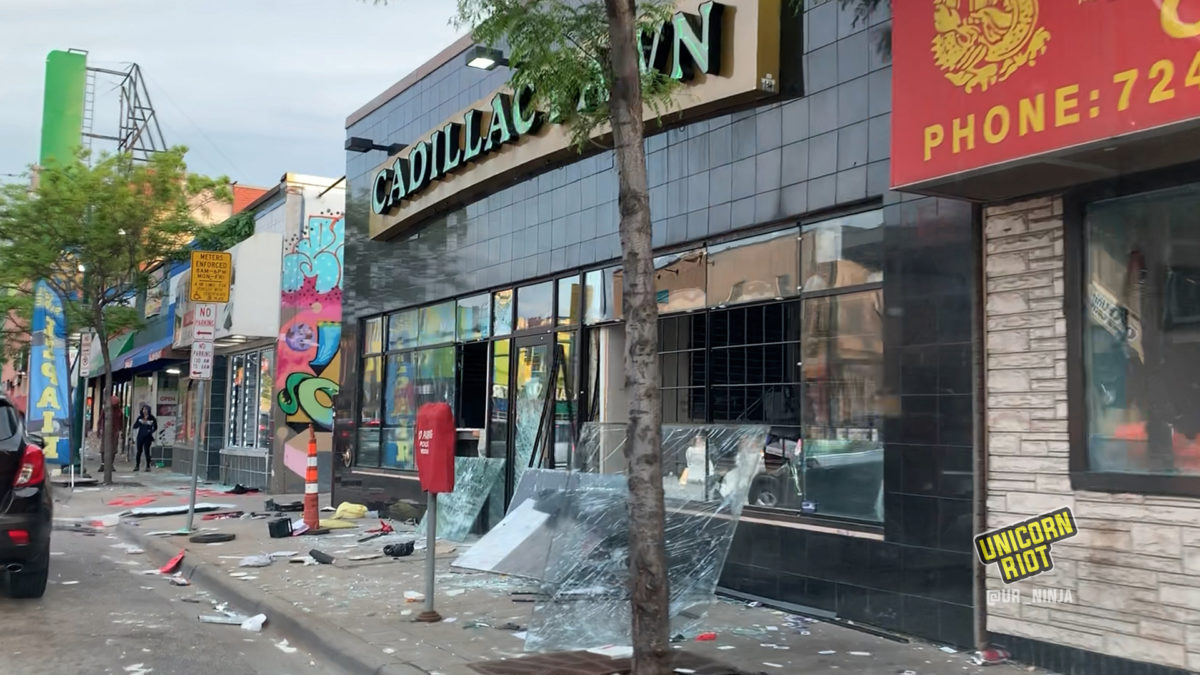 Rieple was arrested on probable cause of murder. After 72 hours in jail he was released with no charges. Minnesota has a 'duty to retreat' law, making it illegal for Rieple to have killed someone while defending his merchandise.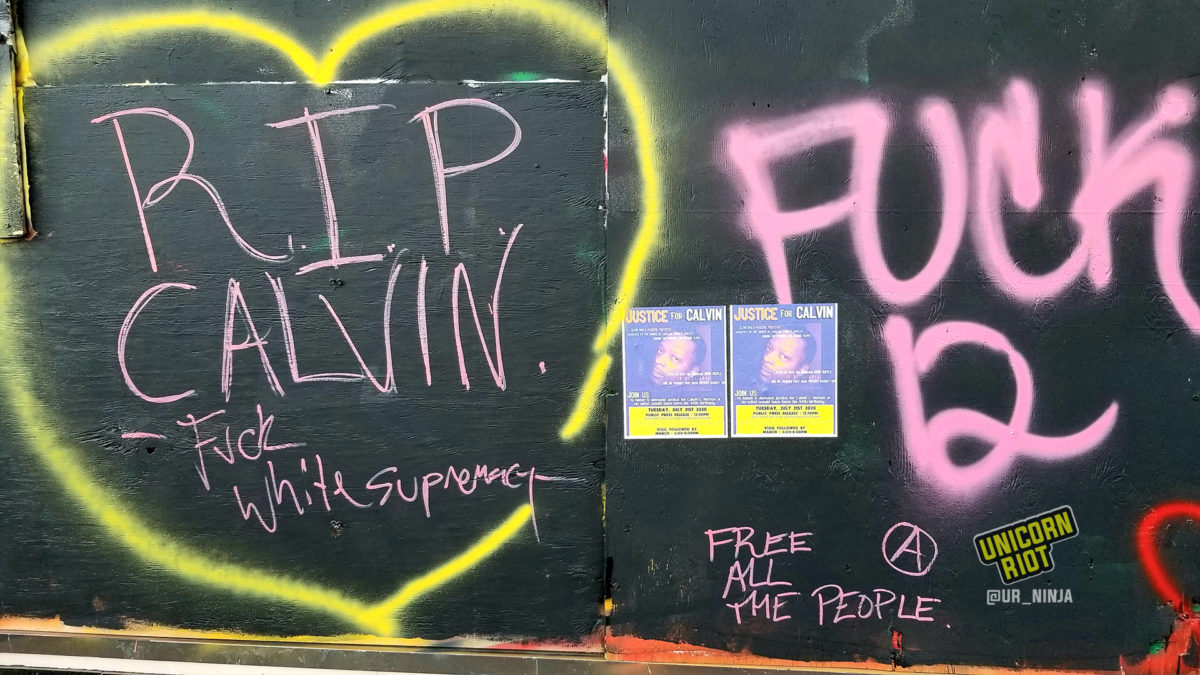 Authorities attempted to revive Horton on the sidewalk amidst the chaos of the unrest, then picked him up by his arms and legs and brought him to the middle of Bloomington Avenue to do CPR, at times dragging his body.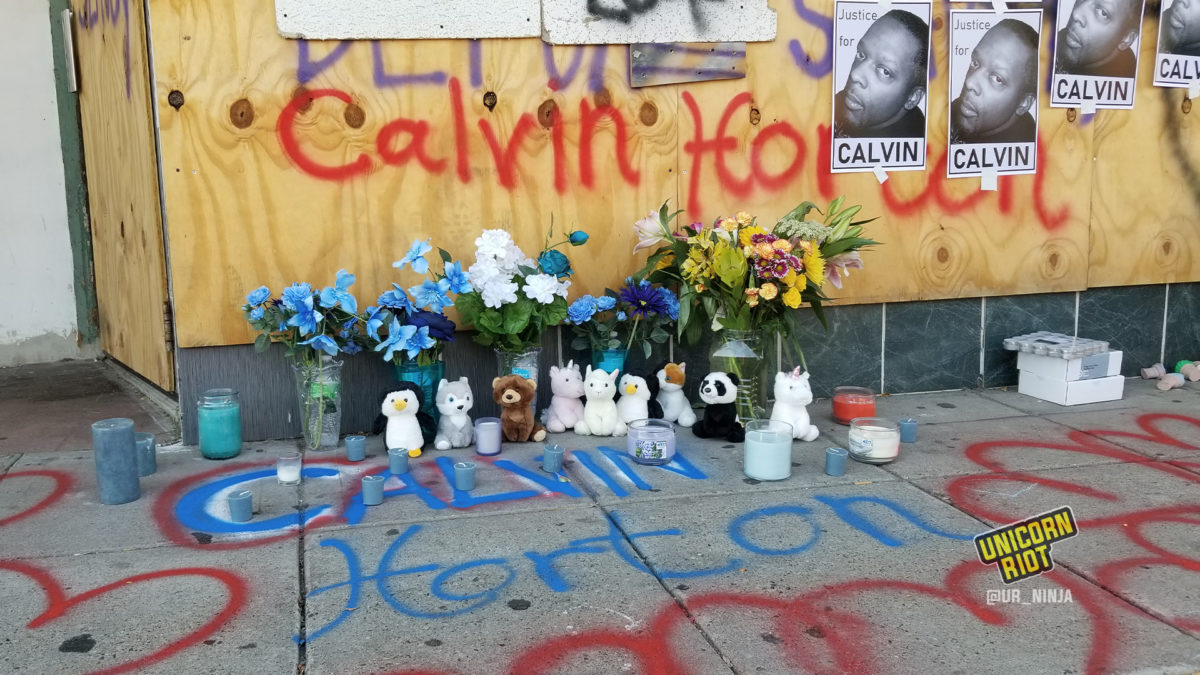 After a press conference on July 21, what would have been Horton's 44th birthday, Horton's son spoke to Unicorn Riot for an exclusive interview.
"I just don't like the way they handled his body. They drug him, and they didn't treat it like a regular crime scene," said Horton's son. He continued that Rieple should be charged, convicted, and imprisoned according to the law.
Over a month after Horton's death, Hennepin County Attorney's Office posted a statement to their website asking for the public's help to provide information in the case. Their statement claimed "only one witness who saw part of the incident" had spoken with them, and they need help finding videos or witnesses to provide evidence of the murder.
On July 21, atty Jill Brisbois spoke about the specifics of the Duty to Retreat law.

"The Duty to Retreat applies when you're talking about somebody's life, he was protecting his property, he wasn't protecting somebody's life in there."

There's also a backway out of the store. pic.twitter.com/d27DzHRIOW

— Unicorn Riot (@UR_Ninja) November 9, 2020
Cadillac Pawn, the shop which Rieple owns and shot from inside of has a surveillance camera, but the recordings were never retrieved by the police. Investigators didn't secure the store's video that night and the police left the scene shortly after attempting to render aid to Horton, blaming protesters and the ongoing unrest as to why they failed to follow protocol.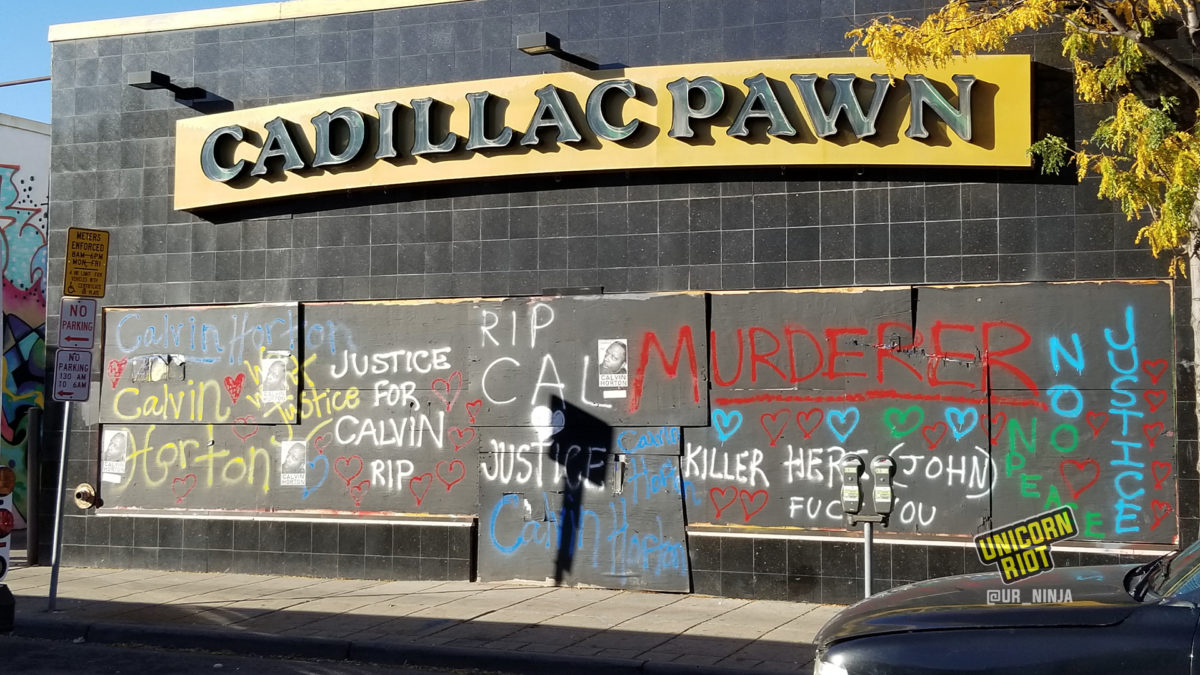 Calvin's mother, Mae Roberts, says all she wants is justice. Roberts stated that she has called investigators all summer for updates on her son's case. Investigators told her "looters got the tapes" and that they had no case against Rieple. In turn, Roberts feels the police and prosecutors are "trying to sweep this under the rug."
"We're absolutely heartbroken at the fact that the man who was able to shoot my dad in the back is still free and we're left to feel as if we're the ones in prison.

We want justice for my Dad and we're not gonna stop until we see it."

Cadaezhah Horton, Calvin Horton's daughter
Cadaezhah Horton, Calvin's daughter, spoke about her father during the press conference. She said she felt her family was in prison while their father's killer was free.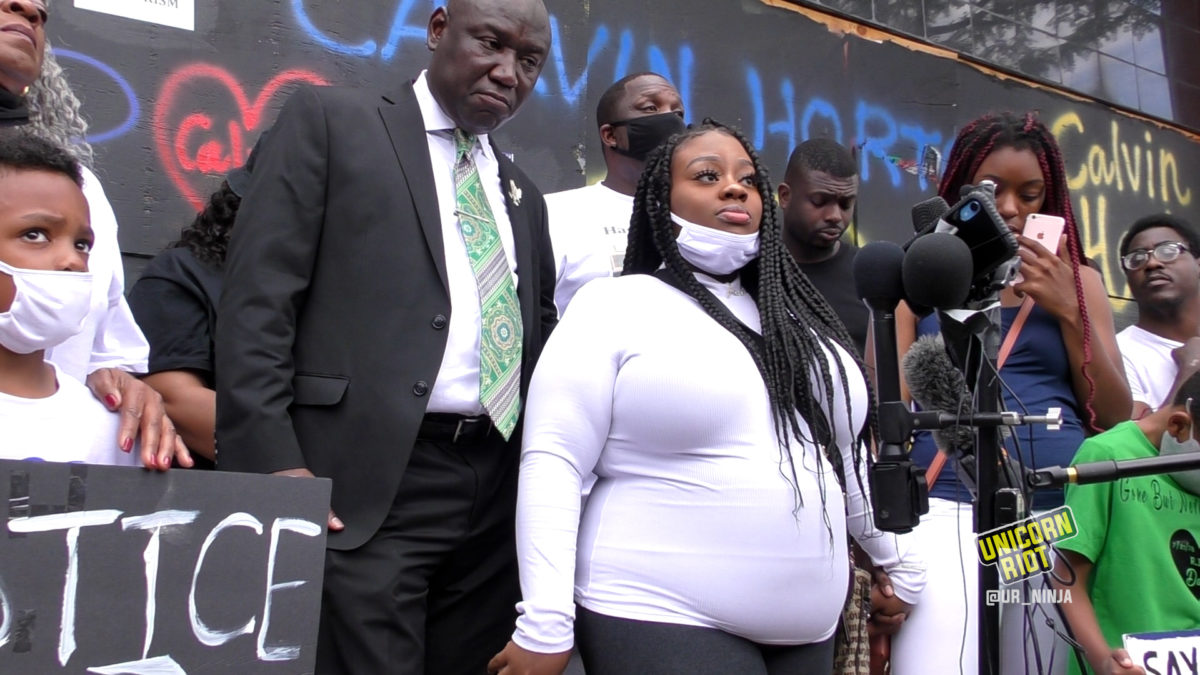 Two months after Horton was killed, his case was picked up by nationally prominent civil rights attorney Benjamin Crump. Crump led the July 21 press conference in front of Cadillac Pawn.
"We are reminded over and over again about the fact that there seems to be two justice systems in America: one for Black America, and one for white America, and it should be equal justice for every citizen in the United States of America. Calvin Horton was a citizen of the United States and the 1st Amendment applies to him."

Benjamin Crump, Civil Rights Attorney
Crump asserted a main takeaway of the case against Rieple is the double standard of justice between white America and Black America. Unicorn Riot streamed the press conference live (see below).
During the press conference, Jeffrey Storms, a lawyer for Horton's family, said they "wouldn't leave a stone unturned" in their quest for justice for Calvin Horton.
Pawn shop owner John Rieple was arrested & released with no charges although #Minnesota's Duty to Retreat law gives no right for a business owner to kill someone over merchandise.

The shooting did not prevent Rieple's store from being looted & vandalized further. pic.twitter.com/6iUIGtONAn

— Unicorn Riot (@UR_Ninja) July 22, 2020
Mike Freeman and the Hennepin County Attorney's Office are the ones with the power to charge Rieple. Freeman has typically been the one in charge of prosecutions of police killings and misconduct and many in the Twin Cities community have mistrust for him and have joined the call to 'recall Freeman'.
Civil rights attorney Nekima Levy Armstrong said that Rieple "felt entitled" to kill Horton because he knew "he could get away with it" based on the past conduct of the Hennepin County Attorney's Office and Mike Freeman, specifically in showing that "Black lives don't matter."
"There's no way that a business owner should have been able to shoot outside of his store & kill someone & still be walking the streets a free man.

It's not unacceptable." – Civil Rights atty, @nvlevy, briefly spoke about the case of Calvin Horton Jr.

>https://t.co/8ut1OXavHH< pic.twitter.com/2t1hG2VUPt

— Unicorn Riot (@UR_Ninja) November 9, 2020
Armstrong pointed to the case of an elderly white man, George Jensen, who rammed his van into a bus stop of Black folks on Broadway Avenue last July, severely injuring several. Jensen never served jail time for his act, which many in the community say was premeditated and a clear act of Jensen targeting the people he hit. Freeman said they had no evidence to show anything besides criminal vehicular operation; Jensen was found incompetent to stand trial and proceedings against him have been dropped.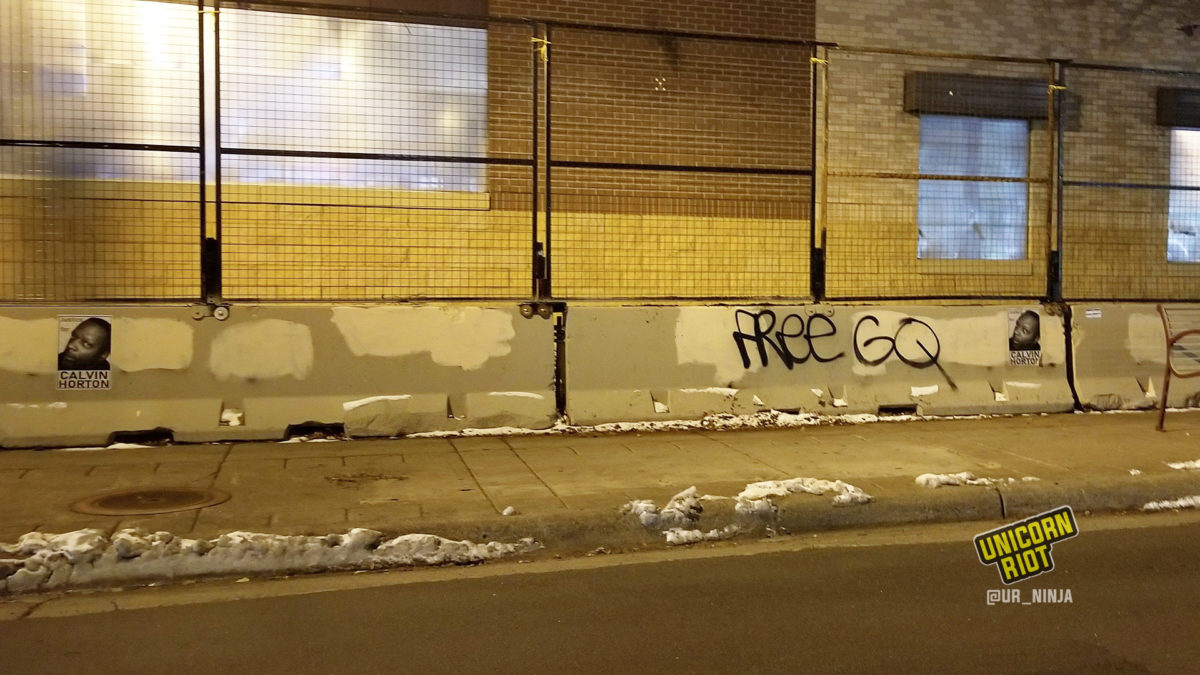 Armstrong also called out the connection between the police and pawn shop owners in the city, saying they often do business together, trade information, and are very friendly.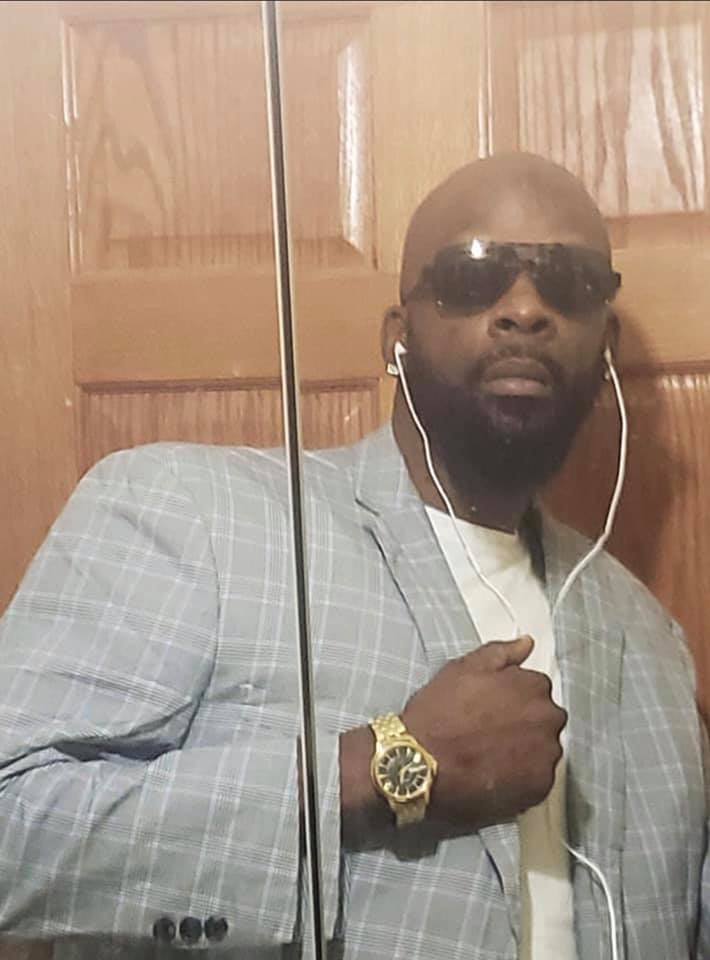 "He was just a good-hearted person and he loved everybody. He loved his family."

Mae Roberts, Calvin Horton's mother
Following the afternoon presser, hundreds gathered during the evening of Horton's 44th birthday for a vigil and a march to demand the following:
Hennepin County Attorney Mike Freeman charge John Rieple for the murder of Calvin Horton
Horton's family be permitted to view surveillance videos and other evidence in police investigation
Hennepin County pay for an independent autopsy report to be performed on Calvin's body
Minneapolis city council members and Mayor Frey immediately address the racial bias in city government and city police
Horton's family members spoke during the vigil. Community members marched to city council member Alondra Cano's residence demanding she push for charges to be filed against Rieple. Watch the march below:
A memorial fund for Calvin Horton Jr., organized by his daughter Cadaezhah, is approaching its $10,000 goal as of November 8.
This fund is established to cover funeral and burial expenses, mental and grief counseling, lodging and travel for all court proceedings, and to assist our family in the days to come as we continue to seek justice for Calvin. A portion of these funds will also go to the Estate of Calvin L. Horton, Jr. for the benefit, care and educational funds of his 7 children, especially my eight year old twin brothers Cavon and Calvon, my twelve year old sister ShaNyah, as well as my 17 year old brother, Cavin.

Sentences pulled from The Official Calvin L. Horton, Jr. Memorial Fund
Rieple continues to walk free with no charges against him either for fatally shooting Calvin Horton or for neglecting his duty to retreat.
---
Follow us on X (aka Twitter), Facebook, YouTube, Vimeo, Instagram, Mastodon, Threads, BlueSky and Patreon.
Please consider a tax-deductible donation to help sustain our horizontally-organized, non-profit media organization: