"The fight is not over:" CO Brown Berets Rally on Inauguration Day
Denver, CO — Shortly after President Joe Biden was sworn into office on Wednesday in D.C., a combination of groups came together in downtown Denver to proclaim their ongoing demands and concerns of the federal government—explicitly its mistreatment of Black, Brown, and Indigenous people.
One aspect of Wednesday's events was a rally organized by the local contingent of the Brown Berets outside the Capitol Building, which included speeches and music.
We interviewed some members of the Brown Berets about their reasons for rallying:
"Particularly today we want to send a message to the government that the work is not over. Trump leaving office does not end anything, really. He was an especially bad character obviously, but the government has been oppressing Indigenous people and Black people for centuries. And so we need to show our face even in this 'good' change because the fight is not over, not even close."

Member of Los Brown Berets de Colorado
Another member shared with us what they hope for the future:
We asked what action steps they see would have to happen for those needs to be achieved:
"Titles, deeds, land, like literally signing over titles and deeds to land, to property, back to Indigenous people. To tighten up climate laws. To protect our water ways by not allowing illegal dumping. By shutting down Suncor and all of these other oil refineries that are destroying our planet and polluting everything."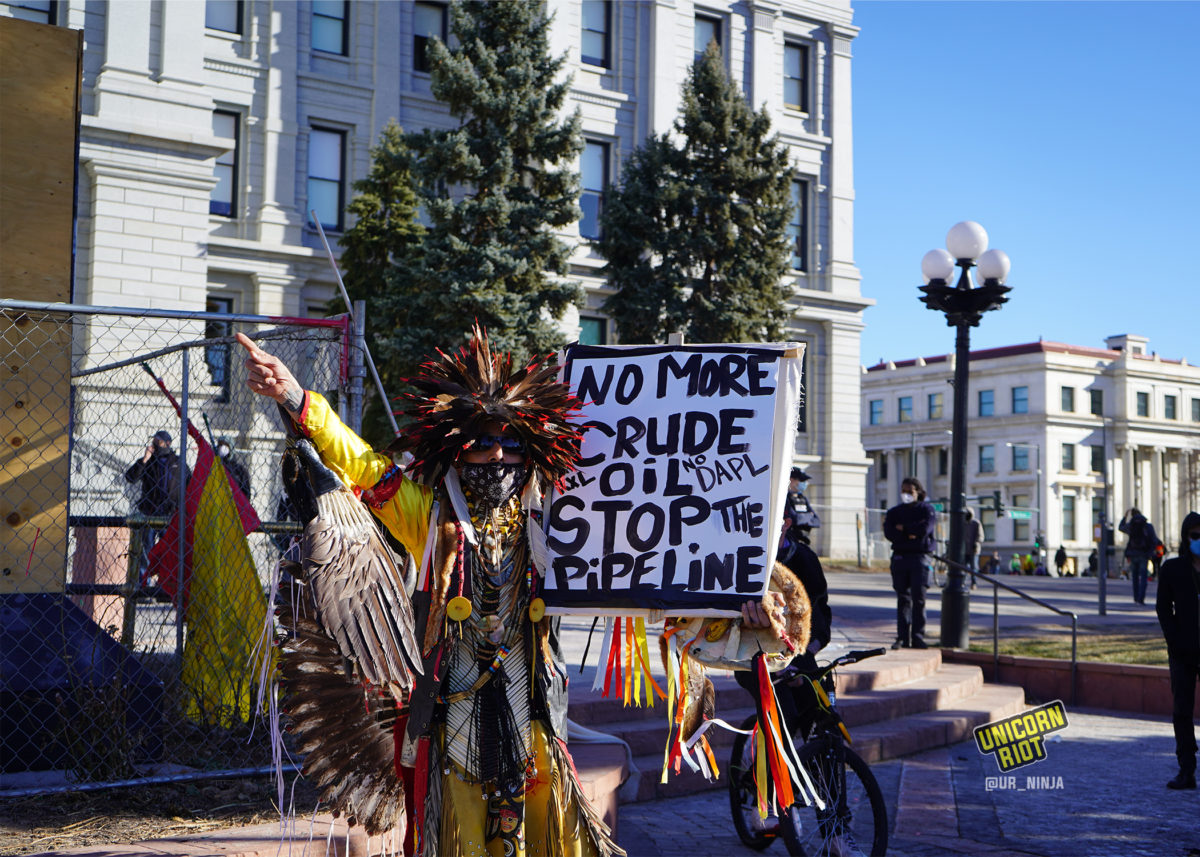 From their inception in the 1960s in Los Angeles, CA, the Brown Berets have been a pro-Latinx organization committed to resisting discrimination, fighting against police brutality, advocating for farm worker's rights, pushing for educational reform, and much more. Similar to the Black Panthers, the group created a social welfare initiative called El Barrio Free Clinic.
Los Brown Berets de Colorado has continued aiding in the fight in Pueblo, CO for almost four decades to remove the Christopher Columbus statue.
The name Jesse Cedillo was also brought up. He was a 20-year-old Latino man shot and killed by Pueblo County Sheriff's Deputy Jeff Alfonso on March 14, 2020.
According to the Sheriff's Office's news release about the incident, a Pueblo police officer was investigating a carjacking and he saw "a vehicle matching the stolen car driving recklessly in the Downtown area." After a car-chase, the alleged stolen vehicle crashed into a light pole, and a foot-chase ensued.
"The suspect advanced toward deputies with a gun in his hand in the 300 block of Quincy Street. Shots were fired by a sheriff's deputy. The suspect was pronounced deceased at the scene."

Pueblo County Sheriff's Office News Release
The Sheriff's Office account is refuted by Cedillo's family members who watched the cellphone video a neighbor took of the shooting, where Cedillo is running out of an alley with his hands up above his head. Cedillo's family insists they do not see a gun in either of his hands.
The video, which is uploaded to YouTube, shows Alfonso standing at the end of the alley on the sidewalk, facing toward the alley. Two shots are fired before Cedillo comes into frame, and then eleven more are fired at him; at least five were shot after Cedillo was laying lifeless on the ground.
It becomes clear why Cedillo was running out of the alley after he is already shot dead by Alfonso, when four officers or deputies walk out of the alley where Cedillo just came out. Then six other members of law enforcement join, all standing near Cedillo, staring at him on the ground for 60 seconds, before one of them reaches down toward him.
Alfonso was placed on paid administrative leave while the shooting was investigated. District Attorney Jeff Chostner took into account the neighbor's video, Alfonso's body camera, and another neighbor's Ring Doorbell video.
Chostner believed that Cedillo did have a gun in his right hand, and therefore in late August 2020, Alfonso was cleared of any wrong-doing and found justified in murdering Cedillo.
You can watch the video here, however please consider the violent nature of the video before viewing.
---
Two Arrests, Possible Illegal Search and Seizures at First Rally on J20
Prior to the Brown Berets' rally at the Capitol, the Denver Communists and other groups rallied at Cheeseman Park at 11 a.m. According to the event flyers, the intentions were to "counter-protest Trump supporters" and to uplift and amplify the "fight for Black and Indigenous lives."
No MAGA-touting nor militant-Luau outfits were spotted, but there were at least 40 police officers, mostly in riot gear, waiting at Cheeseman Park for the rally attendees.
Redd from We The People 303 spoke with us about his experience Wednesday morning. He arrived near the rally at 11 a.m. and immediately noticed the large number of riot police, riot vehicles, unmarked law enforcement vehicles, etc.
He and a friend began walking on the park's grass, where in the background he saw police confiscating people's safety and protective gear such as helmets and shields. Redd began streaming on the We The People 303 Twitter account, and suddenly a handful of police walked aggressively up to him and his friend.
"When they approached, the first thing they spotted, they spotted my comrade who was wearing my backpack; my medic bag. So they spotted him with the medic bag and instantly started pointing and said 'Hey! We need that bag! You're gonna open that bag. We're gonna search that bag or you're gonna give it to us.' We were like, wait a minute, no, that's not how it goes."

Redd, We The People 303
Redd continued to tell us that his friend responded to the police that they were not going to give the bag over to search because it did not belong to them. At that point, Redd spoke up and said, "The bag belongs to me and you have no probable cause or right to search my property. I don't consent."
Right then, a sergeant approached Redd on his right side and tried to touch him. Redd told him not to touch him. The sergeant noticed small containers of mace on Redd, and demanded that Redd give them to him. Redd continued to assert his rights, and that everything he had with him was legal, and at that point, the sergeant said he was going to arrest Redd for interference.
Redd was arrested, searched three times, and put in the back of a cop car. He was initially arrested for interference, but once he got to the jail, the Sheriffs looked at the charge, and said they weren't going to charge him with that. They charged him with obstruction (equipment prohibited). He also notes that he was never read his Miranda rights.
The police then pulled Redd's medic bag off his friend and searched it. They also put handcuffs on them and patted them down. The police felt something on their belt, so they removed it, and noticed it was brass knuckles.
After an officer confiscated the belt with the brass knuckles, they let Redd's friend go, but not for long. Redd overheard a few officers discussing the brass knuckles and some were confused about who they belonged to. Finally they realized they were from Redd's friend, and the officer-in-charge told the others to arrest them.
Redd's friend was charged with possession of a dangerous weapon. Both were released on PR bonds a few hours later.
Three others were accosted by their vehicles. Two of them were temporarily detained, and two of the vehicles were searched. The police told the three that they were looking for someone with a firearm either strapped to their leg or chest.
---
Even though the U.S. federal administration is no longer under the rule of Donald Trump, inaugurating a new president, even if less overtly racist, does not undo everything Trump did, nor does it undo everything the U.S has done and continues to do. While some are relieved and overjoyed with President Biden and Vice President Harris, others like the Brown Berets say they will continue to push the government to truly be there for them and all other systemically marginalized and disenfranchised peoples.
---
How would you like to donate to Unicorn Riot?