Jay Kolls: False Reporting From George Floyd Square to D.C.
'Pointergate' Creator Turns Misinfo Cannon on Social Movements
Minneapolis, MN – After the deadly storming of the U.S. Capitol building on January 6, newsman Jay Kolls falsely reported "antifa" was involved in the violence. Kolls, a Twin Cities-based KSTP-TV (ABC) newsman, routinely becomes a part of the stories he reports. Before spreading lies about the D.C. riot, Kolls' colorful track record included the 2014 "Pointergate" hoax as well as stories attacking George Floyd protests on behalf of his police contacts.
Criticism of unaccountable corporate TV stations in the Twin Cities has intensified since last summer's George Floyd uprising. With downtown sports billionaire Glen Taylor's shuttering of 40-year-old City Pages last October, a skeptical alt-weekly media voice has fallen silent. Though we focus on Kolls and KSTP in this report, their lead competitor, WCCO (CBS), has often outraged communities in the Twin Cities as well. WCCO recently ran a softball interview with police union boss Bob Kroll as hard news without demanding proof for his conspiratorial claims about George Soros. They've also garnered criticism for buzzing tired neighborhoods with a low-flying news copter and giving airtime to participants in the violent January 6 Capitol event.
---
Amid this bleak backdrop of regional media decline, Jay Kolls' incorrect reporting for KSTP continues to misinform people.
In the most recent Kolls incident, he cited a security expert that falsely attributed the January 6 Capitol attacks to anti-fascists and linked to a discredited article published and since deleted by the Washington Times, a source long considered dubious by media analysts.
After Kolls cited Rozin Security as the source for his misinformation, the security company quickly clarified that they didn't stand by claims made by Kolls and were "working with KSTP to correct the story."
No. We are not sure if Antifa was involved in the event yesterday. We are working with KSTP to correct the story.

— Rozin Security (@Rozin_Security) January 7, 2021
Kolls has routinely used Rozin Security as a source in his reports. During the height of the 2020 unrest in Minneapolis after George Floyd was killed by police, Kolls used Rozin in his reporting. He claimed Rozin told him anarchists were shooting at police "trying to incite the police to shoot back and quite possibly create another tragic situation that would cause even more rioting and violence." Neither Kolls nor Rozin presented evidence of anarchists shooting at police, nor of anarchists seeking to deliberately cause someone to be shot by police.
After serving in the Israeli Defense Forces and working security for the Mall of America, Michael Rozin created Rozin Security. According to Jay Kolls, Rozin Security "employed dozens of former Navy SEALs, Army Rangers, Green Berets and CIA agents to protect companies and assist the government" during the uprising in Minneapolis. In November 2020, Intercept journalist Alleen Brown reported that although they aren't licensed in Minnesota, Rozin Security works "hand in hand" with the Hennepin County Sheriff's Office and other local law enforcement agencies.
The role of any journalistic institution, including Hubbard Broadcasting's KSTP, with its large reach in the greater Twin Cities media market, is to inform the public with verified facts. It hardly takes an investigative newsroom to ascertain the composition of the violent mob on January 6. Known neo-nazis, white supremacists, Proud Boys, and their fellow MAGA travelers were gloating during countless live streams and social media posts on Parler from inside the U.S. Capitol.
The attack on Congress stemmed from right-wing internet networks in which antifa was a central boogeyman, but local news also played a role in fostering a false narrative purporting that Trump supporters and America itself were under attack.
KSTP decided to run uncritical speculation pointing the finger at the exact opposite group of people from those responsible for the attack on Congress. Researchers monitoring the far right warned of well-documented plans for right-wing violence days before the events of January 6.
And here's what we have in Minnesota.

One of the most-watched TV stations in the state talked to one source, who says "some rioters inside the U.S. Capitol who used symbols and had tattoos which seem to be aligned with the ANTIFA movement."

That is all the audience was told. https://t.co/LI94ABT2Qd

— Mukhtar M. Ibrahim (@mukhtaryare) January 7, 2021
KSTP management, for their part, eventually issued an on-air apology and appended their digital article explaining that they "will do better going forward":
"This story was originally broadcast as a report focusing on the initial questions of security measures at the US Capitol. At the end of that story from reporter Jay Kolls, he quoted a recognized security expert, who said that it was "highly likely" that people who aligned with the antifa group may have been part of instigating the violence at the Capitol. For our part, we should not have reported that assertion without more context analyzing the claim.

This was not in keeping with the editorial standards of 5 Eyewitness News, and we will do better going forward."

– KSTP Editor's note on bottom of Jay Kolls article, 'Minneapolis security expert says protection of US Capitol surprisingly weak'
---
2014: Enter Jay Kolls' 'Pointergate'
This is not an isolated incident with KSTP-TV. In the past, the news agency has often run stories deemed damaging to communities of color. Last summer, KSTP reporter Beth McDonough asked a Muslim woman who was harassed by racist bikers what the difference was between wearing a hijab and sporting white supremacist clothing.
In the same vein of biased, misleading reporting, several stories from Kolls have been publicly proven false. Most notably in 2014, "#Pointergate" baffled Minneapolis when Kolls spread the unsubstantiated claim that former Mayor Betsy Hodges made a gang sign while taking a picture with a voter registration organizer.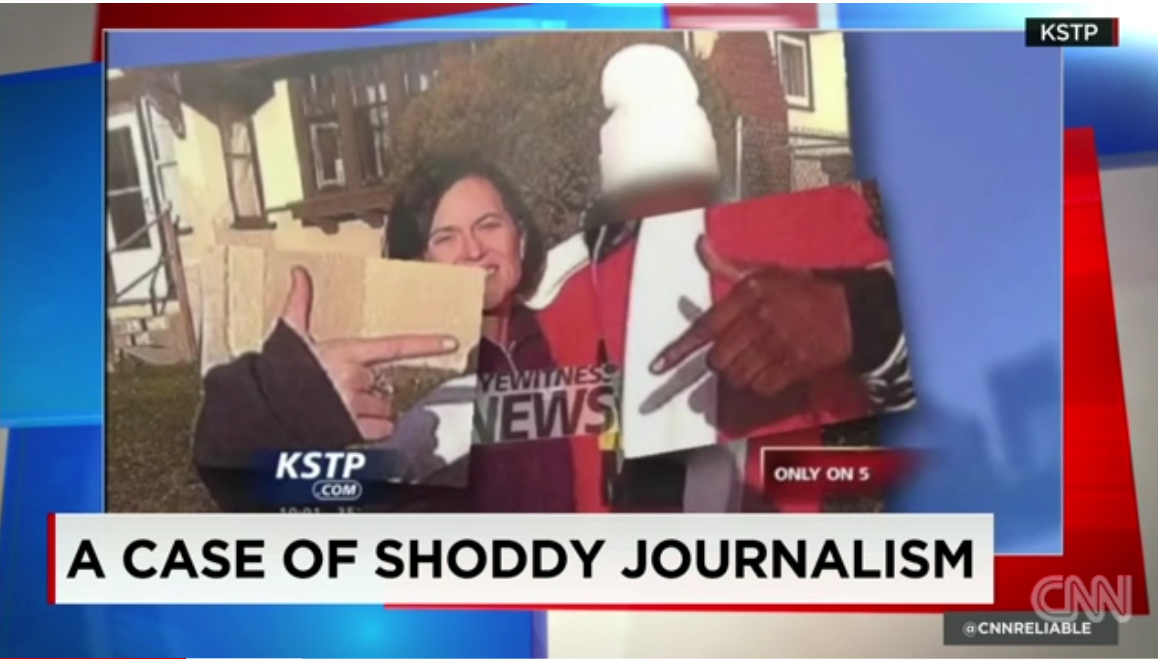 Police Federation President John Delmonico utilized Kolls to exact a political attack on then-Mayor Hodges, and when KSTP was confronted about their dubious reporting they took it further and ran a hit-piece on the North Side organizer who was framed in the story.
Initiated from "law enforcement sources," Twin Cities media analyst David Brauer determined 'Pointergate' was also pitched to the Star Tribune and WCCO, whom reportedly declined to run the story, seeing it "for the baseless political attack it was." Brauer added recently, "Everyone in TC media & policing knows Kolls is your go-to guy for this stuff."
Over the recent years, Kolls has catered to newer police federation presidents as well. In 2020, Kolls interviewed federation president Bob Kroll in June and in August on KSTP-TV. Both times, Kroll used the interview to spew hate and blame towards the police chief and elected officials. Kolls is often happy to function as a useful idiot for police unions and officers in exchange for leads.
This year, KSTP walked back Kolls' false claims about antifa at the Capitol riot — but amid nationwide scrutiny and jeers during #Pointergate in 2014, Hubbard Broadcasting management doubled down on their false claims.
---
2020: Kolls Compares George Floyd Square to Baghdad
In September 2020, Jay Kolls joined "Garage Logic," a podcast published by Hubbard Radio and hosted by ex-KSTP stalwart Joe Soucheray. During the podcast, Kolls spoke about protesters at Minneapolis' George Floyd Square (GFS) and presented ongoing protests as a perplexing, ineffable mystery which defied understanding. During the interview, Kolls explained that the Minneapolis Police (MPD) have been giving him internal police documents and have been trying to feed him a story on the square.
George Floyd Square (GFS) is a semi-autonomous zone encompassing four city blocks surrounding where Minneapolis police killed George Floyd. Since a couple days after Floyd's killing in late May 2020, GFS has been controlled by the community holding the space and focusing on two dozen demands they call the Justice Resolution.
Barricades block traffic flow at four intersections to keep the sacred space honoring George Floyd safe. GFS features a network of mutual aid initiatives that distribute supplies to community members and the unhoused. Hundreds of meetings, public gatherings, rallies and other events have been held in the Square since Spring 2020.
In his discussion of George Floyd Square on the "Garage Logic" podcast, Kolls seemed unable or unwilling to comprehend basic facts about the motivations of those maintaining the vigil site. His answers to Soucheray's questions on the podcast show how Kolls' whole purpose in reporting on George Floyd Square was to further police narratives.
Kolls said the story started from "two very good sources of [his] with the police department" who pushed him to do the report and offered to get him "some cases" and "documentation." After an assault on an auto shop owner happened in the area, a police source called Kolls and provided the alleged victim's name, business information, and phone number to set up an interview.
Kolls alluded a few times to internal Minneapolis Police draft reports. Documents in "draft" stage are not exempt from the Minnesota Data Practices Act: "public data contained in 'drafts' are accessible to the public", but in practice are even less accessible than completed police reports.
Kolls said he couldn't prove the autonomous zone existed until the "violent assault happened" and was only prompted to do the story about it after he got "video proof", a "guy willing to talk full face on camera about it" and also the "corresponding internal police reports about it."
"Two very good sources of mine with the police department started telling me about this zone a while ago. And I said how do I get at that story? How do I prove this is autonomous zone other than the barricades, and they said, let us work with you. We'll get you some cases where we can show you where we weren't allowed in. We'll work on getting you the documentation.

And one day one of my sources called me and said, okay, we just had a violent assault. The name of the company is this, the name of the business is this, here's the guy's name. He told us, he would talk to you if you can get to him. He wants to talk. And so that's what led me then to say, Okay, now we have this violent assault, we have video proof of it, we have the guy willing to talk full face on camera about it. We have the corresponding internal police reports about it. So it kind of just started with a tip that it existed. I couldn't really prove that it existed until this unfortunate incident happened."

– Jay Kolls on September 21, 2020, episode of Garage Logic
Kolls attempted only one interview with community members around George Floyd Square. He also implied that he was frightened to report from the vigil site, comparing visiting an intersection in Minneapolis to being in a war zone in Iraq.
Jay Kolls: "So I felt like I was going into, you know, a safe house in Baghdad just to try to get the interview, which it just was very surreal."

Joe Soucheray: "Welcome to urban America."

Kolls: "Yeah, it was like nothing I've ever experienced."
The interview Kolls did with a community member was prompted by his boss, the news director and executive producer, Kolls said. He said his boss told him, "we owe it to whomever is in charge down there with the citizens group to see if they'll give us their side of the story." After a producer left his business card with a person at the barricade, a KSTP interview with Marcia Howard was set up.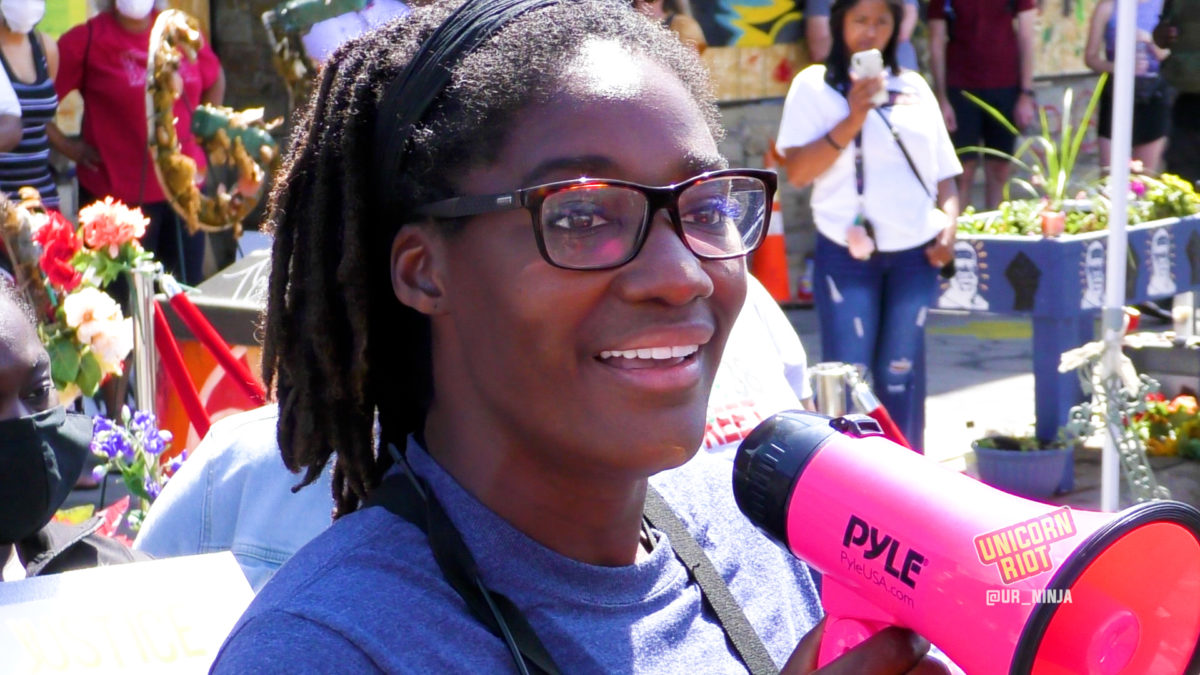 Howard is a fixture at George Floyd Square. A local resident and school teacher, she is part of the Meet on the Streets group that created the Justice Resolution listing the 24 demands of the GFS community. During the podcast, Joe Soucheray and Jay Kolls, both white men, continually demeaned Howard, a Black woman. Soucheray questioned, "What the hell is this woman? Who does she think she is?" and implied that Howard had declared herself "the self-appointed queen of this landlocked area."
Unicorn Riot asked Howard about Kolls' reporting and appearance on the Garage Logic podcast. Howard said GFS has no leader and the community runs it. She said it seemed that Kolls sought to "ridicule, or vilify" someone but she says, she's "just Ms. Howard, resident, black woman, and English teacher."
"I'm just a teacher who lives by the place the city killed a black man in public. I don't run nothing but my mouth.

All the residents who hold the space play a part in keeping it a sacred space. There isn't a 'leader' because it's not an organization. It's a community.

They want it to be a group with a leader so they'd have someone to impugn, to dismiss, to ridicule, or vilify.

I'm just Ms. Howard, resident, black woman, and English teacher. That's all I am."

– Marcia Howard
Howard has developed a large following on TikTok, where she regularly reports a counter-narrative of the happenings from inside GFS.
A month later, after Kolls ran a story claiming protests outside elected officials' houses were threatening their lives, a protest took place outside of KSTP-TV. During the protest, Toussaint Morrison of On-Site Public Media said KSTP's reporting is often dismissive to many communities of color.
"What we're dealing with right now, is subjectivity disguised as objectivity … white objectivity.

What you're doing is you're painting a narrative for white people to either feel comfortable or to feel fear. And you do not care about the Black communities."

– Toussaint Morrison, during rally outside KSTP in October 2020
After years of misleading reporting, Kolls, KSTP, and Hubbard Broadcasting continue to spread fallacies under the cover of journalism. Meanwhile, calls for accountability, including demands on social media to #FireJayKolls, continue to grow in the new year.
Cover art by Dan Feidt, featuring Creative Commons pointers from TheNounProject, based on Andy Warhol's Mao Portfolio.
---
Follow us on X (aka Twitter), Facebook, YouTube, Vimeo, Instagram, Mastodon, Threads, BlueSky and Patreon.
Unicorn Riot's George Floyd Coverage: