A Look Inside Minneapolis Federation of Teachers Local 59 as they Gear up for Strike
Minneapolis, MN – Education Support Professionals and Minneapolis Federation of Teachers have rallied over the course of months and have had bargaining information sessions going back till August 2021. Today, March 8, 2022, they go on strike.
On Martin Luther King Jr. Day ESP and MFT union members gathered around the Peoples Plaza (Hennepin County Government Center) to lay out the Contract Bargaining Priorities, which include "more mental health supports, affordable quality health care, to support and retain educators of color, competitive pay, etc."
The crowd of people were mostly made up of teachers and ESP's including Brenda Johnson who spoke at the rally. Many speakers would follow, expressing the need for a fair living wage for teachers, one speaker even drawing inspiration from Martin Luther King Jr. himself.
"Let us rise up tonight with a greater readiness. Let us stand with a greater determination. And let us move on in these powerful days, these days of challenge to make America what it ought to be. We have an opportunity to make America a better nation."

Martin Luther King Jr. – "I've Been To The Mountaintop" Speech
We caught up with Brenda Johnson after the rally.
"Good afternoon. My name is Brenda Johnson, and I am a educational support professional of 29 years. I currently provide support to families and communities at the Hennepin County Jail for our students and family that come through that system. So today we're here to rally. We're here to rally on behalf of the educational support professionals. In the city of Minneapolis. We have partnered with SEIU, we have partnered with the labor movement, Minneapolis Regional Labor Federation, all of our teachers, we need a livable wage, not tomorrow. Not yesterday, but right now, our administration has gone completely crazy. Okay. And so when we fight, we win. This is on the backs of our children, the administrators are getting more and more money, they're getting richer and the frontline people are getting poor. They can't, we can't pay their mortgage, their rent their car payment. And we show up every single day, ready to work with our students and families. So we're here today at Park Avenue at the Plaza. Um, to make a statement. We are in contract negotiations and there's no movement. There's no movement in the contract right now. So we are preparing for that word called Strike."

Brenda Johnson (ESP)
At the MFT headquarters, teachers and ESP's prepared for the coming strike.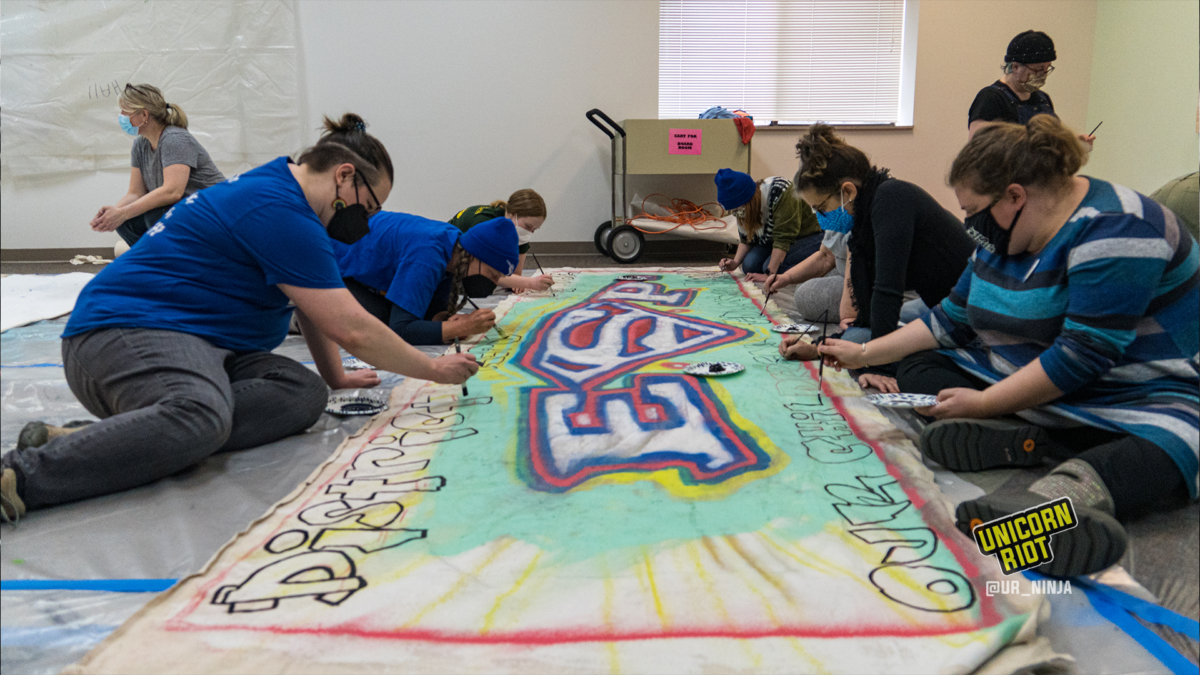 The district in St. Paul has reached an agreement with the St. Paul Federation of Educators Local 28.
Minneapolis Federation of Teachers Local 59 plan to strike today in order to reach contract agreements soon.
Follow us on X (aka Twitter), Facebook, YouTube, Vimeo, Instagram, Mastodon, Threads, BlueSky and Patreon.
Please consider a tax-deductible donation to help sustain our horizontally-organized, non-profit media organization: