All We Know About Mayor Frey's Connections to the $250 Million Food Aid Scandal
Minneapolis, MN – Minneapolis Mayor Jacob Frey has several connections to the Feeding Our Future food scandal, with his senior policy aide among the primary players named in recent indictments.
On Monday federal charges were announced against the 49th defendant allegedly involved in stealing nearly $250 million from the low income child food aid program. Included in the list of defendants are three people directly connected to Mayor Frey: his senior policy aide, the board chair he appointed to the Minneapolis Public Housing Authority (MPHA), and a member of the mayor's newly formed community safety workgroup, another one of his appointees.
Frey's three appointees are not the only people in the alleged scheme tied to him. Community activists are calling for a thorough investigation that doesn't stop with the 48 East African immigrants and one white person indicted so far.
"We are always quick to investigate whether or not Black folks are doing right by the community, but white folks get a pass for coming into our communities harming Black and brown people and are not being held accountable," said Angel Smith-El, an activist of 14 years who got her start at the Welfare Rights Committee fighting for food access for children and single mothers. "What about the white systems and the white folks in power who allowed for this to happen and profited from it? Are they not responsible too?" Angel asked, in remarks to Unicorn Riot.
---
The Alleged Mastermind
In 2018, the nonprofit Feeding Our Future (FOF), headed by now-indicted Aimee Bock, received $307,000 in federal food aid for meals to be distributed to low-income children throughout Minnesota. By the next year the nonprofit's program funding increased tenfold to $3.45 million. Funding for the organization increased even more dramatically in 2020 during the pandemic, to a massive $42.7 million, after several of FOF's contractors each claimed to feed thousands of children per day. This caused the Minnesota Department of Education (MDE), which reallocates federal money designated to child nutrition programs to school districts and nonprofits, to flag FOF for suspected fraud.
In 2020, MDE reported the "unexplained growth" of Feeding Our Future sites to the USDA and started denying their applications.
Bock intervened after the state denied Safari Restaurant's application, one of FOF's contractors, to participate in the food distribution program, citing a federal policy against approving new sites.
U.S. Attorney Andy Luger said this scheme began with Aimee Bock, the only white person indicted in the nation's largest pandemic-related scandal. Bock maintains she had no knowledge of money laundering and that she was only targeted because she works with minority organizations.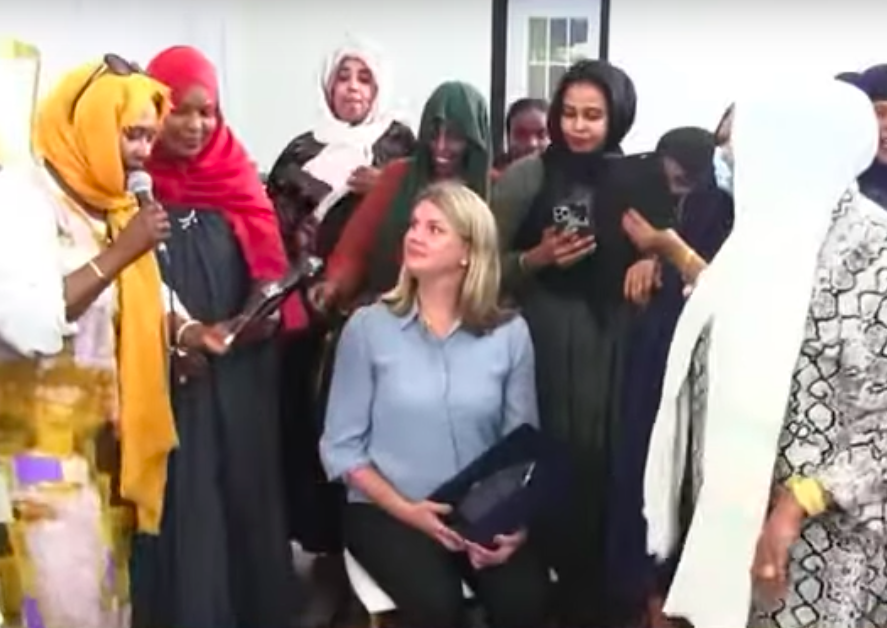 In April 2021, MDE denied the rest of FOF's applications due to "serious deficiencies" with Feeding Our Future, citing improper internal auditing and lack of accounting for FOF's rapid growth—allegations that the nonprofit denied and fought in court.
Feeding Our Future sued the state for refusing to process applications and cited racial discrimination against their minority contractors. However, funding continued flowing to Safari and other sites via FOF while they battled it out in court.
That same month, a settlement was reached in a Ramsey County court. That's when MDE said it reached out to the FBI. A federal investigation began the following month.
In 2021, Feeding Our Future and its more than 100 contractors received a ghastly $197.9 million in federal funding. Of those 2021 funds, $18 million were designated as administrative fees and consulting fees. After several raids, the FBI alleged that very little of the close to $250 million federal child nutrition funds actually went to feeding children.
Bock is charged with conspiracy to commit wire fraud, wire fraud, conspiracy to commit federal programs bribery and federal programs bribery.
Activists are also calling for investigations into Mayor Frey, who met with MDE to lobby on behalf of FOF after the state flagged them for fraud.
---
The Mayor's Meeting
Bock said in an interview with the Star Tribune soon after her home and organization was raided by the FBI on January 20, "Political leaders have been watching the way MDE is treating Feeding Our Future and, more importantly, the communities we serve. And they have been intervening and asking the questions that needed to be asked."
According to the DOJ, MDE received "false assurances" from unnamed parties on behalf of Feeding Our Future after the Department "attempted to perform necessary oversight regarding the number of sites and amount of claims being submitted [by FOF]."
After MDE halted payments to FOF, Mayor Frey personally met with Education Commissioner Heather Mueller and advocated for the release of funds to continue the operation.
"Frey was provided with a list of talking points that came from the woman at the heart of the alleged conspiracy," to make the case to continue federal funding, according to the Star Tribune.
The Tribune reported that Bock sent an email on April 29, 2021 to Frey's senior policy aide, Abdi Salah, "containing the text of a proposed City Council resolution that questioned MDE's commitment to minority children and business owners… Salah [then] sent the proposal to [council member] Osman, who offered to introduce it at an upcoming City Council meeting, records show." According to the Tribune, "Osman's version of the resolution is almost identical to Bock's initial proposal."
---
The Mayor's Men Involved in the Scam
Three of Mayor Frey's appointees were federally indicted last week on charges ranging from bribery, wire fraud, money laundering and conspiracy.
Abdi Nur Salah, a former senior policy aide to then-Council Member Abdi Warsame, moved up the City Hall ranks into the role of Frey's senior policy aide in 2018. His tasks included: leading initiatives in transit, education, public works, elections and economic development.
In 2020, Salah acquired the nonprofit Stigma-Free International, an organization at the center of the scandal, from its founder, City Council Member Jamal Osman, who holds former Council Member Warsame's old seat. He also founded Stone Bridge Development, which absorbed $900,000 of fraudulent funds during 2021. Additionally, Salah and an unidentified business partner allegedly used $386,000 from Stone Bridge Development to purchase an apartment building in South Minneapolis.
Salah was fired on February 17, the exact same day it was made public that he co-purchased a home with fraudulent funds.
Abdi Salah is the brother of the co-owner of Safari Restaurant, Abdulkadir Nur Salah, also charged in the scheme. Safari, which prosecutors allege received more than $16 million in federal funds, claimed it was serving 6,000 meals daily to low income children. Safari owners financially supported Mayor Frey's re-election campaign.
34-year old Abdi Salah is charged with conspiracy to commit wire fraud and conspiracy to commit money laundering.
He has pleaded not guilty to all charges.
Sharmarke Issa was appointed by Frey to chair the housing authority in 2019 and reappointed in 2021. Issa championed former council member Warsame for the CEO position of MPHA, a position he still holds. Issa resigned from the MPHA in February after the FBI raid was made public.
The 40-year-old Edina resident founded the company Minnesota's Somali Community and was the manager of Wacan Restaurant LLC. It's alleged that Issa used these businesses to embezzle $7.4 million in federal child food aid. With that money, prosecutors claim he purchased a $390,000 four-unit apartment complex in South Minneapolis with Salah, Frey's aide at the time.
Issa is charged with conspiracy to commit wire fraud, and money laundering. He has not yet entered a plea.
Abdikadir Ainanshe Mohamud was appointed by Frey to the newly created Minneapolis Community Safety Workgroup. The workgroup provided recommendations on public safety, including strategies for having more oversight over the Minneapolis Police Department.
Mohamud owns several companies named in the scandal including a security company called T H Security Group, one of the reasons Frey said he appointed Mohamud to the workgroup.
Mohamud managed the Stigma-Free Willmar site, which allegedly stole more than $4 million. (Willmar is a regional center west of Minneapolis; due to its meatpacking plant it has attracted immigrant workers for decades.) This site alone reported serving 1.6 million meals to children – close to 2,000 a day. The FBI states that money can be traced to the purchase of a $2.8 million Minneapolis mansion to use as an office building.
The 30-year old Fridley resident is charged with conspiracy to commit, wire fraud, conspiracy to commit federal programs bribery, and conspiracy to commit money laundering.
Mohamud has not entered a plea.
None of the men hold positions with the city any longer.
---
The Mayor's Spouse's Connection to Aimee Bock
Jacob Frey's wife, Sarah Clarke, worked as a lobbyist for Hylden Advocacy & Law, a firm headed by Nancy Hylden, one of the counsels who appeared with Aimee Bock in federal court last week.
Hylden is also listed as a paid lobbyist on a Somali Museum founded by Osman Ali, according to documents, a project that has yet to come to fruition.
Clarke left Hylden's firm in January when the investigation took off, after federal search warrants were executed on Bock's home, FOF and its various affiliates. Clarke's exit was abrupt and without explanation, leaving observers to speculate.
---
The Mayor's Re-Election Money
The federal indictments failed to list political contributions as part of the misappropriated funds from the child food aid scandal.
According to the Sahan Journal, the Minnesota news organization that first broke the story on this massive food fraud scheme, "At least eight people named in the indictment donated $1,000, the maximum allowable contribution, to Frey's 2021 mayoral campaign."
According to campaign finance records, Abdulkadir Nur Salah, Salim Said, Abdihakim Ali Ahmed, Ahmed Ghedi, Abdikadir Mohamud and Abdinasir Abshir, all federally indicted, each contributed $1,000 to Frey's re-election campaign, which is the maximum amount allowed under state law. They are six out of at least eight criminal suspects who donated to Frey in 2021.
Frey is not the only politician who received funds tied to Feeding Our Future defendants. In February, Congresswoman Ilhan Omar (DFL-MN CD6) donated the campaign contributions she received from FOF to food shelves. State Senator Omar Fateh (DFL-Minneapolis, SD62) and Attorney General Keith Ellison (DFL) also returned the donations they received from the men implicated in the scandal.
According to Frey's campaign office, all money connected to the Feeding Our Future scheme will be given back to the federal government to be used as it was intended.
It is unknown if any federal food funds went to political action committees (PACs), which can receive unlimited contributions from individuals and companies, due to federal rules that allow donors to hide their identities and affiliations with PACs.
---
Frey's Guy, Andy Luger
At this point it is still unclear how complicit Mayor Frey was in enabling thousands of fraudulent dollars to find its way into his re-election campaign account, and many fear that a thorough investigation won't take place due to his friendship with Luger.
On April 22, Frey celebrated Luger's reappointment with a photo of the two men in a tweet: "Congrats (again) to my friend, Andy Luger, as he takes his second run as Minnesota's U.S. Attorney! A true partner in the pursuit of justice." Luger is on his second stint as U.S. Attorney for Minnesota (he was also appointed by former president Barack Obama in 2014).
North Minneapolis filmmaker and activist, D.A. Bullock, wants answers to Frey's relationship with Luger, tweeting: "A journalist should ask them how close their friendship is and the timeline of their discussions about this case."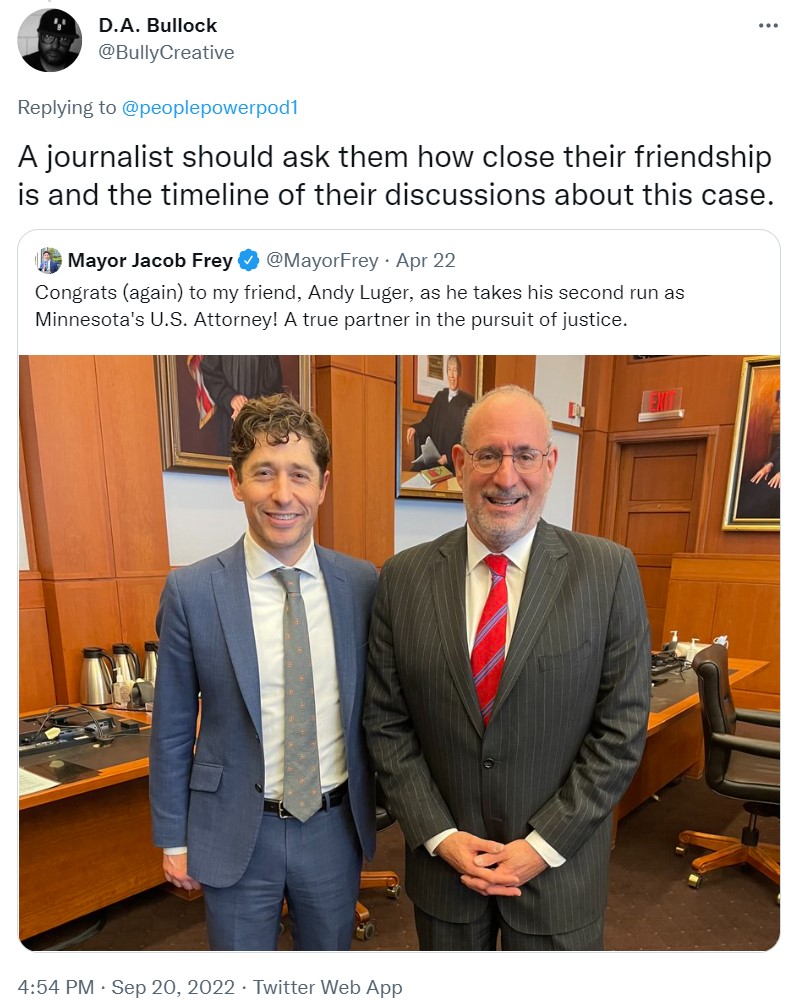 According to the mayor's office in a statement given to the Reformer, kudos were offered to Luger, stating, "We are grateful to U.S. Attorney Luger for his work on the case. The allegations are appalling."
Just months ago, Luger represented the City of Minneapolis while working for America's 8th-largest law firm, Jones Day, which is deeply linked to Donald Trump. Minneapolis hired Jones Day to fight the merits of the Minnesota Department of Human Rights' scathing report citing sweeping human rights violations by Minneapolis police against Black residents and its recommended consent decree. (Jones Day did similar work for the City of Chicago, and more than 4 gigabytes of city emails were leaked and published by the transparency collective Distributed Denial of Secrets last April.)
Unicorn Riot attempted to reach out to Frey and Luger's offices to inquire into the investigation and their relationship, with no success.
"The community needs transparency and an investigation into MDE, Bock's friends and family, and Jacob Frey all need to happen. But the real thing is everyone should have access to safe and healthy food," said community organizer Angel Smith-El. "With the high cost of food we should have a government that is giving people access so no one goes hungry. There shouldn't be opportunities for businesses and nonprofits to gatekeep money and absorb resources for years and years without it ever reaching the community. We need to demand that $250 million makes it directly to the community."  
More Details Tying Elected Officials to the $250 Million Federal Food Aid Scandal – But Will They Be Protected From Investigation?
Karissa Stotts is a southside Minneapolis resident, educator, youth worker, and freelance journalist. She organizes with Twin Cities Coalition for Justice for Jamar (TCC4J) and Families Supporting Families Against Police Violence (FSFAPV) around community control of the police and justice for impacted families.
---
Follow us on X (aka Twitter), Facebook, YouTube, Vimeo, Instagram, Mastodon, Threads, BlueSky and Patreon.
Please consider a tax-deductible donation to help sustain our horizontally-organized, non-profit media organization: