Richmond Starbucks Workers Protest Supervisor Placed in Store After Sexual Assault
Richmond, VA – At 10:30 a.m. on Aug. 1, Starbucks partners at the Willow Lawn mall location formed a store-wide labor action known as a "March on the boss," seeking accountability and transparency from management for transferring a supervisor into the store after Starbucks was aware he had sexually assaulted a partner at a different store. The retailer employed him at Willow Lawn Starbucks both during and after his trial, where he pleaded guilty to aggravated sexual battery.
This labor action comes amid heightened scrutiny of Starbucks labor policies, and a wave of over 170 open National Labor Relations Board cases against Starbucks for various anti-union threats and labor violations since Aug. of last year.
Supporting the worker action were various members of the community including Chesterfield County Public Schools United, United Campus Workers of Virginia, Richmond Democratic Socialists of America, members of Starbucks Workers United from other local stores, and other miscellaneous community members.
One Starbucks partner stood in front of the counter and began to speak to the store. "For the next five to ten minutes we are going to be stopping operations, and we are going to be forming a march on the boss. We are going to be discussing sexual assault so trigger warning. If you need to leave, please leave, and we'll give you a minute to get out," they said.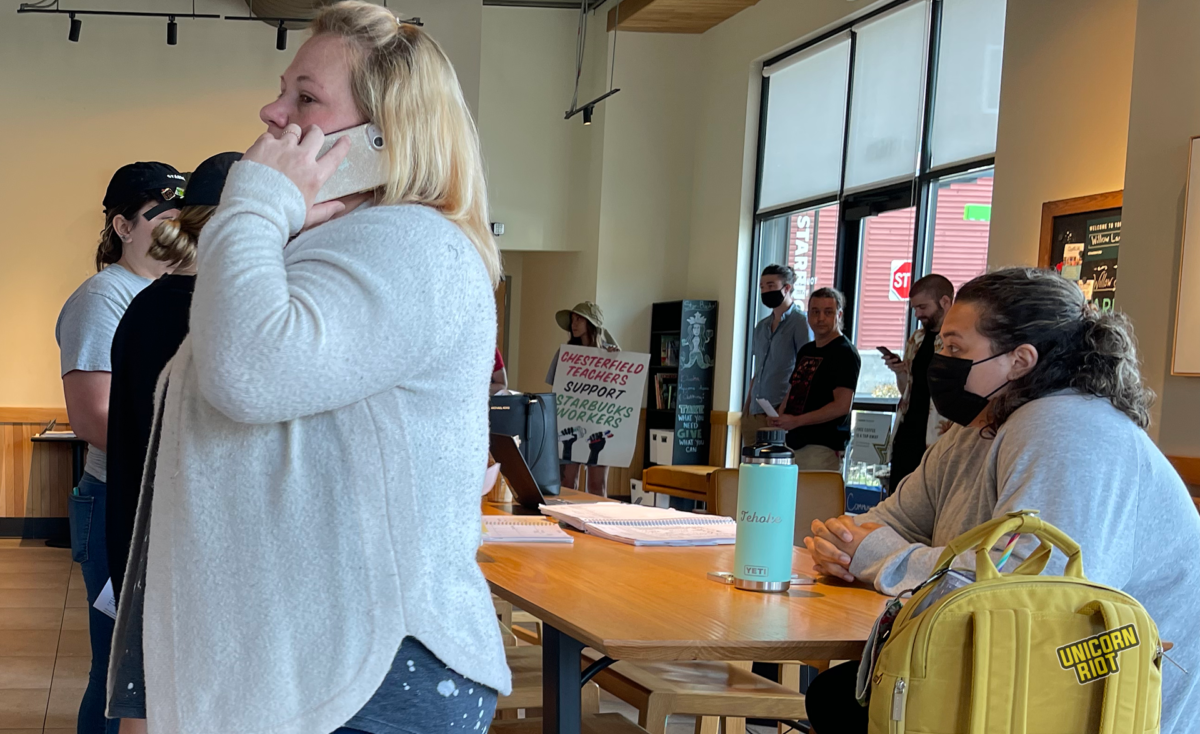 Within minutes the Willow Lawn Starbucks store manager, Kristen Barron, was arguing with Starbucks partners. "We have a right to act with co-workers to address work related issues in many ways," said one partner. Barron pulled out her phone and began calling one of her superiors. "So they want to sit here and ridicule me, in my store right now," said Barron, still on the phone. "Listen, it's not about you, this goes higher than all of us," said the same partner.
With that, the manager walked out of the store, leaving her belongings on a table in front of where the planned speakers had gathered. While everyone waited for the manager to return, partners headed outside to explain the shutdown and delay, and one of the partners began live streaming on Instagram and explaining the situation in the store.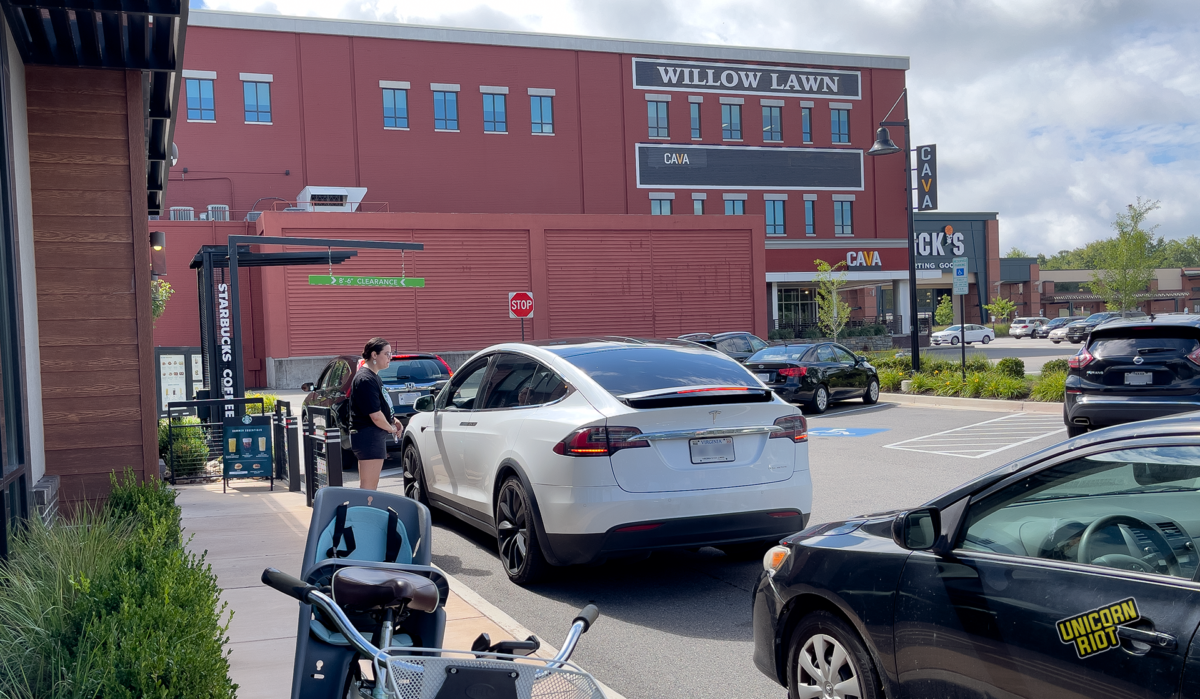 To protect the identity and privacy of the victim, Unicorn Riot is using the pseudonym granted by Vice-Motherboard in their article from May, Claire. Unicorn Riot is not publishing the name of the man who assaulted Claire in order to preserve her privacy.
Claire was a barista at the Starbucks in Ashland, Virginia, when she was sexually assaulted by her shift supervisor in his home. Claire reported the assault to the Henrico County Police Department, but the perpetrator continued working at that Starbucks in the days leading up to his arrest.
As per the terms of his bail, he was not allowed to continue working at the same Starbucks as Claire, so the district manager transferred him to the Willow Lawn Starbucks in Richmond, Virginia. Claire began skipping work to deal with the trauma and was fired for irregular attendance on Nov. 11, only nine days after she reported her assault. The man who assaulted her was arrested for sexual battery, yet he remained employed at Starbucks. Starbucks' reasoning behind continuing to employ him was that he had declared his innocence.
"Starbucks, in my experience, … everytime there is some kind of issue with management or partner safety Starbucks basically adopts the same model as the Catholic Church, where they move the store manager, move the district manager, to a location where people don't know about the issues and replace them with someone else. So Salina [Fisher-Guy], the district manager who was involved in this situation in this store, has been transferred to a different district and we have a new district manager brought in to largely try to sweep the entire situation under the rug."

– Willow Lawn Starbucks partner Kate Eads
Due to the supervisory position of the man who assaulted Claire at Willow Lawn Starbucks, he held a key that he used to open the store throughout his bail, trial, and sentencing. All the while Willow Lawn Starbucks partners were left unaware of the fact that they were working with a sexual predator. A Starbucks spokesperson, Reggie Borges, denied that the man who assaulted Claire had a key during his time at Willow Lawn Starbucks and told Motherboard that he was "never scheduled as the only keyholder to open or close."
"Yeah, [the] official response was that he did not have a key, and all the way up to his very last shift, he opened," said Meghin Martin, a Starbucks partner at Willow Lawn, "His very last shift, he opened and he had a key. Just a week before he was fired, he opened with me. I remember it because he was 30 minutes late," they said.
According to Vice-Motherboard, "On April 14, Starbucks finally terminated the worker who assaulted Claire, five weeks after his guilty plea and after the court ordered that he register as a sex offender with Virginia state police." He worked as a shift supervisor at the Willow Lawn Starbucks for five months, and multiple partners at that location said that he sexually harassed them during his time at the store.
"Partners were harassed on the floor by [the man who assaulted Claire]. On more than one occasion he told baristas what porn they should star on, said darker women were easier, would get uncomfortably physically close to baristas, and he consistently targeted younger baristas. We are a store of about 27 partners and they put us all in danger and Starbucks set up [the man that assaulted Claire] to prey on more potential victims."

– Willow Lawn Starbucks partner Meghin Martin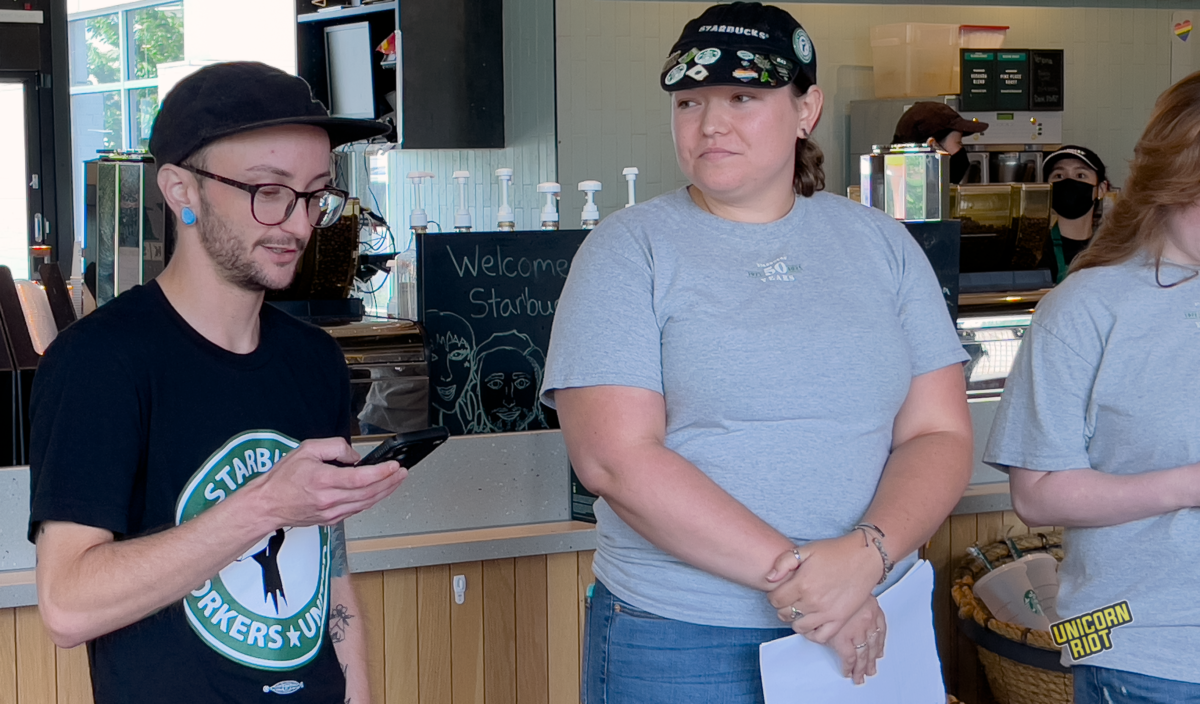 During this time Willow Lawn Starbucks workers were not informed about the pending investigation or the fact that they were working alongside someone who had been arrested and charged with sexual assault.
According to Willow Lawn Starbucks partners, a few days before his firing, the man who assaulted Claire told another partner that he had been in jail during the two weeks that he had been absent from work, telling the partner about the Starbucks investigation and bragging about his time in jail and how supportive the other inmates were. On the day that the man who assaulted Claire was fired, this partner informed the organizing committee of the Willow Lawn Starbucks Workers United which led to them finding his court records. When a friend of Claire's picked up a shift at the Willow Lawn Starbucks, they told them part of the story as well as got them in contact with Claire, leading to their first letter to Starbucks.
"Our district manager that transferred him in, as soon as we sent the letter, she transferred out. … She never showed face in here ever again. Our store manager has been lying to us. She says that she was not really involved and that she tried to keep us safe. He had a key and was opening up the store all the way until his last day, he was working one on one with … minors. They both have said that they tried to keep us safe. There is no way. There is no way to keep us safe when that is hidden while he was here," said Martin.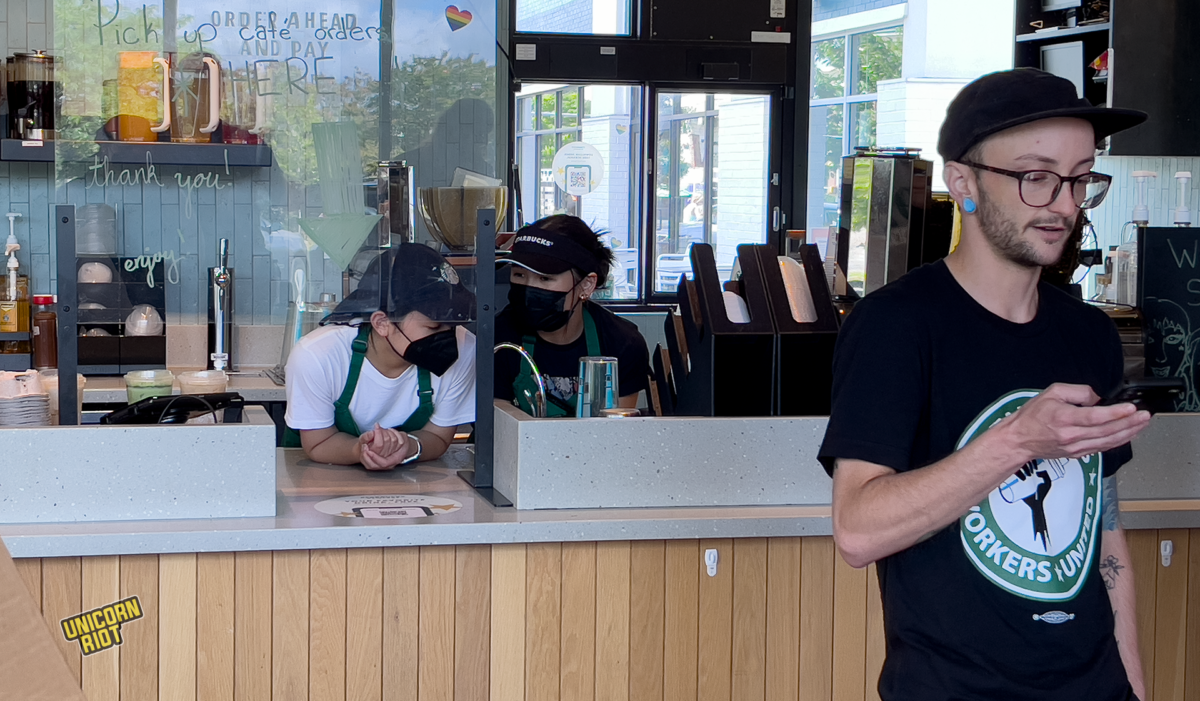 The Willow Lawn Starbucks was among the first five Starbucks to unionize in the state of Virginia, and among those five it was the only location to vote unanimously.
"We started talking about unionizing in December. It always seemed like Starbucks was two weeks behind us when we were unionizing. … Our manager tried union busting, but she was a little farther behind and so we were able to stay in front of her. I think that's why we got a unanimous vote.

"There have been some thoughts that the situation with [the man who assaulted Claire] coming in here could have been involved [with union busting], they were just too busy with union busting to even look into his internal investigation. They said that they had to wait until the investigation with police [was] over for them to finish theirs, and he plead guilty, but he stayed working with us for like a month after that."

– Willow Lawn Starbucks partner Meghin Martin
---
National Union-Busting, Safety Concerns at Other Stores
Starbucks' union busting efforts across the country have led to many union organizers being fired or having their hours cut. Starbucks made the decision to offer certain benefits to only stores that have not unionized. This decision comes directly from Howard Schultz, only a month after he returned to the company as interim CEO in April of 2022. A major priority for most Starbucks union organizers has been meeting with corporate at the bargaining table to establish better health and safety measures, as well as increased wages and benefits, among other issues.
There have been several other incidents similar that of Claire and the Willow Lawn Starbucks across the country, including an incident in 2020 where a 19-year-old female barista was sexually harassed by a regular customer. Her case and several other similar cases of sexual harassment and assault have resulted in lawsuits against Starbucks for failing to protect their employees against predatory customers and coworkers. Some of these cases have involved workers being harassed by customers, but many are employees dealing with sexual misconduct from their own coworkers. In almost all of these incidents, employees reported that management ignored their complaints, or refused to do anything about the situation, and oftentimes victims were fired or had their hours severely cut within weeks of reporting that they were harassed or assaulted.
---
After about 15 minutes the Willow Lawn Starbucks manager came back into the store. As she headed for the table in front of the speakers to collect her belongings and leave. "I'm going to start reading the letter Cristen," said one of the speakers. "Well, I'm leaving so, nope," Barron replied, as she packed up her laptop, spilling a pile of papers intended for her bag onto the floor. As she walked out of the door, the partners continued reading their letter to management.
The Richmond workers' letter (PDF) and other letters are available online as well.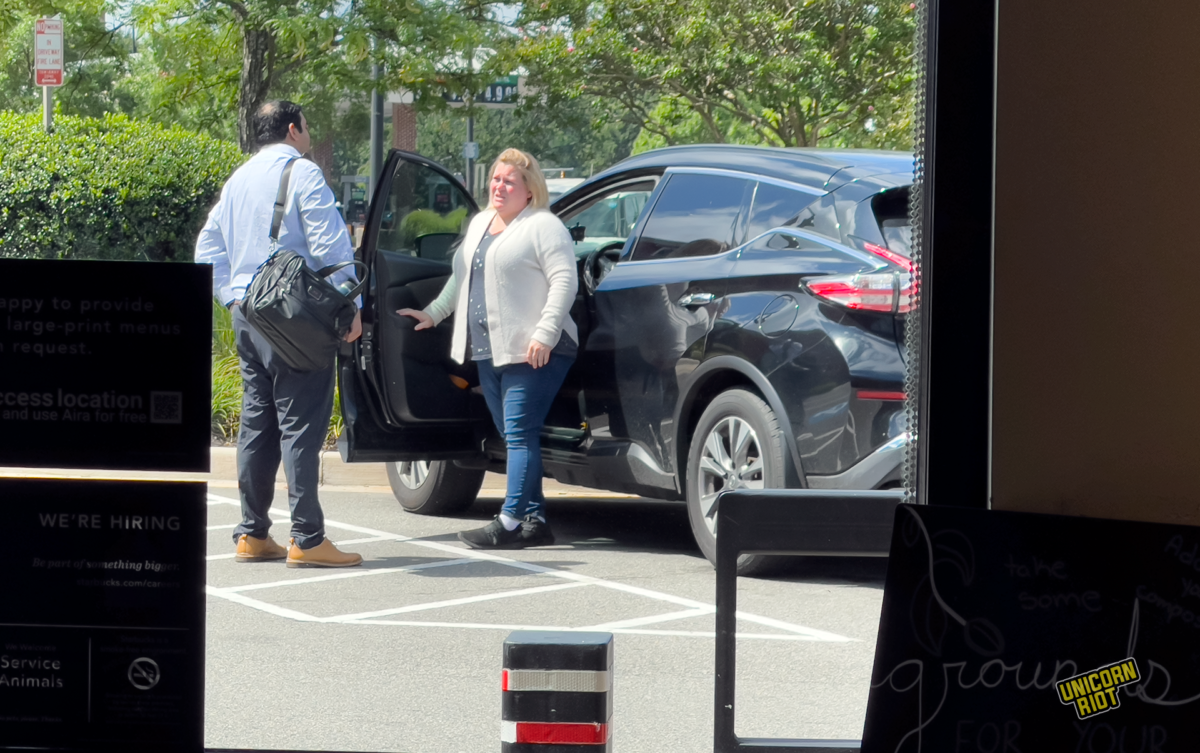 Both during and after the action, Barron was meeting with the new district manager for the store, Rajiv Bhatnagar, in the parking lot outside. Both declined to comment.
Despite exclaiming that she would quit, Barron has not resigned and has been on personal leave since the march on the boss. On Aug. 16, Starbucks Corporate sent Partner Relations personnel to the Willow Lawn Starbucks for individual meetings.
In a letter to their supporters, Willow Lawn Starbucks partners said,
"The purpose of these meetings is to attempt to intimidate and bully our baristas into acknowledging guilt over the action we performed earlier this month. Our union is stronger than these individual meetings, and we will not be threatened by these transparent intimidation tactics. Our March On The Boss was a legal, unanimous, concerted effort performed by members of our union, and we know better than to be bullied into believing otherwise."

– Willow Lawn Starbucks partners' letter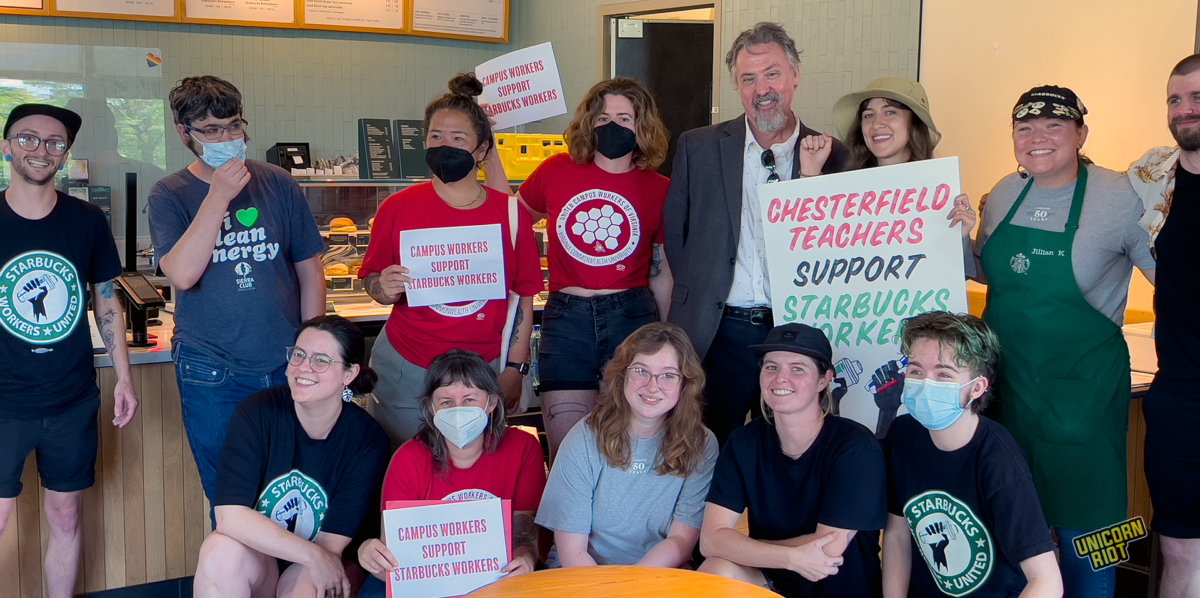 After the letter reading, one of the speakers spoke privately with Unicorn Riot about their goals surrounding this situation.
"The ideal resolution would be to see policy changes about someone that shows workplace violence. They should not be able to transfer in into another store, especially if we have somebody that is accused of sexual harassment or sexual assault… seeing Selina face repercussions, seeing the victim reinstated… We want to get her back-pay, because every layer of this story that we uncovered is just more sickening than the rest.

"To Starbucks; we are going to hold on to this, this is a trauma that is not going to escape us and we have found empowerment in using our voice and we are going to continue doing that. We are not going to stop until we see policy changes, until we meet at the bargaining table and we are taken seriously. We will continue fighting to get the victim reinstated. We will continue fighting for Selina to face repercussions. This is not the last time that we are going to write a letter, this is not the last time that we are going to stand up to management. I'm sure Starbucks, you'll be hearing from us a lot more often."

– Willow Lawn Starbucks partner to Unicorn Riot
So far, Starbucks Corporate has not responded to partner and union concerns at the Willow Lawn store. Workers organizing under the SBWU have continued to attempt to resolve this situation. Starbucks did not respond to requests for comment on the situation at Willow Lawn.
Cristina Panagi is a freelance writer, activist, and content creator from New York City. They are one of the cohosts of the Roma Unraveled Podcast, and their work focuses on human rights and anti-imperialism.
Jaume Plumb-Planas was born in Charlottesville, VA, and is an advocacy journalist and activist. He is the Assistant Editor of the Piedmont Forum and his work has appeared in People's World and Unicorn Riot. His family is from Catalonia and was active in the Catalan Culture revival movement after the end of the Falangist regime in Spain.
---
Please consider a tax-deductible donation to help sustain our horizontally-organized, non-profit media organization: