Despite Widespread Mistrust, Minneapolis PD to Fly Surveillance Drones
Warrantless surveillance takes flight — Over 2,200 police drone flights in 2021 statewide — only five in which warrants were sought ahead of time
Minneapolis, MN – The Minneapolis Police Department (MPD) "has decided to use drones," explained a representative of the Department at a Public Health and Safety Committee hearing on August 10th. This decision was sprung on Minneapolitans and their representatives at City Council without notice nor many options to object. The proposed policy that could govern the use of drones by Minneapolis police is "porous," according to Munira Mohamed of the American Civil Liberties Union (ACLU) of Minnesota. Mohamed explained to Unicorn Riot that there are so many loopholes and exceptions to the policy that "it gives police all the discretion."
Formal public comment sessions prior to police deploying new technologies, like drones, are required under state law thanks to lobbying by the ACLU of Minnesota. However, these listening sessions are just that – an opportunity for community members to comment – and are not followed by any official voting nor approval process. The Minneapolis City Council, therefore, will not be voting whether or not to permit the police department to use drones — that's clearly already been decided.
The public comment period on the 24th will likely be the only formal opportunity for concerned residents to voice their opinions on surveillance drones even if the MPD wants to acquire more drones, new models or make alterations to the program in the future, since just one preliminary hearing is mandated.
---
"Exceptions swallow the rule"
While the proposal includes provisions banning facial recognition, for example, the current policy is quite weak and leaves the door open for police to have virtually free rein to use drones however they please. This dynamic is largely due to state regulations which have been decried by activists as having far too many exceptions to warrant requirements.
Chris Weiland of the group Safety Not Surveillance explained that "exceptions swallow the rule," meaning that police in Minnesota are required to apply for warrants when seeking to fly drones unless that flight falls under one of nine categories listed below.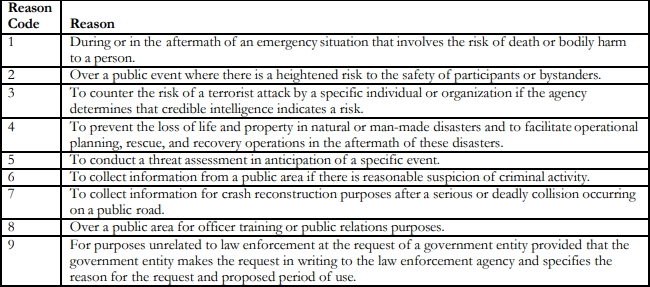 The data corroborates Weiland's assertion. According to the BCA, "In 2021, Minnesota law enforcement agencies reported a total of 2,265 UAV uses without a warrant. That is up 93.4% from the 1,171 reported in 2020." The SCAO report covering the same timeframe reveals, "four UAV warrants were granted and one UAV warrant was denied." The previous year's SCAO report indicated that zero warrants were applied for prior to law enforcement drone flights.
State law passed in 2020 requires these annual disclosures. The Bureau of Criminal Apprehension (BCA) compiles a report on law enforcement agencies that have deployed drones, tracking the reasons for each flight, expenses and other information. The State Court Administrator's Office (SCAO) publishes the number of times agencies applied for warrants prior to a drone taking flight, and the types of investigations in which they were used. According to the SCAO report, two drone flights in 2021 were categorized under "Assault" and two under "Fugitive of Justice" cases.
The proposed policy set forth by the Minneapolis Police Department mirrors these weak statewide regulations. Of particular concern to activists is the provision that explains that the MPD shall not fly drones above protests or "public event(s)" unless "there is a heightened risk to the safety of participants or bystanders."
Furthermore, the proposed policy explains that "vision enhancement technology" such as infrared or night vision can only be used "where there is no protectable privacy interest." That prohibition, which functionally is not prohibitive, means that any public space is fair game since the U.S. Supreme Court has ruled one does not have a reasonable expectation of privacy while in public (the concept was created in Katz v. U.S., 1967).
The MPD drone proposal also pays lip service to the ban on police use of facial recognition. Again, using exceptions, it does not rule out use of a drone equipped with such capabilities. Given how law enforcement often collaborate in the Twin Cities, one easily envisioned scenario would feature imagery captured by an MPD drone being handed over to the Hennepin County or state authorities who are not barred from using facial recognition. The Hennepin County Sheriff's Office and other law enforcement groups within Minnesota use facial recognition and have access to information sharing networks which make such analysis easy to attain.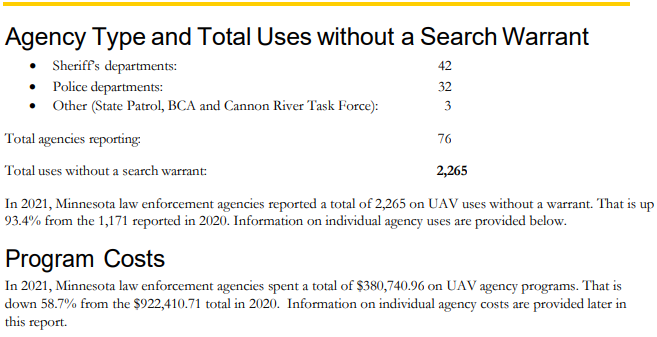 ---
"Ultimately, it's been decided the MPD will use drones"
The so-called "strong mayor" referendum was campaigned for by Mayor Jacob Frey and his proponents in order to rein in the MPD. Voters were told the governmental restructuring it would bring was needed in order to take on the police federation and implement reforms that large swaths of the electorate demanded.
The way this drone rollout is being handled provides Frey's opponents with an easy argument that those lofty campaign promises will not actually be delivered. It furthermore has not instilled confidence that the police department is willing to moderate practices and listen to direction from the community at large; it created a scramble amongst activists and their representatives in City Council who are still trying to get answers to basic questions. The Mayor and the MPD have yet to explain basics such as the make and model of the drones being considered, where the funding is coming from, and related questions.
Councilmember Robin Wonsley attempted to probe the MPD during the hearing on August 10th. Wonsley inquired as to who exactly was behind this push to add drones to the MPD's inventory. The Department's representative obfuscated, saying only "ultimately, it's been decided that we'll use drones." When asked about this interaction, Wonsley said,
"It was puzzling to say we want a public hearing for something that's already been decided. Mayor Frey has complete oversight authority over MPD and their implementation of policies and we should name who is authorizing these decisions."

Minneapolis Councilmember Robin Wonsley
Video of the full exchange is posted below.
I enjoy that it's still not politically correct to acknowledge the mayor (through the chief) is and has always had complete authority over MPD. pic.twitter.com/izgz0zuirm

— Wedge LIVE!™ (@WedgeLIVE) August 10, 2022
---
"Good governance and true democracy"
Thus far, no media inquiries to the Mayor's office nor MPD regarding this technology have been answered. Advocates from Safety Not Surveillance and the ACLU say that this process makes a strong argument that residents and their representatives do not have nearly enough control over the police department.
An alternative approach that has been pitched is called Community Control Over Police Surveillance, or CCOPS. Mohamed says,
"It's about good governance and true democracy. Why should MPD just get to decide to use drones? Who do they serve? And why is it that we as the public, the taxpayer, the citizen don't have a direct say in what surveillance or military technology our local governments use?"

Munira Mohamed, American Civil Liberties Union (ACLU) of Minnesota
She hopes that given the haste with which the drone proposal has been presented, a transparency and oversight ordinance could be fast tracked to approval through the Council.
A CCOPS style ordinance would empower the City Council to force the police to disclose plans to obtain new technology and military equipment and then seek an up or down vote from the Council prior to any such gear being fielded. CCOPS bills also typically facilitate in depth reports and regular audits that explain how surveillance and other technologies have been used which help to bolster the democratic process and establish trust.
---
---
Without frequent reports it's unclear whether disparities or malicious targeting of marginalized groups occurs and whether or not certain technologies are even useful to the mission of public safety overall. Mohamed summed it up saying, "If Public Works wants to buy something they have to put in a proposal and have a vote, why is the MPD any different?"
The Minneapolis Police Department is in negotiations over an impending consent decree following a damning report from the Minnesota Department of Human Rights (MDHR). The MDHR report follows years or investigations and reports demonstrating and clearly detailing systemic racial biases and discrimination by the MPD.
Councilmember Wonsley explained,
"MPD were found to exhibit human rights violations as it pertains to surveillance, outlined in the MDHR report, specifically of Black and Brown community members in Minneapolis. The fact that they are moving forward with additional surveillance technologies and there have been no policies to address the harms of those practices and now we're doubling down on surveillance… Ultimately it doesn't help to build trust if that's the goal of MPD."

Councilmember Robin Wonsley
Further complicating the circumstances is an active U.S. Department of Justice investigation into the MPD which has been found to be profoundly abusive and racially biased in similar investigations in years past. These facts contribute to residents' skepticism whether new surveillance technology would be wielded in an appropriate manner with respect for civil liberties, especially toward the cities most vulnerable populations.
The rushed nature of the drone rollout – before the consent decree has even been finalized – led to calls for a pause in the process. Councilmember Wonsley asked,
"Why are we carrying this out when we haven't even finalized the consent decree based upon the MDHR findings which show [MPD] engaged in negligent, racist, misogynistic surveillance practices with something as basic as Facebook and social media… now we're going to put drones in their hands?"

Councilmember Robin Wonsley
Safety Not Surveillance has started petitioning against MPD drone surveillance, saying, "This is a police department that has shown it cannot be trusted to protect the rights of Minneapolis residents and routinely flouts local and state law. This is not the time to give them access to a powerful new technology."
---
---
The newly appointed Commissioner of Public Safety, Dr. Cedric Alexander, spoke to a community forum on August 16 about police surveillance technology. In the past he's also testified before Congress, questioning whether or not facial recognition is ready to be used widely by police across the United States, noting its tendency to misidentify women and people of color. Dr. Alexander's remarks are posted below. 
Sam Richards is an investigative reporter focusing on surveillance, protests and more. Find him on Twitter as @MinneapoliSam.
Please consider a tax-deductible donation to help sustain our horizontally-organized, non-profit media organization: