Huntington Place Residents Organize and Demand Repairs
Brooklyn Park, MN – For many years, the second largest apartment complex in Minnesota has been plagued by dysfunctional management, leaving hundreds of apartments needing repairs while buildings fall apart. Residents at Huntington Place Apartments have, for years, been complaining about mold, insects, rodents, water leaks and other unsafe living conditions which have caused some to get sick.
Seeking dignity in their housing, to organize other Brooklyn Park apartment residents and to address disparities, The Village BP (recently founded by Tekoa Cochran) has been providing support and resources for residents while demanding change from management and authorities.
With six buildings sitting on 36 acres of land in the northwestern Minneapolis suburb of Brooklyn Park, Huntington Place Apartments houses upwards of 3,000 residents, a majority of them residents of color, in its 834 one-bedroom apartments.
"I don't feel comfortable in my own house."

First-grade aged resident at Huntington Place Apartment
The apartment complex was built in 1969 and owned by Dominium Apartments from the early 1990s until early 2020 when nonprofit housing management company Aeon was able to purchase the property as part of a decades-long series of initiatives by the city to address a cycle of grievances from residents of needed repairs, crime, and mismanagement.
Despite the new ownership and promises of improvements, many residents are continuing to have issues. In response, Aeon has stated "we have been hard at work making updates. In 2021 alone we renovated 147 units. Unfortunately, it is a large complex and it takes a great amount of capital resources and time to do so."
Last year, Aeon was loaned over one million dollars of a $5 million low-interest loan by the City of Brooklyn Park's Economic Development Authority. Aeon used the million on property safety upgrades, including fencing and onsite security. They've since received more of the loan.
This year, Hennepin County granted Aeon $3.5 million using funds from the American Rescue Plan. The funds are to be allocated in the following ways, according to the Sun Post:
$1.1 million for interior unit renovations
$1.6 million for safety upgrades (security systems, exterior lighting, and fencing)
$377,449 to upgrade 25 units from "an un-rentable state to safe, quality housing"
$307,637 for exterior and common area maintenance
Yet, as recent as last week, Aeon was facing up to $10,000 in fines from the city for failing to complete work orders.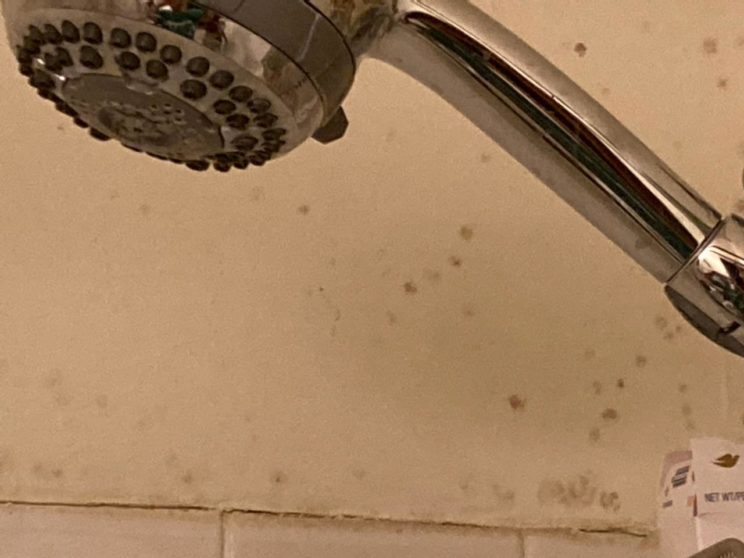 Unicorn Riot heard from some Huntington Place residents who said they have many unmet needs and want to see results. Residents are in dire need of plumbing repairs, mold cleanup, wall and ceiling leak repairs, locks on their doors, heater and A/C repairs, and some say they've had to live with rodent and insect infestations.
On June 17, The Village BP set up tables on the grass near the center of the Huntington Place Apartments complex prepared with t-shirts emblazoned with "Repairs not Raffles" and signs reading "Safety not Celebration," during a "community gathering" held by management. Housing counselors, residents, and members of Anti-Racist Brooklyn Park were also in attendance at The Village BP tabling event.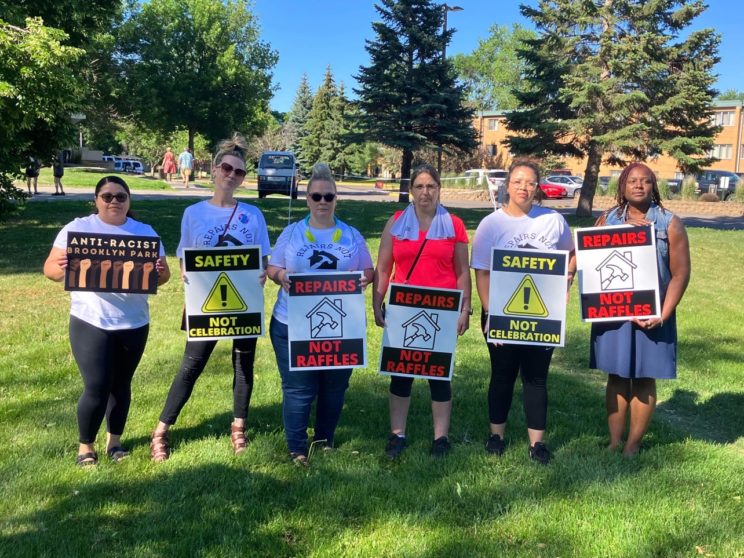 Handing out jump ropes and resources while having residents fill out forms describing the issues they're facing in their units, Cochran, of The Village BP, said they came to offer resources and support to the residents to "let people know that they're not alone."
Cochran said it felt like a "slap in the face of the tenants" to have raffles and free food offered by Aeon on the weekend of Juneteenth while not mentioning the holiday Juneteenth.
"You don't have to accept for prizes [and] cheap food as the hush payment to live in poor housing."

Tekoa Cochran, founder of The Village BP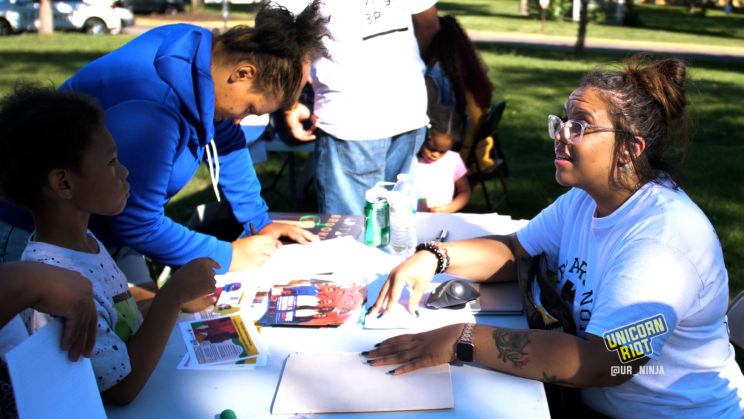 Providing rental assistance and other housing resources, Pearll Warren, a HUD-certified housing counselor with the Urban League Twin Cities, sat at one of the tables next to Cochran divvying out resources along with a colleague.
Warren said she was there to seek "justice for the residents here to ensure that their safety is put first over their rent" and she named a litany of issues the residents are facing.
"There's mold issues … carbon monoxide, rats, roaches, rodents. People are having serious health issues that come from just living on a day-to-day basis in their home."

Pearll Warren, HUD-certified housing counselor
The June 17 tabling by The Village BP is only one of many ongoing actions and events they are holding to raise awareness of the conditions they're living in. Showing up to one of the events was Brooklyn Park mayoral candidate Hollies Winston.
In a later statement to Unicorn Riot, the Hollies Winston Campaign said, "The conditions at Huntington Place are abhorrent. The fact that such a large swath of Brooklyn Park residents are being taken advantage of by a large company who has been allowed to operate without accountability is a disgrace."
The campaign statement in full:
"This is representative of failed city leadership, and I know that the residents of Brooklyn Park are appalled by the living conditions that their neighbors are experiencing. No matter who you are or where you live in our city, everyone deserves access to safe and secure housing.

Our city will be safer when we are all safe, and that starts with accountability for bad actors – including both elected officials and corporate management. It is beyond time for change. The Village BP is doing a great job organizing and advocating for residents. As called upon, we'll continue to support their efforts."

Statement by the Hollies Winston campaign for Brooklyn Park Mayor
As Aeon is now receiving fines and residents continue to seek repairs, The Village BP shared with us that the gas was shut off during the weekend of July 4th and that residents couldn't cook. In turn, The Village BP delivered 40 pizzas to residents on Sunday night, and then teamed up with Salvation Army to feed over 200 tenants on Monday with 150 boxed lunches and a cook-out in the evening.
"We've all been struggling amidst the pandemic. And if you cannot be safe in your home among all of these different things that's happening out in the world, then where can you be safe at?"

Pearll Warren, HUD-certified housing counselor
---
Follow us on X (aka Twitter), Facebook, YouTube, Vimeo, Instagram, Mastodon, Threads, BlueSky and Patreon.
Please consider a tax-deductible donation to help sustain our horizontally-organized, non-profit media organization: