Indigenous Official and British Journalist Murdered in Brazilian Amazon
Amazonas, Brazil – On June 5, 2022, the suspicious disappearance of Bruno Araújo Pereira, an Indigenous affairs official and rainforest advocate, and British journalist Dom Phillips, made the main newspapers in Brazil and the world, triggering a national and global alert. The insecurity and backlash faced by protectors and documenters of nature, Indigenous peoples and residents of the Brazilian Amazon became an international focus.
Phillips, a longtime correspondent for The Guardian in Brazil, and Pereira, who was helping Phillips research for a book, were last seen near the community of São Rafael and the city of Atalaia do Norte, in Vale do Javari, in the far western Amazon region.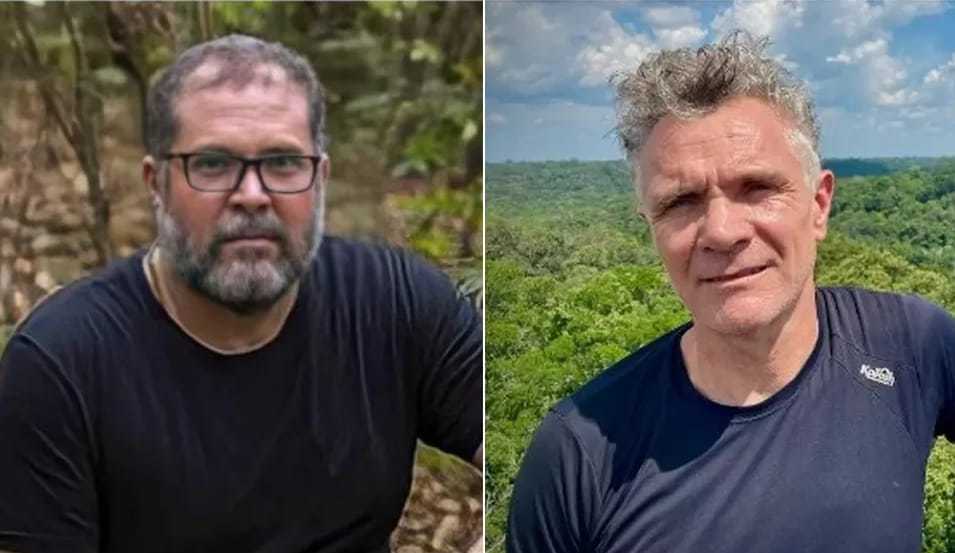 According to local information, Pereira was under constant death threats due to his effective work in the fight to save the Amazon forest and to limit crimes committed in the region. He told those close to him about the risks to his life.
Phillips was also facing threats from an assortment of actors including miners, loggers, fishers, criminal syndicates, and drug traffickers.
Brazil's far-right president Jair Bolsonaro started doing interviews about the disappearance two days after the duo went missing. In one interview, he mentioned how Phillips was frowned upon in the region for reporting on the rainforest's exploiters in a negative light.
In a separate interview Bolsonaro said, "really, just two people in a boat in a completely wild region… that is not a recommended adventure. Anything could happen."
Worth remembering is that in 2019, during a breakfast with journalists, Bolsonaro verbally attacked Phillips, telling the British journalist "the Amazon is for Brazil, not yours."
The Bolsonaro administration have, since day one of their reign, taken measures against preserving the Amazon and opening the lands for excavation to loggers and miners. There's been a reduction in environmental fines, a restriction on the powers of protection agencies, and the loosening of gun control in the Amazon.
The government has also shown a favorable position to garimpeiros, or wildcat gold miners, who clear-cut trees, gouge massive pits in the forest floor, and dump approximately 30 tons of mercury into waterways each year.
Meanwhile the far-right administration consistently seizes quilombola and Indigenous lands. Quilombo are independent and self-sustaining communities mostly in the forest that formed from escaped slaves.
Related [May 2019]: "Enough of Being the Blood that Promotes Fascists": Viewpoints From Brazil
As the days went by, demands from environmentalists and world leaders for answers about Phillips and Pereira disappearance continued to grow. With the help of Indigenous peoples, Brazilian security forces arrested several suspects, got confirmation the two were murdered, and were given the location of their bodies. A week after their disappearance, the bodies of Phillips and Pereira were discovered.
A coroner's report conducted by the Polícia Federal (Federal Police) confirmed that Bruno and Dom were killed with hunting gun ammunition. Also according to the forensics, Bruno was hit by three shots (two in the chest and one in the head) and Dom was shot once in the chest.
Drawing fears of a cover-up for powerful political and criminal organizations operating in the region, the police immediately issued a statement saying, without citing evidence, that the deaths of Pereira and Phillips were not a crime of conspiracy and were a singular incident not connected to any organization.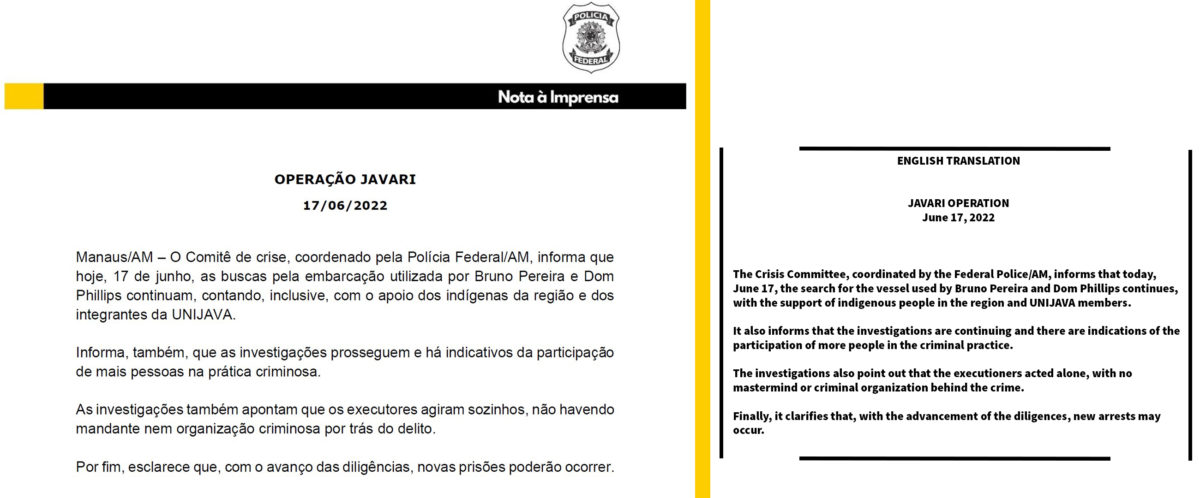 However, UNIVAJA (Union of Indigenous Peoples of the Javari Valley) shared that two of the suspects are part of an "organized criminal group" accused of invading Indigenous lands, also stating that the crime is characteristic of drug trafficking organizations.
Pereira was an official with Brazil's Indigenous affairs agency (FUNAI) for the Vale do Javari region, however when Bolsonaro became president, he decided to leave that agency, and instead, work directly with the Indigenous peoples at UNIVAJA.
Brazil is a country rich with resources and thanks to Bolsonaro's administration, the soil is fertile for the most diverse possible types of crimes, such as drug and arms trafficking, illegal hunting and fishing, illegal mining and extraction, looting, money laundering, sexual assault, and murder.
After the confirmation of the deaths, Bolsonaro's insensitive speeches only served to further question the amount of compassion that Brazil's leaders have for the Amazon.
The deaths also spurred international conversation about the hundreds of murders over the last decade in Brazil amid land and resource conflicts in the Amazon. Global Witness ranked Brazil the fourth most-dangerous country for environmental activism in 2020, based on documented killings of environmental defenders.
The deaths of Pereira and Phillips continue to make waves in international media, and statements in solidarity with them continue to be published. Reporters Without Borders (RWB), along with 14 other organizations, wrote a letter condemning Bolsonaro, his family, and administration for the violence toward journalists and activists in Brazil. Referring to his comments during recent interviews, RWB wrote: "He attempted to absolve the Brazilian State of any responsibility in guaranteeing the safety of journalists, indigenous people, and environmentalists in the Javari Valley, and practically concede that criminals have taken control of the region."
They went on to say, "The undersigned organisations emphatically refute such statements, which comes as no surprise, since they only reiterate the President's aversion to free and independent journalism. Dom Phillips and Bruno Pereira were providing an important contribution to society by reporting on the reality of the Amazon."
As mourning, outrage, and reflection continues, there are still many Indigenous activists in Brazil whose lives are at risk. Erasmo Alves Theofilo is an agroecologist who founded a farmers' cooperative in one of the most hostile corners of the Amazon—the Brazilian state of Pará. After years of being threatened and after a close friend was murdered, Theofilo and his family were placed under the protection of Brazil's Human Rights Defender Protection Program. (Although the protection he continues to receive from the government only amounts to, at most, two police drive-bys a week.)
However, because the death threats and murder attempts are escalating, Theofilo, his wife and their five children decided they are going to leave their home. Theofilo told Mongabay that once an environmental activist wins a case or the story isn't as 'newsworthy' anymore, "the media coverage goes away, state protection is dropped. Then one day, I'll be out buying bread and get killed."
The murders of Bruno Pereira and Dom Phillips are trending now, but only time will tell whether the international outrage over their murders, along with the hundreds of other martyred activists and journalists in Brazil, will bring about real change.
// Updated addition: The Antimídia media collective in Brazil recently published 'Murderered, while fighting colonialism in the war for the Amazon,' a short video encapsulating the events around Bruno and Dom's killing, watch below (English subtitles are automatically set).
Alex Binder and Niko Georgiades of Unicorn Riot contributed to this report. Cover image art by @crisvector.
---
Unicorn Riot's Coverage From Brazil:
Follow us on X (aka Twitter), Facebook, YouTube, Vimeo, Instagram, Mastodon, Threads, BlueSky and Patreon.
Please consider a tax-deductible donation to help sustain our horizontally-organized, non-profit media organization: