Israeli Police Attack Funeral Procession of Palestinian-American Journalist
Occupied Jerusalem – Two days after Israeli forces killed Palestinian-American journalist Shireen Abu Akleh, Israeli police attacked her funeral procession, wounding dozens of people. The participants were assaulted by police with batons, stun grenades, and tear gas as they attempted to get Abu Akleh's body out of the French Hospital in occupied Jerusalem.
Police closed the streets, preventing hundreds from participating, and confiscated Palestinian flags. Israel imposed restrictions on Abu Akleh's family regarding the funeral and summoned her brother to not allow Palestinian flags raised or slogans chanted during the funeral.
Israeli police prevented pictures and banners bearing the image of Shireen Abu Akleh to be hung in front of the Roman Catholic Church in Jerusalem and they also imposed violations on those who gathered for the funeral of Abu Akleh near the French Hospital in the Sheikh Jarrah neighborhood.
Abu Akleh was killed by Israeli forces on May 11 as she was on assignment covering an Israeli raid into Jenin City in the northern parts of the Occupied West Bank. Stay tuned for an interview with the journalist who was next to Shireen when she was killed.
The day after Abu Akleh was killed, the President of the State of Palestine, Mahmoud Abbas, spoke during the large scale official funeral for Abu Akleh at the Presidential Headquarters in Ramallah.
The Presidential Guard of Honor saluted Abu Akleh's body as the national anthem played along with funeral music. President Abbas awarded Abu Akleh a Jerusalem Star Medal and laid a wreath on her casket which was wrapped in the Palestinian flag.
Abbas laid responsibility for her death on the Israeli authorities and said he rejected an Israeli investigation.
"We have rejected and reject the joint investigation with the Israeli authorities, because they are the ones who committed the crime, and because we do not trust them, and we will immediately go to the International Criminal Court to prosecute the criminals."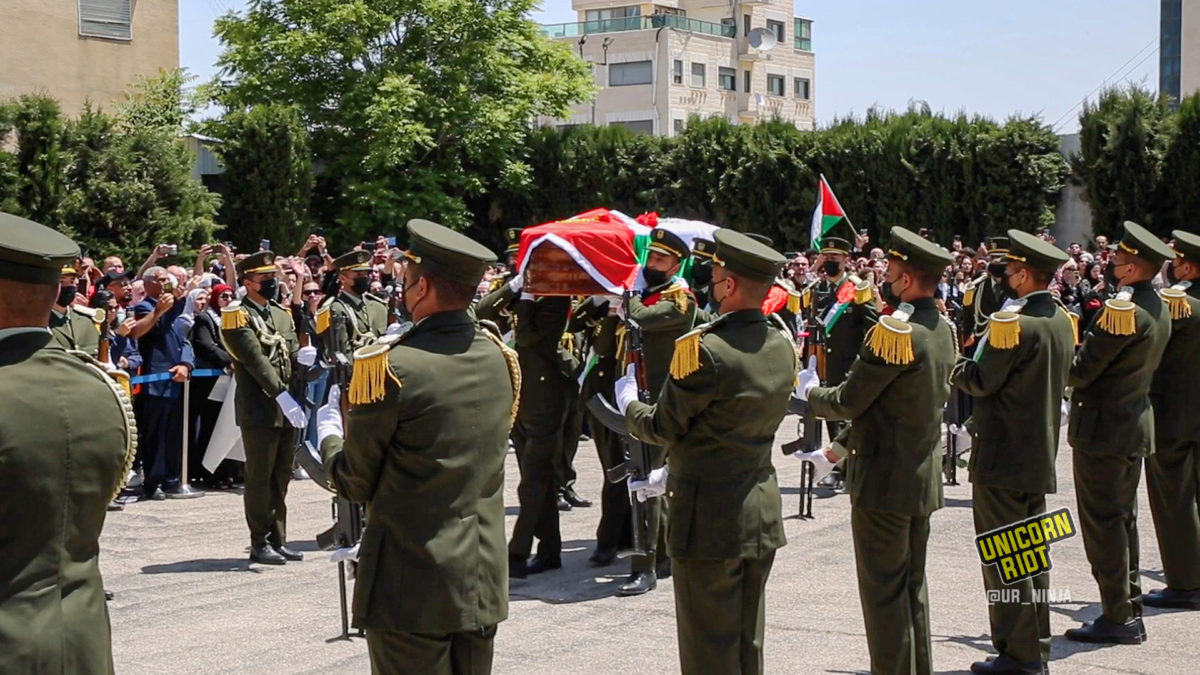 ---
Unicorn Riot's Coverage from Palestine:
---
Follow us on X (aka Twitter), Facebook, YouTube, Vimeo, Instagram, Mastodon, Threads, BlueSky and Patreon.
Please consider a tax-deductible donation to help sustain our horizontally-organized, non-profit media organization: