Israeli Army Kills Journalist Shireen Abu Akleh
Jenin City, Occupied West Bank, Palestine – This morning an Israeli sniper shot and killed Shireen Abu Akleh, an Al Jazeera journalist, as she covered Israeli raids into Jenin City in the occupied West Bank. Abu Akleh was 51 years old and beloved by Palestinians across the region as well as by her colleagues. She was wearing clearly visible and marked journalist gear and a bullet proof vest and helmet when she was fatally shot by Israeli forces. See our interview with a journalist who witnessed Akleh's killing.
On Wednesday morning while conducting another raid into Jenin City, Israeli forces who fired on a group of reporters as they were walking down a street to film the raid. Another Palestinian Al Jazeera journalist, Ali al-Samoudi, was also shot in the back by Israeli soldiers.
Al-Samoudi survived his wound and said that no armed Palestinians were at the scene when Israel opened fire on himself and Abu Akleh. He said:
"We were going to film the Israeli army raid, and suddenly, they shot us without asking us to leave or stop filming. The first bullet hit me and the second bullet hit Shireen. They killed her in cold blood because they are killers and they specialize in killing only Palestinian people."
An EU Representative to the West Bank, the Gaza Strip and UNRWA expressed "shock" over the killing and the United Nations Human Rights Watch demanded an investigatory probe.
Abu Akleh was at least the 18th journalist killed in Israel and occupied Palestinian territories since 1992, according to the International Centre of Justice for Palestinians (ICJP).
Journalists across Palestine are mourning and condemning the killing, including at Al Jazeera's office in Gaza (which was bombed by Israel in May 2021). Mourners also gathered at and near Abu Akleh's home and were aggressively pushed out by Israeli forces who also confiscated Palestinian flags from the house earlier in the day and demanded family members stop playing "nationalist music."
Abu Akleh's body was carried through the streets of Jenin on Wednesday. A large billboard in the city featured a picture of her. After a motorcade brought her to Ramallah, another funeral procession took to the streets.
Israeli Police Attack Funeral Procession of Palestinian-American Journalist
Eyewitness Recounts Moments Israeli Forces Killed Shireen Abu Akleh
Palestinian Investigation Finds Israel Responsible for Killing Journalist Shireen Abu Akleh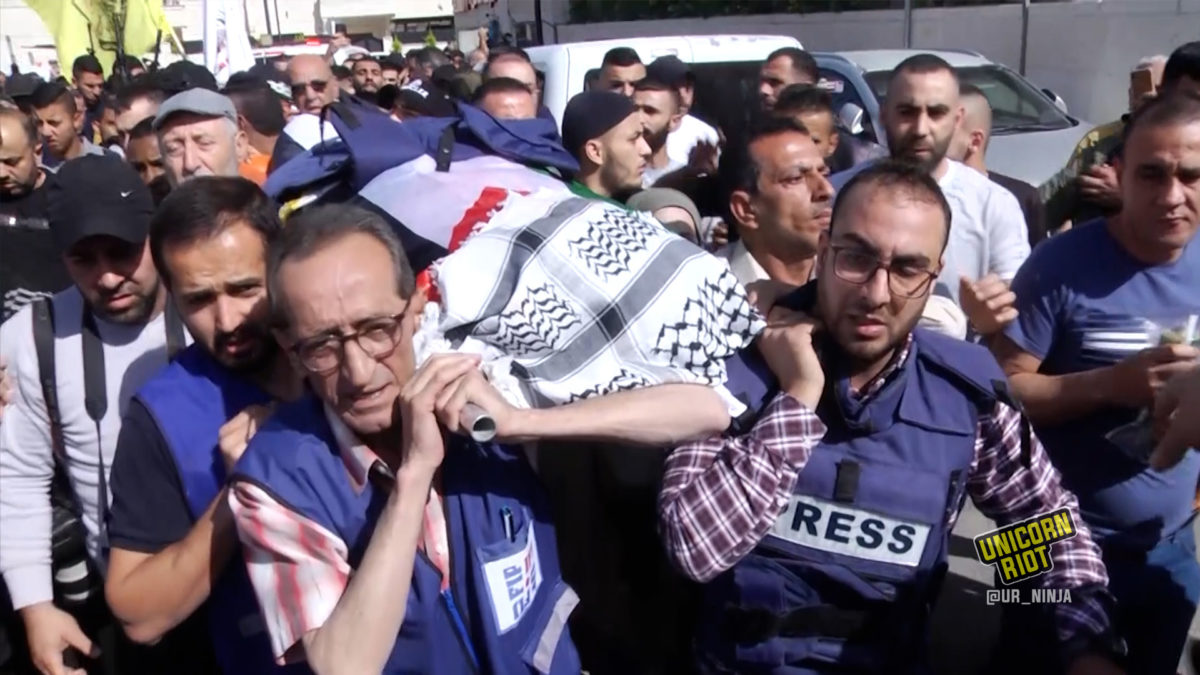 ---
Unicorn Riot's Coverage from Palestine:
---
Follow us on X (aka Twitter), Facebook, YouTube, Vimeo, Instagram, Mastodon, Threads, BlueSky and Patreon.
Please consider a tax-deductible donation to help sustain our horizontally-organized, non-profit media organization: