Jahmari Rice Vigil Sheds Tears and Light on Community Violence
Richfield, MN – Community and family members of Jahmari Rice gathered for a vigil on February 2, 2022, outside the South Education Center (SEC) in Richfield, Minnesota. 15-year-old Jahmari Rice, son of community activist Cortez Rice, was a student at SEC for only two days before he was fatally shot outside the school in midday on February 1.
The February 2 vigil was one of several that occurred after Rice's death. Facing frigid temperatures, many gathered outside and placed items of remembrance, including footballs (Jahmari's favorite sport), stuffed animals, candles and flowers in the snow on the ground near where Rice was killed.
Two suspects, both students from SEC, were taken into custody and charged for killing Rice after a joint investigation between the Richfield Police Department and the FBI, with the ATF assisting in the locking down the building.
The day of the shooting was Jahmari's second day at SEC. Reportedly, a handful of students had left the building and a small fight ensued. One of the students took a gun out of his pocket and shot Jahmari and another student and then left in a car. The other student was initially in critical condition but has improved since.
During the vigil, there was a balloon release with friends and family, followed by an outpouring of emotions by community leaders, and activists.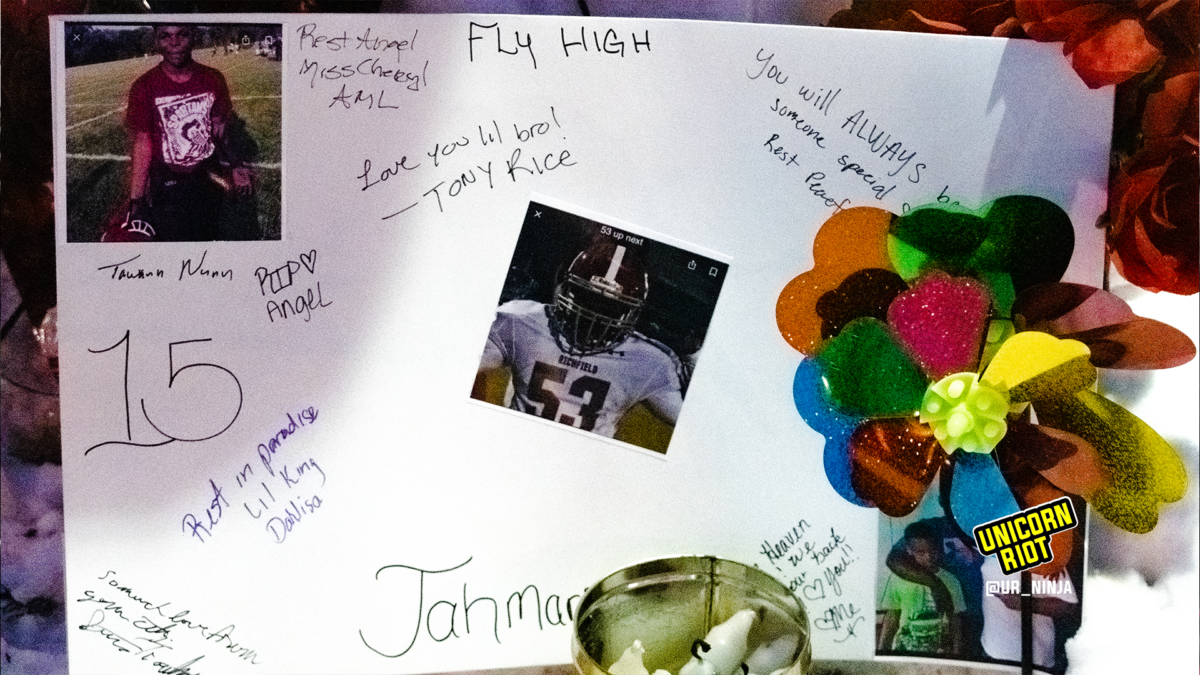 Three of speakers at the vigil were community activists K.G. Wilson, Marcus X and Todd Gramenz. Each spoke about attempting to combat community violence and needing more resources and more action from elected officials. Marcus X talked about the young children being killed in 2021 and how that propelled him to create the organization Black Lives da Streetz.
The father of Jahmari Rice is a local community activist, Cortez Rice. Cortez is currently incarcerated and made news headlines in late 2021 for being charged with allegedly intimidating Judge Regina Chu, who presided over the trial of Kim Potter. Rice was a part of the November 6, 2021 protest calling for video and audio to be streamed after Judge Regina Chu ruled that cameras wouldn't be allowed in the courtroom of the Kim Potter trial.
Rice was granted a furlough to attend his son's funeral with a home monitoring device. Watch the funeral, which was held at Hope Church in Richfield, below.
During Jahmari's funeral services, Pastor Gelila Brown prompted the youth in room to not give up on their dreams.
"So I want to remind you young people, when you leave this room today, I want you to leave with purpose. I want you to leave with hope. And I want you to leave that you keep dreaming that your dreams are not lost. That in Jahmari's memory, that you keep carrying that torch of life, to dream and to live. Why? Because you do have a future and you do have a hope."
Sandy Lewandowski, the Superintendent of Intermediate District 287 spoke about making the "the world a better place for the Jahmari's of this community."
"Jahmari was fierce on the football team and the football field. And he modeled for us all the strength that takes to overcome adversity. Let's be like Jahmari. As we move forward, let's look back in the next year at this time and demonstrate that we have taken action to make the world a better place for the Jahmari's of this community. Let's look back in two years from now, and know that we took action to make our collective communities a more just world for our Black children and their families."
A mentor of Jahmari's, Darby Voeks told reporter Raymond Rivard that Rice would frequently "talk about a desire to love others and to live in a way that would show his incredible potential." Voeks said Rice's killing has "rippled through" the youth circles in Richfield.
On February 16, Minnesota's professional basketball team, the Timberwolves, honored Rice during a home game. They then posted an image onto Instagram showing flowers on a chair and a number 53 Timberwolves jersey signed by all the players with Rice's last name draped over the back.
A memorial at the site of Rice's death continues to stay updated.
Follow us on X (aka Twitter), Facebook, YouTube, Vimeo, Instagram, Mastodon, Threads, BlueSky and Patreon.
---
Please consider a tax-deductible donation to help sustain our horizontally-organized, non-profit media organization: